This post may contain affiliate links that, at no additional cost to you, I may earn a small commission. Read our Disclosure Policy.
Halloween is one of my favorite holidays! I love all the decorations, activities, and yummy treats during this time of the year! If you want some fun ideas to celebrate Halloween all month long, then this is the perfect bucket list for you! I have also added some fun inspiration for the activities found below. Scroll to the bottom to access the free printable!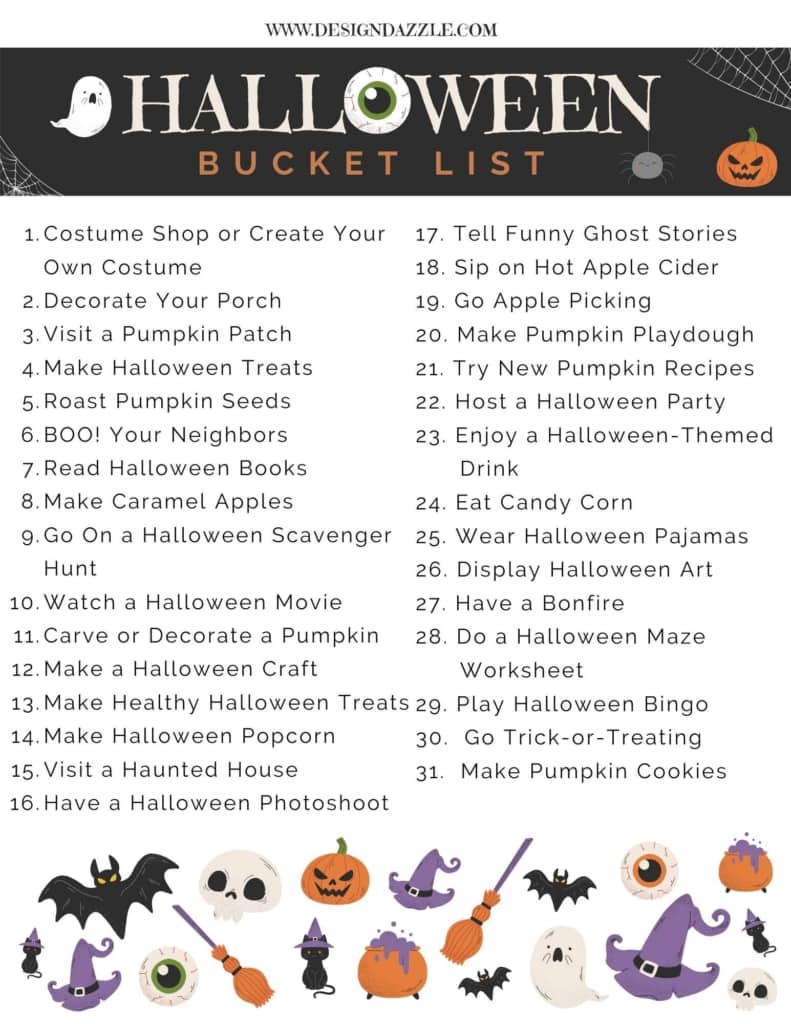 31 Days of Halloween Bucket List:
1. Shop or Create Your Own Costume: Family Halloween Costume Ideas
2. Decorate Your Porch: Halloween Styled Porch
3. Visit a Pumpkin Patch
4. Make Halloween Treats: Halloween Treats for Kids
5. Roast Pumpkin Seeds
6. BOO! Your Neighbors: You've Been Boo'd Ideas
7. Read Halloween Books
8. Make Caramel Apples
9. Go On a Halloween Scavenger Hunt
10. Watch a Halloween Movie
11. Carve or Decorate a Pumpkin: Pumpkin Decorating- No Carving Necessary
12. Make a Halloween Craft: Halloween Crafts and Activities for Kids
13. Make Healthy Halloween Treats: 5 Minute Healthy Halloween Treats
14. Make Halloween Popcorn: Ghoul Boogers Popcorn Recipe
15. Visit a Haunted House
16. Have a Halloween Photoshoot
17. Tell Funny Ghost Stories
18. Sip on Hot Apple Cider: Witches Brew Apple Cider
19. Go Apple Picking
20. Make Pumpkin Playdough
21. Try New Pumpkin Recipes: Perfect Pumpkin Recipes
22. Host a Halloween Party: Bewitching Halloween Party
23. Enjoy a Halloween-Themed Drink: Bloody Red Velvet Hot Chocolate
24. Eat Candy Corn: Candy Corn Inspired Treats
25. Wear Halloween Pajamas
26. Display Halloween Art: Seriously Cool 3D Halloween Art
27. Have a Bonfire
28. Do a Halloween Maze Worksheet
29. Play Halloween Bingo: Halloween Bingo Cards
30. Go Trick-or-Treating: Happy Halloween Treat Bucket
31. Make Pumpkin Cookies: Pumpkin Chocolate Chip Cookies Recipe
What activity was your favorite? Let me know in the comments.
Click here for more Halloween Fun & Inspiration!
This Halloween Bucket List is FREE and available for immediate download by subscribing to Design Dazzle! If you're already subscribed to Design Dazzle, you can access the link to our free printables in your weekly email/newsletter.
To receive this free printable – enter your email address in the box below and click submit. Make sure to check your inbox for an email from Design Dazzle. You will need to click on the link in the email and then you will have immediate access to all of our FREE printables and you'll receive an email newsletter filled with lots of great information. Don't worry your email address will never be sold.
Printable files are for personal use only. They are not for commercial use.