This post may contain affiliate links that, at no additional cost to you, I may earn a small commission. Read our Disclosure Policy.
Halloween is considered a night to go out and socialize, but some of the best Halloweens are the ones spent at home.
This Halloween (or anytime during October) try having a family movie night for the beginning of some Halloween traditions. We are sharing the best Halloween Movie Night Snacks to have a fun night!
Be sure to set the mood with great snacks, spooky snacks, and your favorite Halloween movies.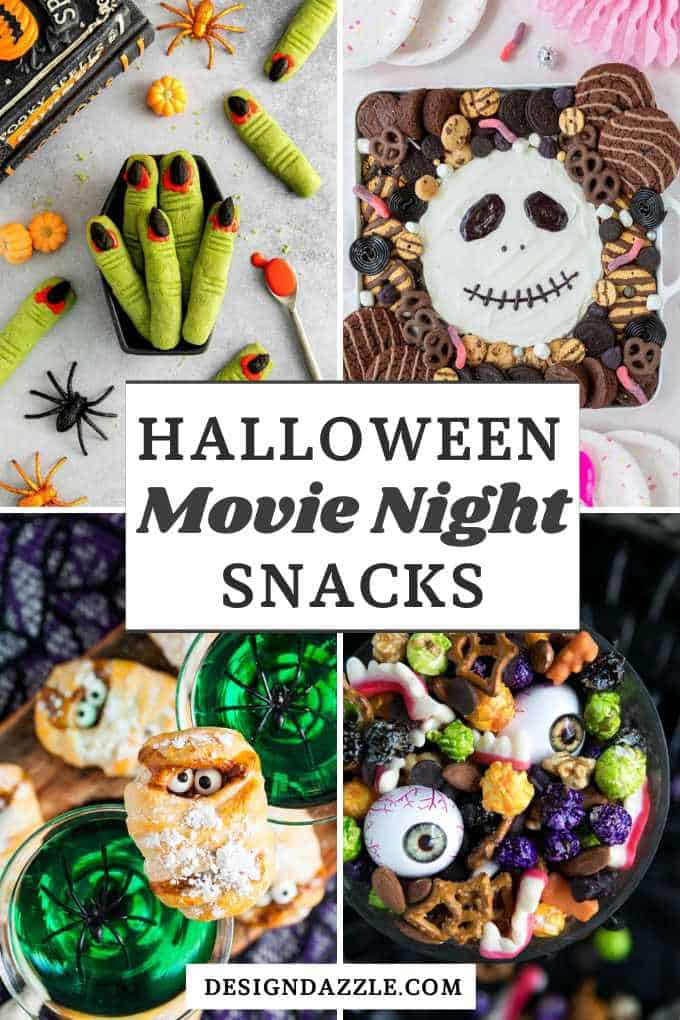 Set the Mood for Your Movie Night
Make sure that you have enough comfortable seating for everyone; this is necessary for a long movie session. Instead of using uncomfortable wooden and metal chairs consider using bean bags.
If you are limited on seating, consider seeing if guests are able to bring something to sit on. This is the perfect time to have a lot of blankets and pillows out to make sure that your guests stay warm and cozy. They can also be arranged to make the living room more inviting for a movie marathon. What a fun night this will be this Halloween season.
Halloween Movie Night Treats
Tasty snacks are always a very important part of any gathering. Make sure to have a lot of Halloween treats and candy corn available during your movie night; Since this is a movie night make it easy, traditional Halloween snacks so it will be less stressful. For example, a nice spread would be caramel apples, popcorn (a variety of flavors), and fun-sized candy treats.
Another great option would be to make something in a crock-pot. That way it will stay warm all night without any extra work. For instance, try having sloppy joes. Some nice mugs of hot cocoa and mulled cider are also great for a cozy evening.
Below you will find a roundup of 20 delicious Halloween Movie Night Snacks that are sure to tackle your tastebuds at Halloween time!
Reese's Bats, crafted with Oreo cookies, Reese's cups, melted chocolate, and candy eyes, offer a delightful blend of fun and spookiness for your Halloween festivities! Perfect for creating with your children, these Oreo bats are always a crowd-pleaser for a touch of salty snacks.
Whether you're in search of a kid-friendly Halloween project, or a classroom Halloween activity, these miniature Reese's Bats are the perfect solution!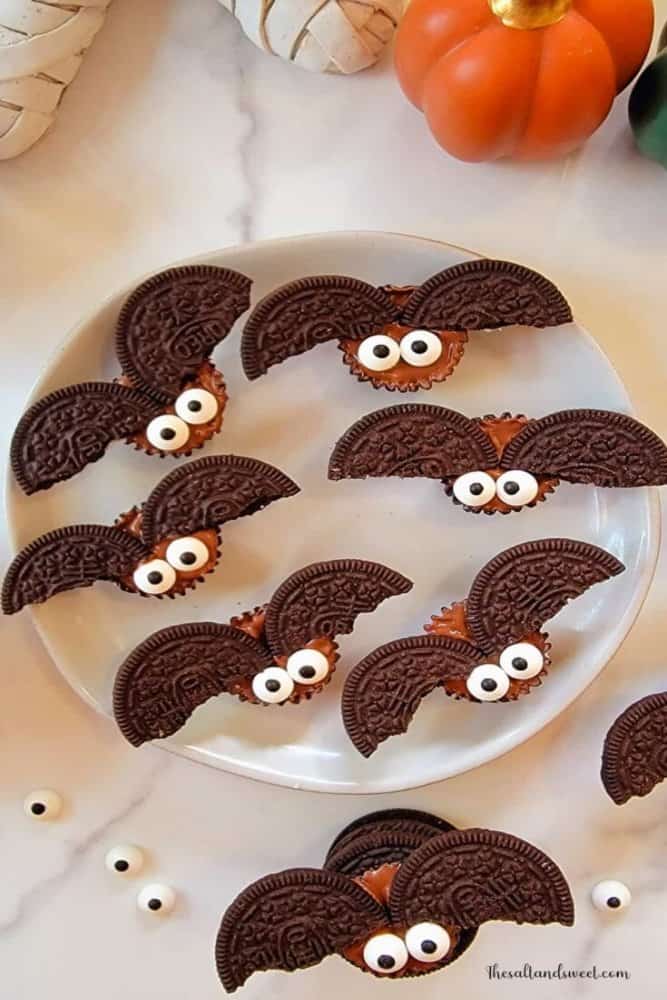 For your Halloween festivities, consider this effortless no-bake option: Milano ghost cookies made by dipping Pepperidge Farm Milano Cookies in white chocolate! These cost-effective treats are ideal for whipping up in large quantities.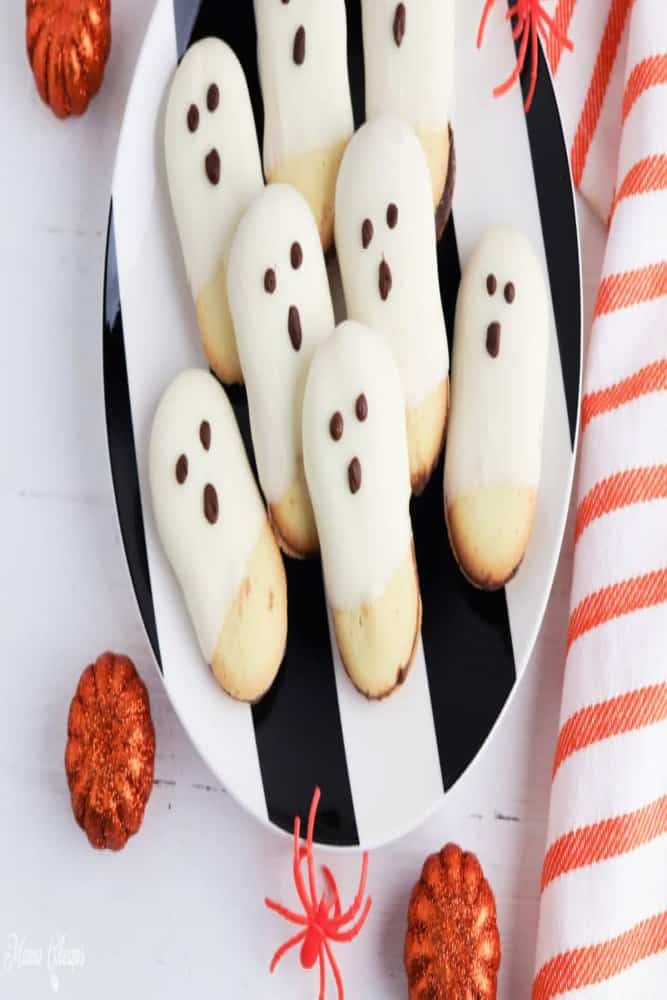 Inspired by the iconic monster, Purple People Eater Halloween Popcorn Balls offer a delightful Halloween dessert option. Feel free to transform them into monster popcorn balls by using your choice of colors for the popcorn and adding as many eyes and horns as you like.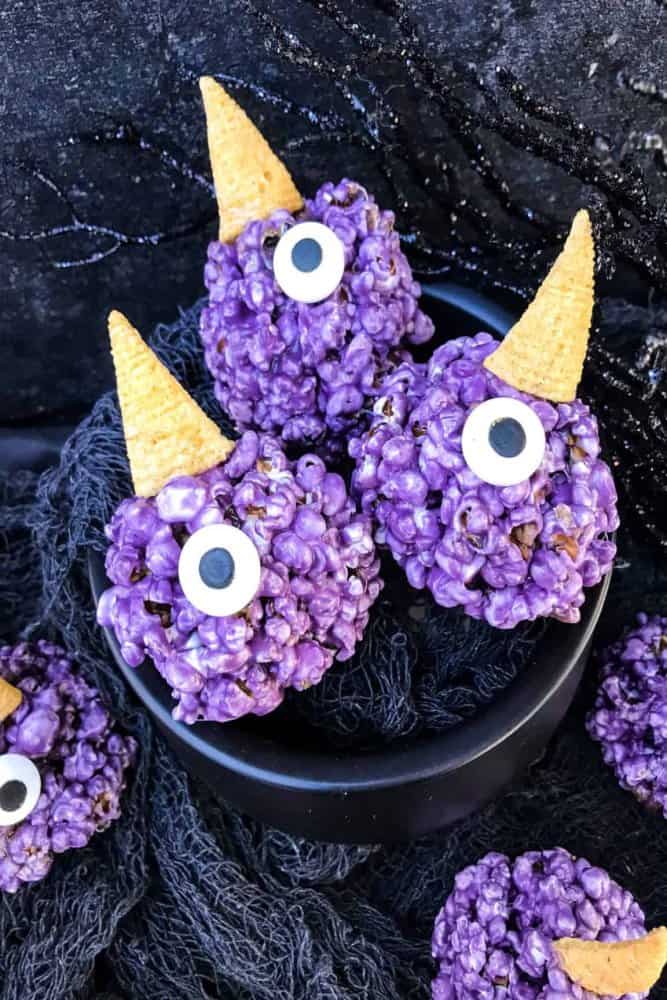 Mummy Meatballs offer a delightfully eerie touch to your Halloween food menu! Ideal as either a main dish or a savory starter, these frozen meatballs are wrapped in strips of crescent dough and adorned with eyes for that mummified effect.
Simple to prepare, this festive dish can either enhance your dinner pasta or serve as a unique appetizer at your Halloween gathering.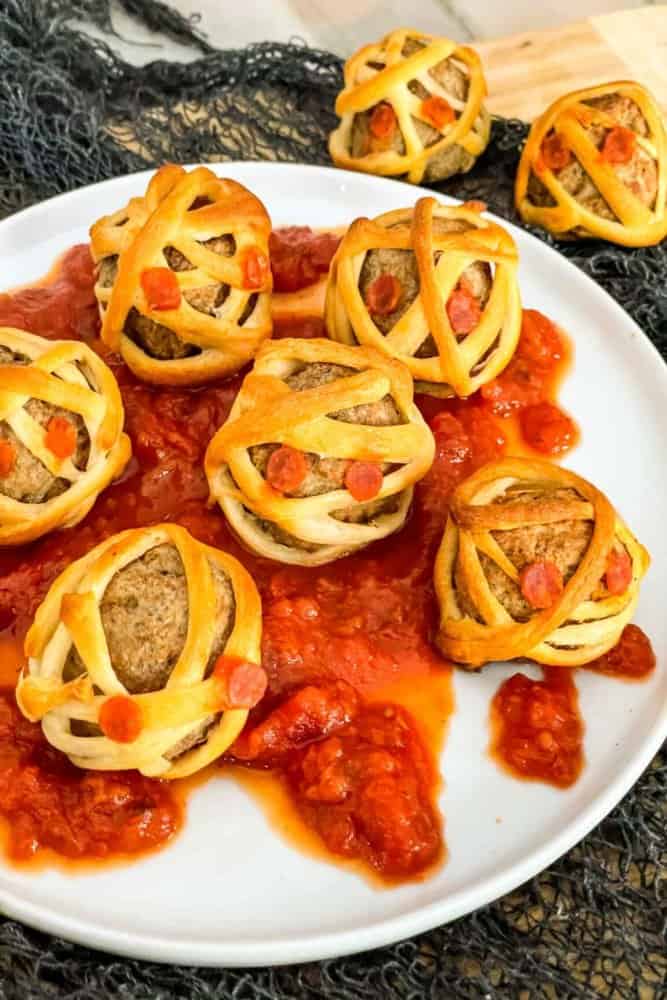 Looking for a fast and eerie nibble for your Halloween? These adorable ghost and monster-themed cereal treats are not only quick to whip up but also delicious.
They're an excellent addition to your Halloween bash or as a treat for young trick-or-treaters, much like these Simple Halloween Cupcake Concepts!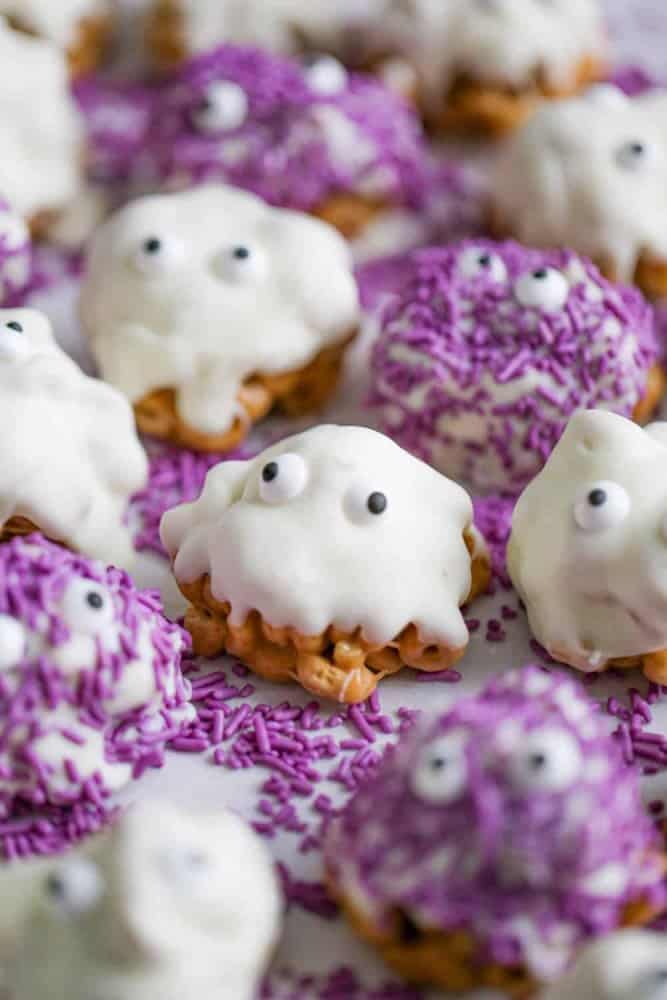 The Halloween Monster Mash Party Mix is a delightful blend of the eerie and the entertaining, designed to cater to various tastes. Taking just 5 minutes to assemble, it's a perfect snack for your upcoming Halloween gathering.
Alternatively, package it in charming gift bags to delight friends and teachers with a festive Halloween treat.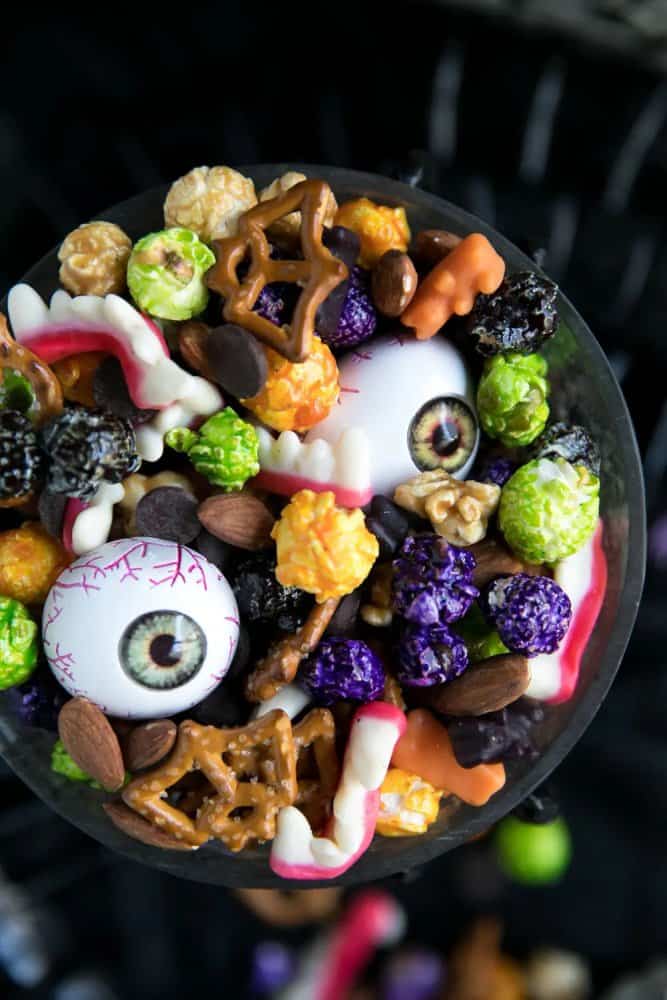 Be the star of your Halloween or classroom celebration with this effortless recipe for marshmallow Halloween Popcorn Balls. With just 20 minutes of prep time, this salty-sweet concoction makes an ideal Halloween indulgence that is a perfect snack.
The popcorn balls strike a perfect balance of flavors lightly salty, somewhat sweet, and entirely delightful to eat. We like to say they're "hauntingly delicious."
They're perfect for a movie night or whenever you're in the mood for a crunchy, tasty, and entertaining snack.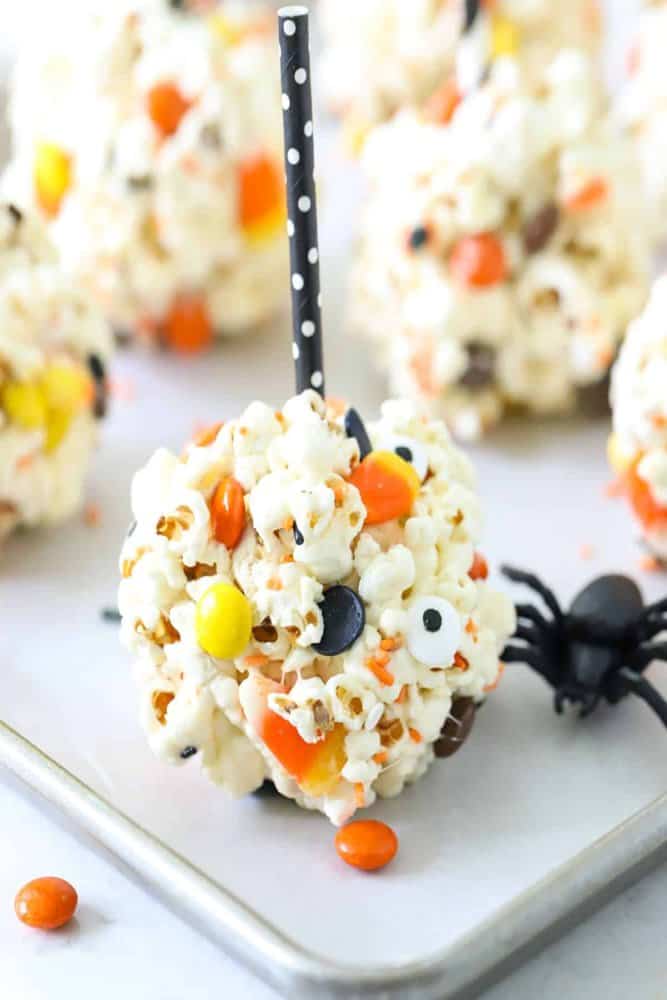 With just a handful of ingredients, you can whip up simple Snickers Mummy Treats this Halloween. All you need are Pillsbury crescent rolls, fun-sized Snickers, powdered sugar, and candy eyes to create a mummy-themed dessert that's sure to be a hit, particularly with kids or anyone who enjoys sweet treats.
These make a delightful dessert or a fantastic complement to your Halloween spread.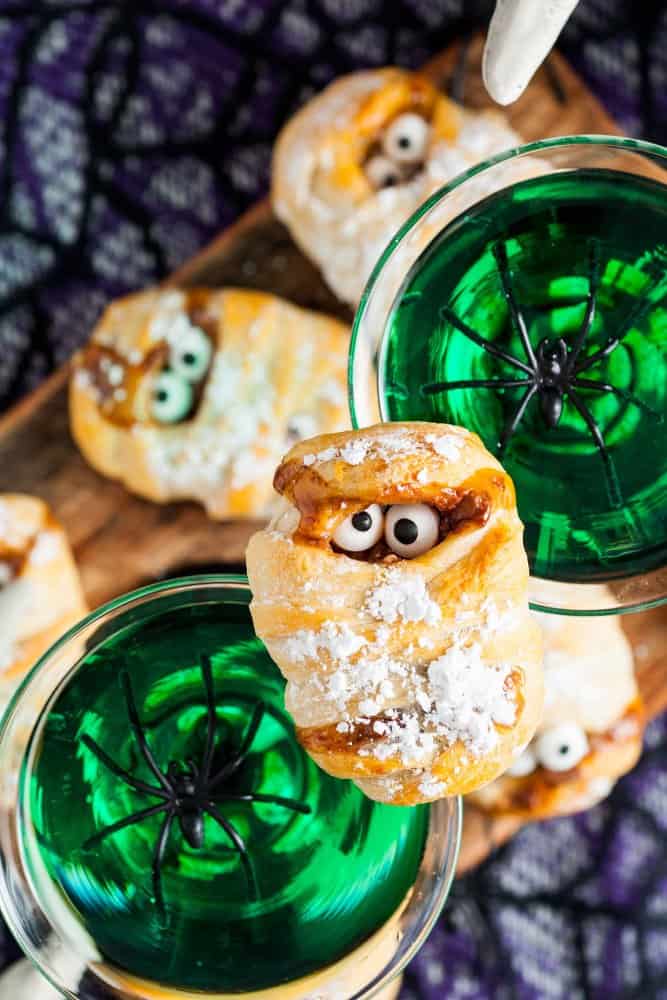 Looking to infuse your Halloween with a dash of delightful spookiness? These charming pumpkin-shaped Rice Krispie treats are just the ticket! Both adults and children will love these jack-o'-lantern-themed treats, making them a guaranteed crowd-pleaser at any Halloween event.
A creative spin on the traditional no-bake snack, these festive pumpkin Rice Krispie delights are simple to prepare and are bound to wow your guests.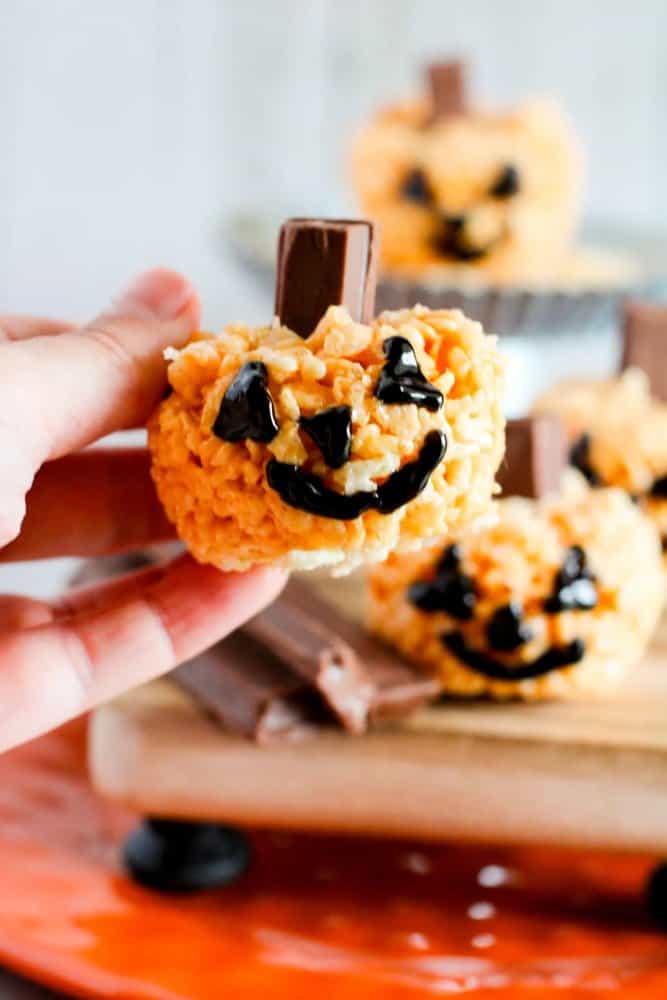 These straightforward Halloween crispy rice snacks are an ideal choice for either Halloween gatherings or lunchbox surprises. A versatile and delightful treat, they offer a fun decorating activity for the entire family.
In search of Halloween snack inspiration? This recipe takes the classic Rice Krispie treat universal favorite and elevates it with uncomplicated yet creative Halloween-themed touches. Make these easy and enjoyable treats right in your own kitchen.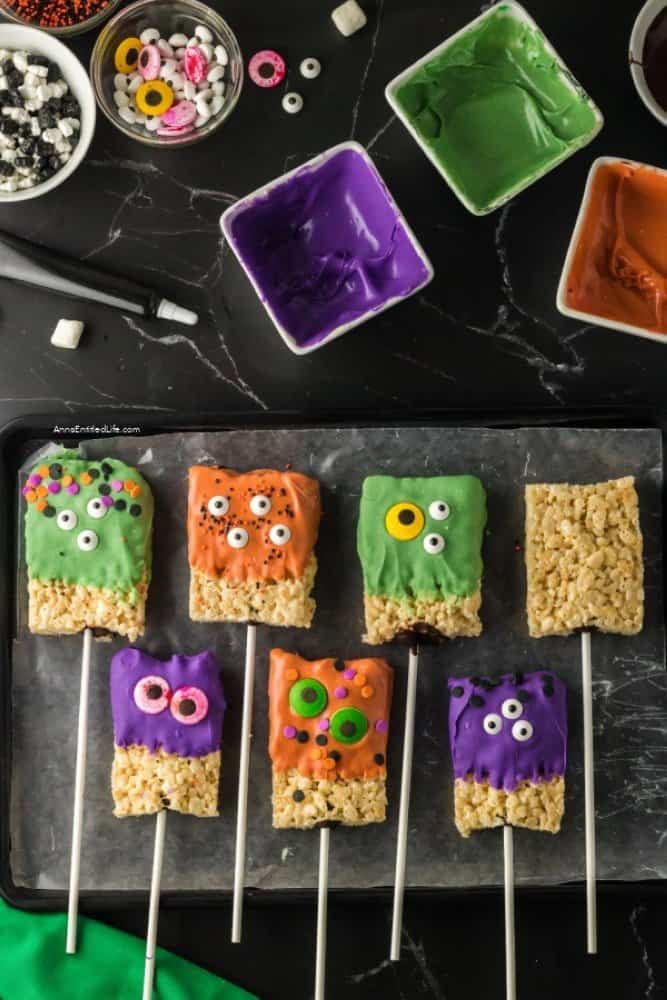 Interested in crafting a Halloween dessert board that's sure to dazzle your guests? Seeking a recipe that's both uncomplicated and quick to assemble? Or perhaps you're on the hunt for desserts inspired by "The Nightmare Before Christmas" (Tim Burton fan)?
We've got a dessert Halloween movie night board concept perfect for Halloween that you can easily put together at home using just a few readily available ingredients from the store.
Whip up this Halloween Snack Mix as autumn begins to unfold! It's a hit for various occasions be it game days, tailgating events, workplace snacks, or neighborly sharing.
Ideal for birthday party goody bags or Halloween celebrations, this versatile Halloween Trail Mix recipe is excellent for gifting in treat bags, sharing at the office, delighting your neighbors, or serving at Halloween events. It's the perfect way to treat someone special!
Witches' fingers may be frightful Halloween cookies to look at, but they're delectably good to eat! Test your guests' courage this Halloween and see who dares to take a bite.
Involve your kids in making these they'll have a blast! If you can get past their eerie appearance, you'll find these cookies are akin to a scrumptious shortbread or butter cookie.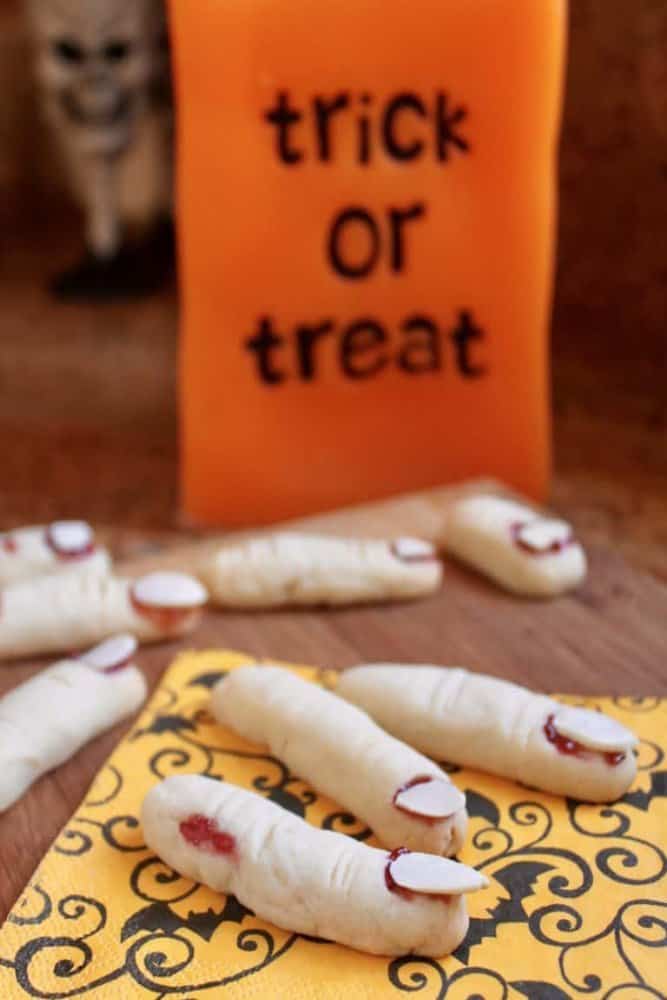 Witch finger cookies serve as spine-chilling treats for Halloween, making both monsters and fellow culinary enthusiasts covet them. Make sure to stock up, as one "finger" simply won't suffice for ravenous ghouls (muahaha).
With just a few staple ingredients and this straightforward recipe, you can conjure up 18 menacing witch fingers, perfect for a horror movie night or autumn celebrations. Plus, there's no need for any specialty baking equipment or specific cookie cutters to shape these creepy delights.
Embrace the eerie season with these adorable pumpkin bites! They make the ideal autumnal snack, whether you're enjoying them at home or bringing them to a Halloween gathering.
What's more, adorning these miniature pumpkins provides a festive and entertaining activity that the entire family will love.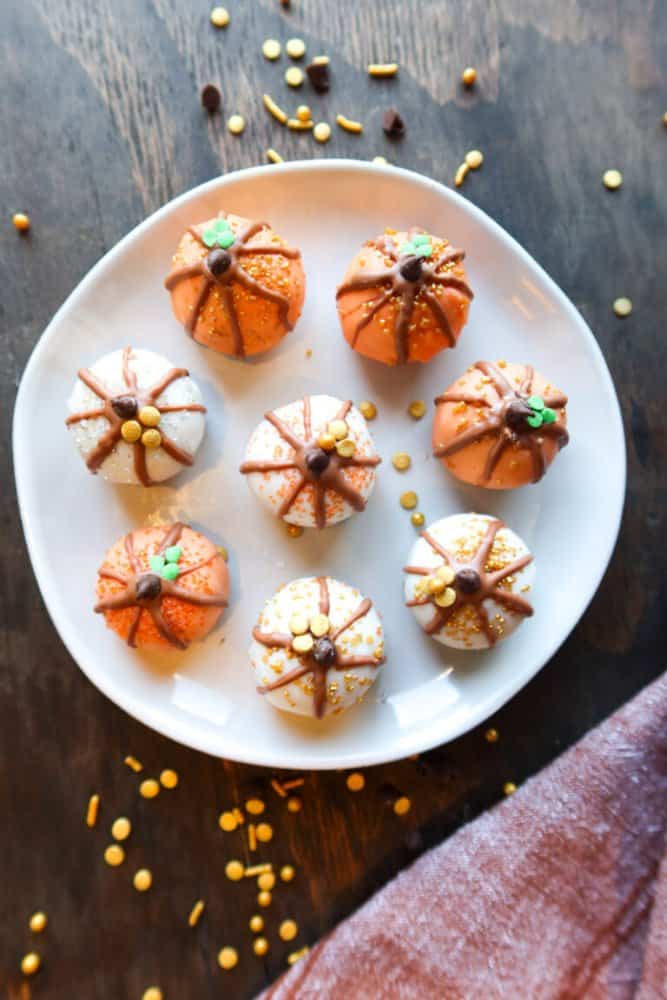 Halloween Hot Dog Mummies offer a ghoulishly delightful remedy for your holiday hunger pangs. It's a playful recipe that kids can assist their "mummy" and "deady" in preparing!
It's the ideal dish to complete your Halloween party spread complete with hot dogs.
Assemble a hauntingly fabulous Halloween charcuterie board featuring a selection of deli meats, various cheeses, crackers, fruits, nuts, and a sprinkle of eerie yet sweet Halloween candy.
Crafting a Halloween-themed snack tray is effortlessly simple, making it perfect for your upcoming Halloween event, as an after-school nibble platter for the kids, or even for a casual happy hour with friends complete with easy appetizers and beverages.
These Halloween Pretzels offer a smart, delicious, and slightly unnerving treat that's simple to prepare and ideal for your Halloween celebration and sweet tooth.
Both chocolate and yogurt-coated pretzels are infused with candy melts and adorned with sprinkles, resulting in a scrumptious snack that seems to gaze right back at you.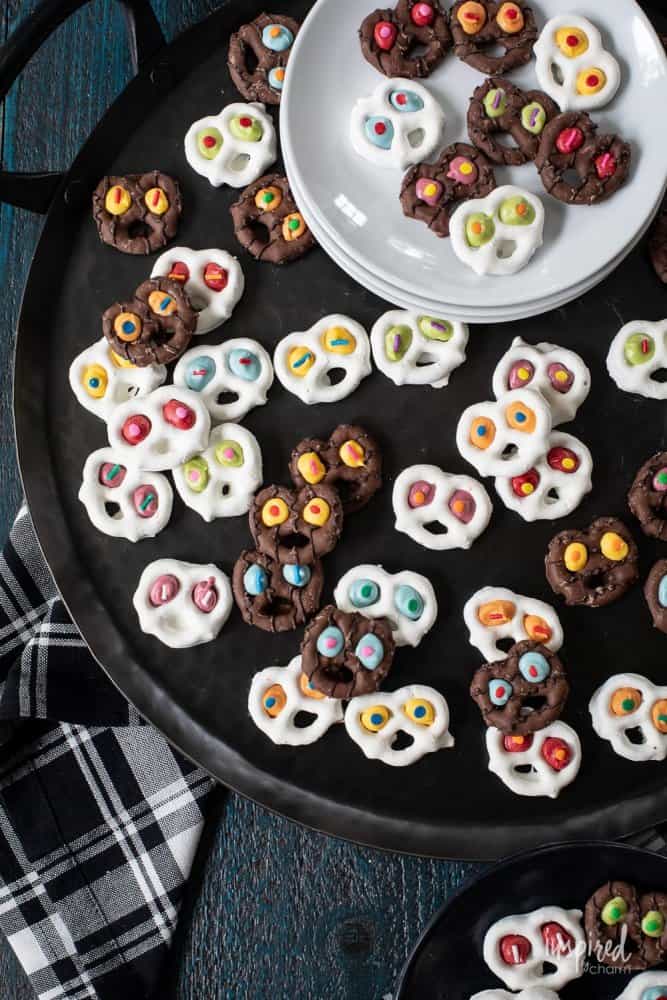 With just three ingredients, these Chocolate Halloween Popcorn Balls provide a simple yet delightful treat that's sure to please both youngsters and grown-ups alike. After all, who can resist the allure of chocolate-drenched popcorn? It's simply irresistible!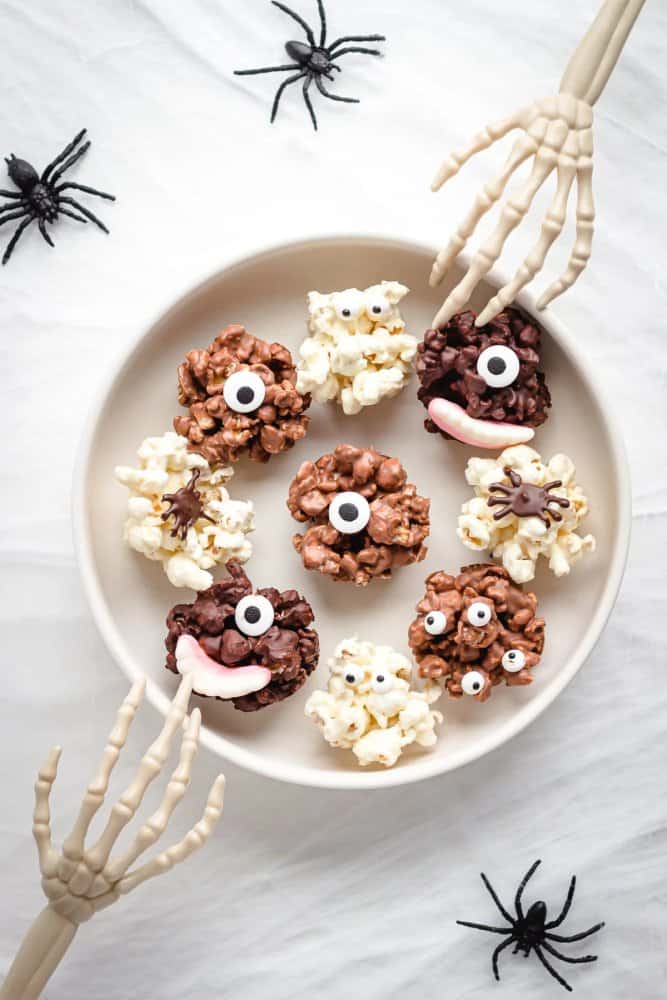 Ghoul boogers are caramel popcorn that has been colored with green food coloring. Yep, it's gross, quite good fun, and actually very yummy! There is a free printable too!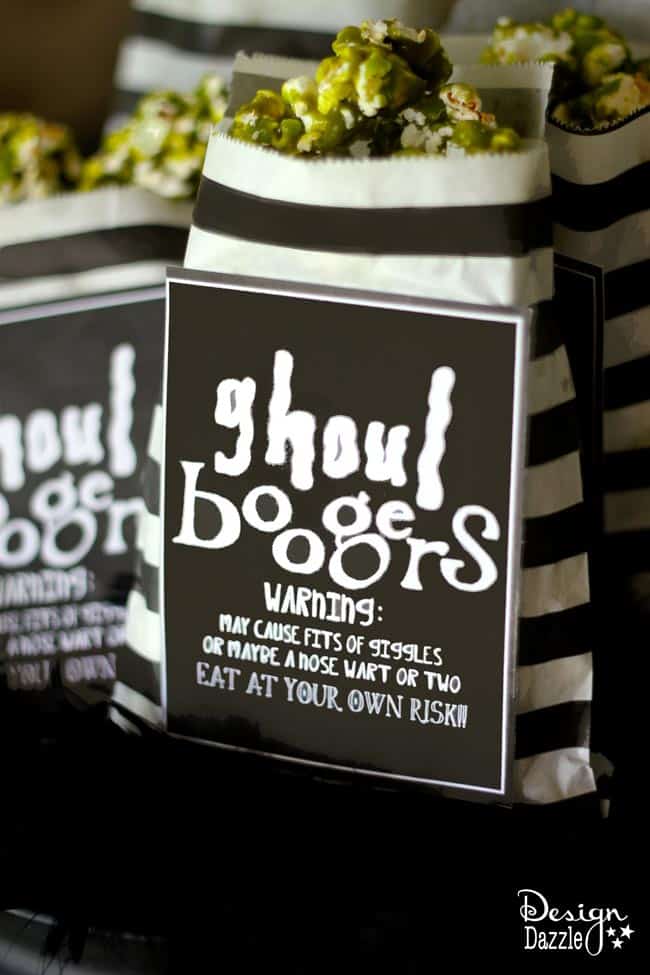 These charming and simple Halloween ghost cupcakes make for an effortless seasonal delight that everyone in the family will love! Aren't these spooky little cupcakes just endearing?
With three varying levels of complexity, there's a Halloween treat that every family member can not only savor but also contribute to making. Opt for one, two, or all three versions to impress your guests at your next Halloween gathering!
Grab a clear plastic cup and add some grapes or broccoli. Use a Sharpie pen to draw a simple face to represent "Frankenstein" These cute cups are perfect for a healthy Halloween snack for movie night.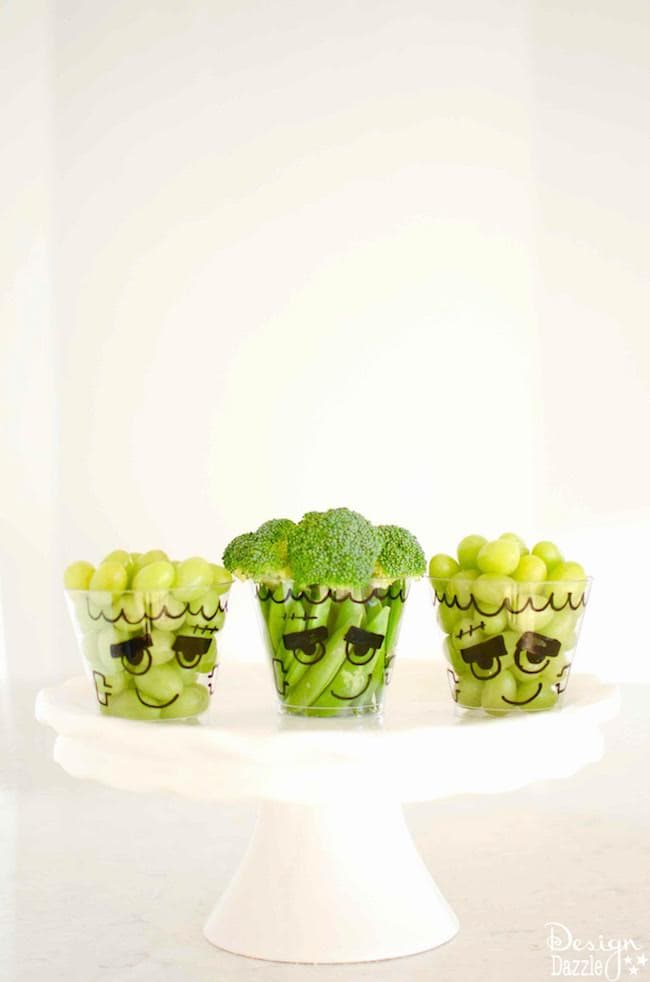 You can add a touch of Halloween decor to help set the theme for Halloween night. Although I'm not into scary movies, Hocus Pocus is more my style.
Halloween movie snacks are a fun way to eat and watch some of your favorite movies with your favorite snacks. A little bit of effort is a great way to have fun, good food, and the perfect opportunity to add great memories!