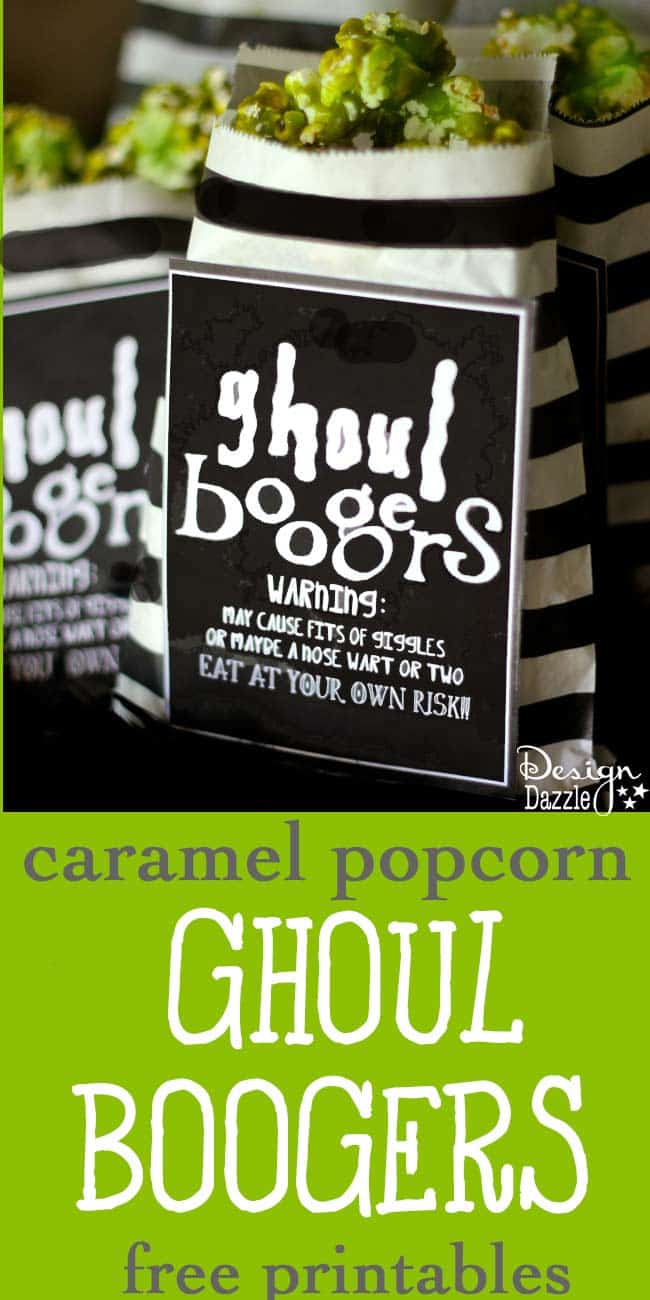 Need something clever and fun for your kids Halloween party or kids classroom treat? Well, look no further. Ghoul Boogers makes a perfect Halloween treat. What is Ghoul Boogers? It's caramel popcorn that has been colored with green food coloring. Use our free printable to make it "ghoul boogers". Yep, that's right! It's gross and good fun and actually quite yummy!
Caramel Popcorn Recipe
Ingredients
1

c.

light corn syrup

2

c.

brown sugar

1

c.

butter

¾

tsp.

salt

¾

tsp.

baking soda

2

tsp.

vanilla

electric green food coloring

by Americolor

2

bags

microwave popcorn

the kettle corn flavor
Instructions
Place microwave popcorn in microwave. Cook in microwave according to directions.

Empty both bags into large bowl.

Mix corn syrup, brown sugar, butter and salt in a 2-quart saucepan. Stir constantly, bring to a boil over medium heat.

Boil 5 minutes without stirring. Remove from heat. Stir in vanilla, baking soda and several drops of electric green food coloring. Add as much green color as need to create the "ghoul" color needed; mix well together.

Pour caramel over popcorn in bowl. Stir to coat evenly or place popcorn in a paper bag and pour caramel over popcorn. Shake mixture to coat well.

If you prefer caramel popcorn that isn't so sticky, place caramel popcorn on greased baking sheets. Bake in 250 degree oven for 30-40 minutes.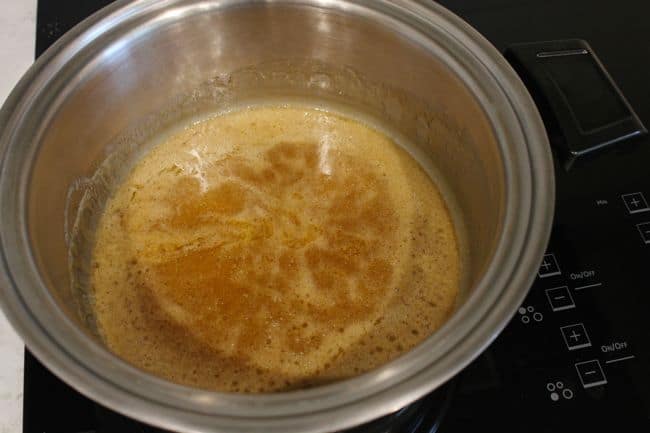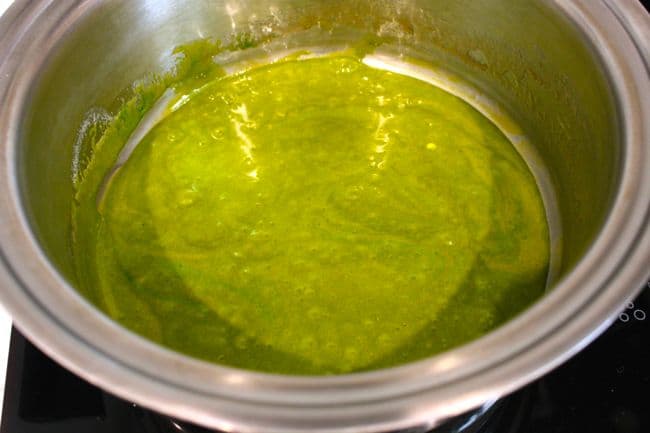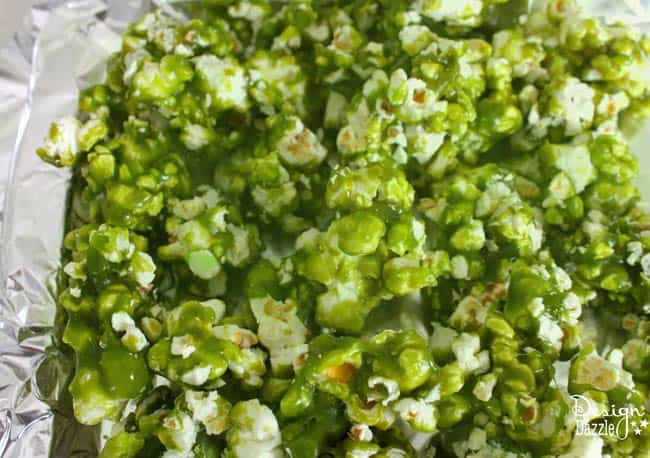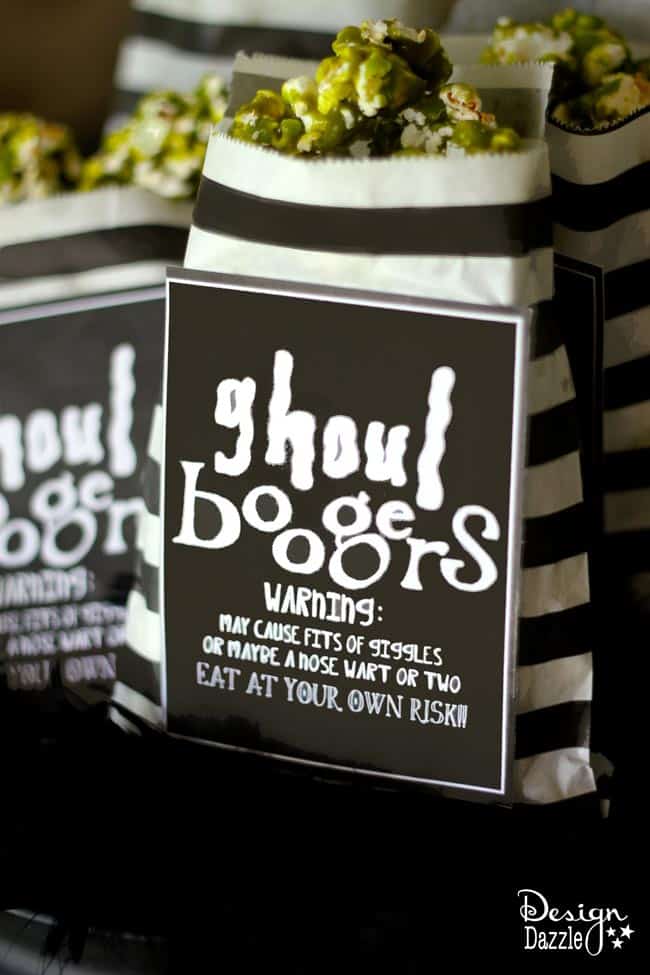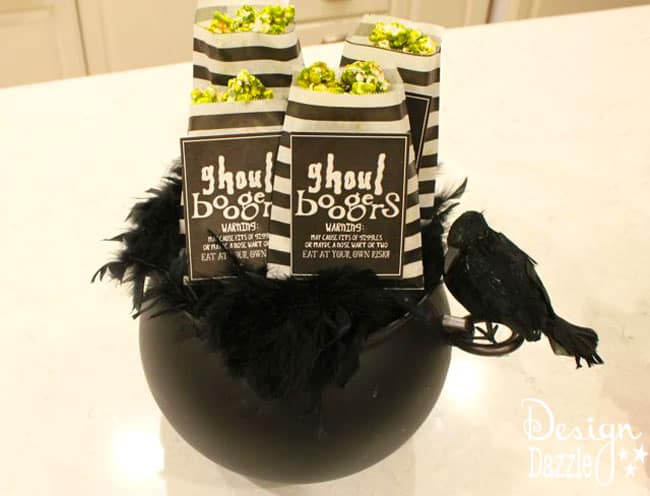 Download the Free Ghoul Boogers printables here. I love the what the text reads:
WARNING:
May cause fits of giggles or maybe a nose wart or two
Eat at your own risk!
The "Ghoul Boogers For Halloween" printable is FREE and available for immediate download by subscribing to Design Dazzle!
To receive this free printable – enter your email address in the box below and click submit. Make sure to check your inbox for an email from Design Dazzle. You will have access to all of our FREE printables and also will receive an email newsletter filled with lots of great information. Don't worry your email address will never be sold.
Printable files are for personal use only. They are not for commercial use.


SaveSave
Save
Save
Title:
Ghoul Boogers For Halloween – Free Printable
Last Updated:
November 4, 2019