This post may contain affiliate links that, at no additional cost to you, I may earn a small commission. Read our Disclosure Policy.
Have you ever attended an event that was mind-blowing? I was invited to a pirate theme party for adults and it had the most amazing decorations. The party theme was so much fun with over-the-top creative ideas that certainly brought out my inner pirate. I have lots of pictures to share of this themed ultimate pirate party!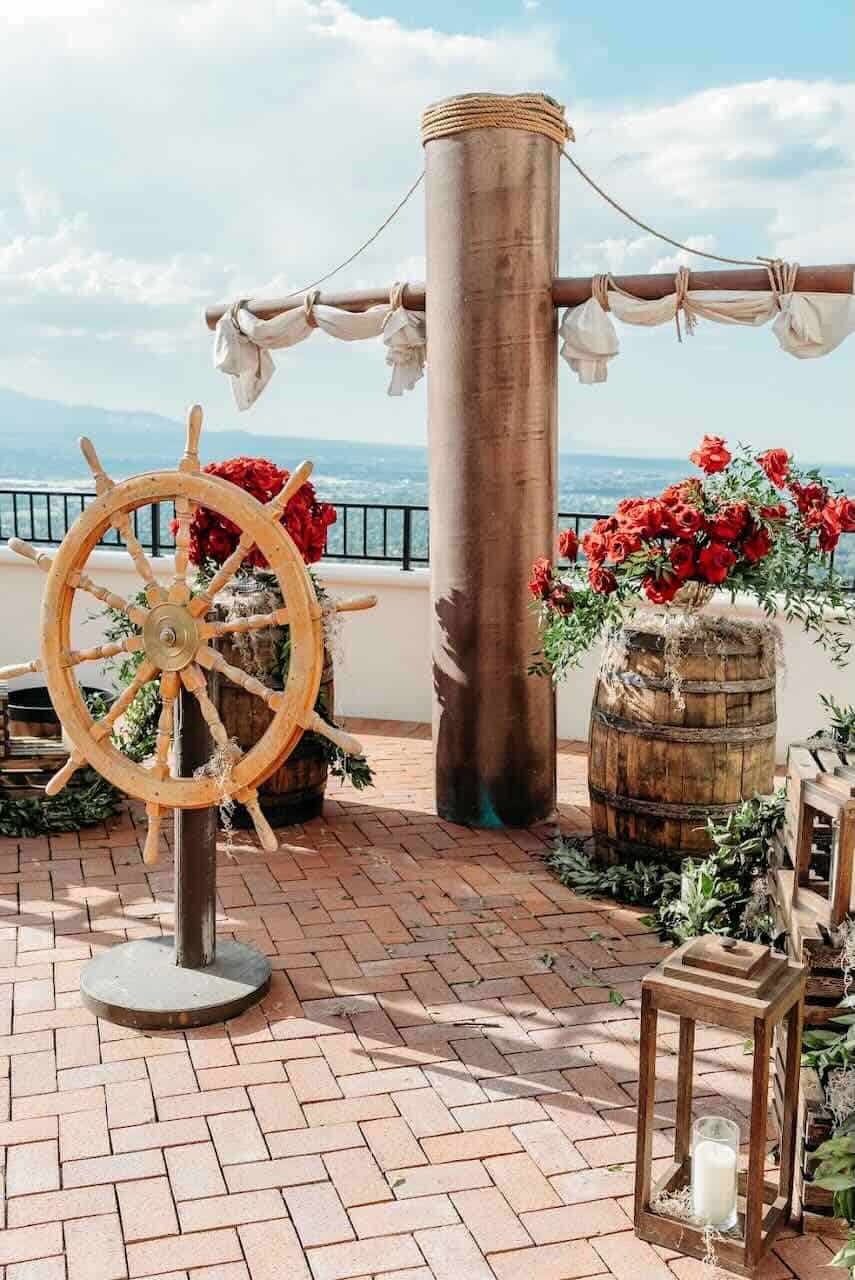 Creative Pirate Party Ideas
Some of the creative party ideas are:
Our host sent a treasure map as the pirate invitation. So clever!

Pirate costumes were required.

Pirate flags were in abundance everywhere. They are fairly inexpensive to purchase or you can make your own with an old sheet and some craft paint. Use black paint and create a Jolly Roger skull and crossbones on the flag.

Pirate treasure was everywhere. It's fairly simple to create pirate treasure with an old chest, pirate decorations, chocolate coins, a bottle of rum, gold doubloons, and a Pirates of the Caribbean type decor. Thrift stores are the perfect place to find old things that would look great in a treasure chest. A pirate hook and pirate essentials such as a skeleton would also look great!

You can always hire Captain Jack Sparrow to help host your event

A dance floor would be a hit!

Eye patches and pirate hats would be the perfect pirate party favors handed out at the party.

A cool idea would be to do a treasure hunt party. Think of some cool clues to lead to the next treasure with a treasure chest as the final prize. Favors appropriate for an adult pirate party would be awesome.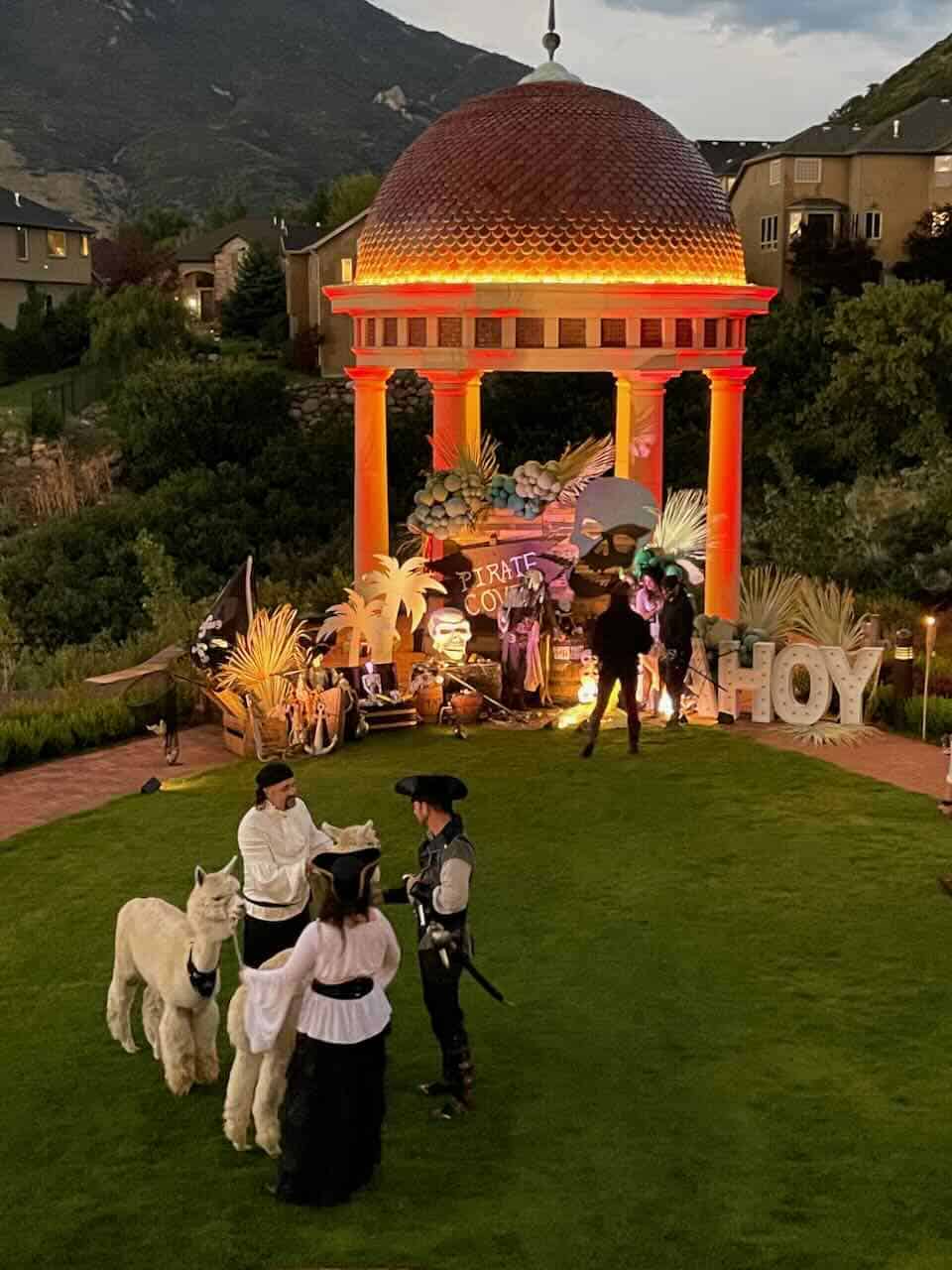 Pirate Party Decorations
Nothing evokes a pirate theme more than a pirate ship!
There was an actual pirate ship at the party. It was unbelievable. You could actually ride in it. See all the fabulous party decor below.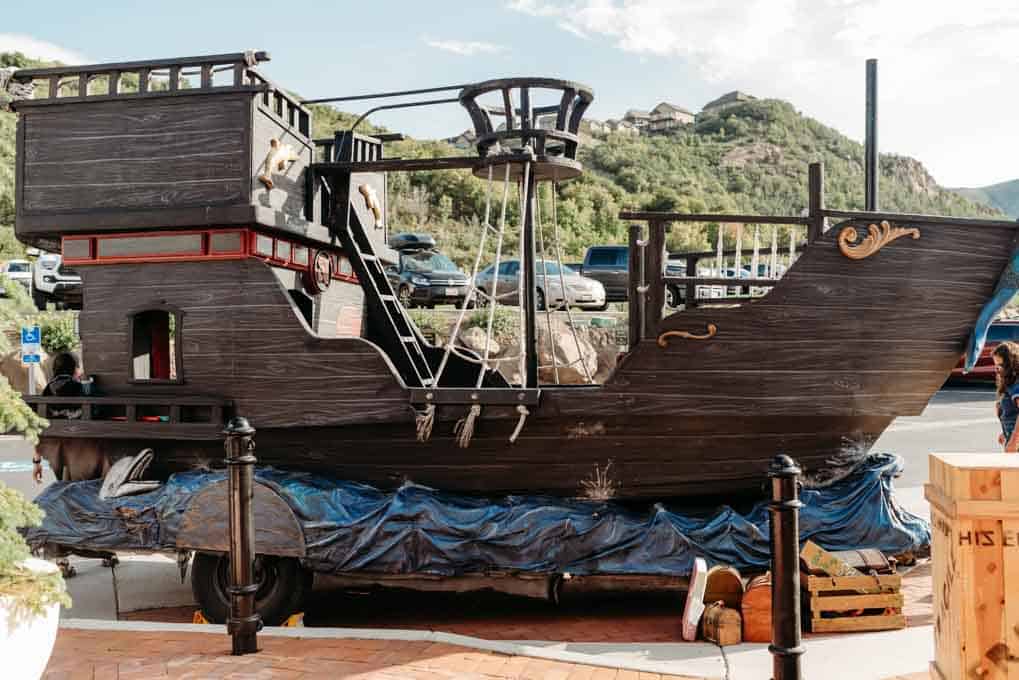 ​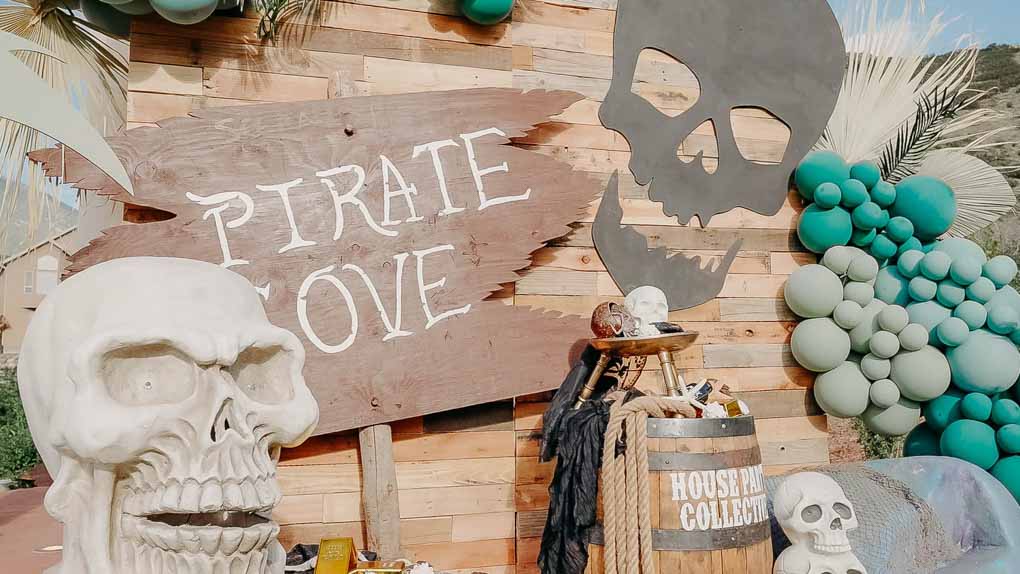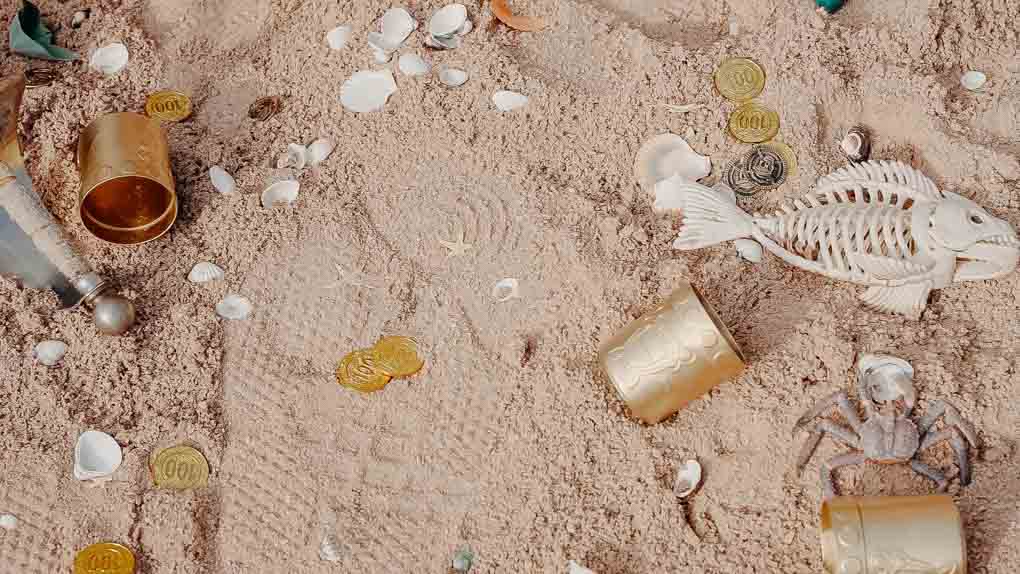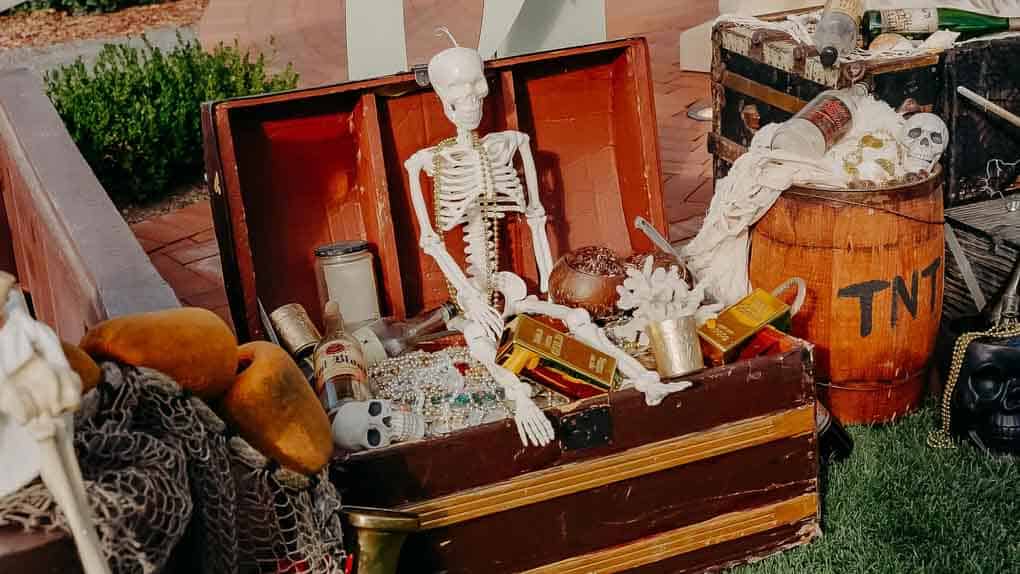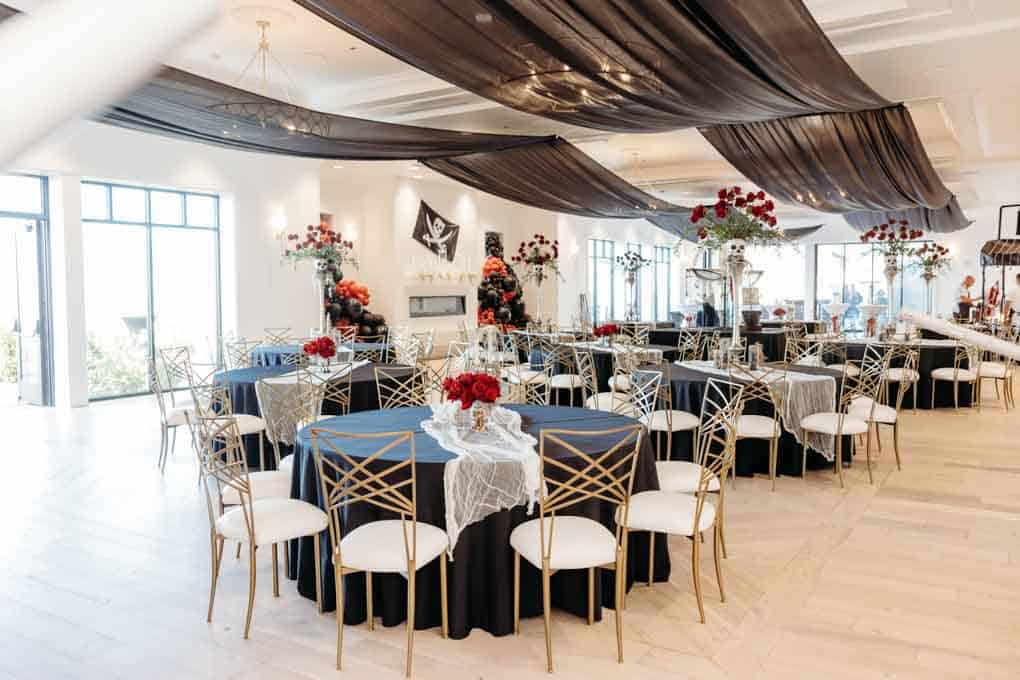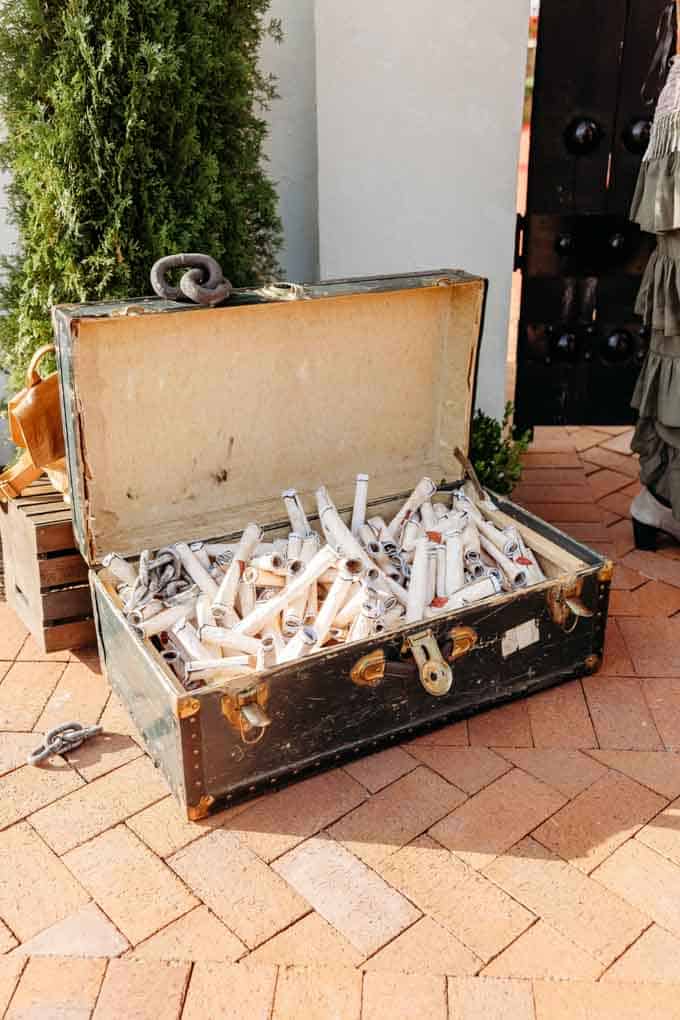 Photo props are an ideal way to create some great pictures for memorable takeaways.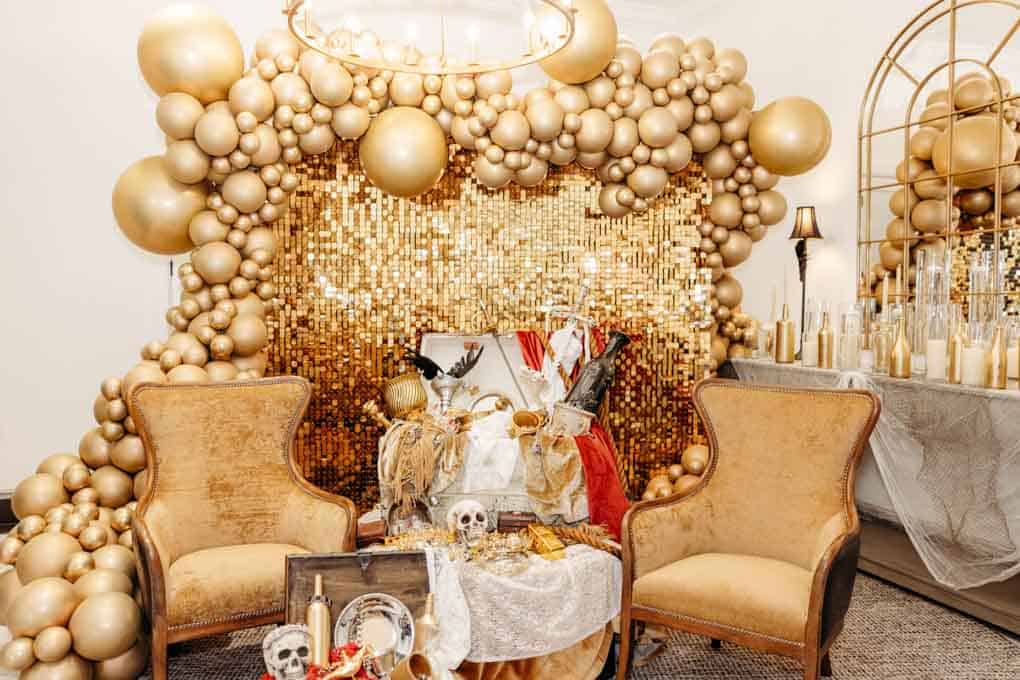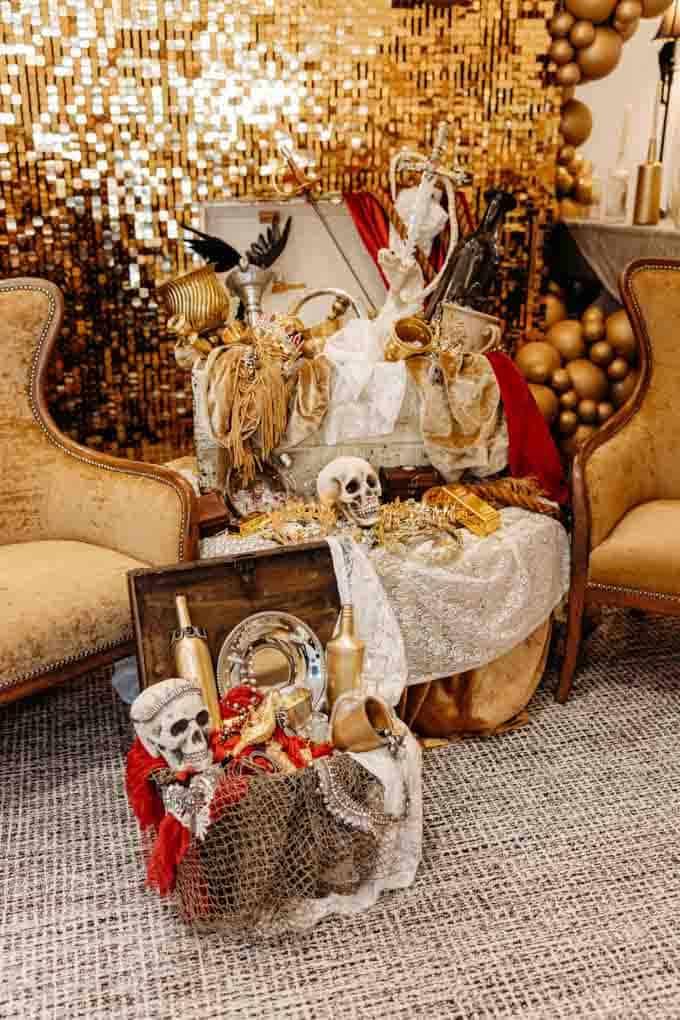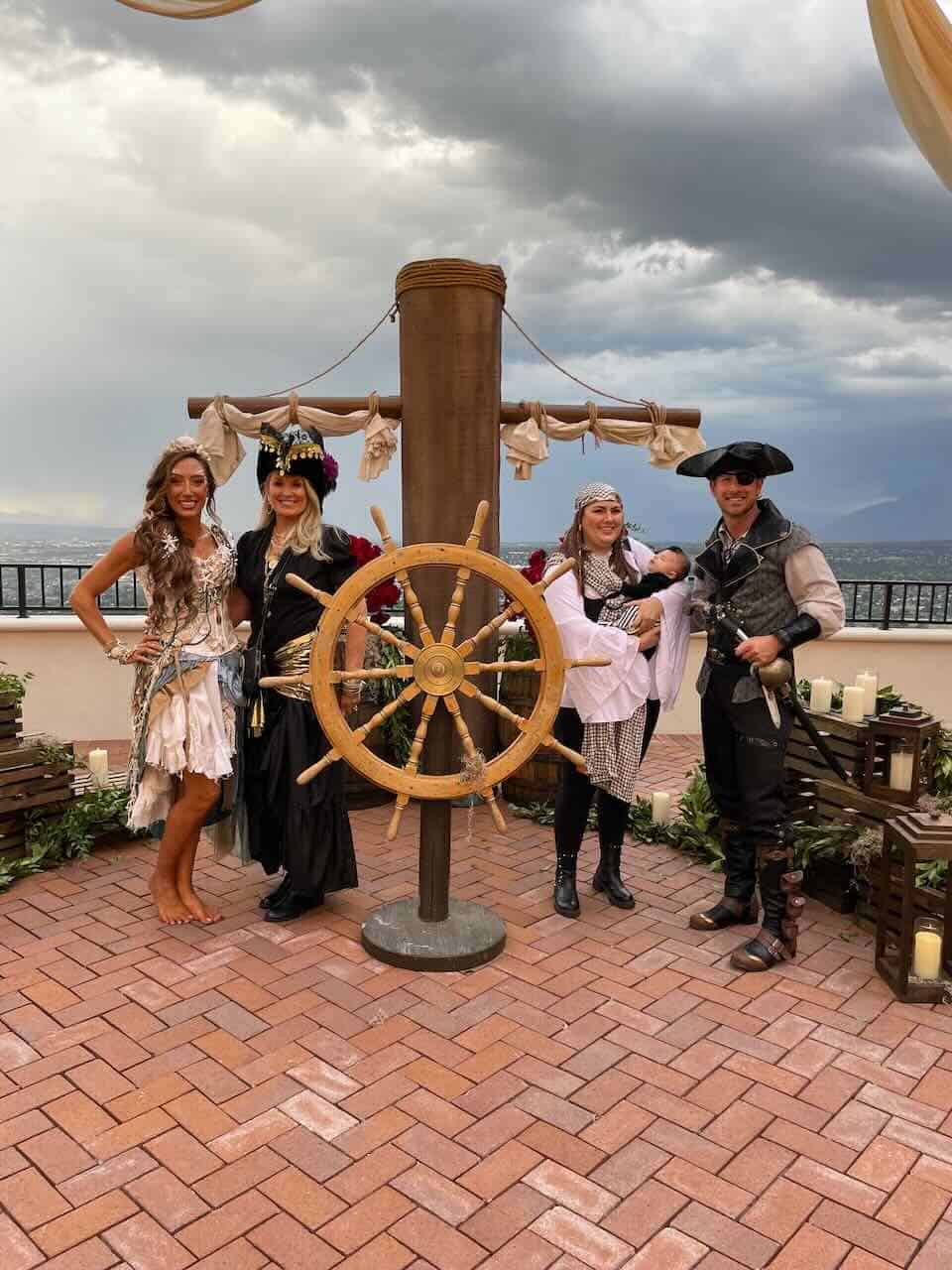 This pirate theme party for adults with amazing decorations was hosted by my friends Jordan and Bubba Page. They sure know how to put on events. Shaylee with her darling baby came with me to the party. She is a helper here at Design Dazzle and also runs her own vlog.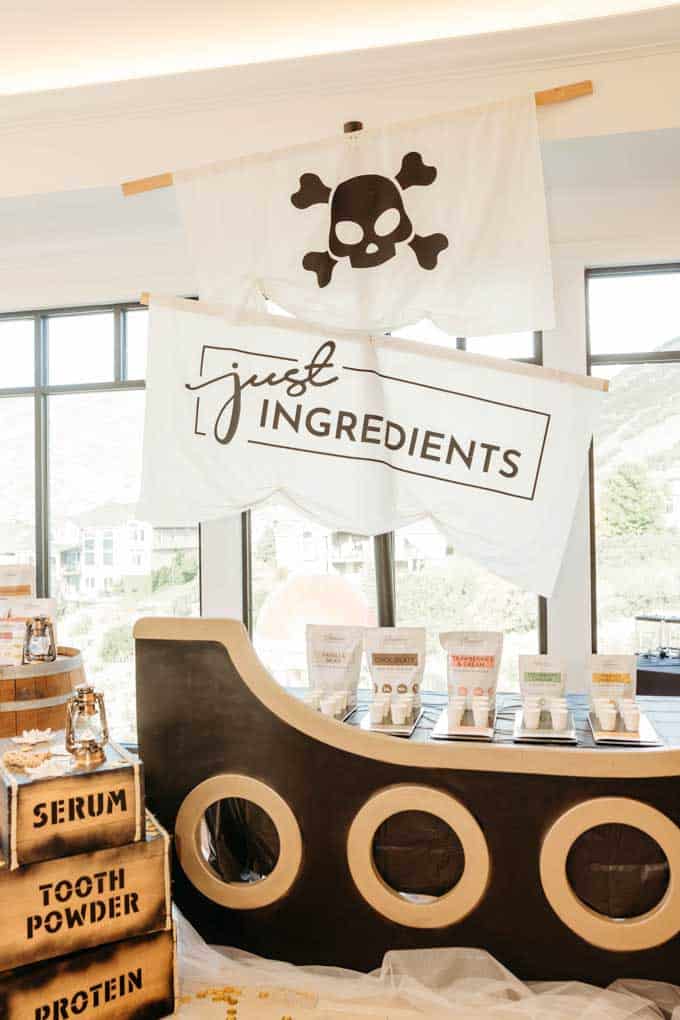 This image shown above was for a brand that was at the pirate party (Just Ingredients). I thought this was so clever and simple!​
Pirate Table Decor
Add some fake gold coins, and a treasure box, to the center of your table. Pirate party food consisted of fresh fruit, and salads served in champagne glasses. A pirate skull with red roses makes for a great pirate party centerpiece.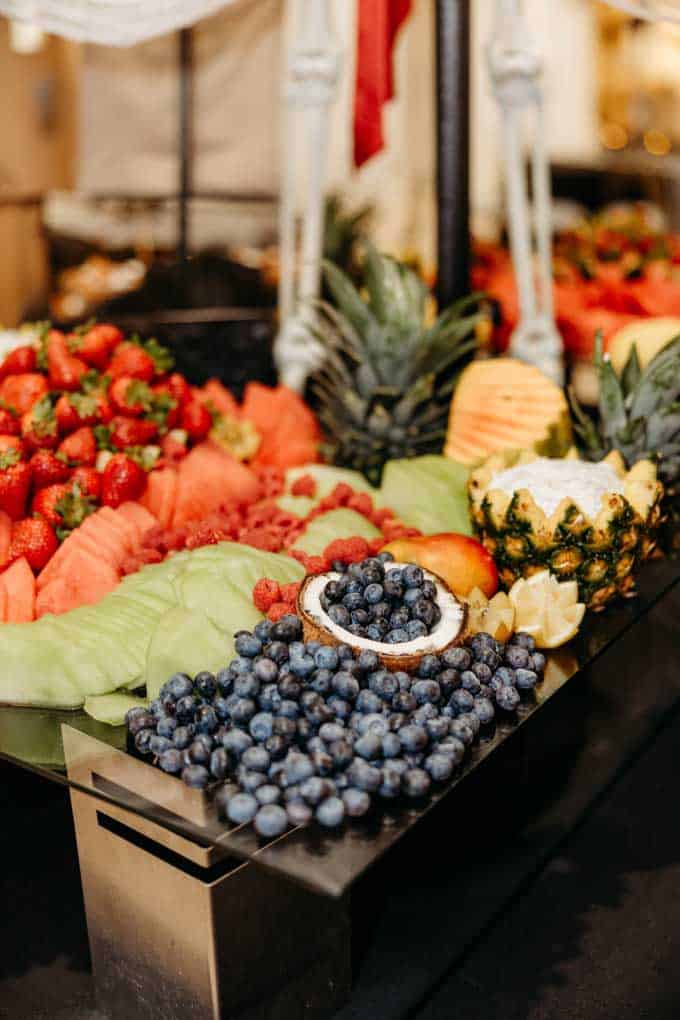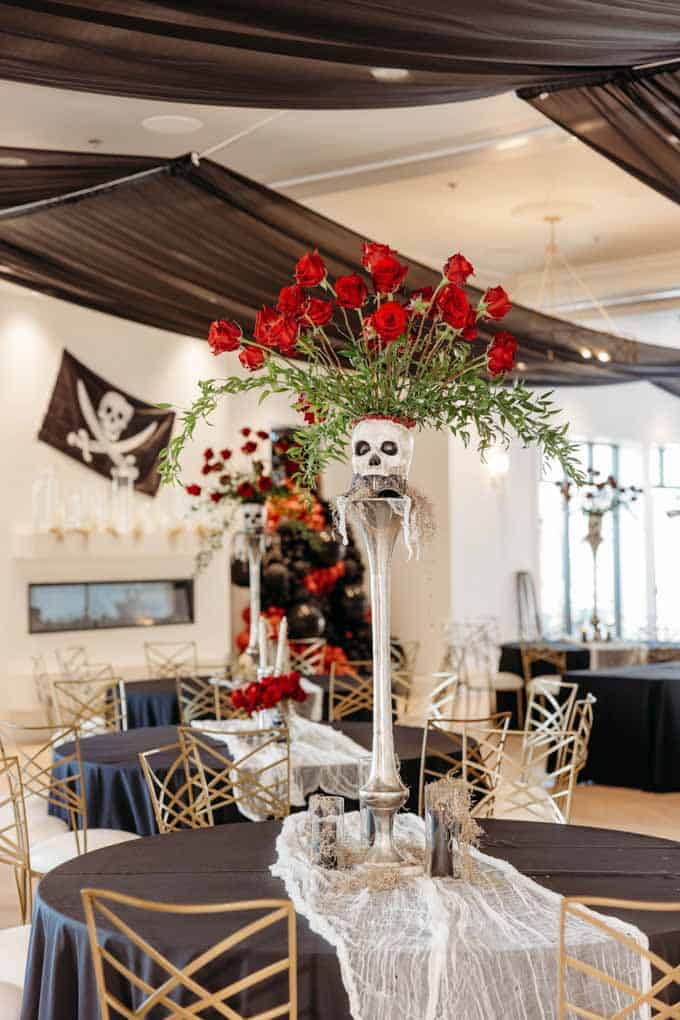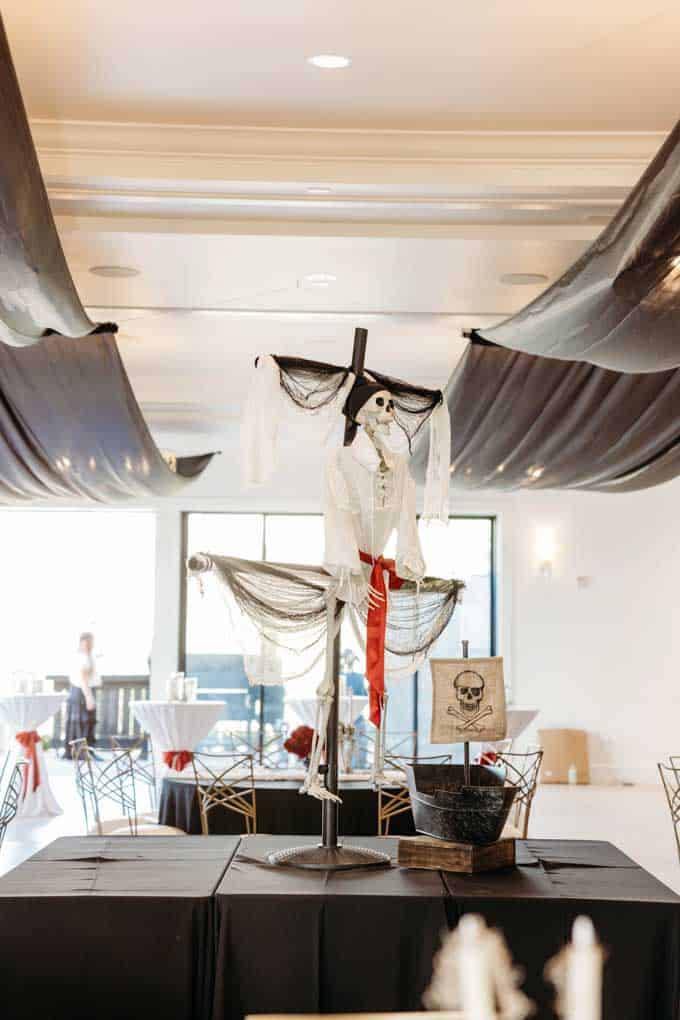 ​Pirate Theme Party Pics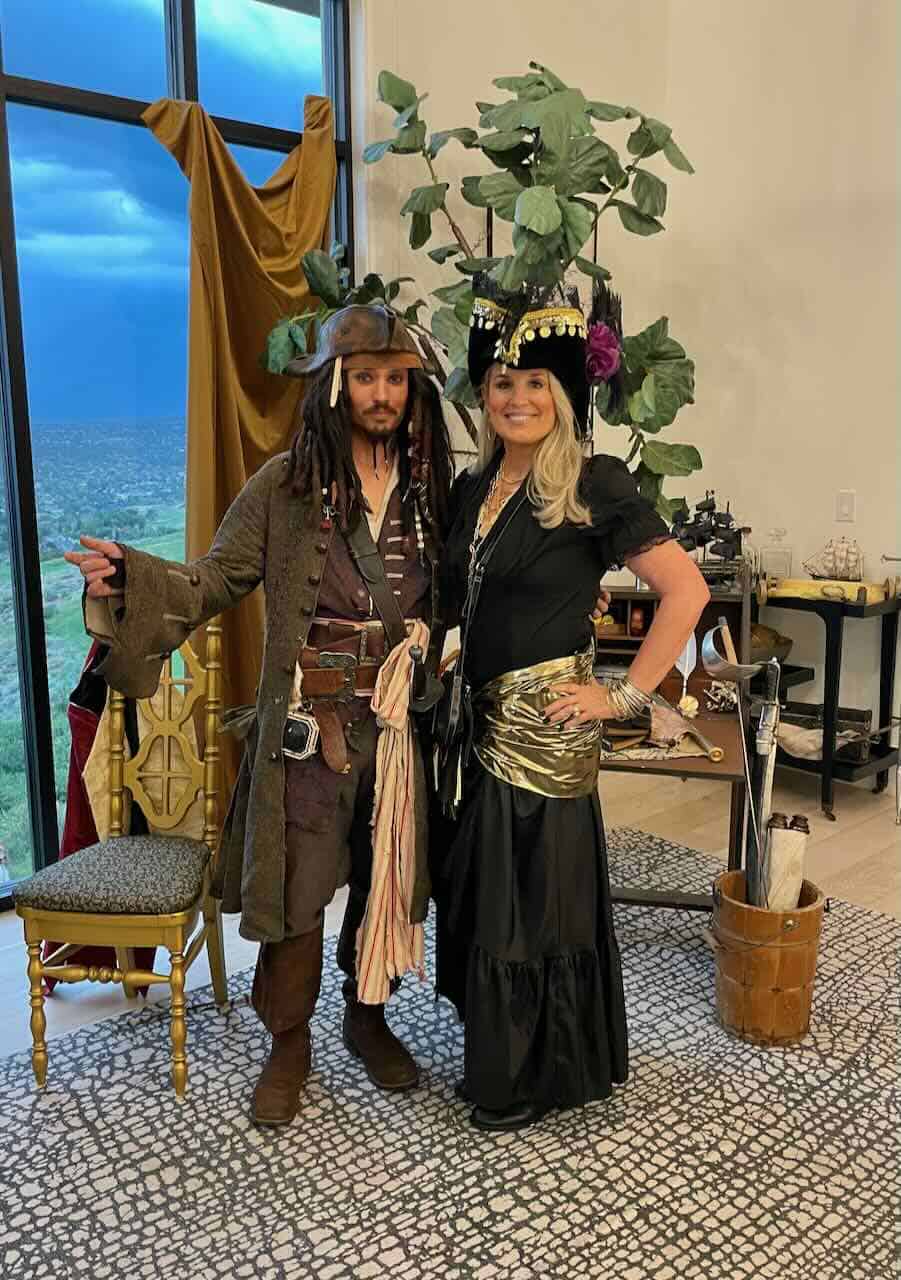 I couldn't pass up a photo op with THE Jack Sparrow.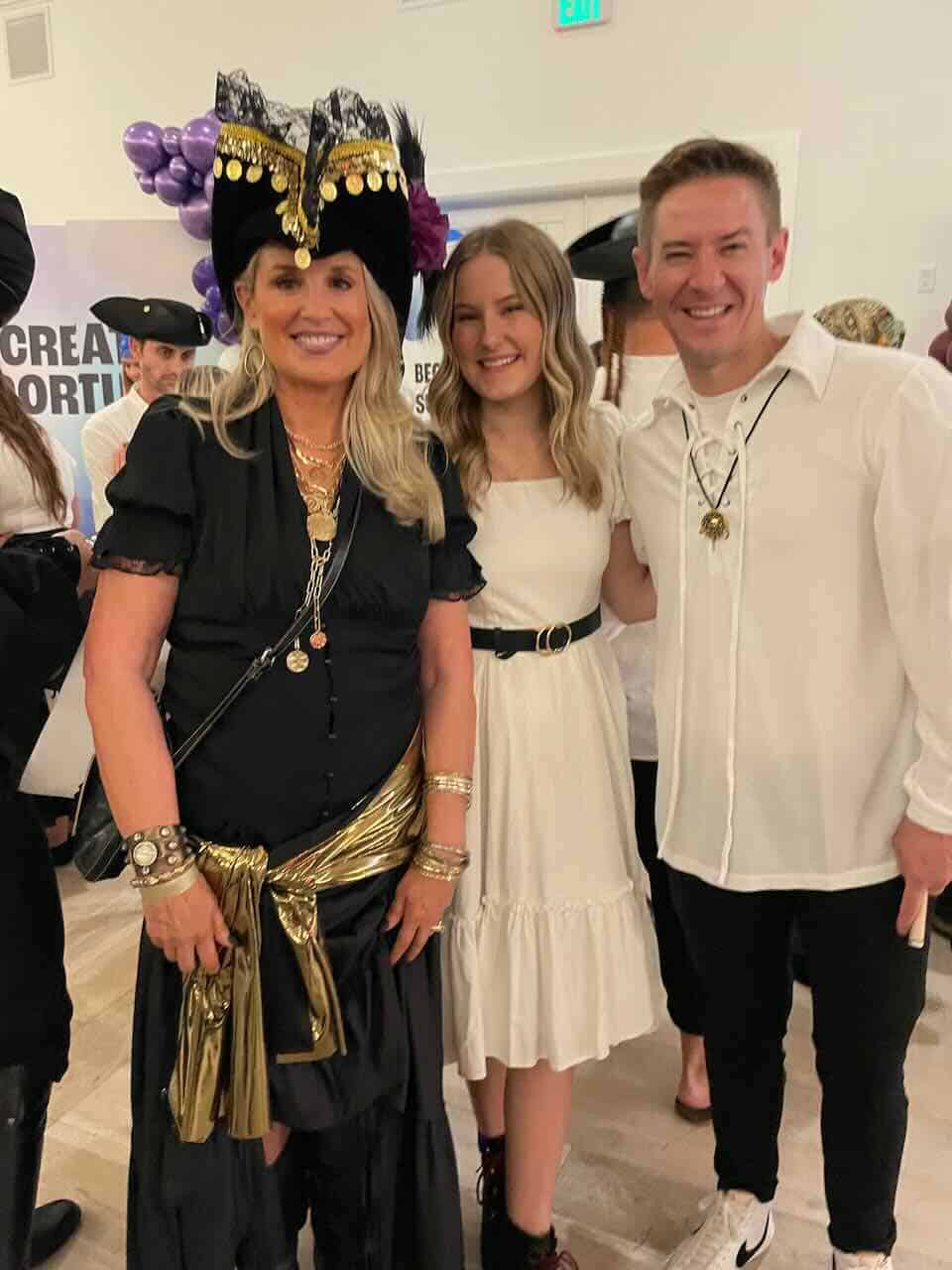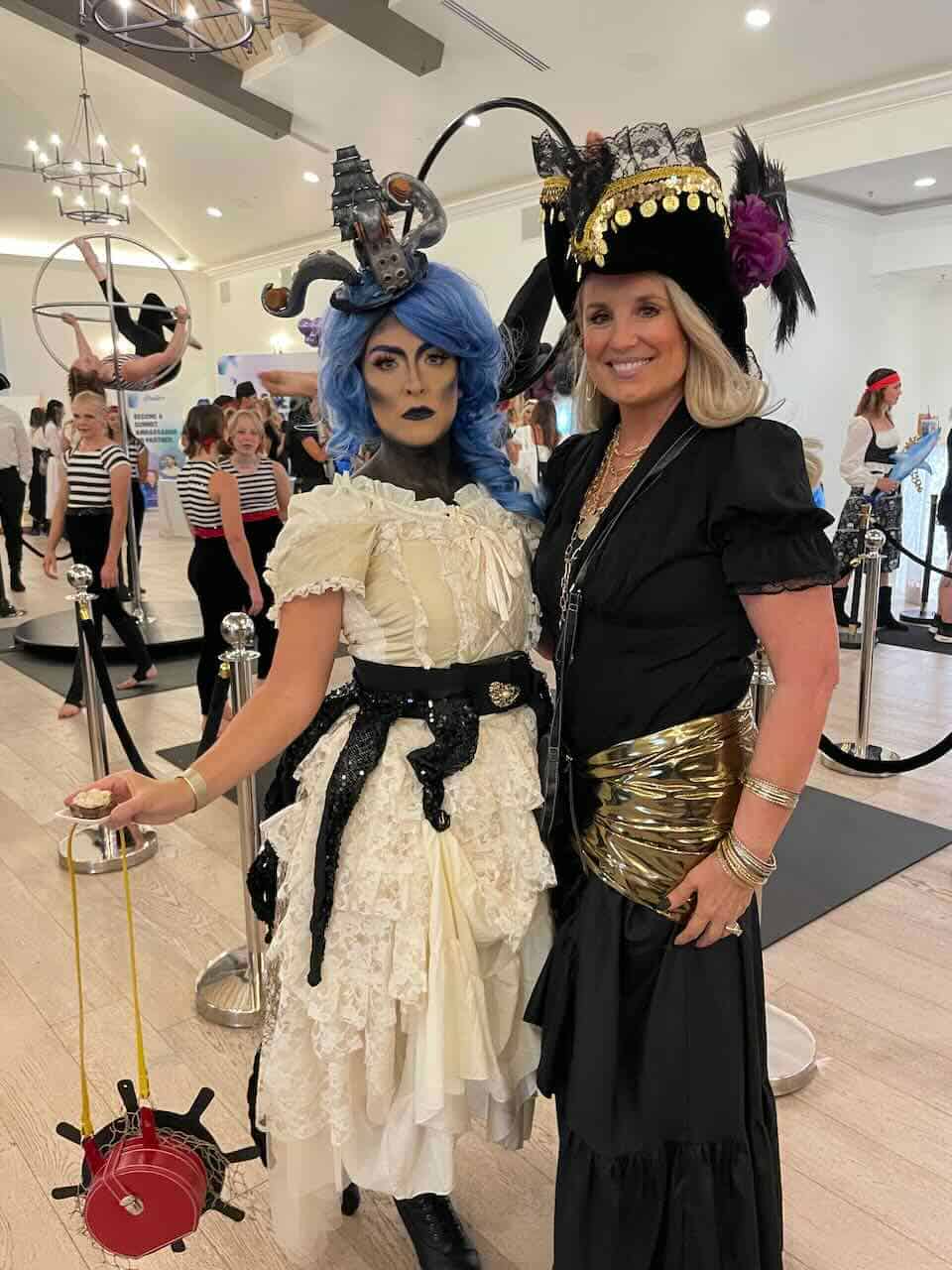 My friend Jen created her outfit complete with an octopus hat! She is super creative and talented!
My pirate outfit I purchased on Amazon. The black pirate skirt worked out perfectly and was very comfortable. I loved the black women's pirate shirt that I also wore after the party as a regular shirt. This basic women's pirate hat I added some decor pieces, trim and black feathers to upgrade the look. Gold jewelry and gold lame wrapped as a sash completed the look!
A good time was had by all the party guests. This high seas themed party would make for a great Halloween party too!
PROFESSIONAL PHOTOS
taken by @britaneejeanphotography
Pirate Ideas on Design Dazzle