This post may contain affiliate links that, at no additional cost to you, I may earn a small commission. Read our Disclosure Policy.
Halloween Skull Cupcakes is a sweet indulgence of a treat. These eerie yet delightful cupcakes are sure to delight both kids and adults at your Halloween gathering. In this blog post, we'll walk you through a step-by-step recipe for creating these delectable and spine-tingling desserts.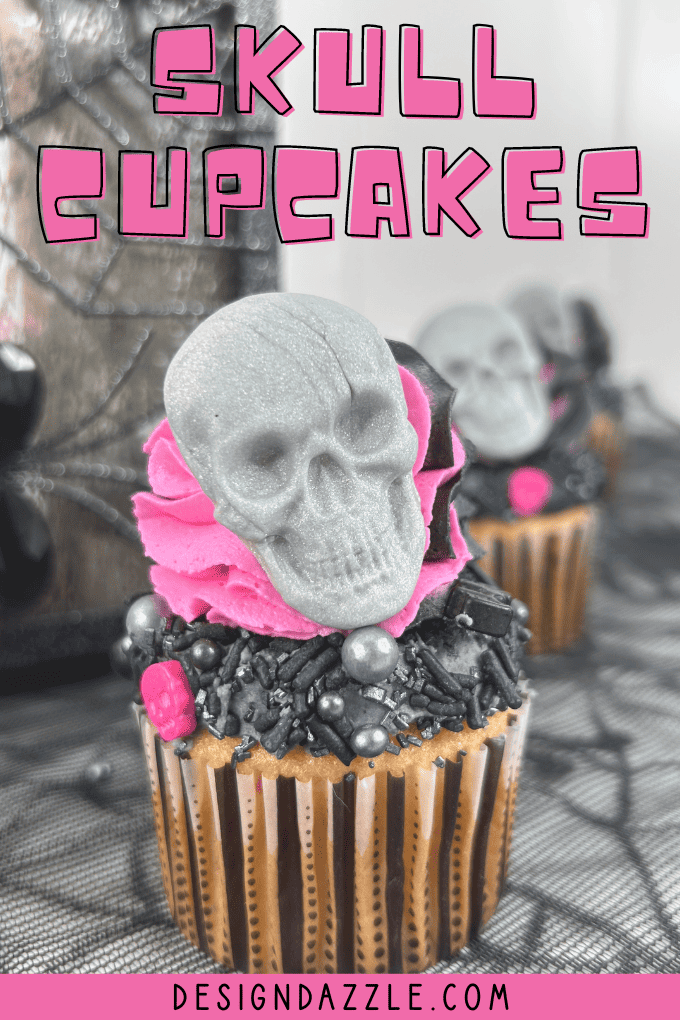 Whip up a batch of these ghoulish treats and enjoy the screams of delight from your friends and family as they sink their teeth into these deliciously scary cupcakes.
Fondant Skulls Ingredients
4.4oz silver fondant – can also be found at Michael's
Cornstarch to help mold the fondant
Small brush
Baking sheet lined with parchment paper

Fondant Skulls Directions
Remove the fondant from the package and place onto a cutting board
Dust your hands in cornstarch and work the fondant until soft and playable
Dip the paintbrush into the cornstarch and brush the inside of the skull mold
Pinch off about 1 1⁄2 tbsp of fondant and press it into the mold
Allow for the fondant to set for 3 minutes before peeling back the mold to remove the skull
Place the skull onto the cookie sheet
Repeat steps to make 17 more skulls
Once all 18 skulls have been made, set on the counter to dry overnight
Confetti Cupcakes Ingredients
1 box Cherry Chip cake mix
3 large eggs
1 C whole milk
1⁄2 C unsalted sweet cream butter, softened
Black and white cupcake liners

Confetti Cupcakes Directions
Preheat oven to 350 degrees and place the cupcake liners into the cupcake pan
Using a standing mixer, beat the cake mix, eggs, milk and butter until combined and smooth
Fill liners 3⁄4 way full and bake in the oven for 21 minutes
Remove and allow to cool completely
Vanilla Frosting Ingredients
2 C unsalted sweet cream butter, softened
5 C powdered sugar
6 tbsp heavy whipping cream
1 tbsp pure vanilla extract
Black, neon pink gel food coloring
1 large piping bag with a wide star tip
Black and Silver variety of sprinkles
Pink skull sprinkles
Medium cookie scoop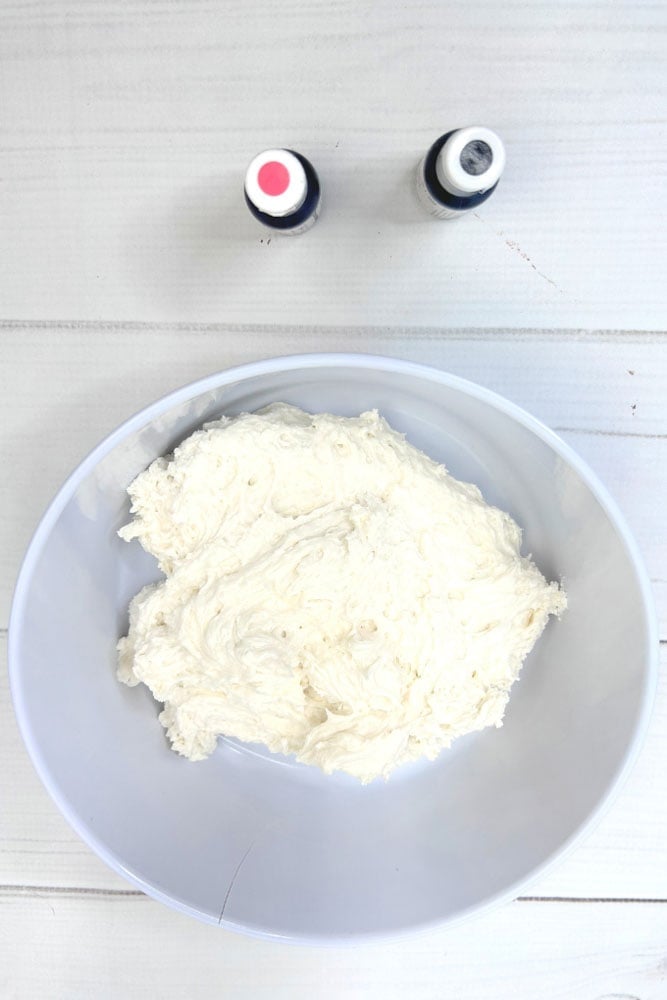 Vanilla Frosting Directions
Using a standing mixer, beat the butter, powdered sugar, heavy whipping cream, and vanilla until combined, creamy and holds a peak
Scoop 1 1⁄2 C of frosting into a separate bowl and mix in a few drops of neon pink food coloring
Mix several drops of black food coloring into the remaining frosting
Take the cookie scoop and scoop a mound of frosting onto the cupcake
Flip cupcake upside down and lightly press the cupcake down to make the frosting to flatten into a thick disk
Continue step with the rest of the cupcakes and frosting
Place the cookie sheet into the freezer for 10 minutes
Combine the sprinkles into a bowl
Peel the cupcake from the silicone mat and roll the cupcakes into the sprinkles
Take the piping bag and scoop the pink frosting onto one side of the piping bag
Scoop the remaining black frosting onto the other side of the piping bag
Pipe a dollop of frosting into the center of the cupcake
Place a fondant skull piece into the frosting dollop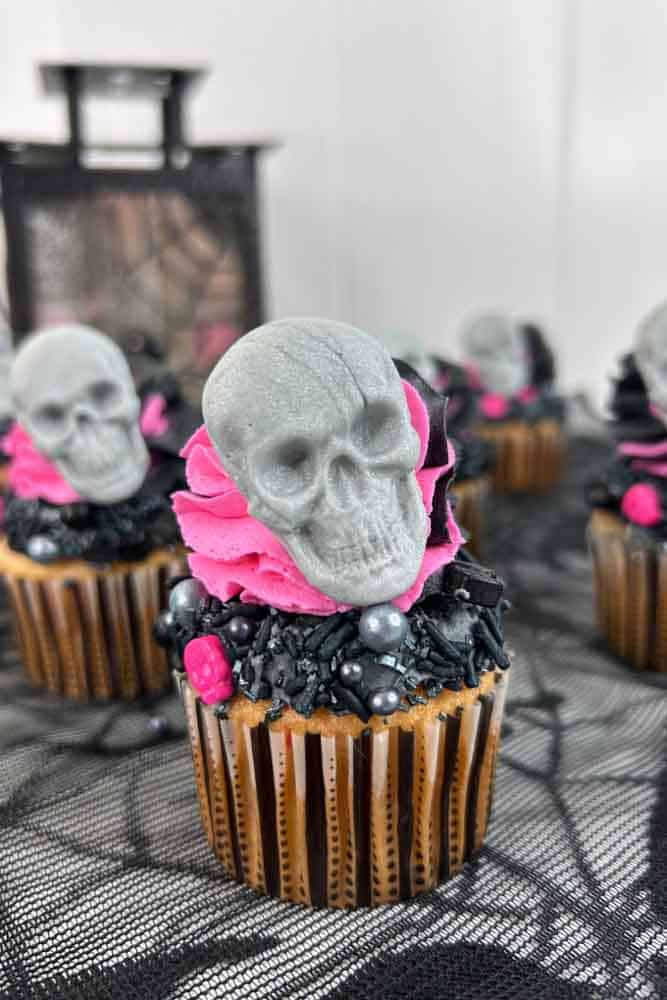 These Halloween Skull Decorated Cupcakes are a wickedly delicious way to celebrate the spookiest holiday of the year. With their eerie appearance and scrumptious taste, they're bound to be a hit at any Halloween party. Whether you're an experienced baker or just starting out, this recipe is a fun and creative way to get into the Halloween spirit.
Check out these adorable Ghost Brownies and the Halloween Movie Snacks that would be perfect for a fun Halloween party! Here's some Bat cupcakes for kid-friendly treat. Have you seen Ghoul Boogers? Green caramel popcorn makes for a yummy and funny treat.
Happy Halloween!
Halloween Skull Cupcakes
Ingredients
Fondant Skulls
4.4

oz

Silver fondant

found at Michael's

Skull fondant mold

found on Amazon

Cornstarch

Paint brush with small brush

Baking sheet

Parchment paper
Confetti Cupcakes
1

box

Cherry Chip cake mix

3

Large eggs

1

cup

Whole milk

1/2

cup

Unsalted sweet cream butter

softened

Black and white cupcake liners
Vanilla Frosting
2

cups

Unsalted sweet cream butter

softened

5

cups

Powdered sugar

6

tbsp

Heavy whipping cream

1

tbsp

Pure vanilla extract

Black & neon pink gel food coloring

1

large

Piping bag with a wide star tip

Black and Silver variety of sprinkles

Pink skull sprinkles

Medium cookie scoop
Instructions
Fondant Skulls
Remove the fondant from the package and place onto a cutting board

Dust your hands in cornstarch and work the fondant until soft and playable

Dip the paintbrush into the cornstarch and brush the inside of the skull mold Pinch off about 1 1⁄2 tbsp of fondant and press it into the mold

Allow for the fondant to set for 3 minutes before peeling back the mold to remove the skull

Place the skull onto the cookie sheet

Repeat steps to make 17 more skulls

Once all 18 skulls have been made, set on the counter to dry overnight
Confetti Cupcakes
Preheat oven to 350 degrees and place the cupcake liners into the cupcake pan

Using a standing mixer, beat the cake mix, eggs, milk and butter until combined and smooth

Bake in the oven for 21 minutes

Remove and allow to cool completely
Vanilla Frosting
Using a standing mixer, beat the butter, powdered sugar, heavy whipping cream, and vanilla until combined, creamy and holds a peak

Scoop 1 1⁄2 C of frosting into a separate bowl and mix in a few drops of neon pink food coloring

Mix several drops of black food coloring into the remaining frosting

Take the cookie scoop and scoop a mound of frosting onto the cupcake

Flip cupcake upside down and lightly press the cupcake down to make the frosting to flatten into a thick disk

Continue step with the rest of the cupcakes and frosting

Place the cookie sheet into the freezer for 10 minutes

Combine the sprinkles into a bowl

Peel the cupcake from the silicone mat and roll the cupcakes into the sprinkles

Take the piping bag and scoop the pink frosting onto one side of the piping bag

Scoop the remaining black frosting onto the other side of the piping bag

Pipe a dollop of frosting into the center of the cupcake

Place a fondant skull piece into the frosting dollop