This post may contain affiliate links that, at no additional cost to you, I may earn a small commission. Read our Disclosure Policy.
Today I am sharing the next installment in my series about my kitchen remodel. As a reminder, this is for the awesome Calling It Home One Room Challenge, and I am am so excited to share the whole process with you!
One of the biggest and most important parts of a kitchen are the counter tops. You can't really be too careful when it comes to choosing them. The type of counter tops you have create a huge impact not just in how your kitchen appears visually, but also how functional it is.
Like me, you've probably heard a lot about marble counter tops recently. They seem to be all the rage, and while they are beautiful, I was surprised to learn that they aren't really the most practical choice when it comes to kitchen counters.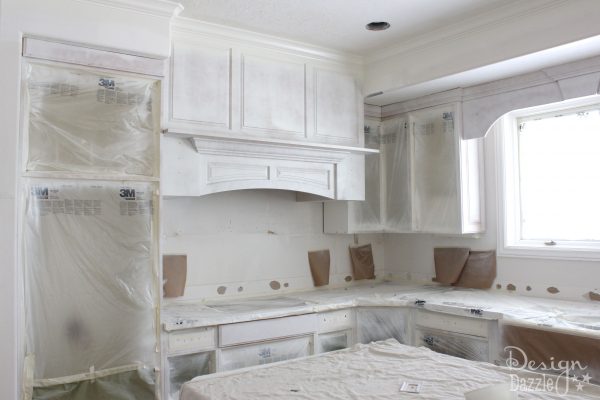 After some research (always do your research!) I found that while marble especially the Carrara marble may look beautiful, it takes a lot of maintenance to stay that way. If you're like me, you spend a lot of time in the kitchen, and it's not always perfect and clean! The biggest issue for me is that it scratches pretty easily, and that anything acidic or highly pigmented – like fruits or juice – can leave a permanent stain on the marble even if it's only left on for a short period of time because it's a soft and porous material . The pros of marble countertops are they're beautiful, classic and more affordable compared to granite and quartz. I have a girlfriend that has the Carrara Marble in her kitchen she regrets the choice. It stains too easily. They might be perfect for you, but I decided that they just weren't going to work with the functionality of my kitchen lifestyle.
Aside from marble, there are a couple other popular options for kitchen countertops. In the end, I decided to go with quartz countertops. Even though quartz is slightly more expensive than marble or some of the other options, the payoff is completely worth. These are the best countertops I have ever had! I love working and cooking in my kitchen because they are so durable and beautiful at the same time!
The exact type of counters I went with are from Home Depot and it's called Viatera Quartz.
Viatera is Italian for "By Way of the Earth". Viatera is LG Hausys' brand of Quartz surface. Composed of 93% natural crushed Quartz combined with resin binders, Viatera is non-porous and stain resistant and does not require sealing. It is also extremely durable being resistant to heat and scratches and easy to care for using common household cleansers.
Home Depot was so easy to work with and made the whole experience very smooth and enjoyable. I also got my sink from there!
One of the great things about quartz is its durability. You can set hot things on it without ruining it, and it's very hard to stain.
An important thing to remember about installing counters is that your bottom cabinets have to be completely installed before they can even come and measure for the countertops. As you saw last week, we installed our cabinets first in order to avoid any problems.
As you can see, the cabinets were getting a coat of primer. I'll be sharing more next week about all my storage in my kitchen. You will love some of my ideas.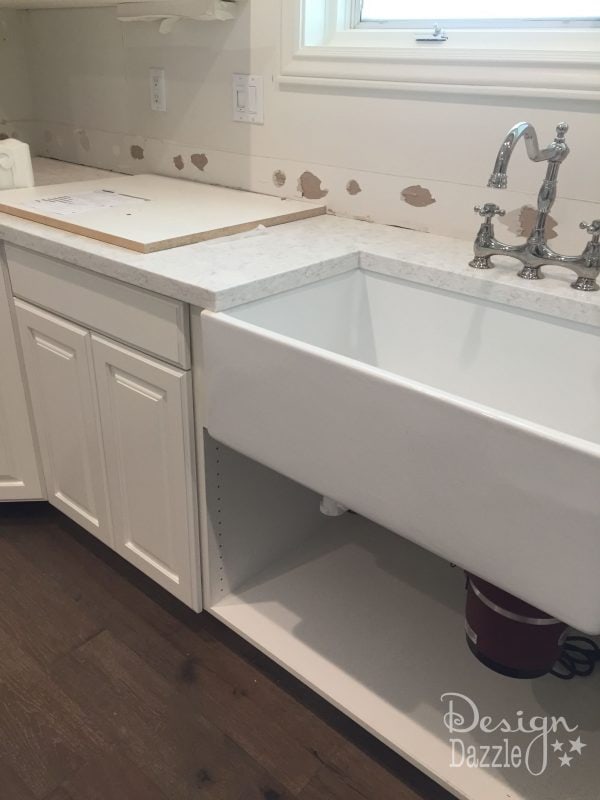 The sink also already needs to be ordered and installed by this point (I went with farmhouse sink – I can't go back to a normal one ever again!) You should also know how many holes you want cut for the sink and faucet area when they come to measure. If you don't know or give the wrong number, you'll most likely have to pay for them to come back out to cut the holes, which is inconvenient and avoidable. I needed four holes all together. I chose to have an extra one for the garbage disposal button that we got instead of having to flip a switch. It's a simple change that has made a big difference!
I would suggest asking where the seams are going to be as well. Obviously, the quartz doesn't all come in one perfect piece – I wish! – and if you're like me, you probably want to make sure that you'll be happy with where they decide to join the pieces together. The kitchen island should always be one piece, but it doesn't hurt to confirm!
As for the corners of the counters, I didn't want them to be perfectly square, but I don't love totally round ones, either. We decided to go with a happy medium of the two. That way, there won't be any super sharp edges that little kids might run into, and it still has a beautiful custom look.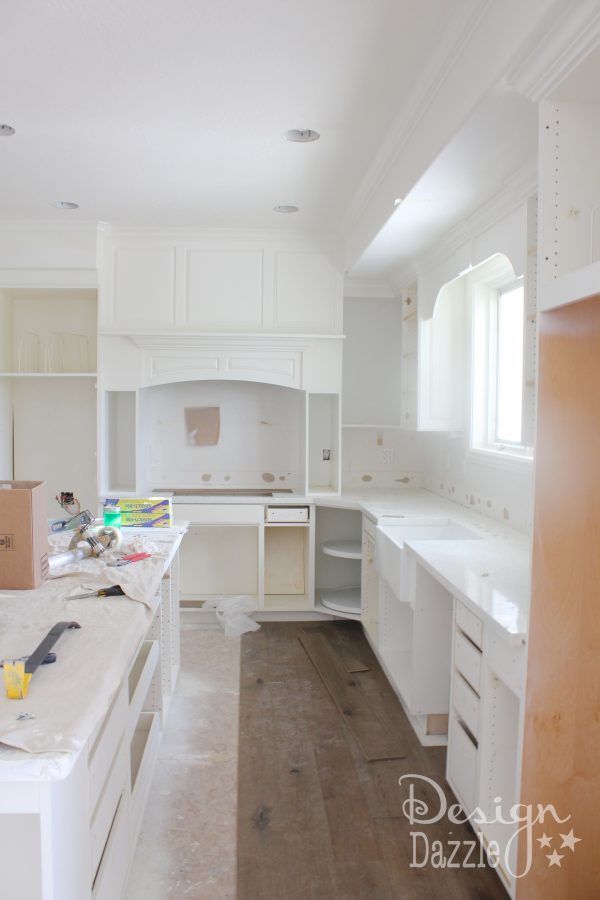 I've had a lot of different types of countertops in my life, and I have to say, this quartz is by far my favorite! I am so happy with the decision we made and wouldn't change a thing!
Wood floors were installed shortly after the counters. I had everything lined up with all my contractors and there wasn't much room for changing schedules on me.
After the counters were installed, it was time for the back-splash. I knew that I wanted a clean and classic look that was pretty subtle but still looked beautiful. In the end I decided on a white subway tile. The counters had to be completely done before the tile could be installed, and I couldn't be happier with the way everything came together!
I'm so excited to check in again with next weeks post! Here are the blog posts about this kitchen remodel
Save
Save