This post may contain affiliate links that, at no additional cost to you, I may earn a small commission. Read our Disclosure Policy.
It's always the little things that make any room feel complete. Today, I'm sharing all the little kitchen finishing touches I included in my kitchen remodel that have made all the difference in its functionality – and visual appeal, too!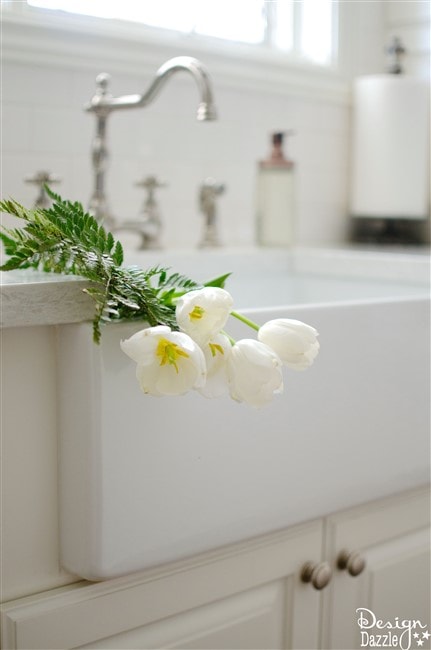 I mentioned in a previous post how much I love my farmhouse sink! After having one, I could never go back to a normal sink! It makes doing dishes and cleaning up after crafts so effortless and easy. Having the lower sink also gives a little more counter space, which allows for some cute decor additions like cake stand turned towel rest!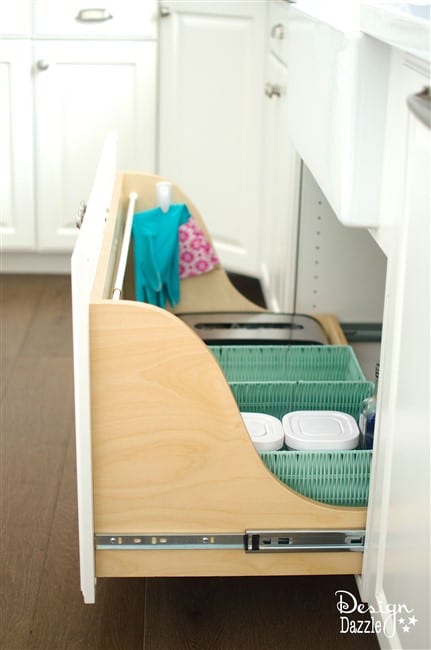 One of my favorite kitchen storage solutions – this under-the-kitchen-sink-drawer.
Instead of having two standard swing open doors under my sink, I had this pull out drawer installed. It is the perfect storage solution for this space! I can always see and access everything I have instead of having to squat down and try and find it. No bottles of soap or detergent get spilled over because of rummaging through the dark, and I always know where something is when I need it.
Choosing quartz countertops over marble was the best decision I could have made! They are hassle free and beautiful! If you're wondering if quartz is the right choice for you, I wrote a whole post on this that you can find here!
People are always nervous about putting wood floors in their kitchen, but I promise you that there is nothing to be afraid of! I have never had any problems with it, and the clean up is easy. Having the same flooring in the kitchen and living room opens up space and makes everything flow beautifully!
These lights look wonderful in my kitchen! Recessed lighting is popular in kitchen areas because it helps to open the space and provides a good amount of light for work, but with tall ceilings it's important to remember to have some elements that make the area feel comfortable and down to scale.
By having hanging pendant lights over the island, it allows the ceiling to still be high but brings the overall feeling of the room to a more human level. The fact that they are clear still allows other parts of the kitchen to be a focal point and doesn't distract from the overall aesthetic of the space. The room feels more relaxed and like a home instead of a showroom. While you want your house to feel spacious, you don't want it to seem untouchable.
Having that gorgeous custom hood piece installed over our stove instantly made it the focal point of the entire kitchen. The shelf that is part of it gave me the perfect opportunity to accent that focal point with details that bring out the color palette and theme of the room.
Your focal point should always speak for itself, so just adding a few simple items really helped to highlight the look I was going for.
Greenery always makes a room feel more organic, and the jug they are in has clean lines that don't fight with the craftsmanship of the woodwork. The copper trays are simple, but their beautiful color makes the area stand out and indicates that we're looking at a kitchen. The wooden pizza tray is also simple, but really adds to the "kitchen feel," while the blue of the jars balances out the jug and the round three dimensional feeling of the branches.
I hope you've enjoyed seeing these kitchen finishing touches that helped really bring my kitchen together! I also hope that you've gotten some ideas of your own, and I can't wait to show you the final reveal and how it all came together in next week's post!
Check out more of my kitchen remodel!
Kitchen Finishing Touches (the post you're currently reading)
Make sure you check out some of the other awesome remodels from the Calling it Home One Room Challenge!


Save
Save
Save
Save
Save