This post may contain affiliate links that, at no additional cost to you, I may earn a small commission. Read our Disclosure Policy.
Today I'm sharing one of my favorite areas of our kitchen remodel – part of the baking zone! In planning this kitchen – organization and creative storage ideas were very important to me. I love the idea of having our consumables we use frequently stored in drawers. I have easy access to everything I use often but it's hidden away so my counter tops remain uncluttered. Come take a look – Organization Kitchen Storage Ideas.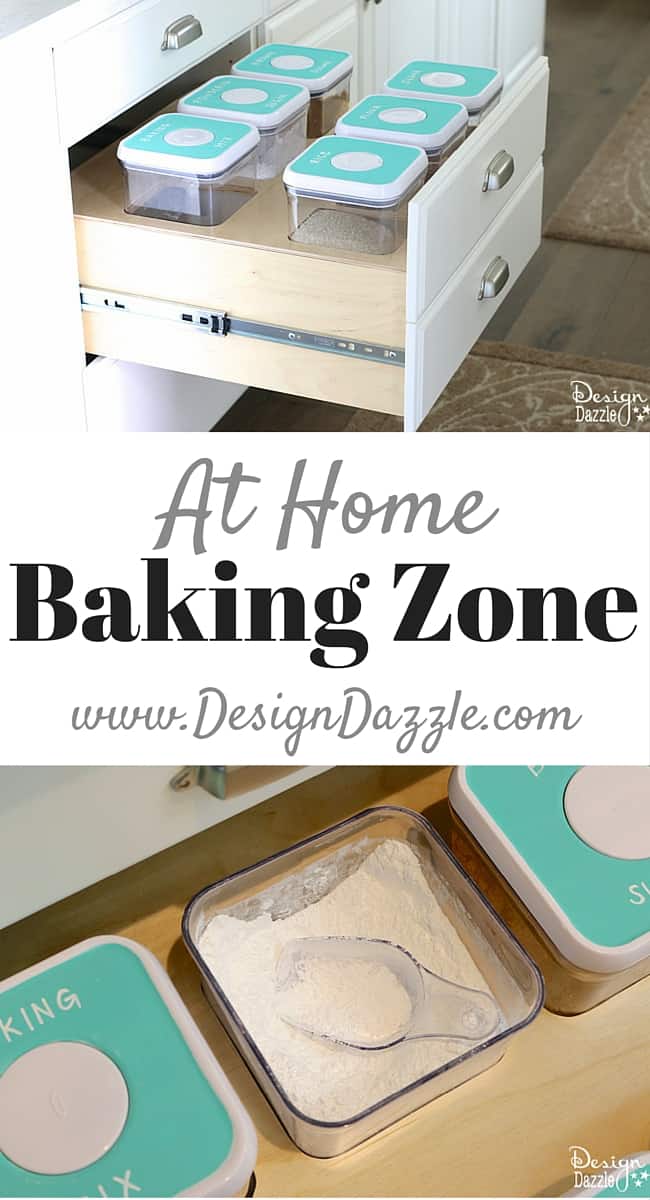 This post contains affiliate links at no additional cost to you. For further information, please see our disclosure policy.
Organization: Kitchen Storage Ideas For Consumables
I've been wanting to create a storage area for the ingredients I use most in baking. I love order in the kitchen. It keeps me organized and the kitchen stays cleaner when everything has a place. There are different zones in my kitchen to help with cooking, prep, baking and a cleaning flow. This area I'm sharing is part of my baking zone. Keeping consumables that I bake with close-by is the name of the game!! Before I had this storage cabinet there were many trips to the pantry. Choosing 6 of my most used "baking" ingredients was pretty easy. Flour, sugar, confectioners sugar, brown sugar, baking mix and rice (yes, I know the last one usually isn't a baking ingredient – but we use a lot of rice).
To start I'll show you what my baking zone drawers look like when they are closed.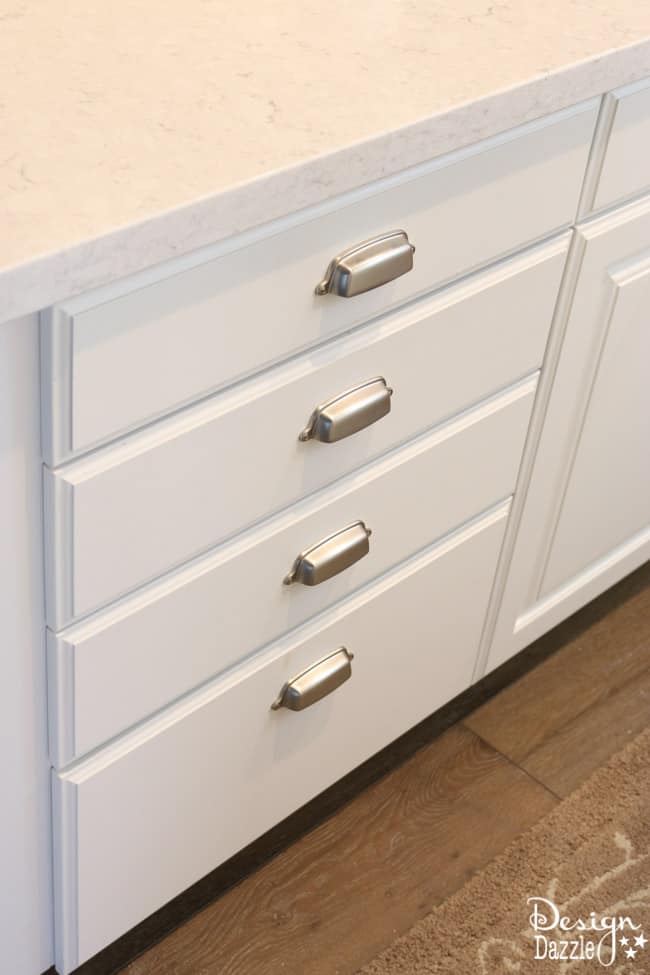 As you can see, the drawers don't look like anything special but one of those "drawers" you see there is a fake! During our kitchen remodel I asked our cabinet maker to make one of the drawers extra deep so I could store my baking and often used ingredients in their upright containers right inside it. We used the cabinet fronts that were already a part of the cabinetry. So the only thing new was the inside drawer part of the cabinet.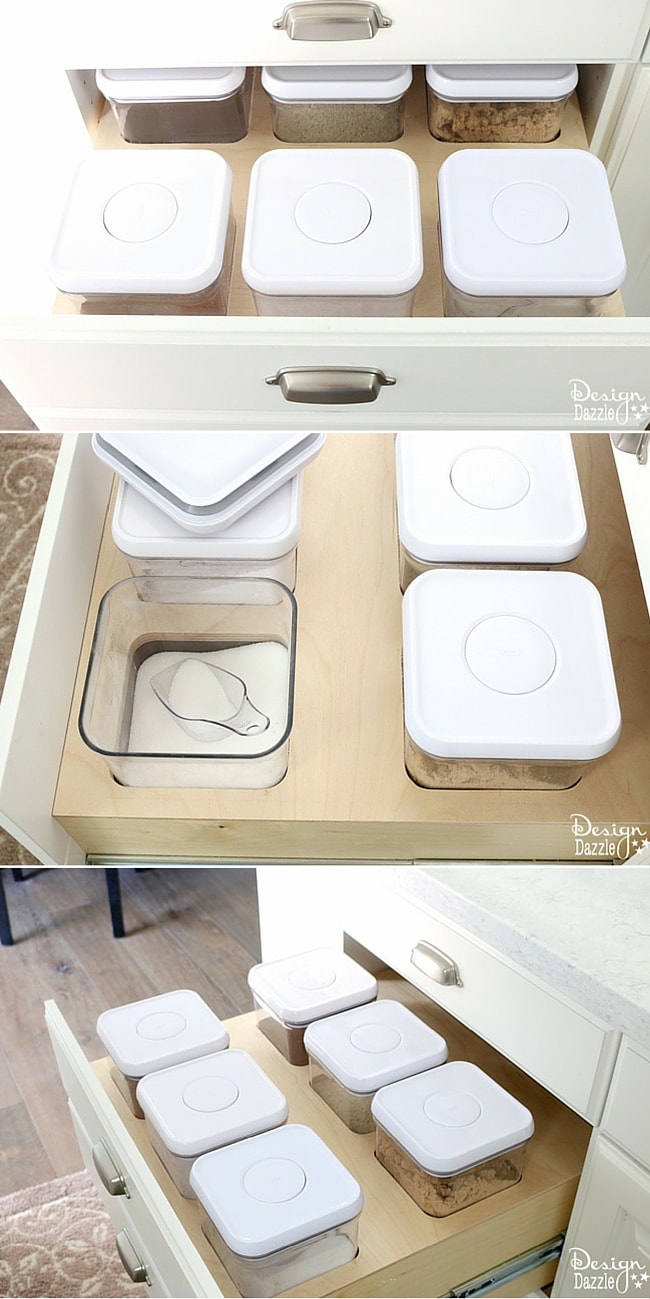 These OXO Good Grips storage containers are my favorite. I've been using them for years and love them! The lids are airtight so your ingredients remain fresh and they are just a great staple kitchen product!
To keep them from moving around in the drawer, the cabinet maker made an insert with custom holes for them. The insert sits on top of the drawer sides and is removable for cleaning.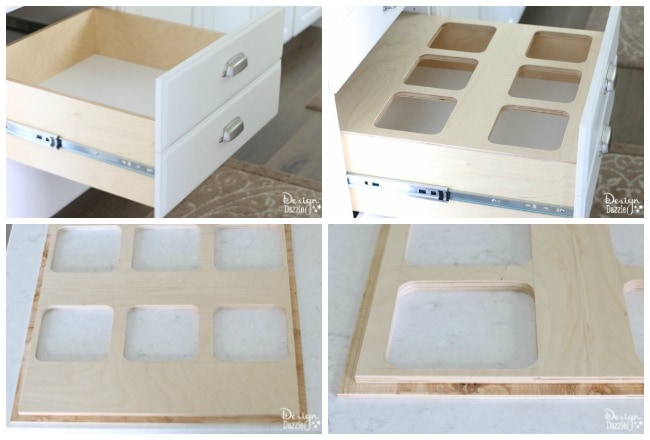 To add a splash of color to my containers I painted the tops of the lids with aqua chalk paint and used a chalk pen to write the contents on top. I don't wash the lids often, just wipe them down as needed. The paint and chalk pen wouldn't hold up well with a lot of scrubbing and washing so keep that in mind if you decide to paint yours!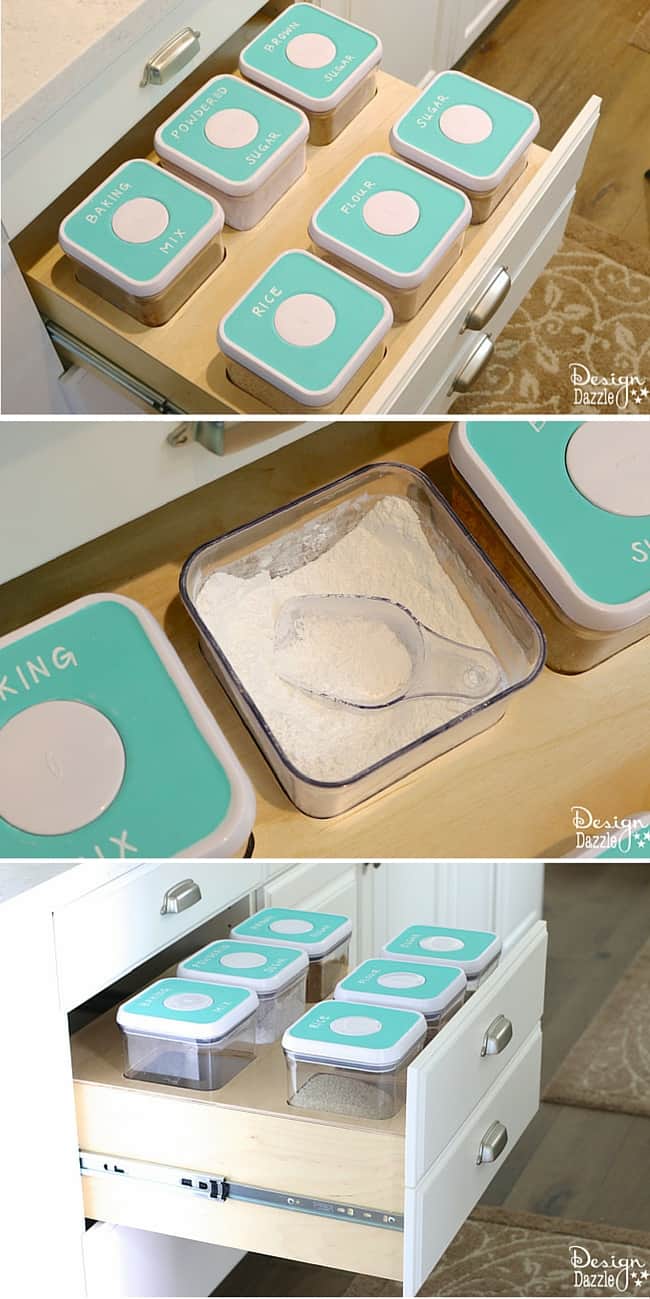 In the cupboard next to this drawer I keep all of my mixing bowls and on the other side of that I store my mixer. I will share my custom mixer cupboard with you another day – it is pretty fabulous!
————————-SHOPPING FUN—————————–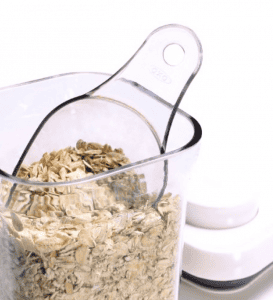 My favorite storage containers


Save
Save