This post may contain affiliate links that, at no additional cost to you, I may earn a small commission. Read our Disclosure Policy.
Today I am so excited to share one of my favorite aspects of the kitchen remodel. I was able to come up with all the creative hidden kitchen storage solutions that don't break the bank!
If there's one thing that makes cooking and baking more enjoyable, it's knowing that everything has a place and that you'll have easy access to everything you need.
I know that I've been deterred from making something for dinner before just because I know it will require me to pull out things that are stored in awkward places, and it just doesn't seem worth the hassle.
I want to show you all the creative hidden kitchen storage solutions I came up with and how they make my life so much easier.
I honestly LOVE cooking in my kitchen infinitely more now because of how easy it is to get to all my ingredients and tools. The one thing I can't live without? Rev-A-Shelf products. They are a GAME CHANGER!!  I started using their products in 2006 in my first kitchen remodel. I have now used them in all of my kitchen remodels and in other rooms. See how I used Rev-A-Shelf in my laundry room. I have provided links below the images to all the storage solution products. 
An organized life is definitely an easier life, especially when it comes to your kitchen!
This post contains affiliate links at no additional cost to you. For further information, please see our disclosure policy
Creative hidden kitchen storage solutions: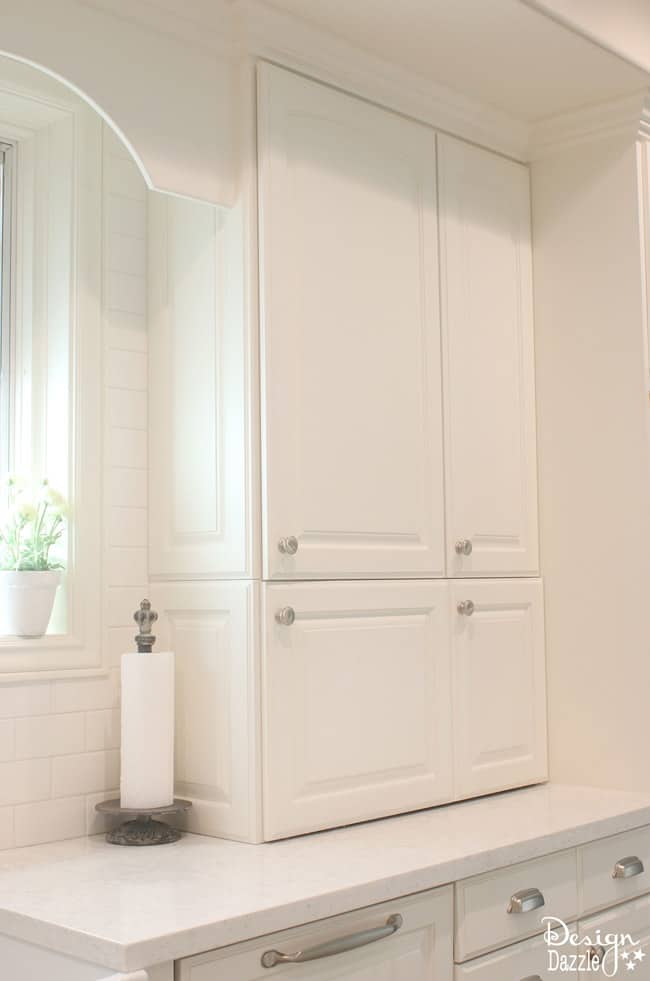 I love, love this storage cabinet. See below for how it opens…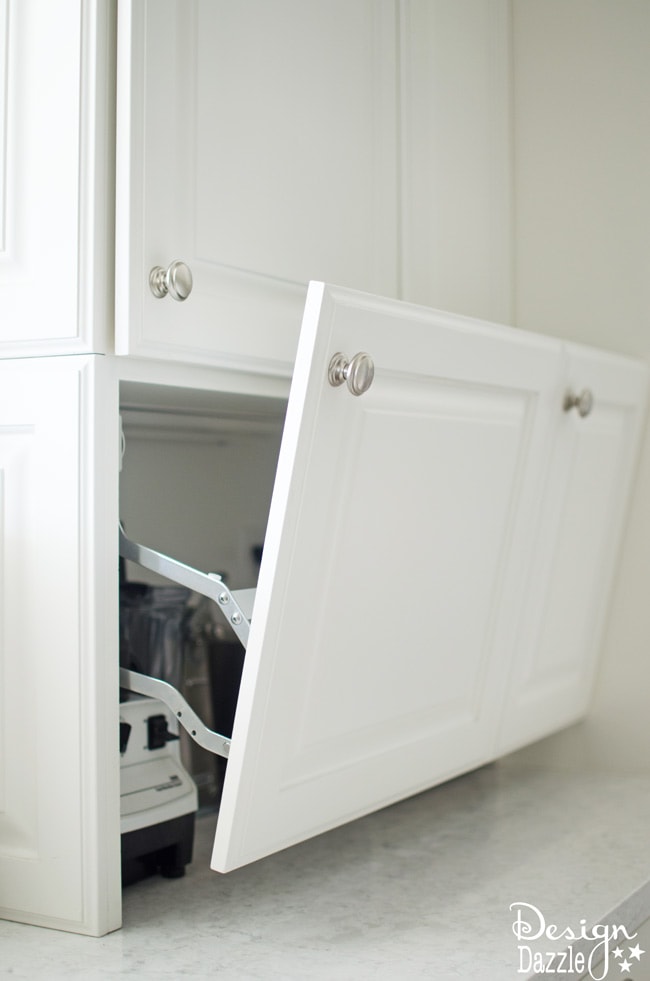 beginning to open…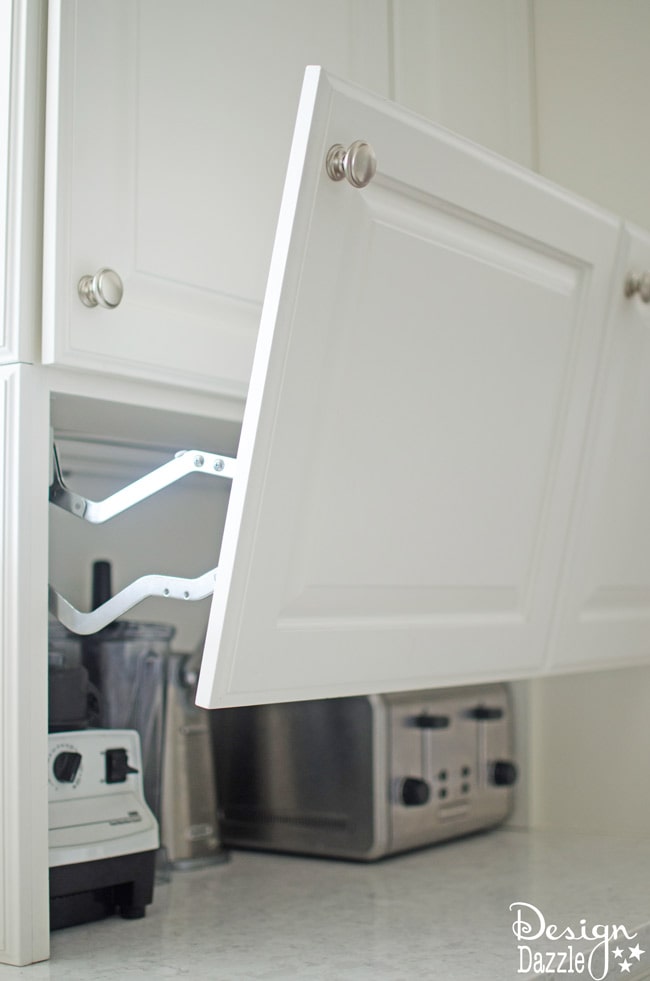 almost open…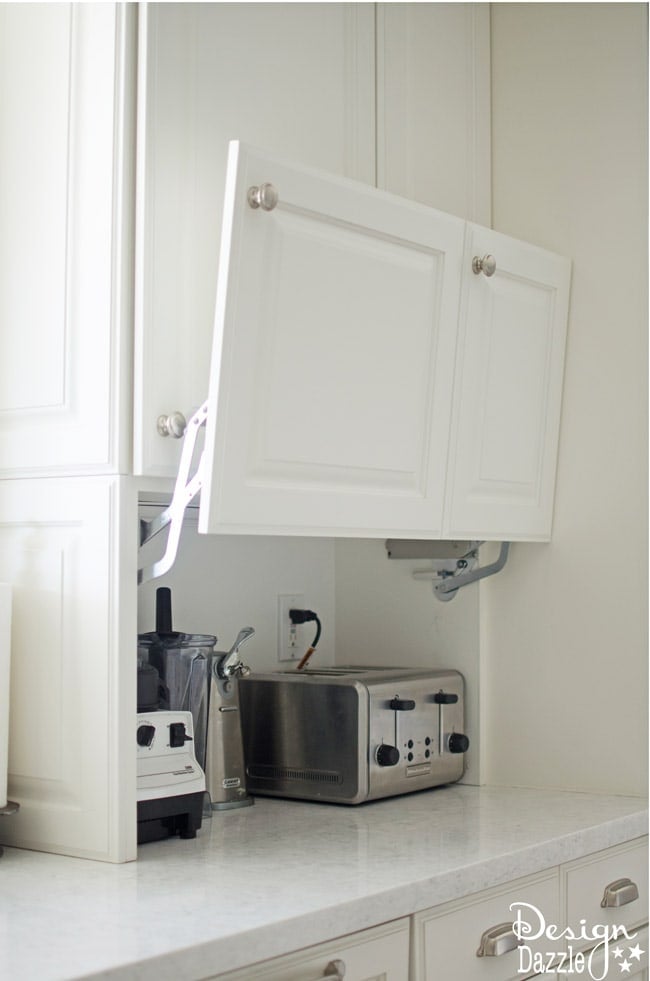 Fully opened.
I love having counters that are clear of clunky – and usually kind of ugly – appliances!
They might make our lives easier, but they don't do much for the beautification of a space! In order to get them out of the way, I had this great lifting door installed.
There was already this open space under the cabinets that worked perfectly, so we added an extra cabinet below the existing cabinet and had this lift up mechanism installed.
I love how sleek it looks and how the door hasn't made it inconvenient to access these appliances that get used frequently.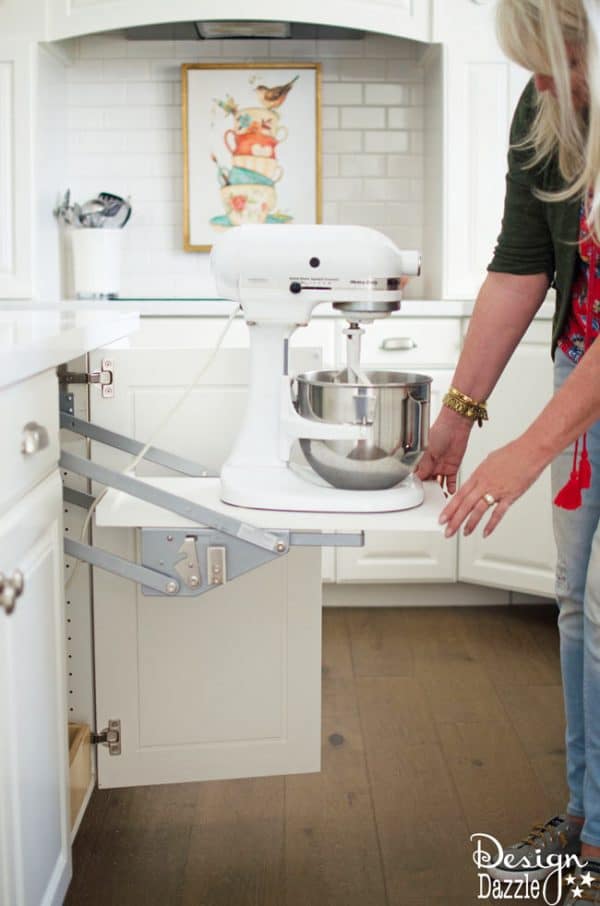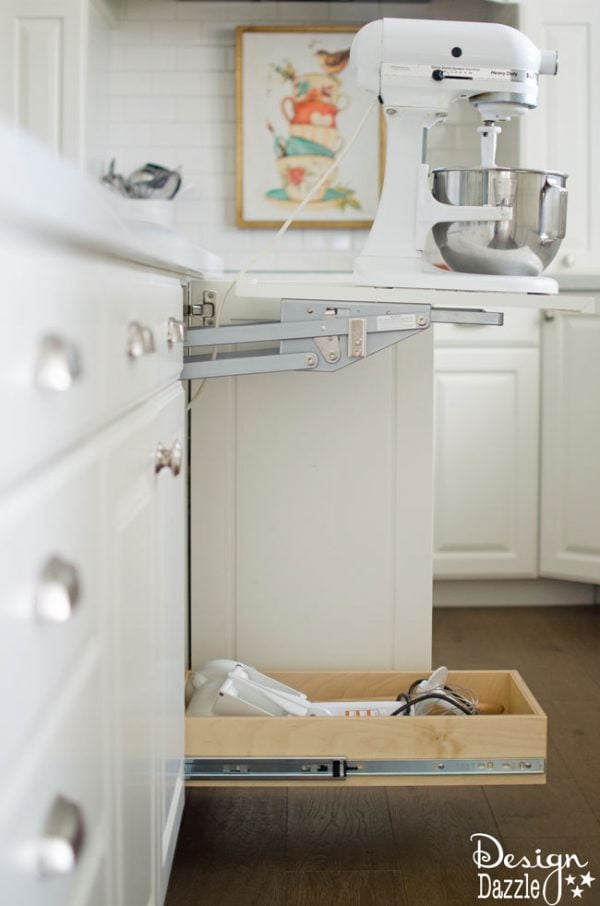 Since I don't use my standing mixer as much as the other appliances, I wanted a way to store it that would be out of the way, but I still wanted to be able to make it easy to use.
Having to pull out all the cords and attachments to use it can be such a hassle, but this solution has made it completely hassle-free!
My daughter, who is a big baker, LOVES this and how everything she needs is just in one place! I made sure to install an electrical outlet inside the cabinet during the remodel so the mixer can stay plugged in at all times.
I was able to find the heavy-duty kitchen aid shelf pretty easily. Just pay attention to the size of your cabinet.
Assembly wasn't too hard, and now I have this fantastic spot for my mixer! It's so easy to pull out and use, and just as simple to put away!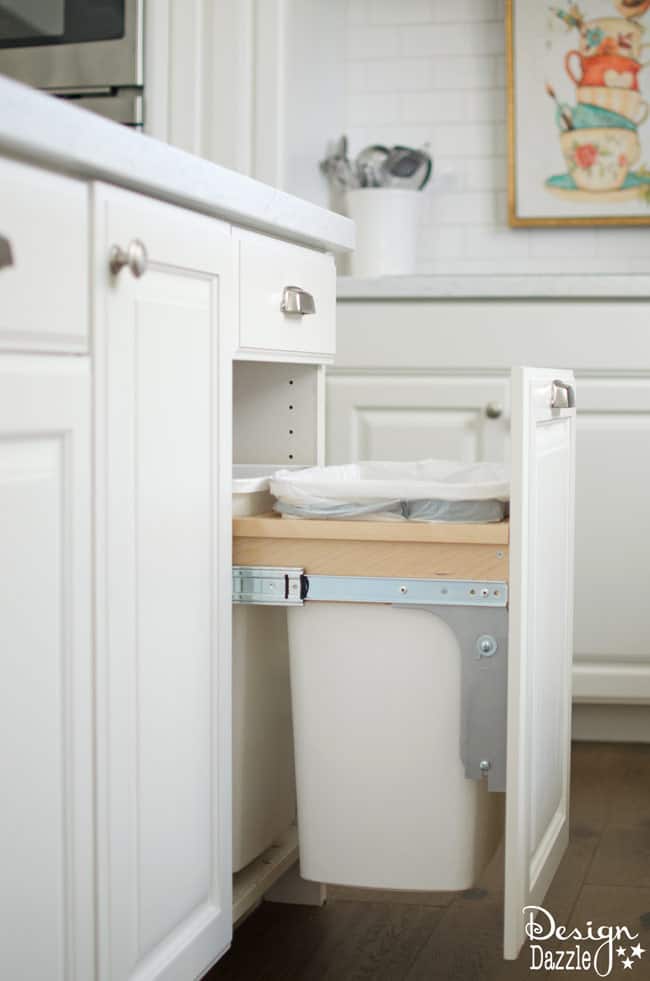 Having a garbage can out in the open can get pretty gross, and the ones that fit underneath sinks are always a little too small to be practical.
By having this slide-out cabinet that reveals our trash can and recycling bin it hides the mess (and the dreaded smell!).
I purchased the trash can pull out which came with the drawer slide and top-mount wood. The door front we already had so all the kit pieces were attached to this door front.
I've had a pullout garbage cabinet for many years. I cannot go back. You can also check out another version of pull-out waste drawers.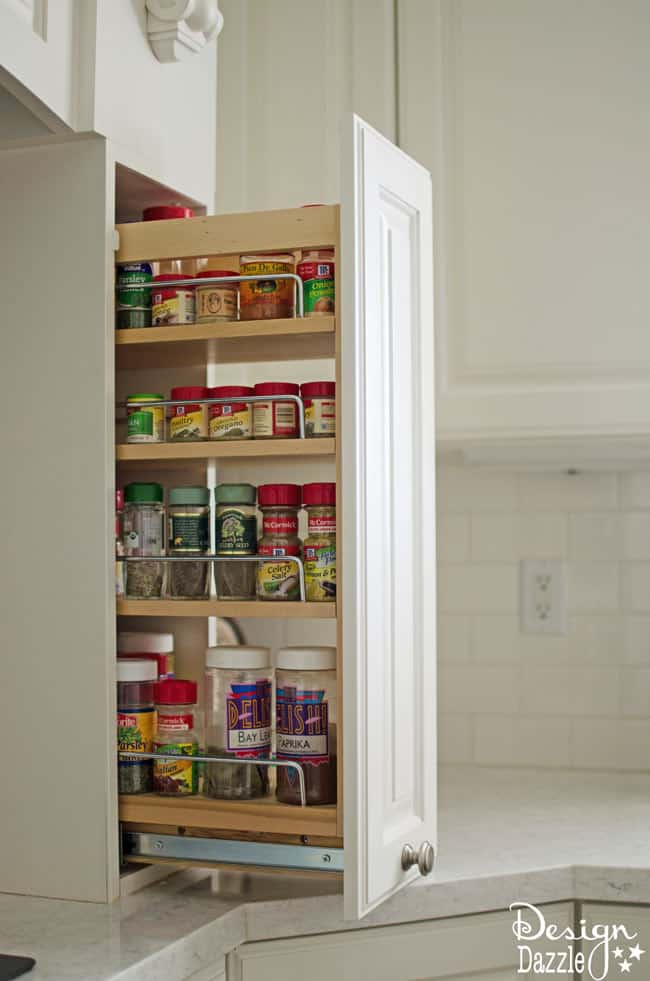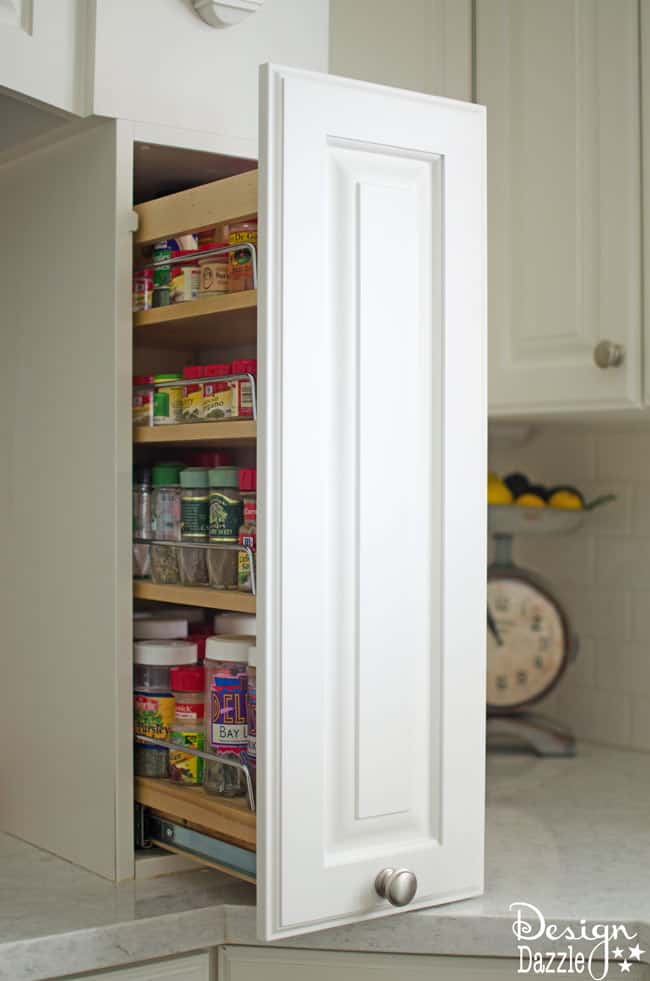 One of the most disorganized parts of any home is the spice rack.
It can be frustrating going through each and every little bottle of spices because you're unable to find the one you need.
This pull out spice rack, also found on Amazon, does wonders for solving that problem!
It's quick to pull out, and you can see every spice you have – and it's name – all at once. No more shuffling through bottles and labels! You can find the spice shelf cabinet here.
The door is what you will need to attach to the spice shelf cabinet. Here is a smaller version of the kitchen cabinet pull out organizers.
Plus, it's discreet and sleek, which means you don't have to worry about a big clunky spice rack taking up space in your pantry or kitchen.
These drawers that hold all my dry goods are such a blessing! They make all the ingredients so easy to find, and it's clear to see what I have and what I might be running low on.
It's so much better than having to constantly move jars around to find something or accidentally spilling something in the process!
These are by far my favorite food containers they keep food completely fresh (flour, rice, sugar, etc. is perfectly kept in these storage containers).
I did a whole post on this project, which you can find here.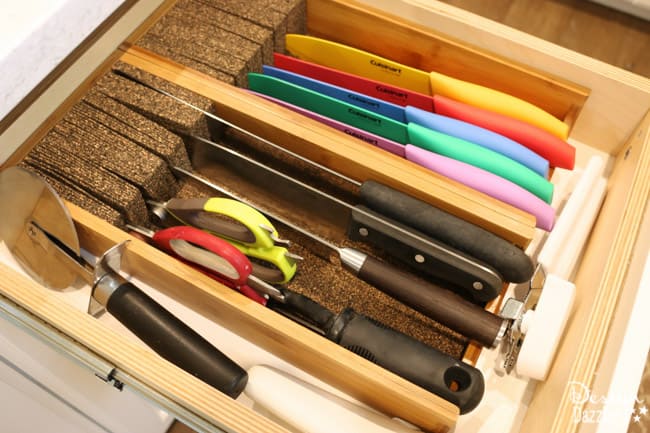 Having uncluttered counters is important to me because I just don't like the way it looks to have all these big, clunky tools sitting out for everyone to see.
If I'm going to have things on my counters, I want them to be pretty!
So instead of having a knife block, I have this knife drawer!
It's awesome because I can still see all the knives, have them organized, and just as easy (if not easier) to access than a knife block! You can find my whole tutorial and where I got the materials by visiting this post.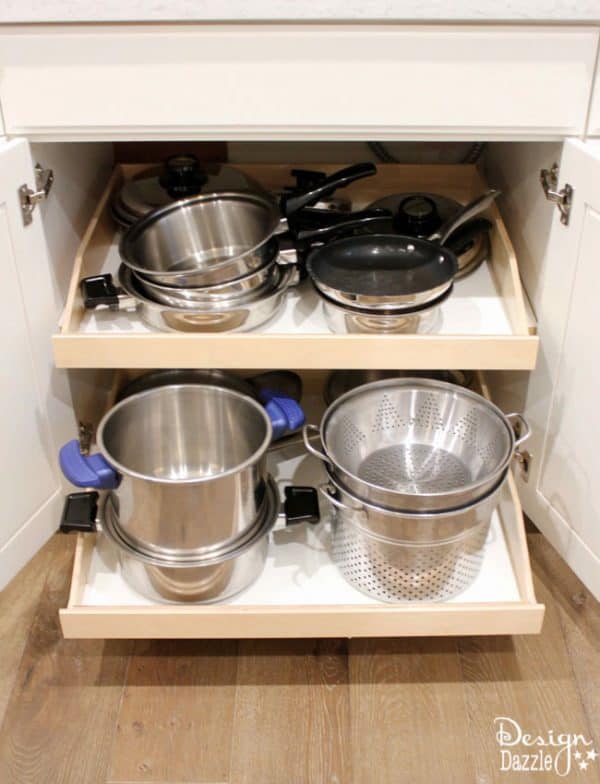 Pots and Pans are another big part of a kitchen that can get messy and complicated pretty fast. It is extremely frustrating when you can't access all of your pots and cookware at once, especially if you need that dutch oven you always keep in the back where you can't reach!
These pull out drawers and superb for that very reason!
Being able to pull them out means not reaching back for a certain pan or having to rearrange everything a million times. I love that I always know that I'll be able to use whatever I need without searching or moving everything to find it.
I wrote more about these pullouts and how to install them with a screwdriver (yep, very easy).
The really great thing about these shelves is the company makes them custom to FIT YOUR SHELVES and they are very reasonably priced.
A functional kitchen is an organized one.
Remember, it's not about making more space, but working with the space you have!
If you're looking for storage solutions for your own kitchen, look at the space you have and figure out how you can utilize it!
Creative hidden kitchen storage solutions really can help make cooking and food preparation less frustrating and a time-saver. Not to mention the beauty and aesthetics of the kitchen.
Shop This Post!
This is the place to go if you want to get all of these fun kitchen gadgets quick and easy!
Check out the other posts from this remodel!
Creative Hidden Kitchen Storage Solutions

(this post you are currently reading)
Hopefully you've received some ideas from me, and I'd love to hear if you've come up with any creative storage solutions yourself!
Thanks for checking into this weeks remodel update, and be sure to come back next week for some more fun tips and ideas!
One Room Challenge from Calling It Home has some fabulous room ideas. Go check them out.


Save
Save
Save
Save
Save
Save
Save
Save
Save