This post may contain affiliate links that, at no additional cost to you, I may earn a small commission. Read our Disclosure Policy.

Today we have another peek at my kitchen renovation – our farmhouse sink from Home Depot! I research lots and lots of sinks. I purchased this sink online – it had really great reviews and was reasonably priced.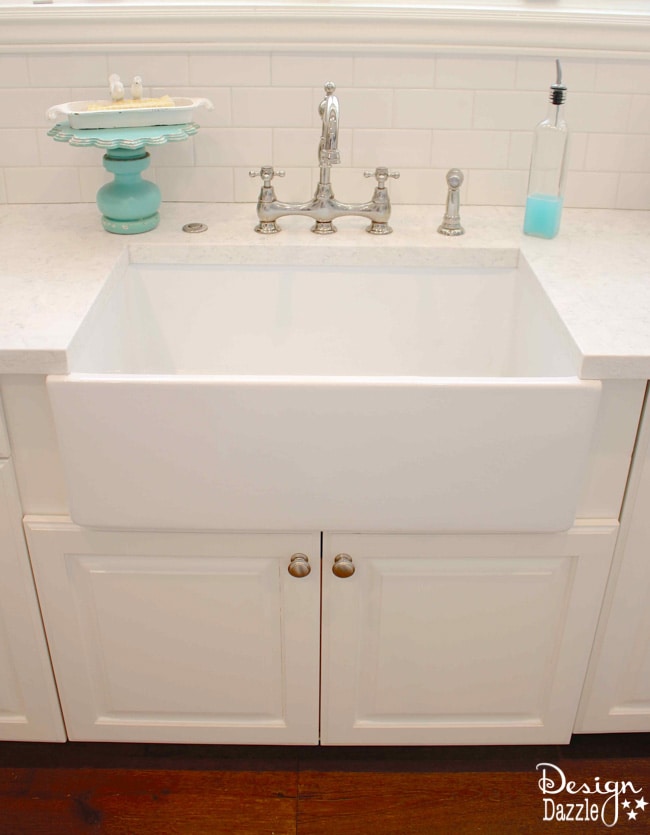 This post contains affiliate links at no additional cost to you. For further information, please see our disclosure policy.
We love this sink and today I'm sharing some of the wonderful benefits of owning this fireclay farmhouse sink!
Fireclay vs. Porcelain
The main difference between fireclay and porcelain is:
Fireclay is more durable
Fireclay is usually more expensive
Fireclay is clay that is fired at a high temperature which produces a heavy-duty product.
Porcelain is more prone to chips, scratches and discoloration.
Porcelain is available in colors other than white and off-white.
Size/Depth
This sink is 9″ deep which is awesome to wash large dishes, pots/pans etc. The 9″ also helps hides any dishes that collect throughout the day (if the dishwasher hasn't been unloaded yet and we put the dish in the sink) before we unload and load the dishwasher. If you are in another room you can see the sink, but not necessarily any dishes sitting at the bottom. I love a tidy looking kitchen so it is nice to have a deep sink that hides things well! The depth is also great if you need to soak large items.
No Divider
We use our dishwasher to wash the bulk of our dishes each day. Because of this we do not need a two-sided sink – one to wash and one to rinse. Of course, we do hand wash some items. We don't have to navigate over the middle divider and ALL of our dishes fit IN the sink Another benefit of one large sink is the ability to hand wash large pots and platters. It's also the perfect size for giving babies a good old-fashioned sink bath!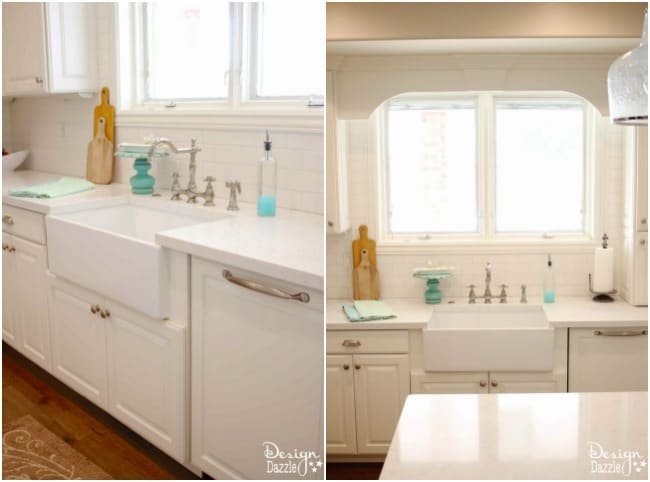 Easy To Clean
This fireclay sink is highly resistant to heat, chipping, cracking, and discoloration. It is supposed to be scratch and stain resistant.
To give it an extra bit of protection I use a clear silicone mat in the bottom of the sink only when I'm washing a large, heavy item like a steel pot/cast iron.
I've heard using a wet pumice stone rubbed over the spots can help get out any marks. I haven't had to do this yet and I've been using the sink for about 8 months.
The SECRET to cleaning a fireclay sink is to clean with a scrub sponge and Bar Keepers Friend which is a powdered cleanser and to use a Magic Eraser. The Magic Eraser is a game changer! My farmhouse sink receives a few small black marks due to metal scrapes. But you can completely remove the marks and make your sink look brand new with a few swipes of the Magic Eraser.
I have porcelain sinks in my bathrooms and I also use Bar Keepers Friend and Magic Eraser to keep the porcelain sinks clean too!
Timeless Design
Farmhouse sinks have been around for a long time because they are beautiful and functional. I love how seamlessly it works with our kitchen design. It's modern yet charming!
Installation
Beware that this sink is heavy. If I had to guess maybe 80 -100 lbs. We had to reinforce the base to make sure there would be no problems with the weight. It was easy to install. We had it in place for the countertop guys when they came out for a measurement and template. A garbage disposal can be used with this sink.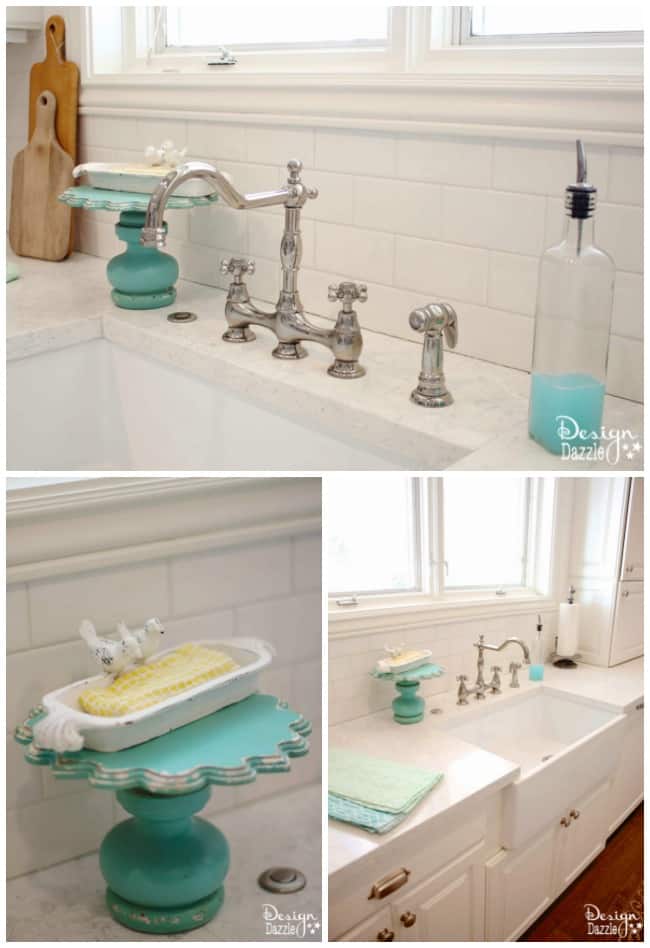 If you are thinking of getting a farmhouse sink I highly recommend it! It is a wonderful addition to any kitchen and will hold up well over time.
See the button next to the aqua blue stand? This is a waste disposal button that we installed in the countertop to turn on/off the garbage disposal. I prefer these over the light switch look. Check the bottom of the post for the one I purchased.
This is my second kitchen with a farmhouse (or apron sink as some call it) sink. The first farmhouse sink I installed was a copper sink. I loved having a copper sink. The only problem with copper sink is acidic food or chemicals. These can ruin the patina finish – but the patina can go back to that old finish really easily. You can also use Renaissance Wax to help maintain and care for the original patina. I would certainly purchase another copper sink! But this kitchen I was going for a different look. I can't ever imagine going back to a typical double sink. But then again if you are the type that washes dishes all the time and want to do a wash and a rinse a double sink might be for you. We pretty much put most of our dishes in the dishwasher and hand wash large pots and bowls.
ITEMS I PURCHASED:
Waste Disposal Switch – button placed in countertop to turn on/off the garbage disposal. The countertop installer guy cut out an extra hole in the quartz countertop. Make sure if you want to add this disposal switch you know before the installer leaves your home.

Dante Kitchen Faucet – Unfortunately, I would not recommend this kitchen faucet. It is beautiful! But it leaks. Until the manufacturer can get this fixed I wouldn't purchase it again. It is a reasonable price for a beautiful fixture.

Clear Sink Mat- This mat is kept in my cabinet under my sink. I only place it in the bottom of the sink if I need to clean a really heavy dirty pot (I just don't want to mar up my sink). Make sure the "gross" sink water is out of the sink before placing this on the bottom of the sink (Tomato sauce would stain this mat).
Items I didn't purchase but could also work:
Fire Clay Farm house sink – I didn't purchase this one but it got great reviews and is very similar to the one I purchased from Home Depot
Wire Sink Grid – For those who want to protect their sink from scratches or possible chips, some use a wire sink grid. I personally don't need it and use the clear sink mat for the heavy duty scrub sessions.