This post may contain affiliate links that, at no additional cost to you, I may earn a small commission. Read our Disclosure Policy.
One of the things I am fond of having in my kitchen is a TV. I love having it on when I'm cooking or cleaning, and my husband enjoys having it on in the morning before work during breakfast.
Even though we have an open floor plan, because of the way that our living room and kitchen are arranged, you can't see the TV in the living room from the kitchen. Although  I  knew I wanted a TV in the kitchen, I also didn't want to have it showing because it can look a little tacky and ruins the overall feel of my pretty room. So, I came up with a hidden kitchen TV!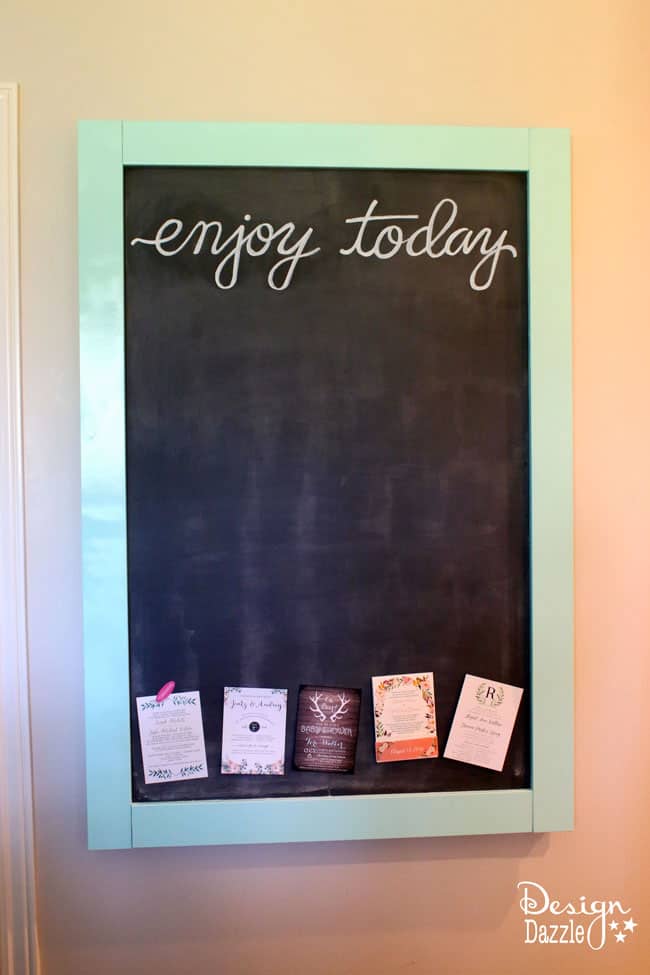 The solution? Hiding the TV in plain sight! This magnetic chalkboard on the wall is across from the kitchen island. It is great for notes and messages, but it also slides over to reveal a TV that can pop out! It makes the kitchen an even more functional place to be and it's great that I can hide it for everyday use. A hidden TV in the kitchen is the best!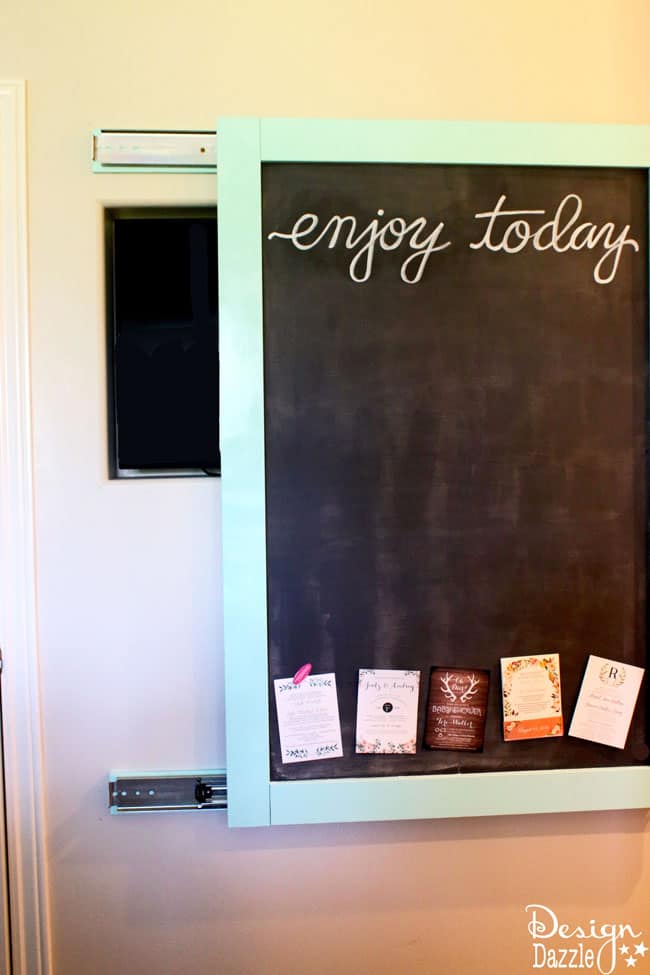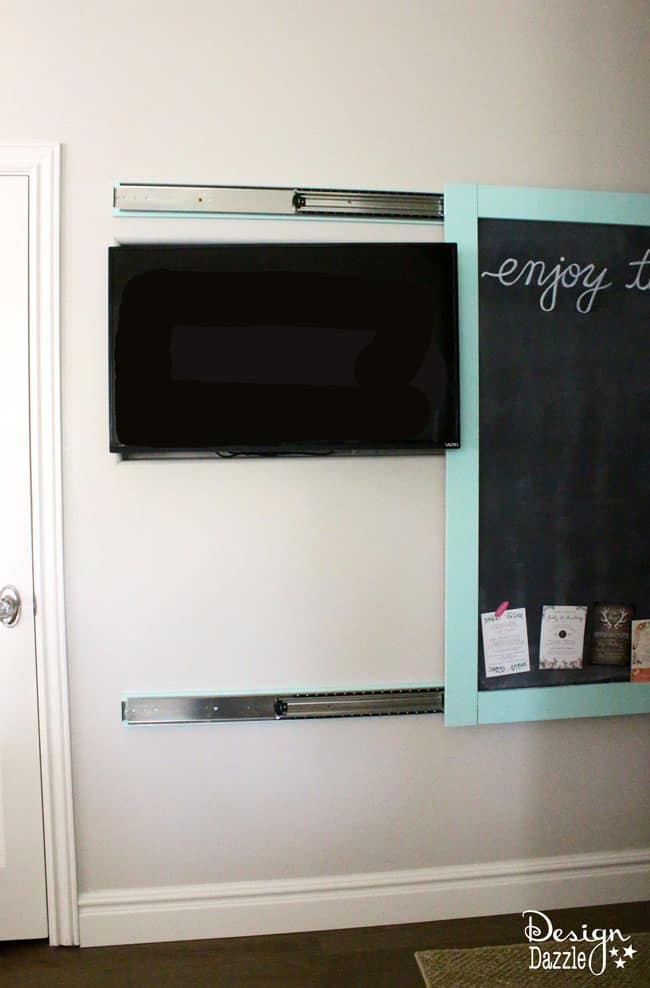 This post contains affiliate links at no additional cost to you. For further information, please see our disclosure policy.
There was a blank wall next to our pantry door that I thought would be perfect for putting a flat screen TV into, and I'm so glad that my idea worked out! At first, I was worried that it might not work because of where the hole for the TV would have to go, but it actually ended up working out great and being a lot easier than I thought. The reason for the new drywall (to the right) Is I decided to make our laundry room larger and put our extra refrigerator in there. You will want to check out the final reveal on our laundry room. It turned out beautiful!!
If you look closely at the photo you can see into my pantry (left) and laundry room (right).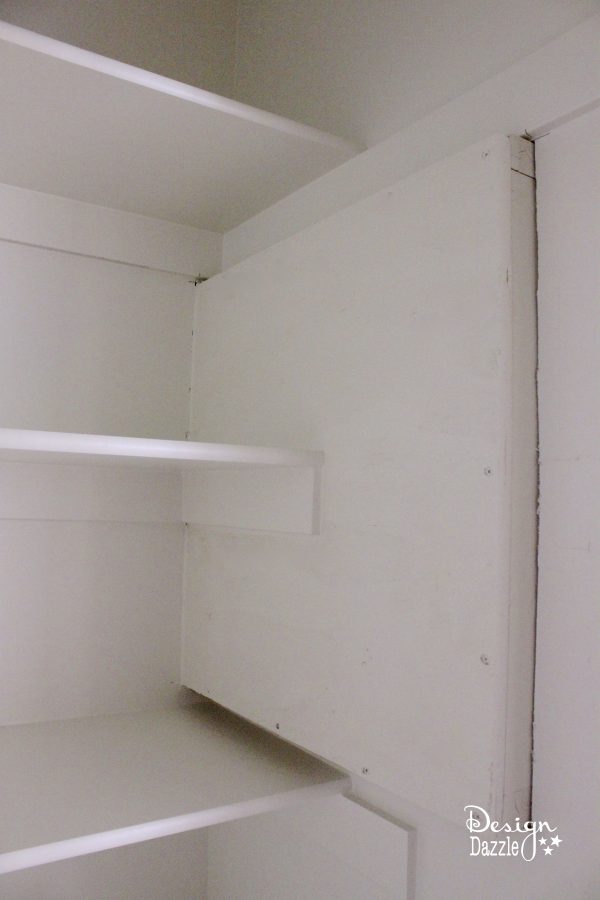 To get the TV to fit, we had to cut a few inches into the pantry, and when you walk into the pantry you can see the little box where the TV is. Since it's in the pantry, though, I'm not too concerned with it looking perfect, and I'm completely fine with how it looks. The laundry room wall is completely drywalled and you can't see where the TV is.
Here you can see the electrical and cable wall box installed. The metal drywall corners, finishing the drywall with mud and then later paint was all it needed to get the box finished. The final step to watch TV was to hang the TV wall mount and then the 40″ flat screen Vizio TV.
I hired someone to build the TV box and install it all and it looks amazing! I love that it's in the perfect place when it's revealed, but that I can hide it and get it out of the way as well. It's a creative solution to what I think is a common problem, and I could not be more happy with how it turned out!
In order to hide the TV when it's not being used, I decided that I wanted something that wasn't just cute, but functional as well. After thinking of a few ideas, I thought that the best option would be to make a big magnetic chalkboard that could be moved out of the way to reveal the TV we just installed!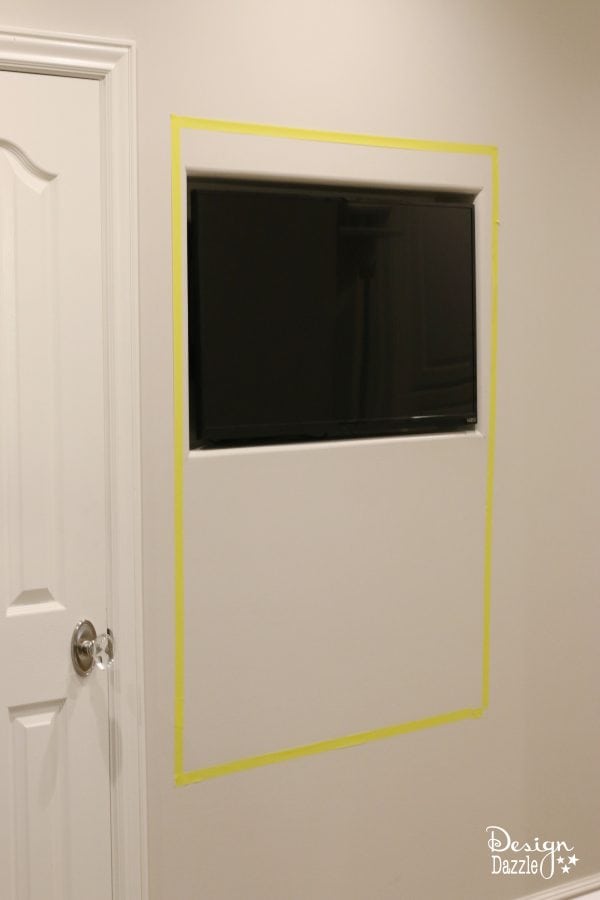 First, I measured how big I wanted to the magnetic chalkboard to be. This way I was able to see what size would look and fit best as well as have the exact measurements of what I'd need. I placed tape around the TV showing the size of the magnetic chalkboard. This is always a great tip to show sizing before you actually make something. I would have preferred the chalkboard to be hung horizontal but it wasn't working with having the laundry room door so close. I wouldn't be able to slide it very far.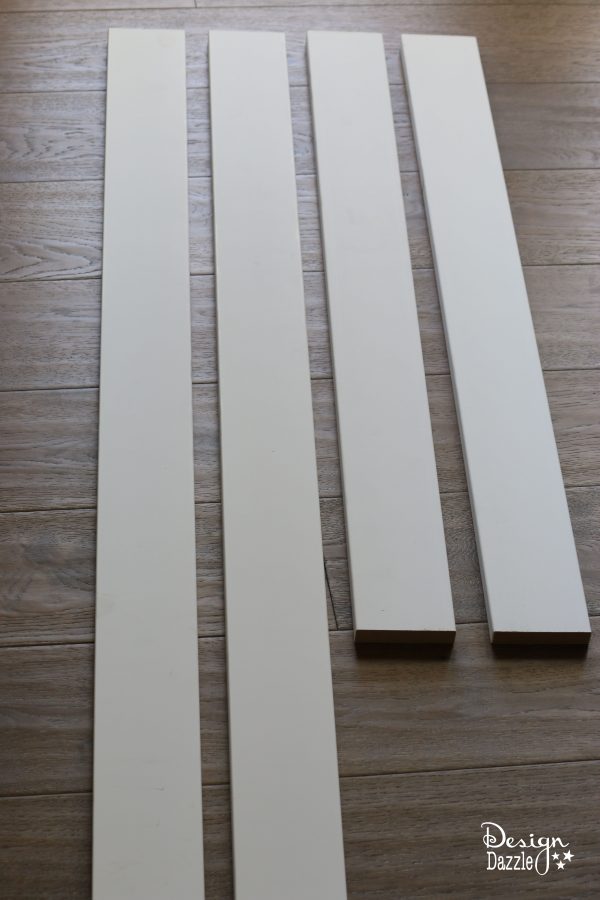 This pre-primed 1″ x 4″ MDF was purchased at Home Depot. It was spray painted this color of Rustoleum spray paint.
The chalkboard project is actually pretty easy to put together! I purchased galvanized steel at a local metal shop, then just painted it with chalkboard paint. I purchased this chalkboard paint but you can find it at most craft or home improvement stores, and if you don't like black there are a lot of different color options! Make sure you let it dry really well between coats so that you get a smooth surface for writing. I recommend checking the directions for application.
On the back of the steel painted board, I added some thin masonite for extra sturdiness and support. Then I placed the MDF "frame" on the front with wood glue and screwed everything together. By having the wood on the front hang over the edge it creates that really cute "framed" look and helps things look a little more professional.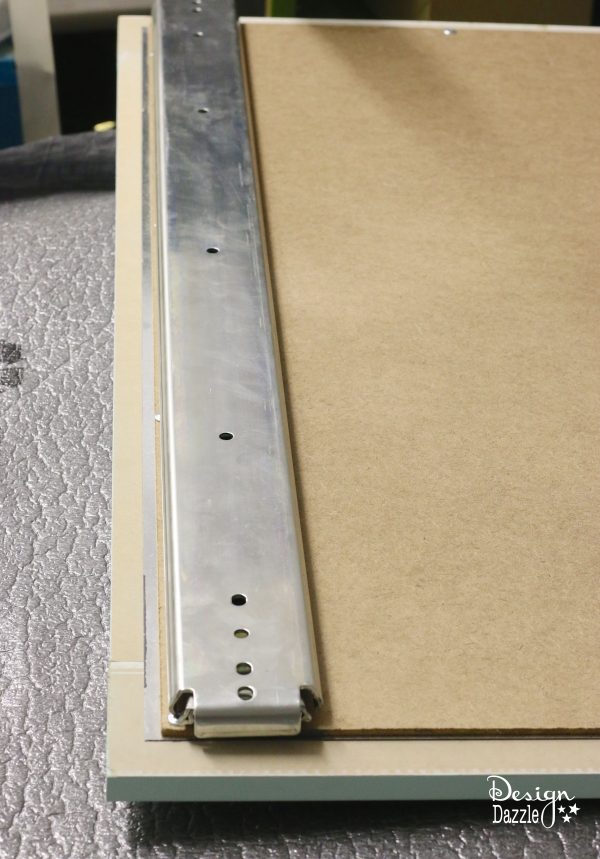 The trickiest part was adding the sliding hardware to the magnetic board and the wall. It isn't too hard, but you definitely want to make sure that everything lines up correctly.
I purchased this full extension drawer slide for only $29.99. The slide comes in a set of two and has a 150lb load bearing weight. My magnetic chalkboard probably weighs about 60 – 70 lbs. Make sure you know the measurements of the length of the wall you want the board sliding on, as well as the length of the back of the board as well.
Once all the hardware was installed, all we had to do was put it together – and it came together perfectly! The slide was screwed into the chalkboard and also the wall. Make sure the wall screws go into wood studs. This is a heavy piece and needs secure wall studs to hold it in place.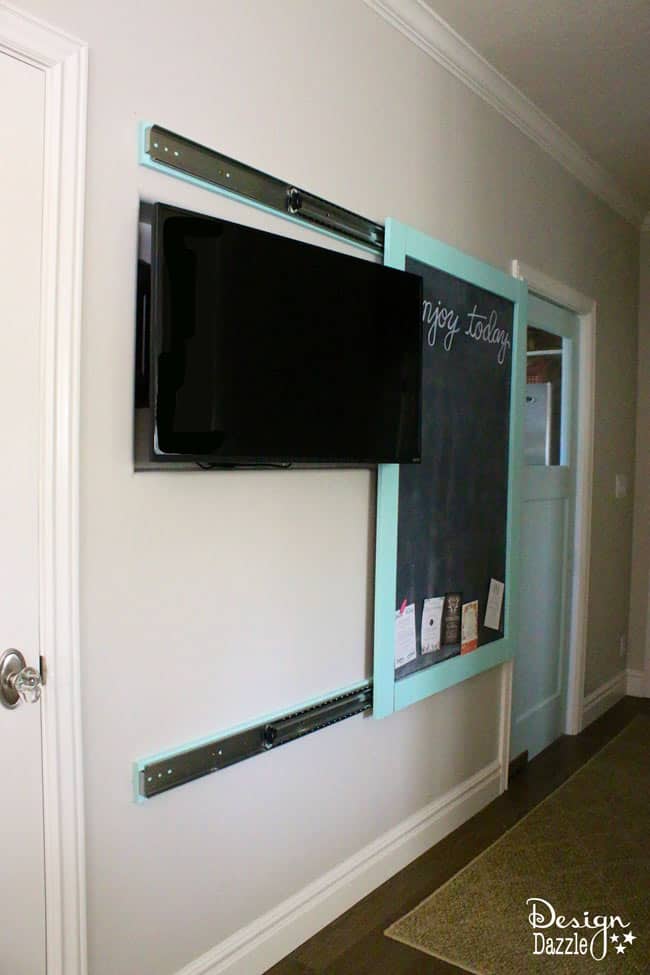 The end result is similar to a barn door in the way that it can slide off to the right in order to reveal the TV. I love that even when it's pushed to the side, it's still totally accessible and can still be seen and used! The TV can swing out for better viewing.
I hope you liked seeing this project as much as I loved coming up with it! Now you don't have to choose between a TV or a handy magnetic chalkboard – you can have both!


Save
Save
Save
Save
Save
Mentions:
kitchen storage, kitchen TV
Keywords:
Hidden Kitchen TV
Last Updated:
October 11, 2021