This post may contain affiliate links that, at no additional cost to you, I may earn a small commission. Read our Disclosure Policy.
Decorating a Grinch Christmas tree is a whimsical and fun holiday project that can bring a touch of Dr. Seuss-inspired magic to your home. The movie and book, "How the Grinch Stole Christmas" has been a favorite for many years. What could be a grump tree can be turned into a festive tree full of Christmas cheer!
I saw these Grinch trees at the Festival of Trees in the SLC area. It's a great fundraiser to support children who are hospitalized. There are many Grinch Christmas tree ideas for you to enjoy and maybe take a few ideas for your own Grinch tree!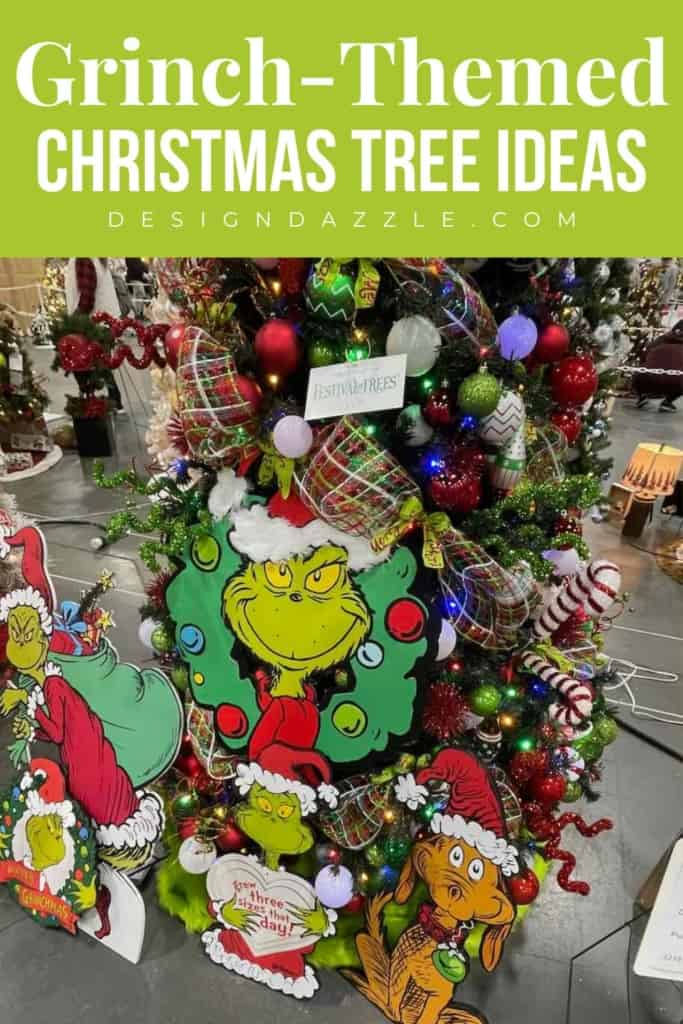 Grinch Christmas Tree Decoration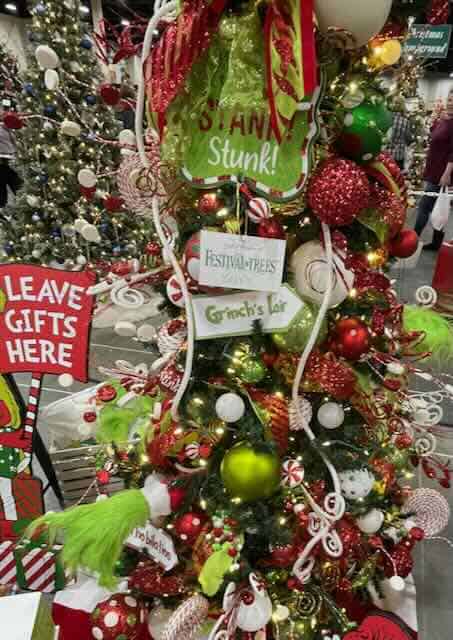 How to create this Mr Grinch tree? Do you have an artificial Christmas tree? It is easier to decorate than a real one. But if a real tree is your tradition then it is important to you! We don't want to stop a good thing.
Start by heading to your nearest craft store (Hobby Lobby or Michaels) to gather an assortment of festive Christmas tree decorations, including ornaments and lights. To give your tree that Grinchy flair, don't forget the iconic Grinch hand and a Grinch tree topper. As you adorn your tree, you can incorporate miniature Cindy Lou Who figurines and, of course, the mischievous Mr. Grinch himself. A great addition to any tree is handmade pieces. Do you enjoy crafting? This would be the perfect tree to make Dr Seuss ornaments!
HOW TO DECORATE A
Grinchmas Tree

Add themed ornaments to your tree, such as Grinch faces, Grinch hands, and Grinch hearts. You can find these at many stores that sell Christmas decorations, or you can make your own using craft supplies. Large ornaments are a must on a larger tree. They help to balance out the sizing. Smaller ornaments also work as fillers on a large tree or a small tree. Again it's about balance.

Hang garlands and tinsel on your tree. These can be purchased or made using green and red paper or ribbon.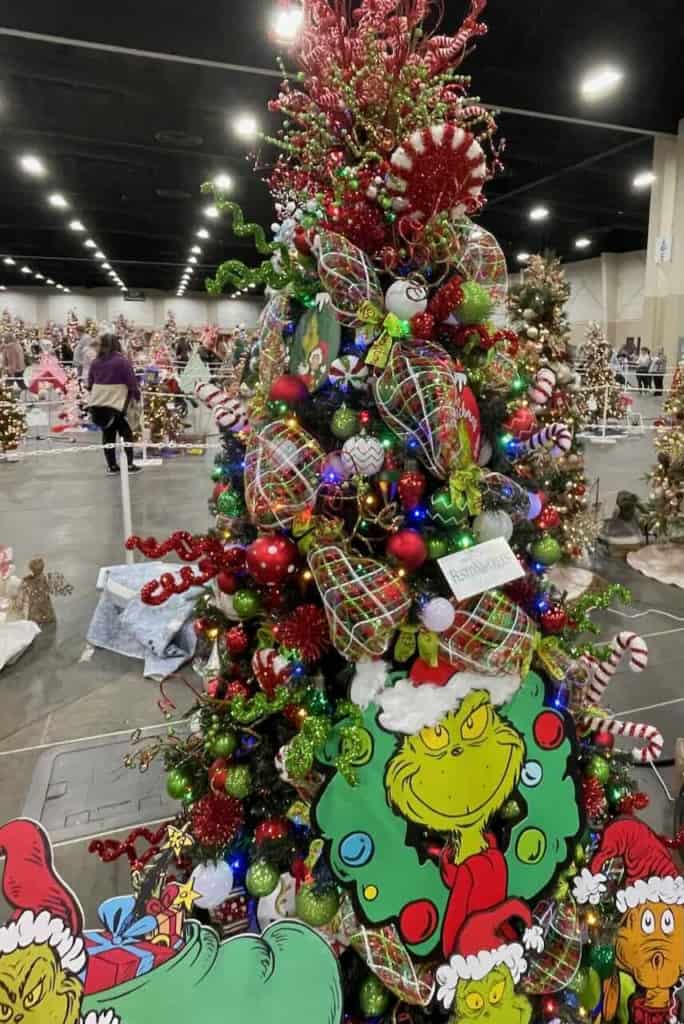 Add a themed tree topper, such as a Grinch hat or a Grinch holding a candy cane. I love how this one below has a bend like the Whoville Mountain Grinch lives on.

Grinch Christmas Tree Decoration Tips:
A white Christmas tree would really help make the green and red colors pop off the tree
DIY Grinch ornaments would be fun to create
Crown your tree with Grinchy Charm: The Grinch tree-topper is what helps make the tree. For example, the top of the tree is perfect for adding a heavy red ball to recreate the bent tree for an inspired Dr. Seuss look
Make sure to use bright green and red holiday decor for a playful, Dr. Seuss-inspired twist. items with a fun twist!
Add the eye-catching allure of a large furry Grinch figure that will make your holiday decor truly unforgettable or how about a unique large furry Grinch hand?
A Whoville Christmas tree evokes bright colors, a conical shape, striped balls, and a colorful ball garland,

Finally, add some extra Grinch touches to your tree, such as Grinch-themed gift tags, Grinch green lights, Grinch-themed tree picks, Grinch-themed ornaments, or large Grinch-themed cutouts.
Place a candy cane tree skirt around the base of your tree to complete the look.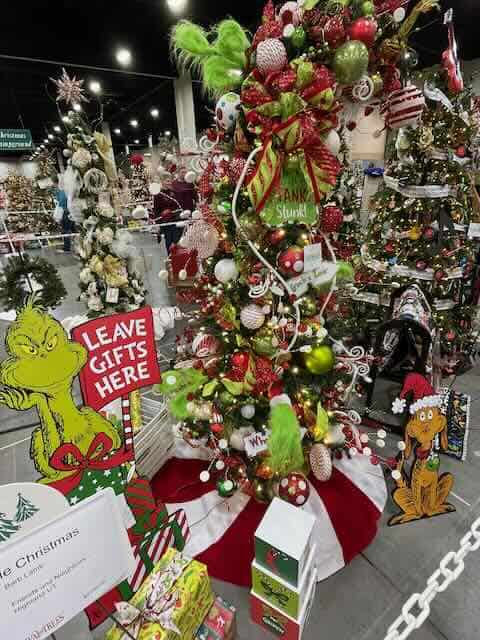 Ideas to Transform Your Home into Whoville with Grinch Christmas Decorations
One of my favorite Grinch ideas is the Grinchmas Breakfast I created for my family. It was full of Whoville fun such as – roast beast, Who hash, Whoville oven pancake, and Grinch pop! I also share kitchen and dining room Grinch decor to help transform your rooms into a sweet Whoville experience. Head over to the Grinchmas breakfast post to get free printables and see cute Grinch decor.
A Grinch wreath is a simple decoration to add to your front door to make it more colorful and it's a delightful way to welcome your guests.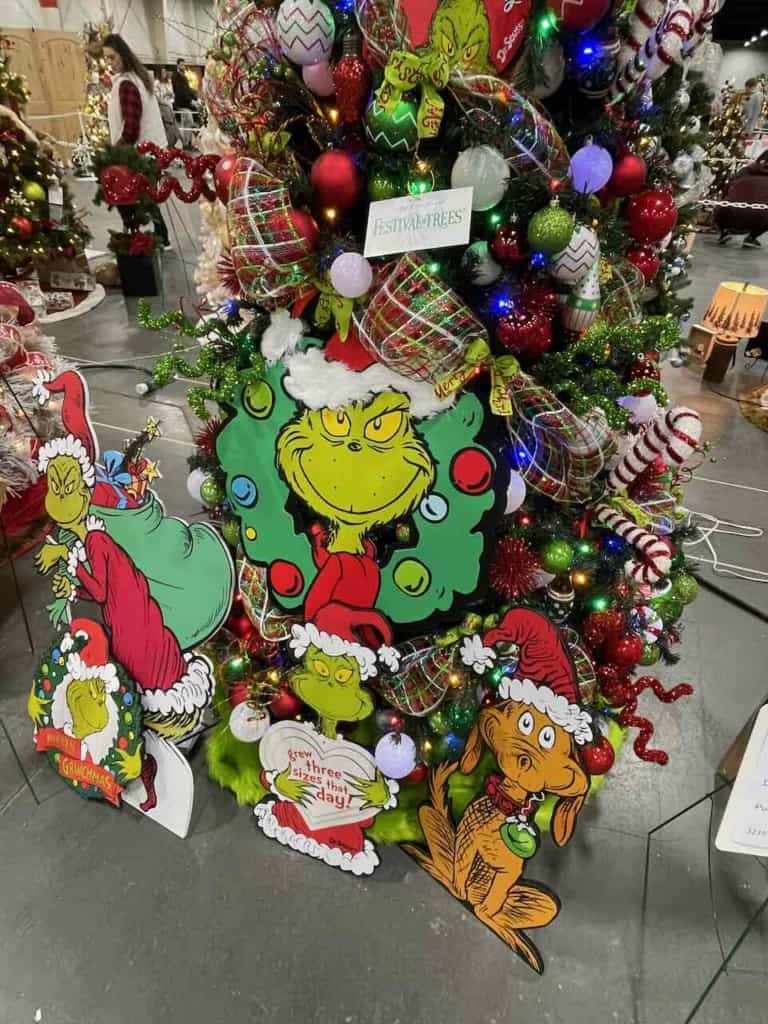 These playful elements add a delightful touch of nostalgia to your holiday decor, reminding everyone of the beloved classic tale. .
A Grinch-themed Christmas tree is the perfect way to bring a little bit of Whoville cheer to your holiday decor. A Grinch-themed tree is sure to be a hit with all ages during this festive season. Merry Grinchmas!
Check out this Grinch Themed Christmas Breakfast for some more Whoville fun!
More Grinch Christmas Ideas