This post may contain affiliate links that, at no additional cost to you, I may earn a small commission. Read our Disclosure Policy.
This tasty chocolate confection will remind you of the Grinch, whose heart was two sizes too small.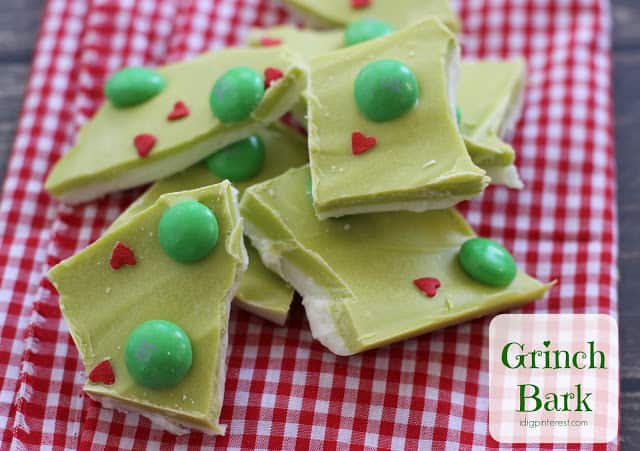 Hi Design Dazzle readers! It's Christine from
I Dig Pinterest

.
 I'm thrilled to again be joining in on the Christmas Wonderful series!
One of my kids' favorite Christmas books and movies is How the Grinch Stole Christmas. In fact, they beg to watch the show year round. 🙂  So I got a wonderful, (not so) awful idea.
I thought up a plan and I thought it up quick, that I could make some Grinch Bark to tempt St. Nick….
….and the adults and children. 🙂
 Oh how I chuckled and clucked as I made this festive treat.
In fact, it was so good, I decided, it could not be beat.
1 bag (12 oz.) white chocolate morsels
1 bag (12 oz.) green candy melts (vibrant green)
Green M&M's (I used Holiday Mint)
Red Heart Sprinkles (Mine were from Valentine's Day)
Instructions: Melt the white chocolate and spread in a 9″x13″ pan that you've lined with wax paper. Let set. If you'd like, place it in the fridge for 10 minutes or so (but not for too long) for quicker setting. Melt green candy melts and spread over white chocolate. Immediately sprinkle with M&M's and heart sprinkles. Let set, then pick up the wax paper with the bark and remove from the pan. Peel down the wax paper from the sides. Cut into pieces, remove from wax paper and enjoy!
Tip: If you don't have heart sprinkles, you can just pipe on some red frosting hearts by hand onto each of the pieces.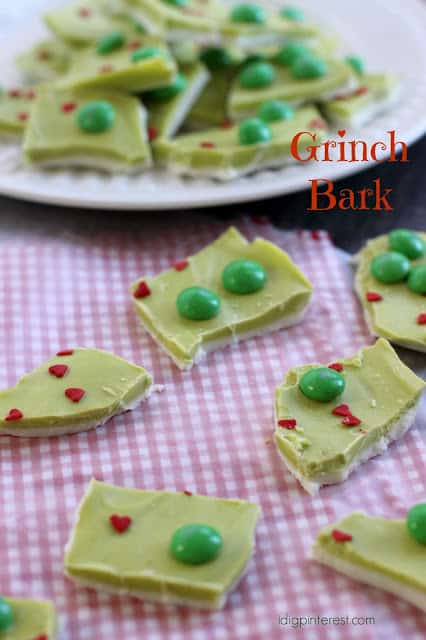 And the sound when the people try this treat will not be sad, it will be merry…very.
Every Who down in Whoville would approve of this layered delight! So much that it would cause them to sing with glee, while holding hands 'round the tree.
Ok. I'll stop now. But you really should give this a try! 🙂
Merry Christmas and Happy Holidays!
I'd love for you to
stop by
and say hello soon and while there, you can check out all the fun holiday ideas I'll be sharing from now until Christmas!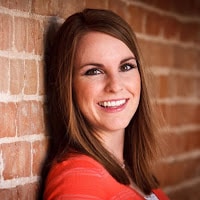 Hi! I'm Christine, and I'm addicted to Pinterest! I love sharing creative "pin"-spiration by way of delicious recipes, fun crafts, party ideas, and DIY projects.
Follow along on the blog, Facebook, Pinterest, Instagram and Twitter for more "Creative Pin-spiration"!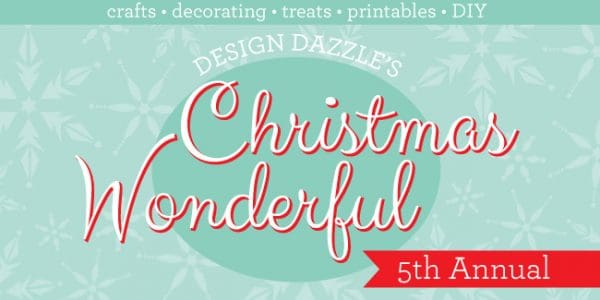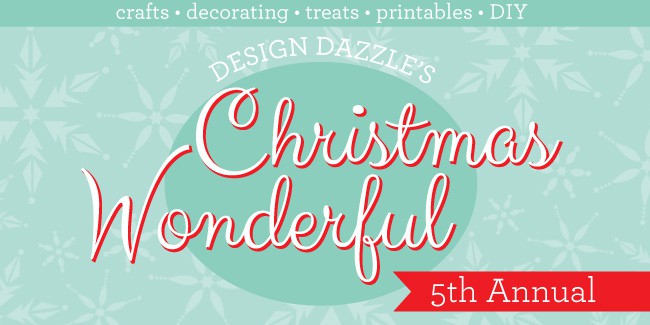 Cute idea, Christine. I know some kids who are going to just LOVE this one! Thanks!