Would you like to make the perfect treat to eat while watching a favorite Christmas movie The Grinch?! Making these Grinch Treats are not only quick and easy but totally adorable!!
I used already made pre-packaged Rice Krispies Treats to make this even more quick and easy.
But you could certainly make your own Rice Krispies Treats! Not only will kids like to make these and eat them, but so will adults!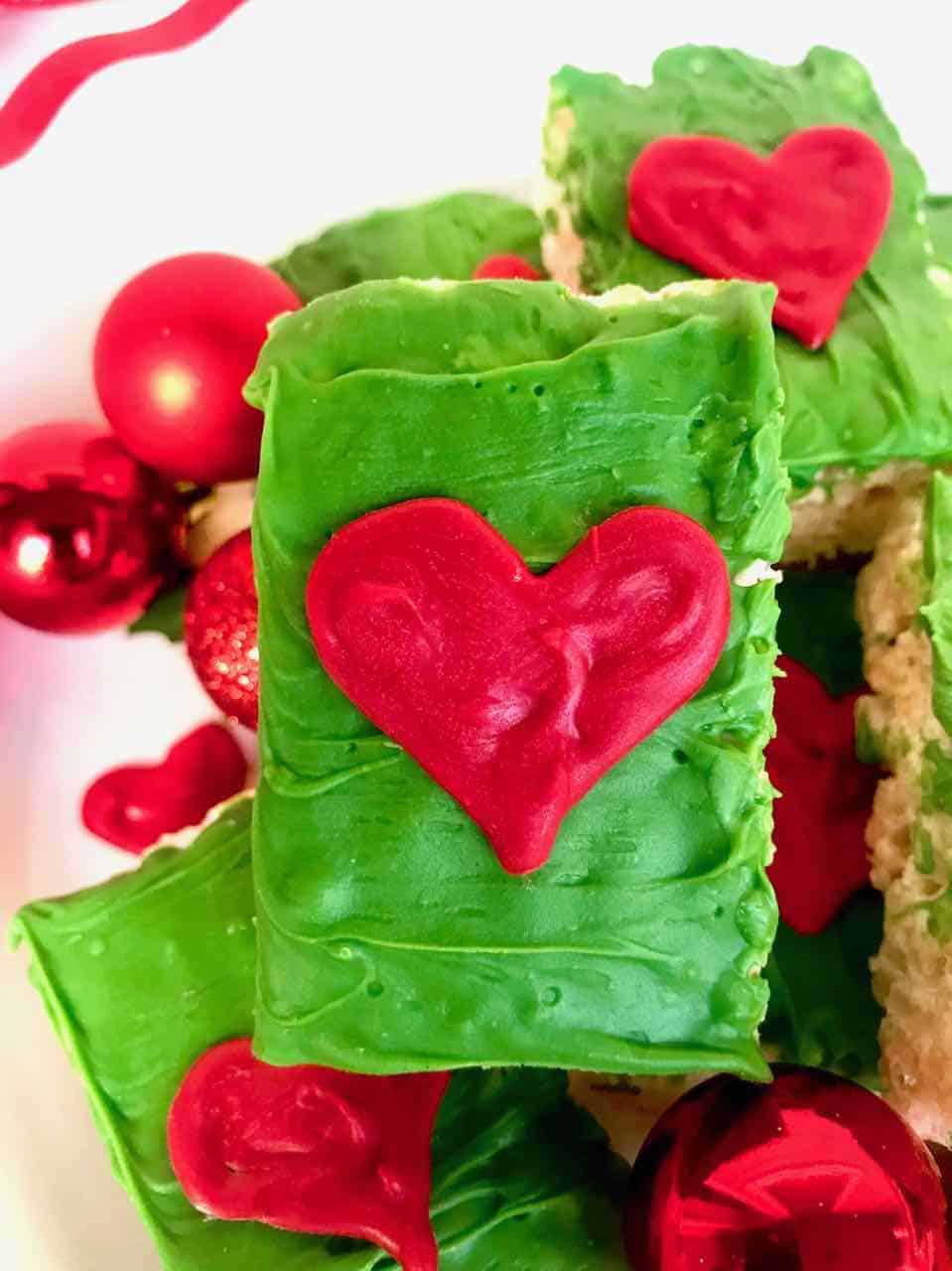 GRINCH TREATS
Ingredients:
Single Serve Rice Krispies Treats
Supplies:
Parchment paper or tin foil
cookie sheet
bowls and spatula
Directions:
Read the instructions on how to melt the candy.  I usually melt candy melts (Wiltons or similar brand) in the microwave.
Melt at 50% power. When the candy melts, it is ideally a smooth mixture.
However, if it comes in contact with water, it will "seize" or turn into a grainy, clumpy mess. If you melt the candy too long (overheated), it will be thick and lumpy.
Using two bowls place red candy melts in one bowl and green in the other.
Melt the red candy melts first. Once melted place melted candy in a disposable icing bag. Use this just like you would when placing frosting in a bag. Place tin foil or parchment onto a cookie sheet. "Draw" with the icing bag a heart using the red melted candy onto the parchment.
The hearts we made were about 1 inch in size. Make the hearts thin not too thick. We placed in the cookie tray in the freezer to harden the hearts quickly (took about 10 minutes to harden).
Unwrap the individual Rice Krispie Treats and coat the top of the Rice Krispie Treat with the green melted candy.
Use a spatula for easy coating. Coat the entire top of the Rice Krispie Treat with the green candy melts.. Place the red candy heart on top and let dry. It doesn't take too long to dry and the green candy melts acts like a "glue" for the red candy heart to stick. If the green candy melts have dried, just re-melt a couple of melts and use as "glue" to stick the red heart on.
I hope you get to watch The Grinch while making and/or eating the Grinch Treats!

Title:
Quick & Easy Grinch Treats
Mentions:
christmas treats, Grinch, grinch christmas treats, grinch treats, treats
Last Updated:
December 18, 2019