This post may contain affiliate links that, at no additional cost to you, I may earn a small commission. Read our Disclosure Policy.
Dr. Seuss's "How the Grinch Stole Christmas" is a classic tale of the power of holiday cheer to heal even the grumpiest hearts. A Grinch-themed Christmas party provides a great opportunity to stretch the imagination in re-creating the town of Who-ville while sharing the heart-warming tale of the Grinch's holiday transformation.
Turn your home into a Seuss-inspired party and draw your guests into a version of the story with these whimsical Grinch Party Ideas.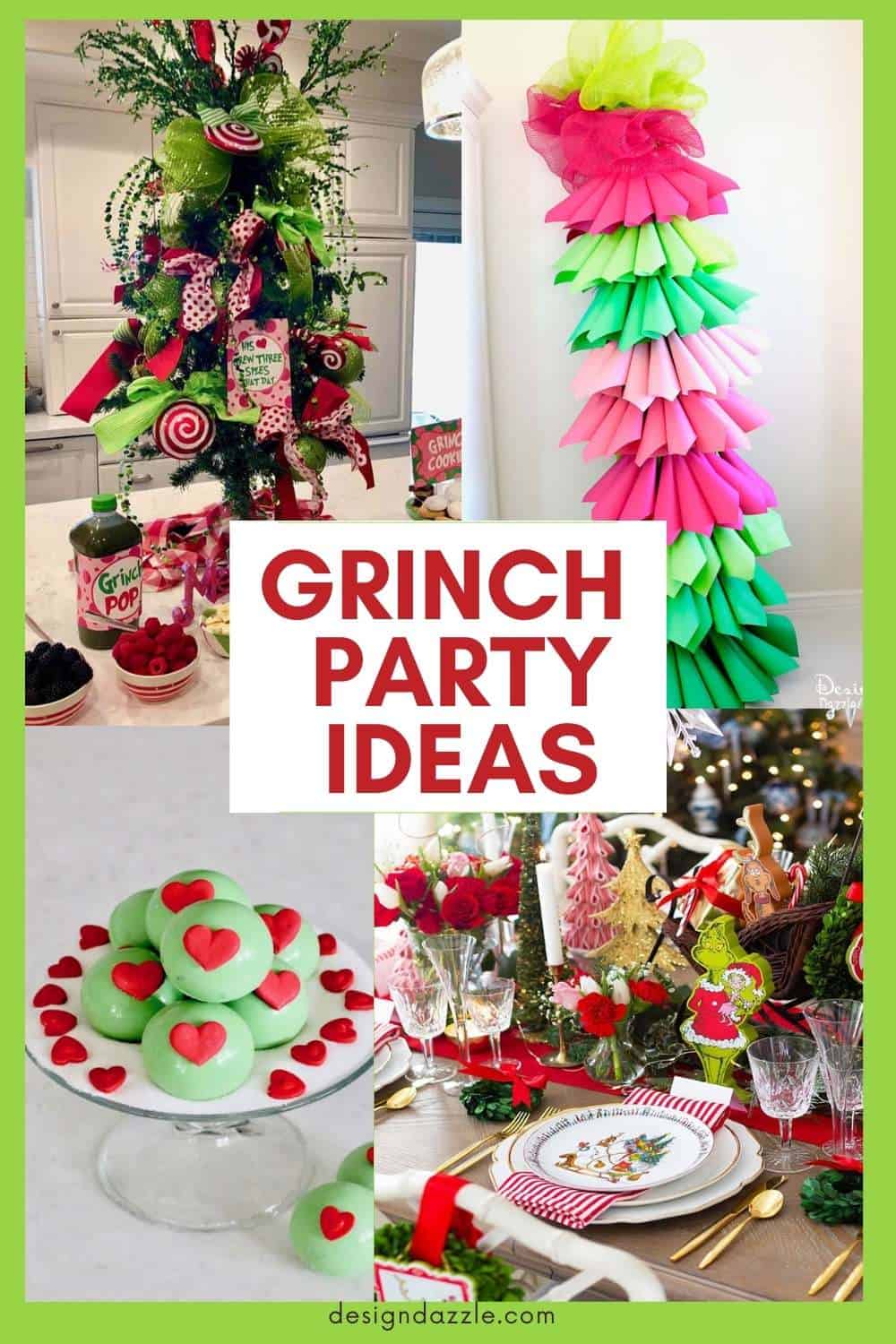 Decorations Are So Much Fun and Great Grinch Party Ideas
Set the stage for your Grinch party with a Grinch wreath on the front door and Grinch window decorations. Incorporate green fur and feather boas, along with red table runners and tablecloths. Use red ornaments and candy canes to add pops of color. For an extra touch, make your own DIY Grinch ornaments with clear ornaments, green paint, and green paper. Ornaments are great Grinch Party Ideas.
Who-ville goes all out for the holidays. Use lots of brightly colored garlands, ribbons, Christmas lights, wreaths, and wrapped presents throughout the house. The gaudier and more outlandish the better. A decorated Christmas tree should be the centerpiece of the party decor. Hang a miniature stocking over the mantle as a goody bag for each guest. You'll also need to set the table for a Who feast. Lay out a festive red tablecloth and place cards for each guest.
We are sharing costume ideas, activities, and fun party games. Check out all of this at the bottom of the post. We have an amazing lineup of food and the best Grinch ideas. Keep reading for more fun!
Food And The Best Grinch Party Ideas
The Who feast is a major part of the Christmas festivities in "How the Grinch Stole Christmas." Whos celebrates with "Who-pudding" and" Who-roast-beast." At the end of the tale, after the Grinch's heart is warmed by the Whos' unbreakable holiday spirit, he himself carves the roast beast.
Whip up some yummy Grinch treats and healthy Grinch snacks to delight your guests. Try making Grinch cupcakes with green candy melts, Grinch cake with a Grinch face, and Grinch-themed pudding cups. For drinks, serve Grinch punch made with ginger ale and green food coloring. Don't forget to include green grapes and green M&M's on your dessert table for an extra touch of green.
If you have a Grinch character in your party events, make sure he gamely carves the meat for the guests. Make your own Who-roast-beast with a ham and Who-Hash can be a potato casserole. Among your side dishes, be sure to include at least a fruit-studded Who pudding. Here are some other fun ideas and options that you should have for your party guests for a Grinch theme party:
Recreate Who-ville and celebrate Christmas like it's Who-ville with a Grinch Party featuring all your Whos! Be sure to get recipe ideas as well.
Calling all GRINCH fans! My family loves The Grinch so much that every Christmas we dress up as him, watch him over and over, and set our table for an epic Grinch party… Come take a peek!
Gather up the garland and call on all your Whos – it's time to host an ultimate Grinchy party! I set my table up as a formal sit-down dinner, but you could easily adjust things so as to create more of an informal buffet-style setting if desired – the concept remains the same… all those delightful Grinch Party Ideas!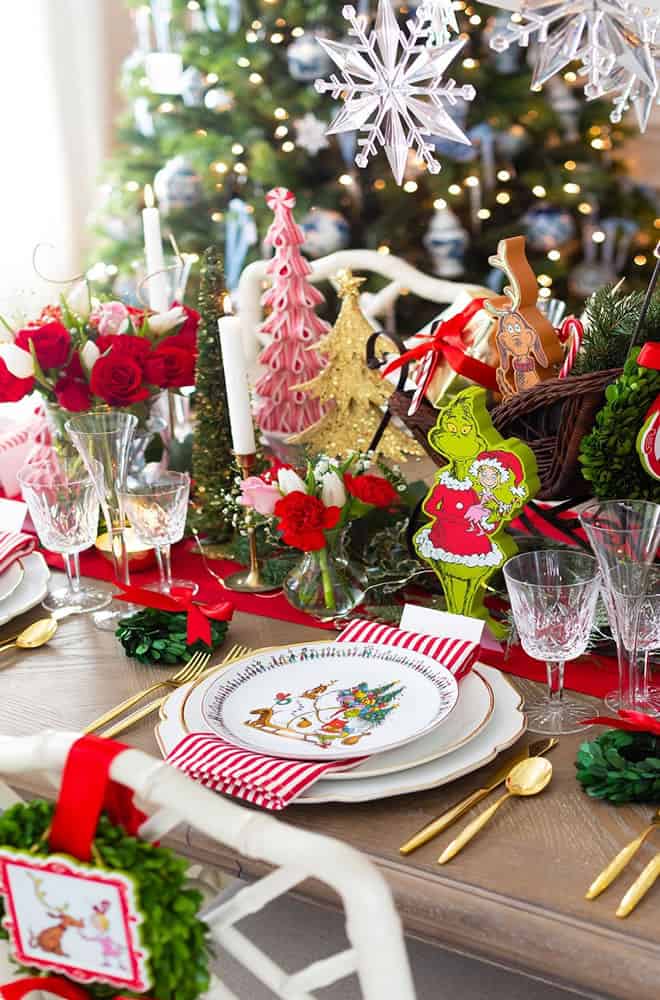 An easy microwave Christmas Grinch Fudge recipe made with white chocolate. Vegetarian. Green fudge with red heart sprinkles as a fast and simple dessert option.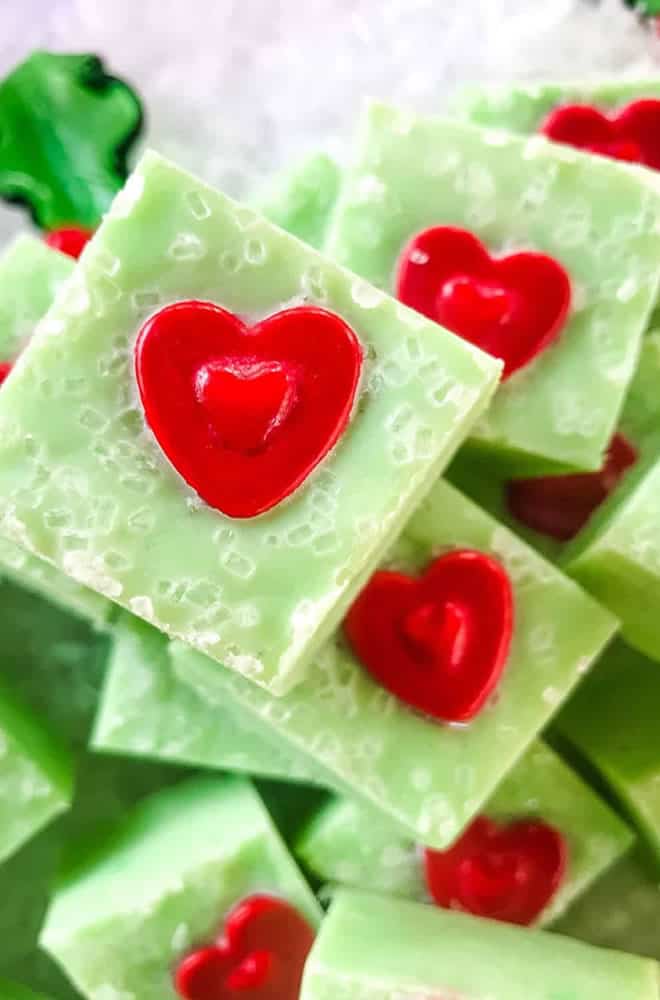 My best tips for entertaining a crowd on a tight budget – including how we turned our church basketball court into Whoville! This party was the ideal Christmas celebration. I hope that all these delightful activities make your celebration extra enjoyable!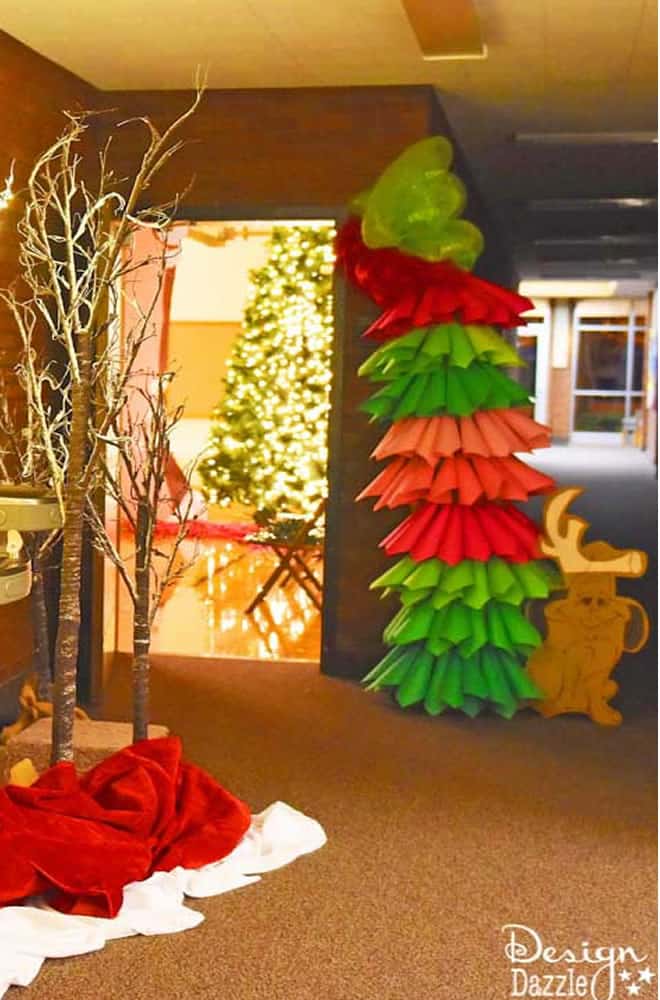 Crinkle Grinch cookies make an excellent addition to your festive baking list, especially if you're searching for green Christmas treats! Munch on them while watching holiday films.
My go-to Grinch heart cookies, but you can customize these any way you'd like! Add pink with red hearts (a nod to Valentine's Day), or customize with any topping or embellishment imaginable.
A vanilla or white cake mix of your choosing paired with oil, eggs, and green food coloring make up an essential recipe. In addition, some icing sugar (sometimes known as powdered or confectioner's sugar) for dusting purposes as well as large heart sprinkles is required.
This Green Goddess Hummus Recipe is creamy, herbaceous, and delectable – you're sure to impress any crowd-pleasing guests! Create this appetizer quickly.
Add some red bell peppers to create a heart and this makes for a great Grinch savory appetizer.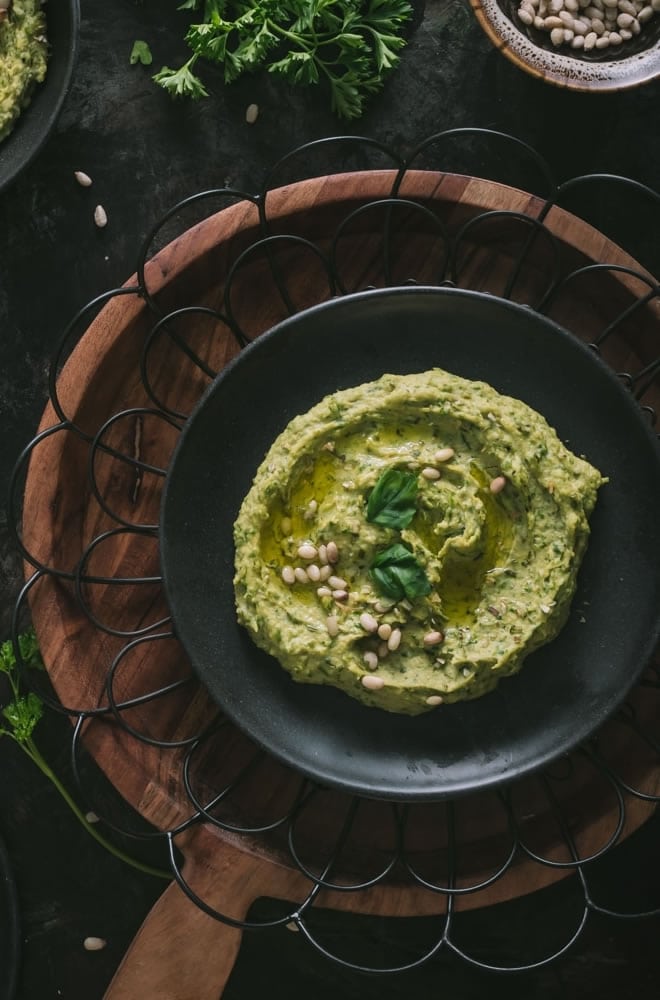 Grinch Fudge – the Perfect Holiday Treats are the best Grinch Party Ideas! When planning an annual movie night or Christmas gathering, this delicious dessert makes the ideal treat! Don't hesitate to whip a batch for all of your holiday festivities – whether that means movie night or gatherings! This easy fudge makes an easy addition!
Grinch Fudge boasts an irresistibly creamy white chocolate taste as written, but you can add any number of different flavors if desired. Vanilla extract makes an amazing vanilla-y addition or you could try using 1/2 a teaspoon of peppermint extract – anything goes! Use whatever extracts suit your palate for the best result!
Green hot cocoa with red candy hearts is just what's needed to bring the holiday cheer. Enjoy this festive holiday season hot chocolate recipe which will put a smile on everyone's face this Christmas.
Grinch may not be in a festive spirit, but I know you are! One of the best drinks you can create this Christmas is this fun holiday hot chocolate which is warm, adorable, and delectable!
Make adjustments as desired when selecting ingredients for this hot cocoa dish, from whole, half-fat or skim milks to plant-based alternatives.
These delicious Grinch sugar cookies feature green buttercream hair and a red buttercream heart – the ideal Christmas cookie treat.
These decorated cookies feature The Grinch's iconic green hair and his expanding red heart, as well as his growing heart. After doing some research into whether or not he had fur, the consensus seems to favor his having had hair. Since this makes more sense to me, that's what I went with.
Sugar cookie decorating needn't be complicated; these Grinch cookies can be completed easily with younger kids participating and make for an exciting baking day!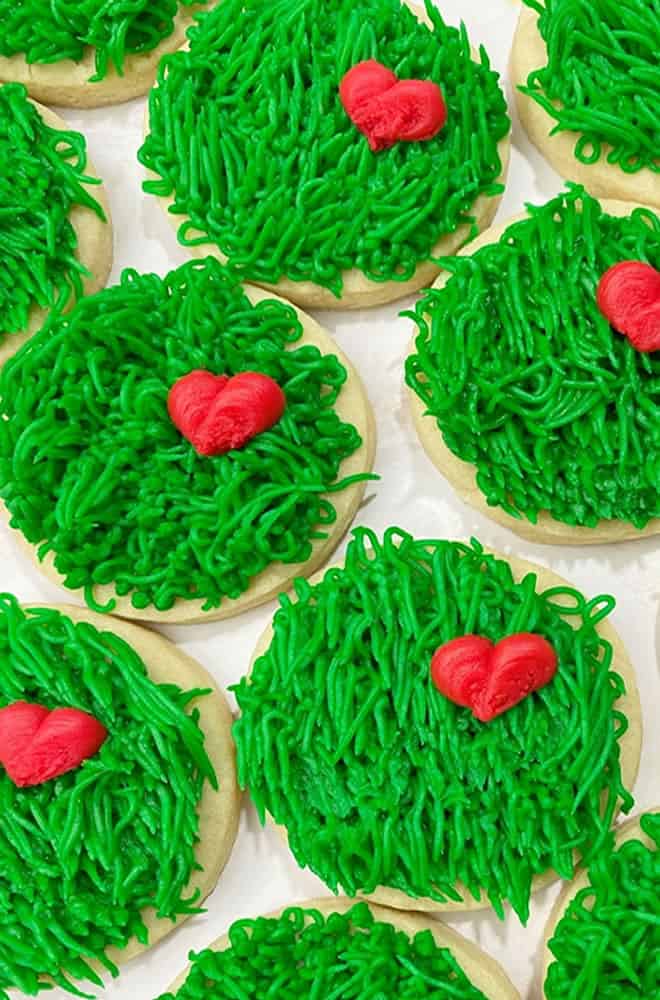 Have a movie night featuring The Grinch coming up, and want some festive snacks to serve while watching? Create these Grinch candy buttons! They take their inspiration from traditional, old-fashioned candy buttons but add an interesting Christmas flair!
How the Grinch Stole Christmas by Dr. Seuss and its 1966 cartoon adaptation are two timeless Christmas stories I enjoy reading and watching, so when I heard that today's Festive Christmas Ideas blog hop theme would be Movies, I knew exactly what I would make: something fun and Grinch-related!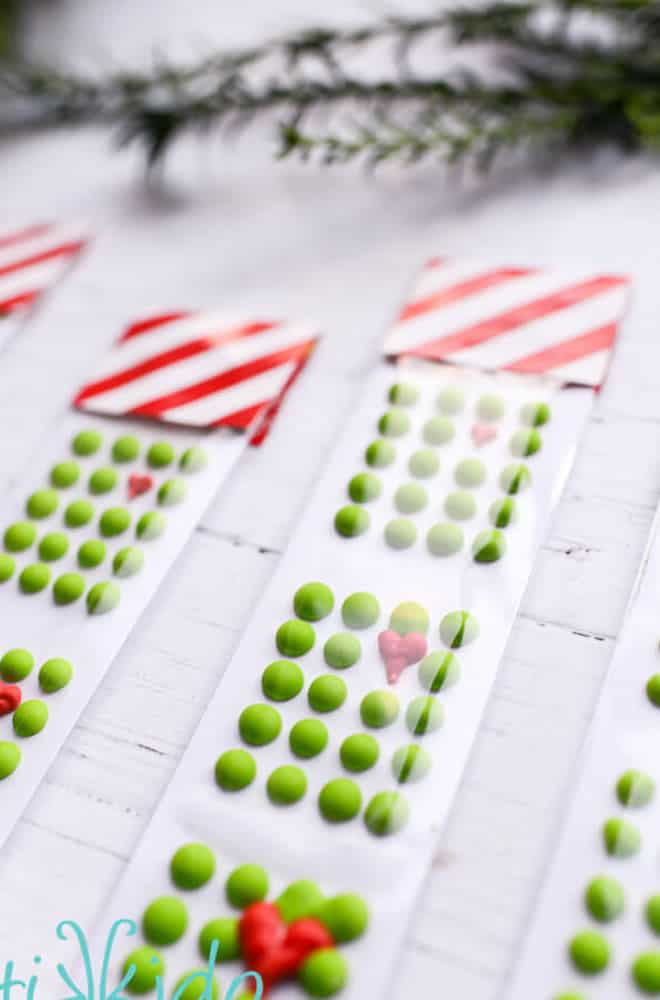 Easy, no-Bake Dessert Recipe This no-bake Grinch cheesecake fluff dip requires just minutes to create and serves up delicious festive charm!
Grinch would surely love this no-bake Grinch cheesecake fluff dip! It only takes minutes to prepare and is sure to satisfy holiday sweet tooth cravings – serve with graham crackers, gingerbread cookies or fruit for an enjoyable and festive snack!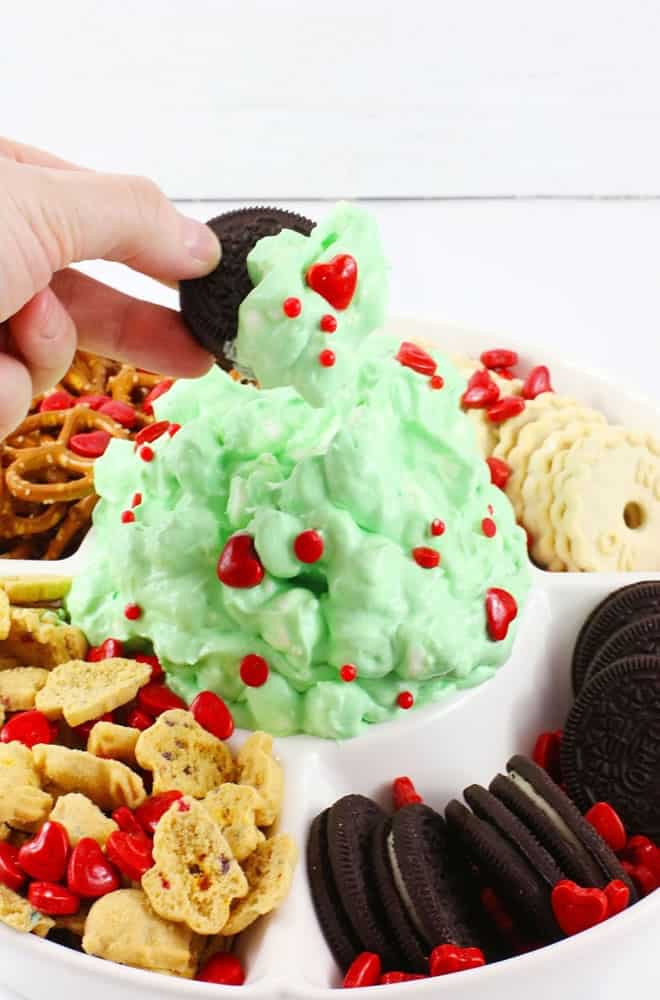 If you're searching for an easy holiday ornament craft, this adorable Grinch Christmas ornament may just be what you're after. Not only is it fun and simple to make but the kids will definitely have a blast doing this activity together!
Start making Grinch holiday crafts using a few materials!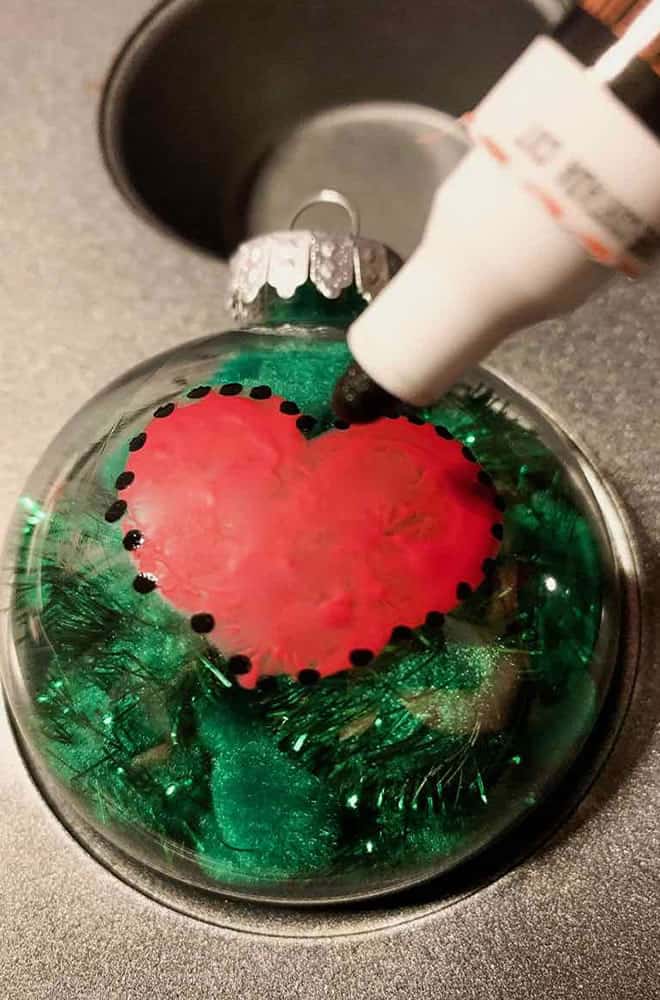 An ornament-laden Grinch Christmas tree is an effective way to bring the Whoville spirit into your holiday decor. Your guests are sure to love this tree and see their favorite theme come to life! With options from both classic Dr. Seuss stories and animated movies available today, these festive trees will delight all generations.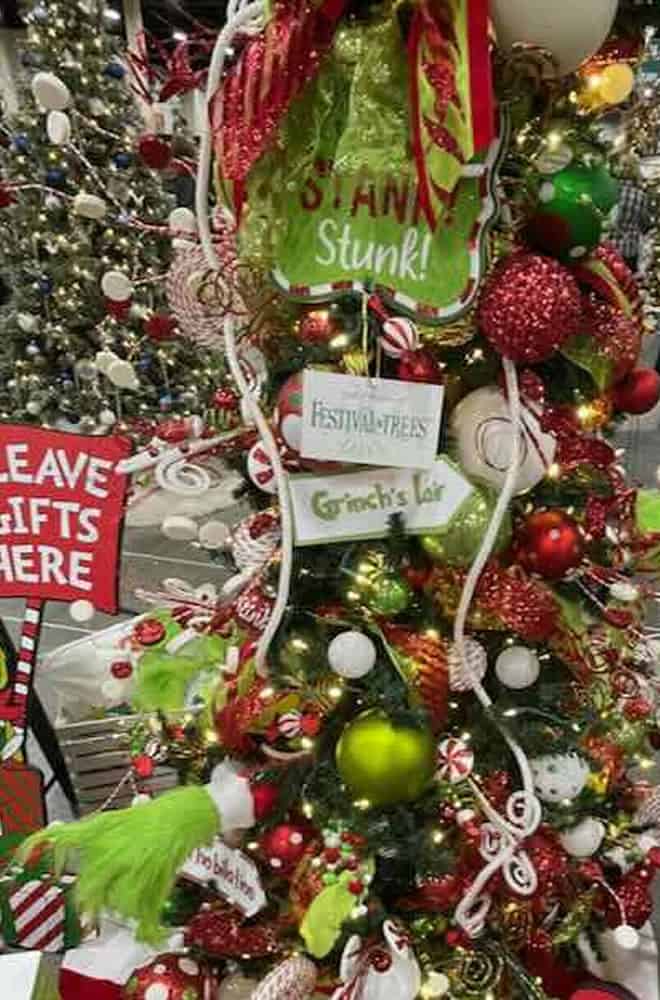 Celebrate Dr. Seuss' beloved Grinch character during the holiday season with these delightful Grinch Cookies! Each sugar cookie features green frosting to mimic his fur, three sizes of fondant hearts to represent how his heart expanded over one fateful day. Everyone will adore these fun Grinch-inspired treats!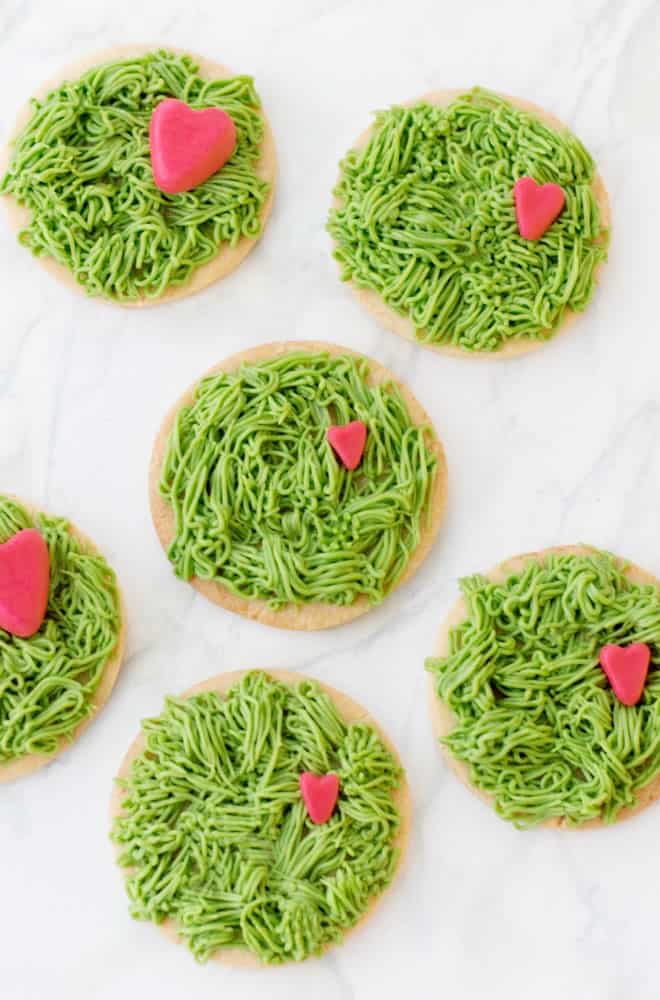 Grinch Crinkle Cookies – the ultimate Christmas treat! Red and green holiday treats are sure to spread joy throughout the room!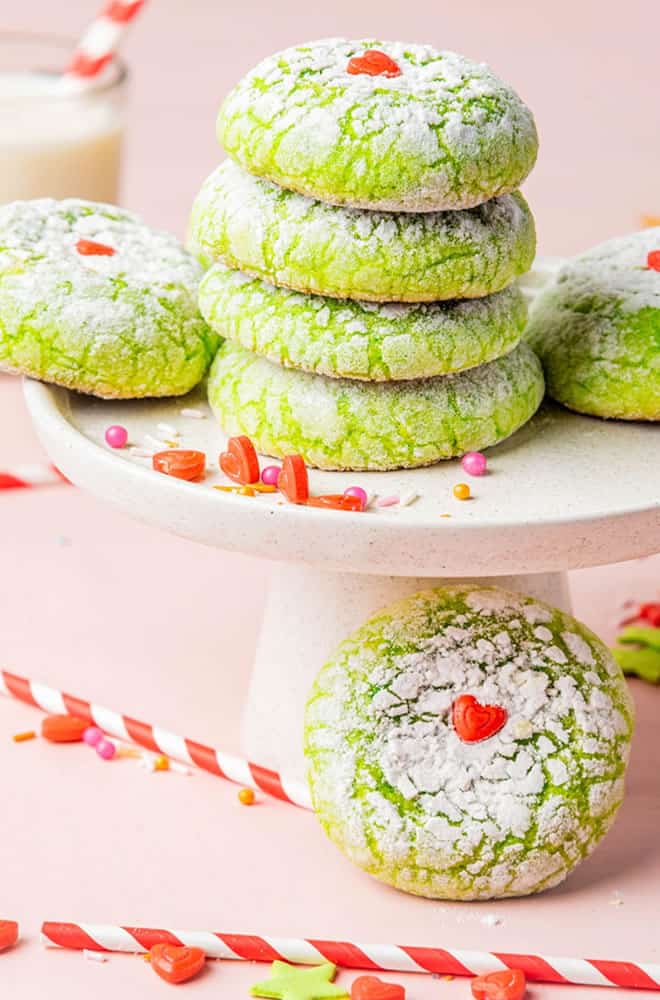 These cute balls (typically sphere-shaped) filled with hot chocolate mix can be placed into a mug and then when hot milk is added over it, its outer layer starts melting off while simultaneously releasing marshmallows and cocoa into its interior! A perfect Grinch party treat!
Grinch Kabobs From Recipes From A Pantry
Fans of Dr Seuss' How The Grinch Stole Christmas will adore these delightful Grinch Fruit Kabobs.
These Grinch Kabobs are an easy and delicious Christmas dessert or appetizer made with only three ingredients that the entire family will adore! Plus, children can make these Grinch Party Ideas! Ideal for gluten-free and vegetarian diets.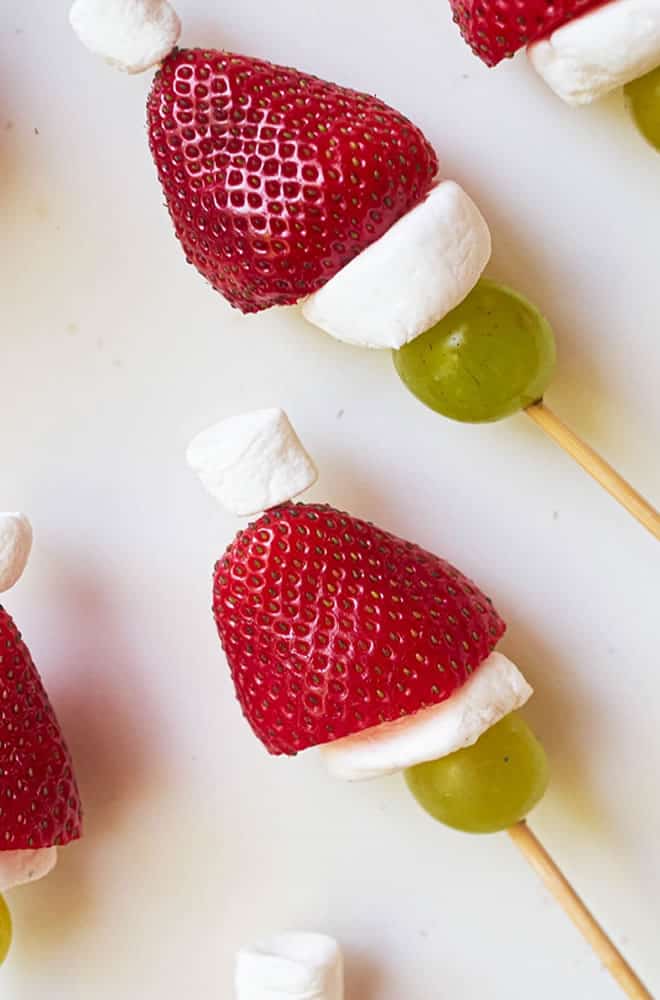 Be the hero this holiday season with our adorable Grinch-themed Oreo Pops! These delightful treats combine everyone's beloved Christmas villain and classic Oreo cookie in one irresistibly adorable treat.
Biting into these Oreo Pops is pure enjoyment! From their satisfying crunch of chocolate cookie, to the silky sweetness of candy coating, each bite will leave you feeling as if they've just unwrapped a Christmas present!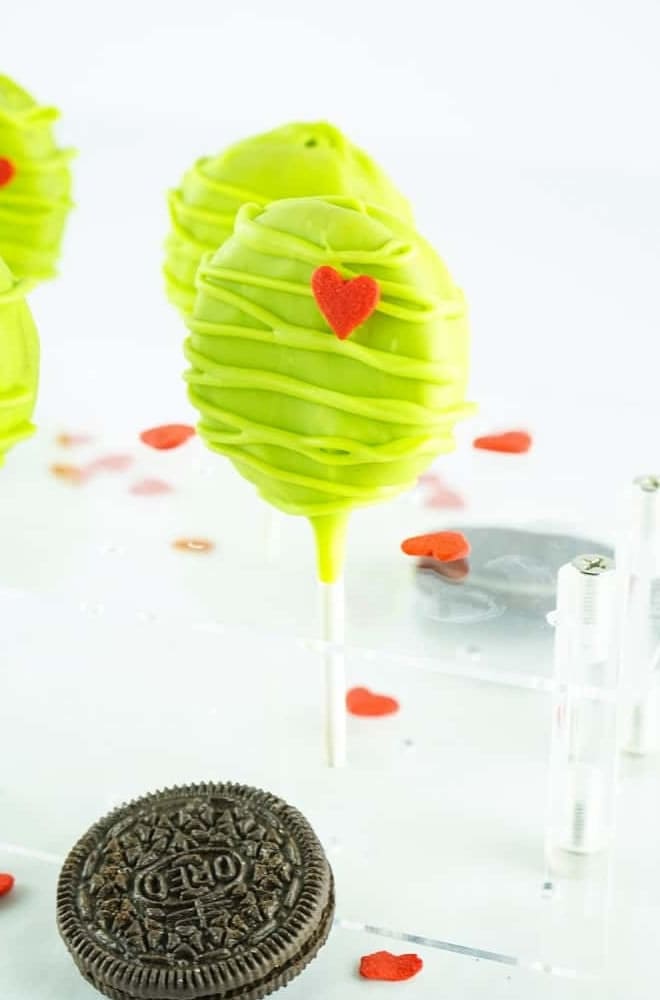 Grinch peanut marshmallow candy clusters are an easy holiday tradition! Create this no bake treat while watching The Grinch!
Candy clusters are an easy and straightforward dessert recipe if you need something quickly for a party. These peanut marshmallow clusters feature the classic Christmas character GRINCH!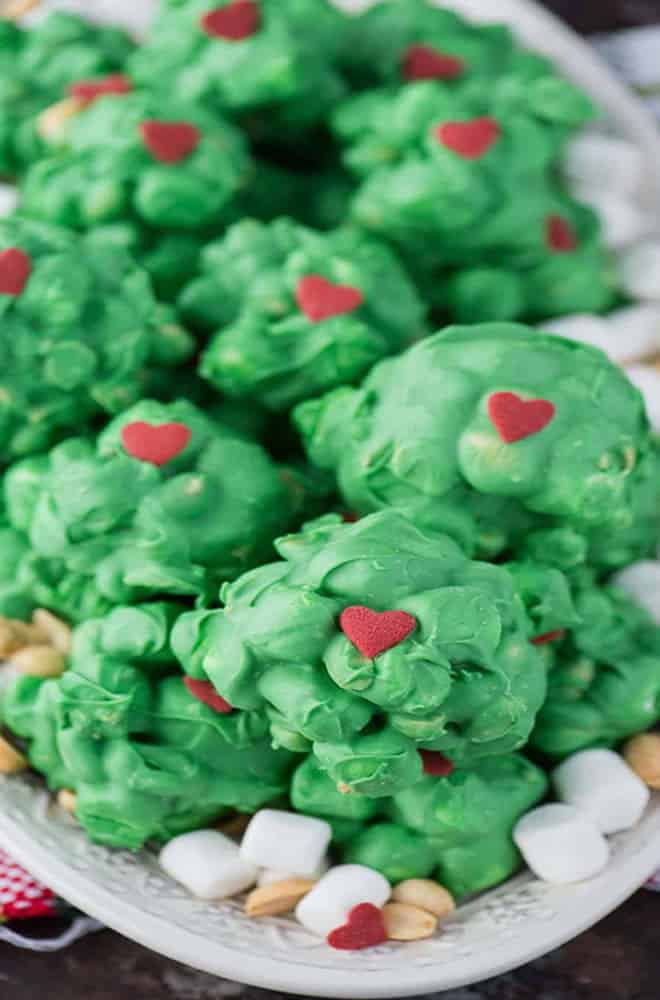 Are you drawn to the idea of creating a Dr Seuss-inspired menu with the Grinch as its focus? I made this theme for my family's Christmas breakfast one year.
Everything about it says Grinch! From its colors and decorations to food and even decor! Check the blog post for free printables.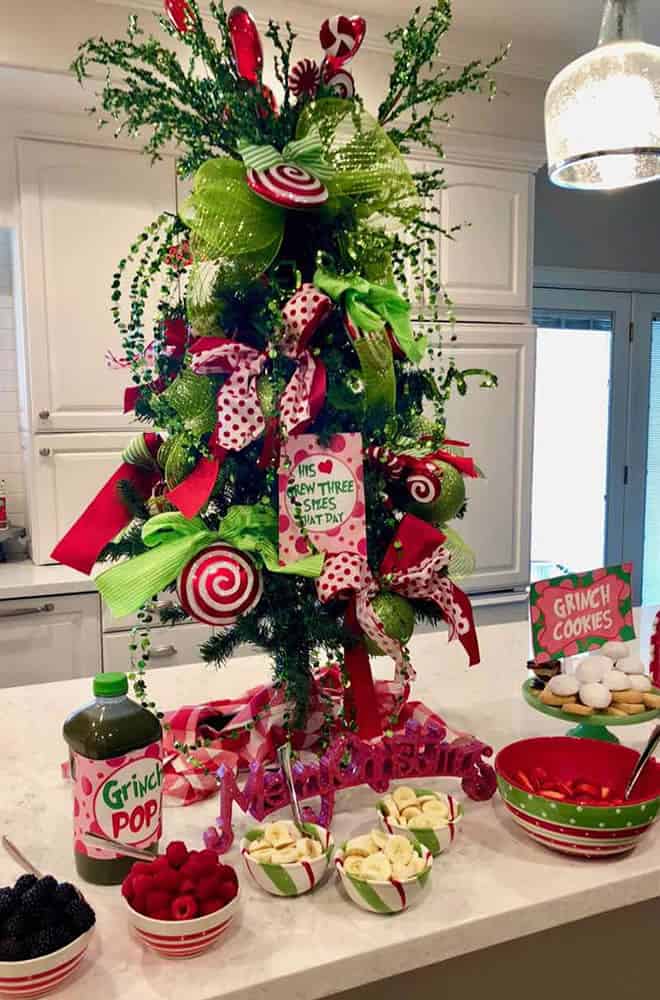 Grinch Thumbprint Cookies are delectable buttery treats filled with sweet vanilla frosting – ideal for family movie night, holiday parties and cookie exchanges!
These delicious cookies are wonderful because they're not too sweet. Their base is a buttery, tender shortbread-style cookie filled with an indulgent frosting for an irresistibly delightful taste and texture combination. And to represent The Grinch himself, each cookie features a red heart sprinkle to complete its festive look!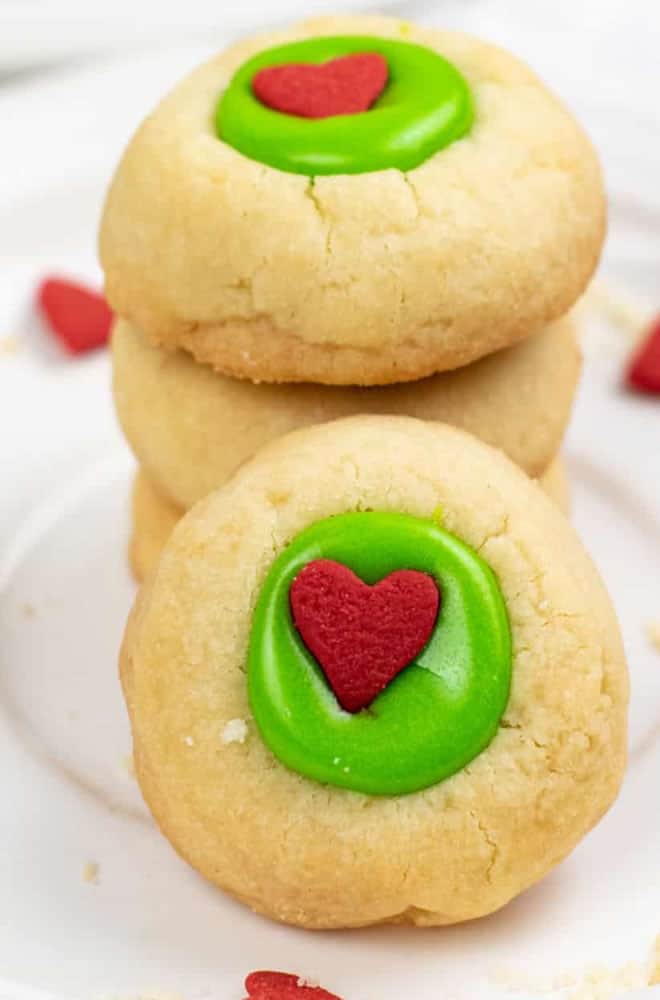 One of my favorites is this Grinch-inspired paper cone Christmas tree made with tomato wire cages and paper cones, making for one of the easiest larger props to create. It is budget-friendly too!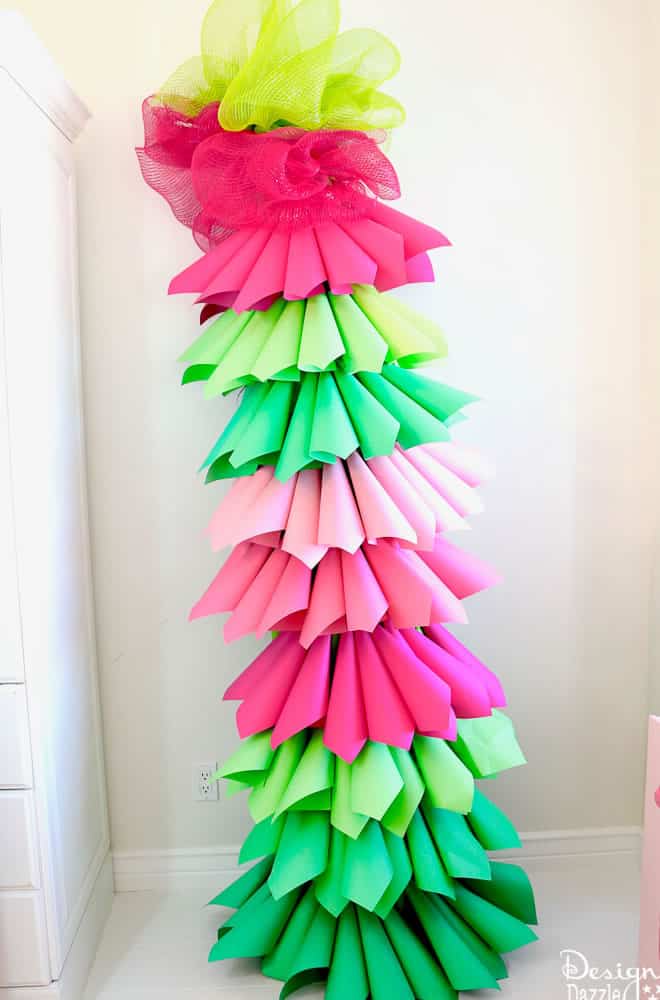 Do you love watching The Grinch each Christmas? Now there is the perfect treat that is not only quick and easy but completely adorable: Grinch Treats!! These treats can easily become the highlight of your viewing party!!
As an added convenience, use pre-made Rice Krispies Treats for this project. This made the entire process faster and simpler!
But you could always make your own Rice Krispies Treats! Not only will kids love making and devouring these treats, but adults will too!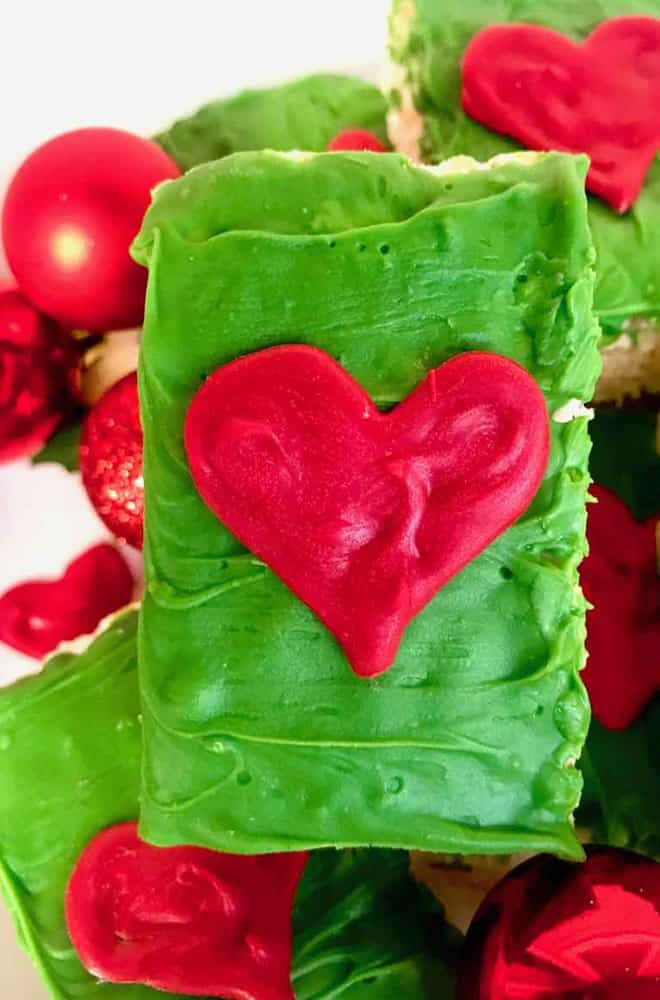 Discover The Grinch-themed party favors in three easy steps! Create ornaments using candy or party bags.
The Grinch party favors are the ideal way to spread holiday cheer this season! Choose one of these three Christmas party favor ideas featuring Dr. Seuss' beloved character as you spread some holiday cheer! With some green candy ornaments or more traditional bags and cups as gifts for guests.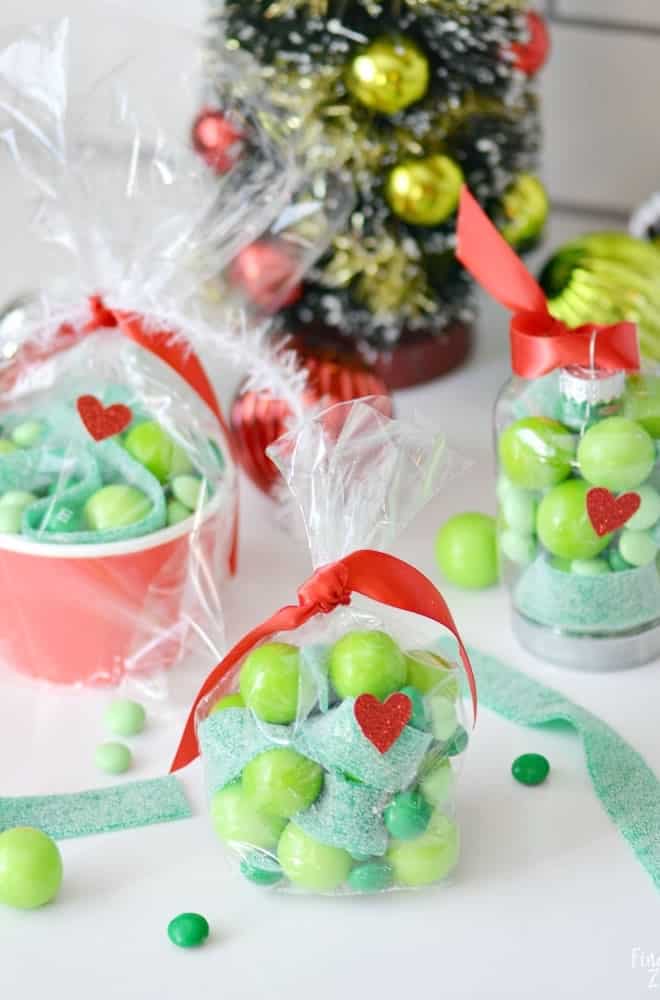 Vegan Matcha Ice Cream Is Even Dairy Lovers' Delight! – Even dairy lovers cannot resist this rich and creamy vegan matcha ice cream made of green tea powder which tastes divine in this dessert!
If this is your first experience with vegan ice cream, be prepared for an incredible treat. Coconut milk provides all of the fat needed to create a creamy texture without dairy ingredients. Add some red hearts to make it a fab Grinch ice cream!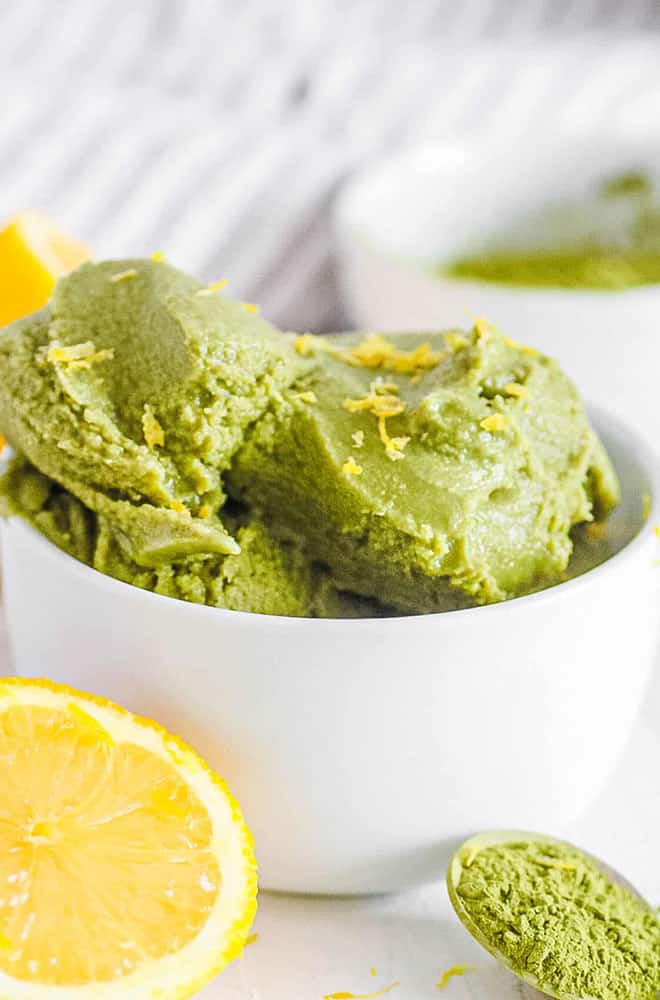 Costumes And The Best Grinch Christmas Party Ideas
Invite your guests to sport "Who"-inspired costumes as they visit your Who-ville Christmas celebration. Classic storybook Who's sport tall, flower-adorned hair, big floppy bows, ruffled collars, and boldly striped or polka-dotted outfits. Encourage guests to dress as outrageously as possible and use their imagination.
If you want to reenact parts of the story, you'll also need to enlist a Grinch. Go all out with a head-to-toe green furry costume if you have a dedicated Grinch. Check local party stores for costumes year-round or grab a Grinch costume at a Halloween store around the holiday if you're planning far enough ahead. For a more subdued representation, have your Grinch dress in an all-green outfit and a bit of sinister green face paint.
Stock up on Grinch party printables and supplies from hobby stores like Hobby Lobby or online retailers like Amazon. You can find everything from Grinch balloons,signs, and Grinch decor.
Activities And Fun Party Games
For a Grinch-themed party, find an entertaining way to share the classic story with your guests and give them a bit of a refresher as to the whole theme of the party. Read the story aloud, show the television version of "How the Grinch Stole Christmas" or host a screening of the Jim Carrey film.
For a more interactive rendition, print out simple scripts and enlist guests to re-enact the tale. Other Grinch Party Ideas may include a "Who-Christmas-Sing along." Children can play pin-the-antlers-on-Max with a poster of the Grinch's canine sidekick. If you're artistic, sketch the Grinch's dog sidekick yourself onto a poster board or create some Grinch signage.
In the spirit of the Grinch's transformation, encourage your guests to perform good deeds during the party. Provide a "Good Deeds Jar" and have everyone write down acts of kindness, then read them aloud.
A few more Grinch ideas:
How to Make Grinch Nutter Butter Cookies
Grinch Movie Themed Gift Ideas
Grinch Party Ideas
With these party ideas, you'll be well on your way to creating a magical and memorable Grinchmas celebration. From Grinch crafts and decorations to delicious treats and fun activities, your guests will be filled with the joy of the Christmas season. So, get ready to host your own Grinch party and make this holiday season a festive and unforgettable one!