Hi! I'm Jennifer from The Party Teacher and I'm thrilled to be invited back for Toni's Christmas series to show you how to make Grinch Nutter Butter Cookies! They are so fun for your "How the Grinch Stole Christmas" movie night, or… if you have a special Christmas visitor!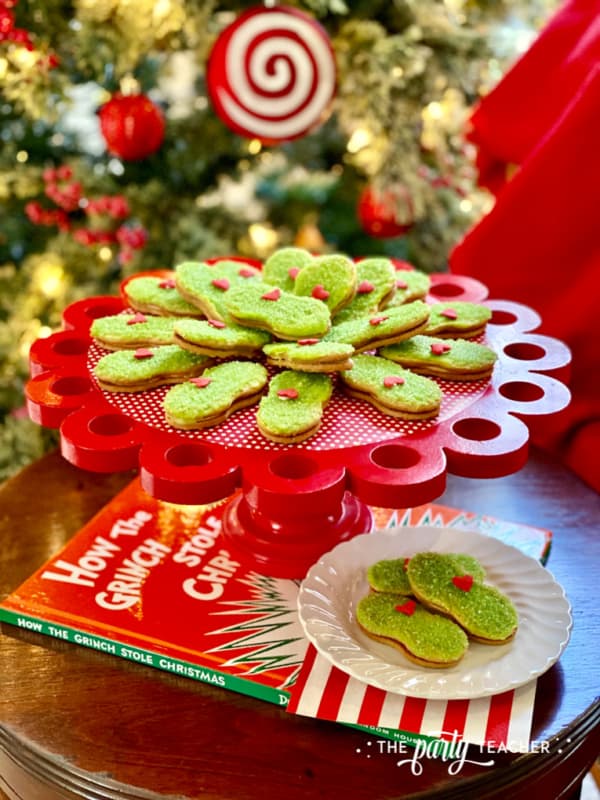 First, you need supplies:
Nutter Butter Cookies (18 pack)
Vibrant green candy melts (12 oz)- I used the Wilton brand
Light green sugar sprinkles- I used Wilton brand
Jumbo heart sprinkles- I used the Wilton brand
Betty Crocker cookie icing (white)
Cooling rack
Parchment paper
Optional: Wilton EZ Thin
Optional: Wilton candy melts pot
Supplies are available on Amazon and at retailers like WalMart or craft stores.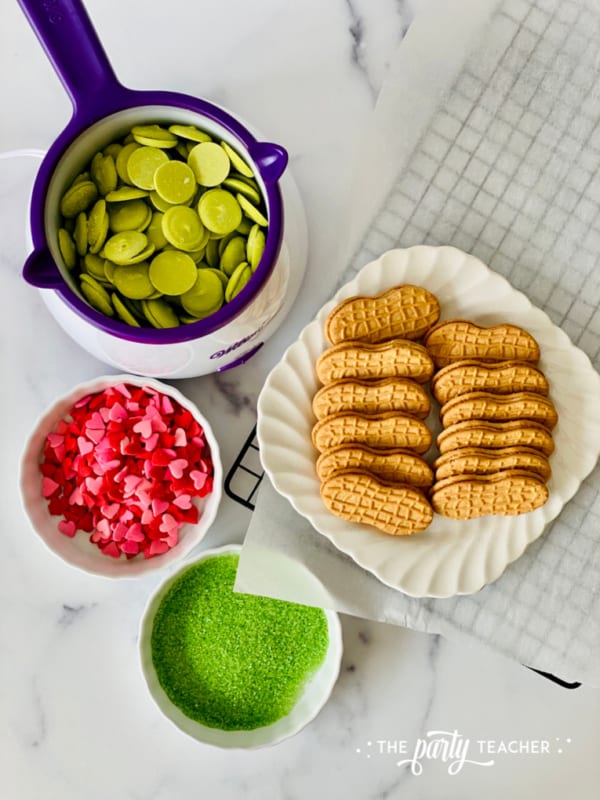 Grinch Nutter Butter Cookies
Instructions :
1 – Melt candy melts according to package directions. I've tried the microwave and double boiler methods, but the candy melts pot works best for me. The constant heat keeps the candy at the right consistency for all your dipping. I've always found it necessary to thin the candy melts for dipping or drizzling and EZ Thin is better than canola oil or plain Crisco. (With 12 oz of candy melts you could probably cover 36 Grinch Nutter Butters.)
2 – Dip one side of a cookie in the melted candy. Scrape off any excess on the side of the candy melts pot. (If the melt dribbles down the cookie sides, you can neaten it up with a toothpick.)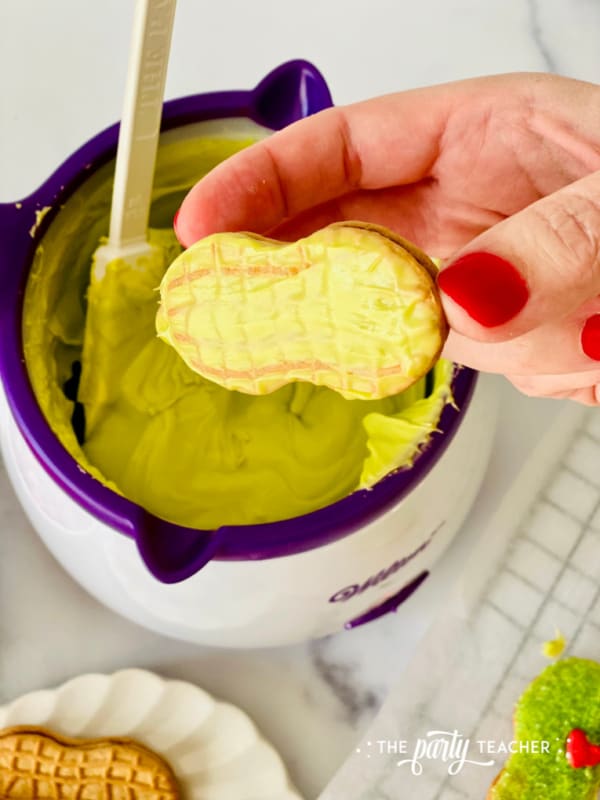 3 – Immediately dip the candy-coated side into the green sprinkles. Place on parchment covered cooling rack.
4 – Add a dot of cookie icing to a heart sprinkle, lightly pressing down to secure it. Allow the cookies to set up for about 30 minutes.
Honesty: I hit on the sprinkles idea because I couldn't get the candy melts as smooth as I'd like over the Nutter Butters. Perfectly imperfect is 100% okay, but it's also okay to want to be happy with your creation. Do overs, learning, and hacks are all part of the fun. We'll just pretend that the sprinkles are like the Grinch's fur. (Wilton has helpful candy melt hints on their blog.)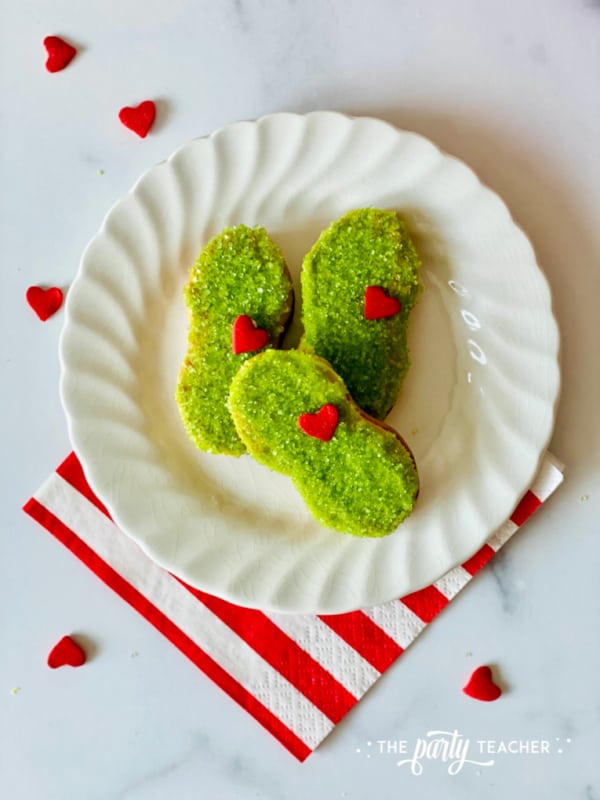 Additionally, for more sprinkle ideas, check out this post about adding sprinkles to store-bought treats.
Also, to see how to make another fun Grinch themed treat — Grinch soda floats — visit my blog. You'll also find loads of ideas for children's birthday and holiday parties that you can easily recreate in your home.
I hope you'll hop over and pick up your free copy of my party planning cheat sheets. Finally, if you want even more party ideas, check out my Party Plan Club. When you join the club, you get instant access to exclusive parties that are already planned for you. Just click, shop, and done. You get a new, exclusive party plan every month. Plus: you get all the parties that have already been added to the club library!
Merry Christmas to you and many thanks to Toni!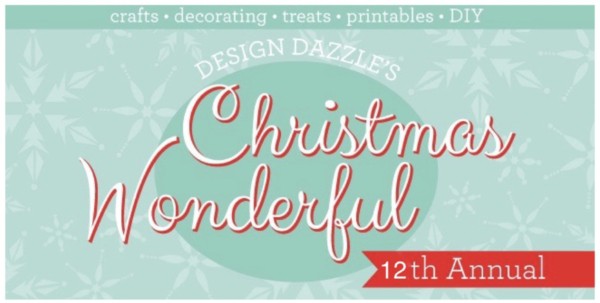 Title:
How to Make Grinch Nutter Butter Cookies
Mentions:
100 ideas of Christmas wonderful, christmas, christmas recipes, christmas wonderful, grinch treats, holiday ideas
Keywords:
Grinch Nutter Butter Cookies
Last Updated:
December 3, 2021