This post may contain affiliate links that, at no additional cost to you, I may earn a small commission. Read our Disclosure Policy.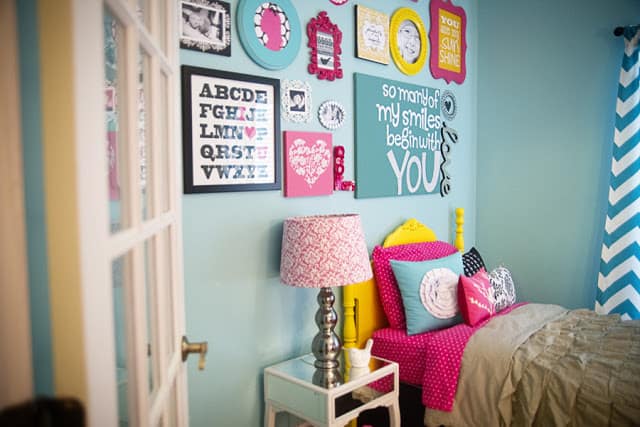 Too many colors? No way! This "big girl" room looks like it's been touched by sunshine with the sunny yellow bed and multi-colored accents against a sky blue wall. But that doesn't tell you the whole picture. Take a look at the focal wall for this room designed by photographer-mom Ginny Phillips: Touch of Sunshine Girls Room! Ginny gave permission for us to share.
Ginny says, "We made almost everything in this room…and that wall. That wall. That wall took sooo long…" I don't know about you, but I think her efforts really paid off!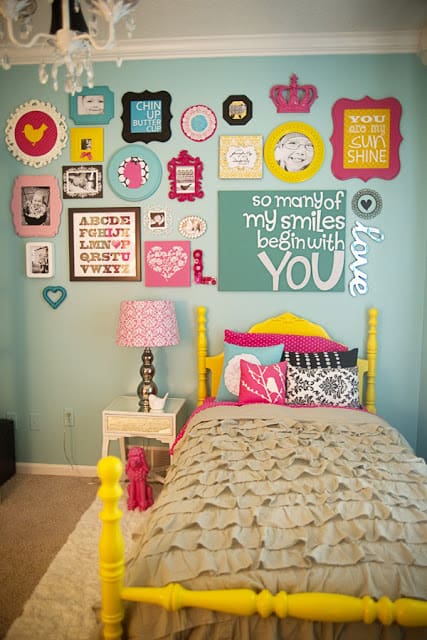 The painted frames contain pictures of a very special 2 year old along with custom art that can be found at Ginny's Etsy store. Even a treasured remnant from a baby mobile made it onto the wall. The bed was purchased off of Craigslist and spray-painted with Krylon Yellow paint. Ginny says, "The bedspread was actually bought NEW from Urban Outfitters! It was my splurge…a grey ruffle…and it was perfect. The pillows are a mix from Etsy, Target, Hob Lob and some we already had. The side table is Target and another thing we didn't make. We just taped the diamond pattern on the wall. I spray painted 50 thousand things…the mirrors (2 we already had and were my grandma's) I wanted bright yellow and floor to ceiling. The bird cages I sprayed black and put ribbon on them as a faux chandelier. The dresser was her changing table…I mod podged wrapping paper on top and changed the knobs to crystal knobs."
The letters for the "so many of my smiles begin with you" sign were cut using a cricut machine and then spray adhesive-d onto a painted canvas.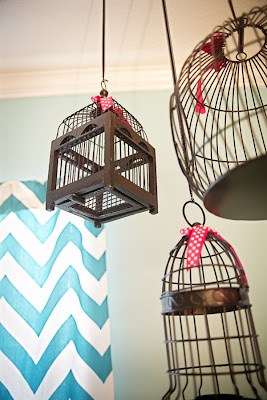 You can check out more of Ginny work at
West Eighty Third
, her Etsy shop or her
blog
.Bright color ideas and decor…

Metal Decorative Bird Cages, Set of 3