This post may contain affiliate links that, at no additional cost to you, I may earn a small commission. Read our Disclosure Policy.
This is a sponsored conversation written by me on behalf of Wet Ones® Hand Wipes. The opinions and texts are all mine.
Today, I'm sharing my tips to stay clean and germ free for the summer or anytime of year! I grew up with a mom that always made sure we washed our hands – especially after using the restroom, before eating, etc. Of course, that got passed down to my kids. My family and I are all sticklers for being hygienic. I was recently asked by Wet Ones® Hand Wipes to share some ideas for using the hand wipes.
My tips for staying clean and germ free are to carry Wet Ones® Hand Wipes. While I'm out and about doing errands, biking, traveling, etc. I carry these wipes. They are an important way for me and my family to stay clean and germ free. I would describe Wet Ones® Hand Wipes as versatile, simple, and convenient. They are a part of my everyday arsenal and are an essential take along on every journey. I purchase the Wet Ones® Fresh Scent Antibacterial Hand Wipes and the Citrus Scent at the local Walmart.

Here are some of the ways I use Wet Ones® Hand Wipes:
Crafting!
Use Wet Ones® Hand Wipes as part of your everyday summer arsenal for wiping up after crafting with the kids or without the kids. You know how messy it can get doing summer crafts. Always keep a pack on hand to clean up!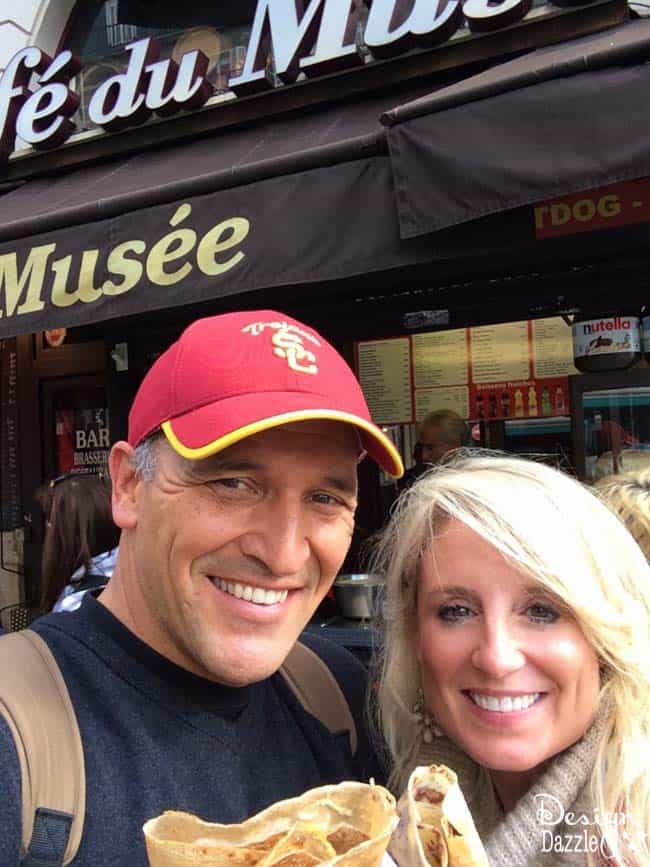 Summer Travel!
My husband and I traveled to Europe. And what did I take with me? Wet Ones® Hand Wipes! We carried a very small lightweight day bag (backpack) to carry around during our day trips. Every morning we would gather the items needed for the day: small travel umbrella, compact travel raincoat, sunscreen, wallet/money, hats, and Wet Ones® Hand Wipes. At times trying to find a CLEAN restroom near tourist attractions and those beautiful historic buildings was not easy. Of course, this can be in anywhere in the world. There were many bathrooms I came across that were pretty disgusting. It just makes you feel icky to walk into a dirty bathroom – when there's no soap, water or paper towels. Nothing better than getting the wipes out to clean off my hands and getting the nasty germs off. While in Paris we made sure to try their crepes. They have these little stands that make fresh crepes right in front of you! It's nice to be able to clean your hands before and after eating.
Also, it makes me happy to wipe off the armrests and other things when I arrive to my seat on an airplane. Germs and nasty bugs such as E Coli can linger for days. Antibacterial wipes kill 99.99 % of the germs – that makes me happy. You can always find me bringing my inflatable travel pillow with me on long flights.
Riding bikes!
For Christmas, I received an old vintage Schwinn bike. We've been riding around our neighborhood, the local park and the nearby river trails since the weather has been nice. Sometimes while on our bike ride we will stop for an ice cream and sit outside and eat. Now for me it's certainly annoying to have sticky ice cream hands from all the drips. But then again, with the Wet Ones® Hand Wipes to wipe off my hands I can focus on having fun and not be stressed out about my sticky mess!
Popsicles and Ice Cream Cones:
Isn't it fun to surprise your kiddos with a popsicle or ice cream cone? The ultimate summer treat. But as we all know – popsicles and ice cream are messy, messy, messy! Carry the Wet Ones® at all times during the summer and you won't have sticky ickiness!
Cell Phone/ Keyboards
Wiping down my cellphone with the wipes is a good thing. I make sure not to get in the electrical "nooks". It's more about the case and cellphone screen. Our cellphones have lots of germs on them. I read an article that stated cellphones have more germs than a toilet. Eeeewwwww!! We'll not for me, friends!! I occasionally clean my cellphone and computer keyboards with the wipes.
True story: I was at the hair salon and I mentioned about cellphones and all the germs on them. The two cute gals that help do my hair were like "oh, that's gross"! I pulled out the Wet Ones® Hand Wipes for them and they immediately used them to wipe their cell phones. : )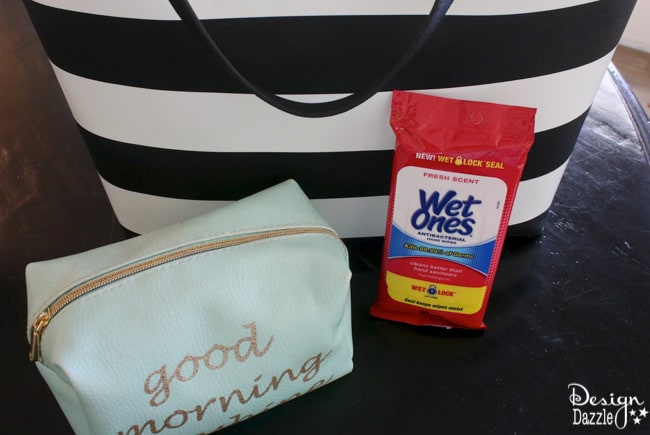 Everyday Errands!
Typically my purse carries more than my wallet, cellphone, keys, make-up bag, measuring tape, receipts, gum and junk! I like to carry the travel size pack of Wet Ones® Hand Wipes for the times that I need them. I found that they can remove grease and make-up stains from clothes wonderfully, as well as helping to keep my items germ free.
The hand wipes are perfect for the car. How many times do you stop and get something to eat while out and about. I know all about going through the drive-thru when my kids were young. I hardly eat fast food anymore, but when I do it's all about having clean hands when I eat. When I'm home I wash my hands but when out and about the wipes are perfect to get my hands clean and germ free!
Whether it's summer fun, back-to-school or the winter season, Wet Ones® Hand Wipes are the 2-in-1 way to wipe out dirt and messes and kill 99.99% of bacteria when soap and water aren't handy.
What fun are you doing this summer that would need a good dose of hand wipes?
fishing
camping in your backyard
roasting marshmallows or making s'mores
hanging at the beach
fun on the golf course
have a bubble day with bubble wands and bubble toys
playing at the playground
attending amusement parks
petting zoo
picnicking
gardening
making mud pies
What will you use Wet Ones® Hand Wipes for this summer?
Save
Save
Save
Save
Save
Save
Save
Save
Save
Save
This is a sponsored conversation written by me on behalf of Wet Ones® Hand Wipes. The opinions and texts are all mine.
.
Save