This post may contain affiliate links that, at no additional cost to you, I may earn a small commission. Read our Disclosure Policy.
We have had our Geneverse portable solar powered generator for a few months. And what can I say – we love our Geneverse portable solar generator for home use!
Solar generators are great for tailgating, a camping trip, using at the beach, and many more uses. But for us using the generator for home backup power will be amazing. We've had a great time figuring out what appliances to plug into our generators and the best way to use them. You can see the unboxing, the advantages of solar generators, and why we chose this solar-powered generator for our renewable energy power supply.
Our system includes two Homepower Pro 2 power stations, one Homepower Pro 1 power station, and four solar panels.
Geneverse provided me with the products on this blog post. All opinions are my own. For further information, please see our disclosure policy.
Estimated Usage Time of Power Station
How long does the Homepower Pro 2 power station power your essential devices? Below are screenshots from Geneverses website for the Homepower Pro 2 and the estimated usage time for essential devices. Check each power station for estimated usage times.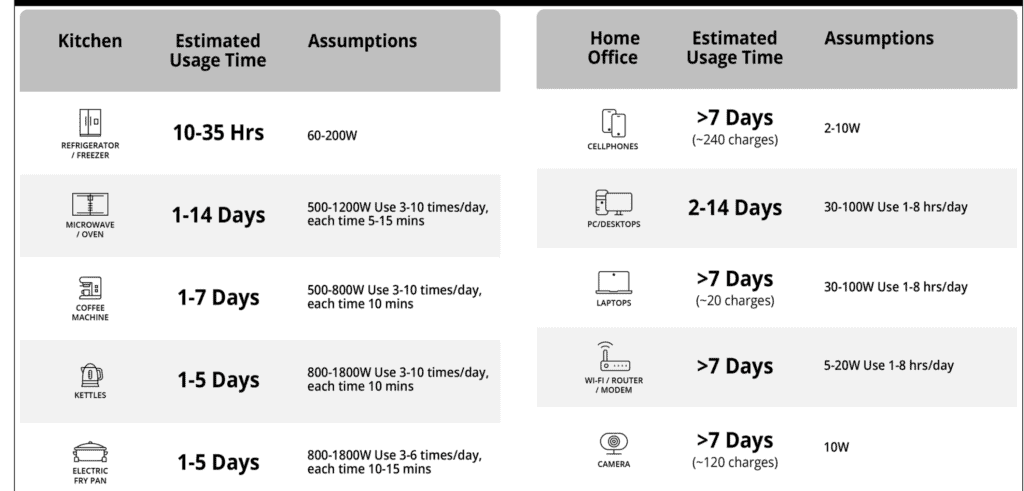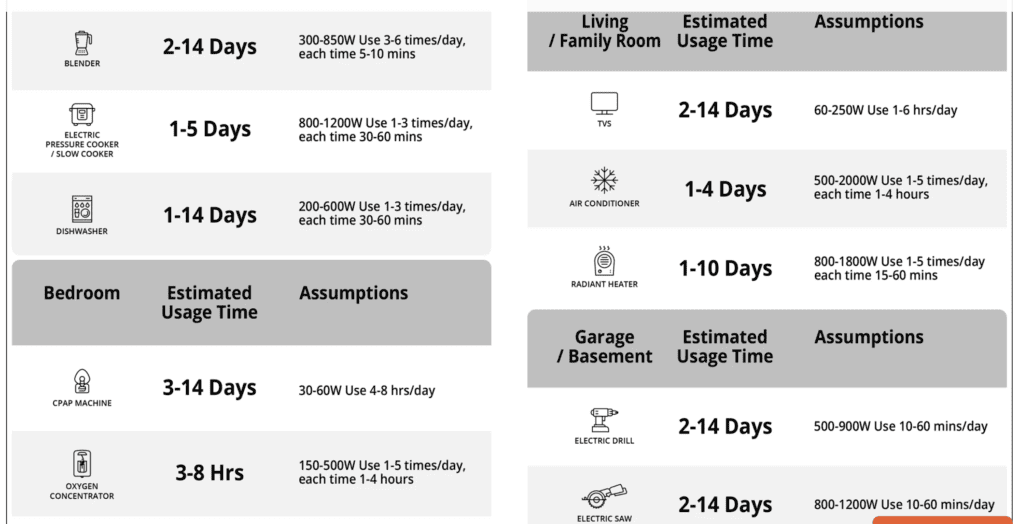 Charging the Generators by Wall Outlet
We charged the three generators using wall outlets. The charging time for each unit was approximately 2 hours. We charged all three units simultaneously. The front display panel continuously displays the progress of the charge by percentages. The unit is silent as it charges. We charged one of the power stations to 90%. We then connected it to a solar panel and completed the charge to 100% just to try it out.
Solar Charging
Solar charging is free and as long as you have sunlight the portable solar generators can stay fully charged and stand ready to power your various devices. Setting up the system to the solar panel was a snap. It's as simple as connecting one end of the cord to the power station and the other to the panel. The panels unfold and fold with ease and is a breeze to set up. The carrying handles make maneuvering the panel to the desired spot effortless.
Solar Panels
I'm thoroughly impressed with the quality and workmanship of the power stations and solar panels. Every detail has been carefully thought through.
Each solar panel has a quality carrying case. The inner pocket holds the cord and instruction literature for the panel. The literature includes a very simple and easy to understand setup diagram.There is no need to read any complicated instructions.
The panels are compact for easy storage. We keep the panels with carrying case inside the Geneverse packing box and stack the boxes on top of one another for compact storage.
Length of Time to Charge Solar Panel
Geneverse's 200W SolarPower 2: All-Weather Portable Solar Panels. Depending on the number of panels in use, the HomePower TWO PRO can charge by solar for between 4-8 hours or by an AC wall outlet in less than 2 hours. It's ultra efficient!
The panels weigh 17 lbs each. Unfolded the panels are 91″ in length and 21″ wide and about 1/2″ thick. Super easy to set up.
I drew arrows on the image below to show how thin the solar panels are. They are quality and although lightweight they are heavy duty.
Portable Solar Panels Setup
We set up all three power stations to the four solar panels in just a matter of minutes. Geneverse has made it so simple. We used the 2 to 1 converter (shown below) to connect one power station to two solar panels. With the use of the converter, you can connect four panels to one power station and reduce your charge time in half. This converter is a must-have if you have more than one solar panel!
Generator Power Output
The Pro 2 has a 2400 watt battery capacity and the Pro 1 1200 watt capacity. The power stations include very sturdy integrated side handles to lift and move the units. The inputs and outputs on the front and back are well marked and very intuitive.
There are four USB ports; two USB-A ports, two USB-C ports, and three 120-volt AC outlets on the front panel. The front display panel is simple and informative. The display panel continuously updates the percentage of battery life remaining, the number of hours of charge remaining, and the amount of wattage being used. I liked the simplicity of the screen. Even I could understand how to read the panel on the generator. The image above shows our freezer running on the generator.
How Long Will the Generator Last?
The generators are rated for 3000 life cycles. They have a 12-month battery shelf life. The generators come with a 5-year warranty.
How Long Can You Run a Freezer on the Solar Generator?
The Geneverse site states 10-35 hours. We plugged our chest freezer, mostly full of our bulk meat, into a fully charged Pro 2. The one generator fully operated the chest freezer for 52 hours. Wow! It was hard to believe that the generator lasted that long powering a chest freezer. Our freezer is a newer Whirlpool, 16 cu ft, Model WZC5216LW.
The image below shows the chest freezer plugged into the generator. The display screen shows the percentage of remaining power that is available.
The great thing about having TWO generators – one can be plugged into an appliance to run while the other generator is being charged by the sun. This makes alternating and powering up a chest freezer easy to do.
Having a chest freezer full of organic pasture raised bulk meat is not cheap. Our freezer contains a quarter cow and half a pig that cost about $1,500. If electricity goes out for several days, that is not an investment we want to lose. We essentially can now maintain continual operation of our freezer with the two portable solar power generators. Our third generator can meet the electrical needs of our other appliances and devices.
Charging the Generator Quickly
Once the generator battery was exhausted, we then plugged the Pro 2 into a wall outlet. It received a full charge in ONLY 2 hours. Of course, if there is no electricity you won't be using a wall outlet. But it's nice to have it fully charged and READY if there is an emergency.
How Easy Is The Portable Solar Generator to Move Around?
The Homepower Pro 1 weighs 38 pounds and the Pro 2 61 pounds. The Pro 2 could be difficult for a person to carry from one spot to another. My hubby has no problem lifting and carrying it. However, for me, it is a bit heavy. I placed it on one of our furniture moving dollys and maneuvering it was a breeze. You can purchase a moving dolly for under $40.
Geneverse Mobile App
The App allows you to sync to your Homepower Pro system. The App provides smart monitoring of the generator and you can also perform some functions.
It Is Safe Indoors?
There are no toxic fumes, no gas and it is essentially silent when running. A solar generator kit is a clean energy source. We decided to leave one of our Pro 2's in the house on the small furniture dolly tucked away in a cubby. It is easily accessible and portable. For apartment dwellers, this type of generator makes total sense. No gas to store as with gas generators, and no loud noise for close neighbors. Solar panels could sit out on a patio if there is enough sun for the panel to be charged.
What Does a Portable Solar Generator Cost?
At the time of writing this post, the Geneverse site lists the Pro 2 at $2,499 and the Pro 1 at $1,499. The solar panels are $628 each or $2,516 for four. The four panels together are certainly worth having for quick charging.
Why Purchase Solar Backup Generators?
Emergency preparedness is important. Electrical blackouts are not uncommon. A portable power station is ideal for use during a power outage and other emergency situations. I'm constantly reading about natural disasters. Having a solar generator can help significantly in getting through a natural disaster. We have a home full of electrical gadgets and appliances that require powering. The estimated usage for power tools is 2-14 days using the tool from 10-60 minutes daily and cell phones for over 7 days.
Prepare for any emergency or loss of power with Generark's Emergency Preparedness Sale – Save up to $1,000 and Free Shipping!
The Generverse generator can power 99% of household appliances and other electronic devices for days. A solar generator keeps you connected and safeguards your frozen/refrigerator food.
The Geneverse can also power medical equipment including CPAP machines (3-14 days), oxygen concentrators (3-8 hours) and breast pumps (1-2 weeks).
Solar energy is free with the sun and a breeze with Geneverse. I believe the main benefit of a Geneverse portable solar power system is the peace of mind it offers during a disruption of the electrical grid or natural disaster. When you're in need of reliable and portable power, the Geneverse answers the call.
Good Housekeeping Rated Geneverse the Best Overall Generator for 2023
Good Housekeeping conducted a review of seven portable generators and rated the Geneverse Homepower Pro 2 the Best Overall. Recognized by Good Housekeeping as the "Top Picks" of CES 2023, amongst the "Best Tech of CES" 2023 by Popular Mechanics, and as part of the "Best Smart Home Devices" by USA Today.
Recognized by Good Housekeeping as the "Top Picks" of CES 2023, amongst the "Best Tech of CES" 2023 by Popular Mechanics, and as part of the "Best Smart Home Devices" by USA Today
7 Best Solar Generators for Home Use
Visit the Geneverse site here.
We are truly impressed with the solar generator portable system. Can you see why we love our Geneverse portable generator for home use?