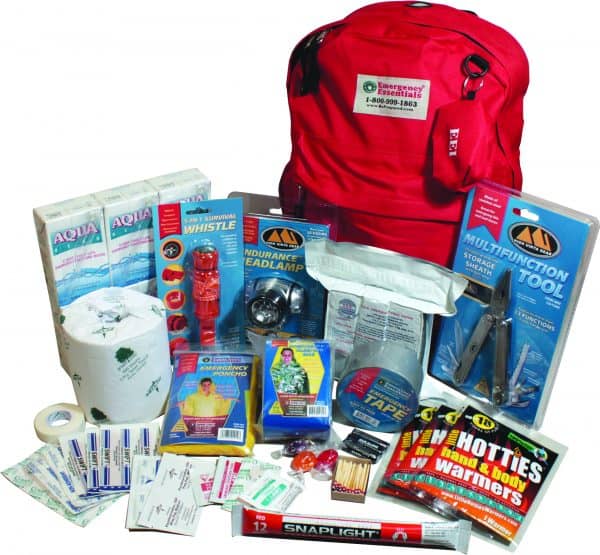 September is national emergency preparedness month so of course it got me thinking about how prepared my family is in the event of an emergency. Have you ever thought of what you might do if a disaster strikes where you live? It's one of those thoughts that although scary, is so great to have on your mind so you can get prepared. If something were to happen you might not have access to food, water, or electricity for many days. I was reading about disasters such as this on the CDC and found that about half of adults in the United States do not have any plans or resources to prepare for an emergency if one were to happen. What that means is when a disaster does strike it will be nearly impossible for you to get any of the supplies you need at the grocery store last minute. This is why preparing now is crucial for you and your family!
From very early on in my marriage until now I have always had 72 hour kits made up for each member of my family. That way I know that at least we will have what we need to survive for 3 days if a disaster were to happen.
 72 Hour Kit Necessities
Below is a list of my favorite 72 hour kit necessities split up by section. I keep all of these items in a red emergency backpack for easy and quick accessibility.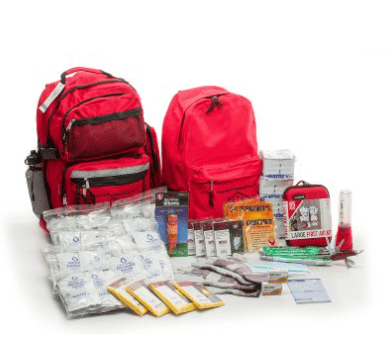 Food and Water
I will be doing a post later this week on the amazing options there are for food storage. There are some companies that have complete (and delicious) freeze dried meals that last for years in your 72 hour kits, all you have to do is add water! I plan to put 9 of these meals in each persons backpack, enough for each meal for three days. However, in the event of an emergency your body naturally needs more calories. Aside from the freeze dried meals, I put some high nutrition and calorie dense snacks in our kits. These snacks will need to be rotated about every 6 months. Below are some of my favorite options for these types of snacks:
protein bars– the ones that I linked have a 3 year shelf life.
beef jerky
dry fruit
sunflower seeds
nuts
trail mix
fruit snacks
hard candy
Spork– this is a spoon, fork, and knife all in one to help you eat your food
For water, it's suggested to have one gallon per person per day. I found these fantastic options to help you provide enough water for your family!
5 Gallon Water Jugs– these would make getting enough water for your family a breeze. You will need to replace your water every 6 months.
Life Straw Personal Water Filter– this filters 99.9% off any water born bacteria, you could find any water, no matter how dirty, and use this cool gadget to still be able to drink it.
True Lemon assorted pack– this assorted pack is very light weight and comes with lemon, lime, and orange flavors. You can use these flavor packets to help water or even food taste better. They are the size of a sugar packet.
Crystal Light drink mix– another great option to help your water taste better.
Personal Care
The best part about these items is that many of them came from the dollar store. In the even of an emergency having the top brands and most expensive items is not what is important or needed. Also keep in mind that you only need enough for 72 hours.
shampoo and conditioner
soap
toothpaste
toothbrush
dry shampoo- this is an awesome item to have if showering just isn't possible for a few days.
wet wipes
washcloth
hand sanitizer
chapstick
compact mirror
deodorant
comb or Brush
finger nail clippers
kleenex
Tools and Supplies
toilet paper- take the cord out of the inside so you can collapse it and take up less room.
garbage bags
ziplock bags
Hand crank self powered AM/FM/NOAA weather radio– this radio will also charge your smart phone and has a power bank with cables.
flint & steel
lighter
waterproof matches
whistle
compass
glow sticks
permanent marker
Fresnel Lense Fire Starter– this is a magnifier that helps start fires easily. Perfect if you're stranded somewhere and need to get a fire going! It can even fit in your wallet!
First Aid Items
It's going to be easiest to buy a pre-made first aid kit and put it in one of your families 72 hour kit but sometimes the general first aid kit leaves out important items. Here are a few more that I would add:
Burn Jel
saline solution- helps to clean out wounds
scissors
Ibuprofen as well as Advil- some first aid kits have either one or the other but having both is beneficial.
Red Tag Items
I realize that there are some items you will desperately need in the event of an emergency but can not pack before hand. For these items, I take a red piece of card stock, write the items that I will need to grab, and attach it with a zip tie to my 72 hour kit backpack. That way if an emergency happens and I'm not thinking clearly, flustered or need to leave my home very quickly, I can look at the red tag and quickly grab those items. Here are my red tag items:
cell phone
eyeglasses
contacts
medication
jackets
laptop
child's favorite toy or blankie
Fewf! I know that's a lot of information but it's so important to think about getting prepared, just in case! Did I miss anything? What are your families favorite 72 hour kit items?
Be sure to watch out for my post tomorrow that will be on the most essential items to have for emergency preparedness!
Survivors Fortress also has a fantastic resource on how to build a disaster kit! They not only cover what an emergency kit should have according to the CDC and FEMA but they also include information from several other fantastic resources that focus on creating a guide that is much easier to follow!


Save