This post may contain affiliate links that, at no additional cost to you, I may earn a small commission. Read our Disclosure Policy.
Anyone else have tons of shoes? I have a lot of shoes and stuff and I needed a great way to store them to keep them organized. I decided to find and purchase an entertainment center in the classifieds which was to be repurposed to create the ultimate shoe storage. And guess what? It turned out awesome!
So for some reason I don't have any before pictures. Yeah, I know hard to tell what it used to look like.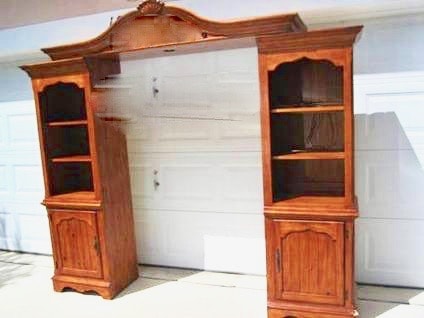 I did find this image from here that was being sold in the classifieds. It looks pretty similar to what the entertainment center looked like when I purchased it. The main difference was the "bridge" that connected the two cabinet towers – my units bridge was not as big with the scalloped shell on the top. Since the bridge sits on top of the cabinet towers it makes it easy to move the towers if you need them wider apart or closer together.
Besides creating a shoe storage cabinet, this would make a great bookshelf or toy shelf for a kids playroom or bedroom.
Interested to see the after?
How to create this look:
Figure out the size and width of shelves. Determine the spacing of the shelves which will be based by the height of the shoes (heels, flats, boots, etc)
Purchase bead board, shelving, wood screws, 1″ x 1″s, primer, paint, and knobs.
For the backing between the cabinet towers, we used a bed board. Shelving supports were cut to size 1″ x 1″s. Shelving was also cut to size and wood screws were used to attach the shelves to the supports.
I made sure to put the BOTTOM shelf up higher so my boots could fit underneath. As you can see, the boots sits directly on the floor.
The original honey-colored entertainment center was lightly sanded, wiped meticulously clean, painted with primer, then white dove paint. Crystal knobs replaced the old dated ones.
A decorative resin/crystal detail was attached to the top of the unit to add some pizzazz to the shoe storage cabinet.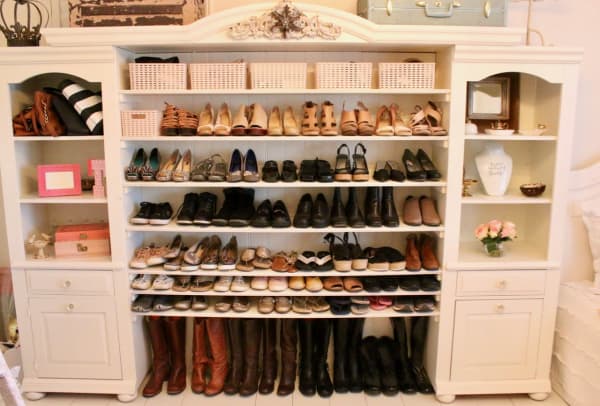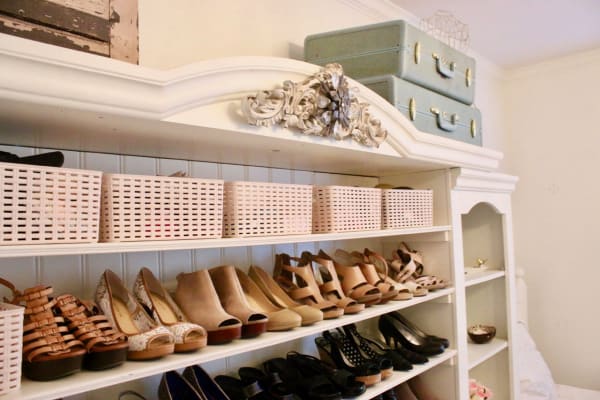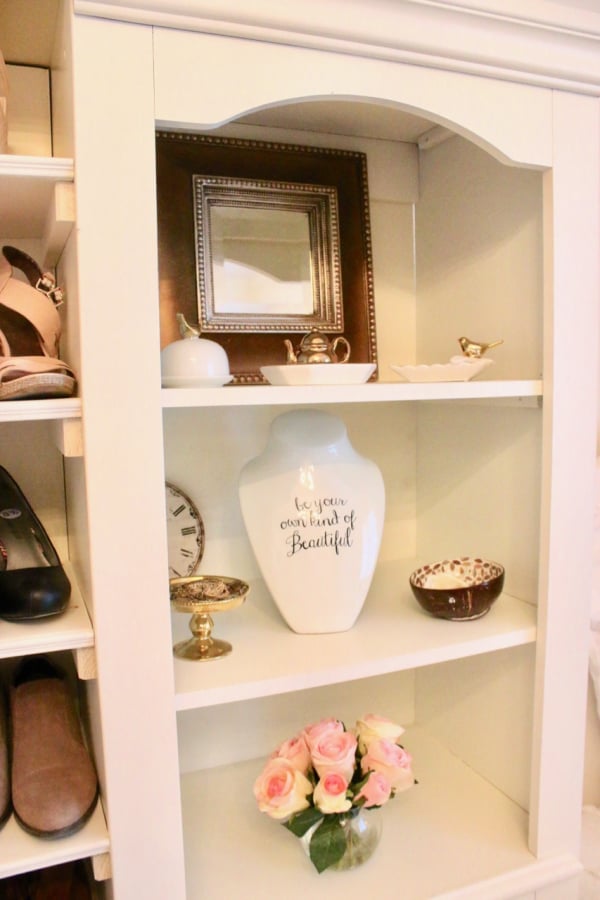 Organizing my stuff makes my life much easier. I placed several blush colored baskets on the top shelf to store item such as – sunglasses, masks (for COVID), hats and more. It's nice to have a storage unit so organized that you know right where everything is!
Check out what I repurposed this night stand into! It turned out adorable.
Let me know if you have repurposed anything and how it turned out.