This post may contain affiliate links that, at no additional cost to you, I may earn a small commission. Read our Disclosure Policy.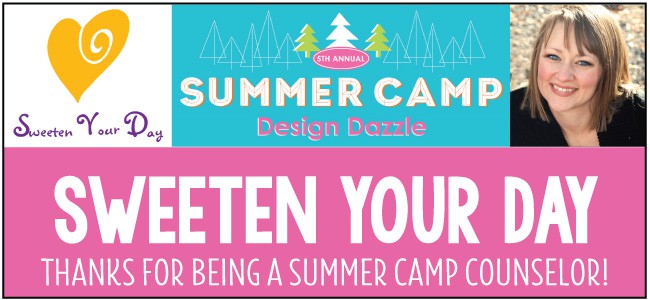 Hello DD readers, I am Jen visiting from Sweeten Your Day and so excited to be a camp counselor this year! Today I wanted to share a fun game to help kids beat the heat this summer, so this is our version of human bowling we call Wet & Wild Bowling! My kids have always loved to bowl so I thought this would be the perfect summer activity plus it is SO simple!
First I ordered some large inflatable bowling pins online, I got mine on sale for around $15 here, but there are plenty different kinds out there so shop around, and then all you need is a slip'n slide. I was at good old Walmart one day and saw a 3 lane slip'n slide and just new it would be perfect, the bigger the better!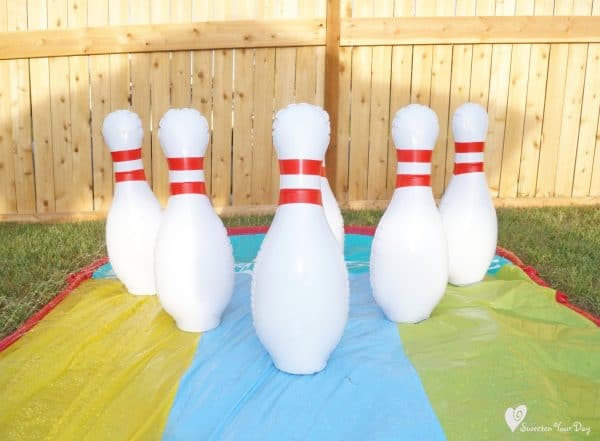 Now for the fun part just follow the instructions on your box to set up your slide, inflate pins and arrange… let the games begin!
Oh my goodness, I can't even tell you how much fun this was! Some of the adults might just have gone down a few times too… You HAVE to try it! Also to make it more fun we printed off a score sheet, gave the kids team names and kept track of pins knocked down, same style as regular bowling, but we made up our own point system since there was 5 pins instead of 10.
I thought it would be fun to make the kids hooded towels instead of bowling shirts with their team name. There are lots of simple tutorials on Pinterest to make hooded towels, and I just added 2 strips of red ribbon to give them a bowling pin look. One of the sweet old ladies in my neighborhood that my kids have deemed as their second grandma embroidered the names for that extra touch!
I also used our simple patio furniture to set up place settings were the kids could sit back and relax to watch the games and enjoy some treats.
These adorable cookie favors were made by my incredibly talented neighbor Anna Dawn!
No summer party is complete without refreshments!
We used printables from Amanda's Parties To Go and lots of treats you can find at the grocery store to create a delightful dessert table!
More amazing cookies from my amazing neighbor ")
I hope you enjoyed our summer party and it inspires you to STRIKE up your own summer fun! If you like what you see come visit me over on my blog at Sweeten Your Day Events, like me on Facebook, or check out my shop on Etsy!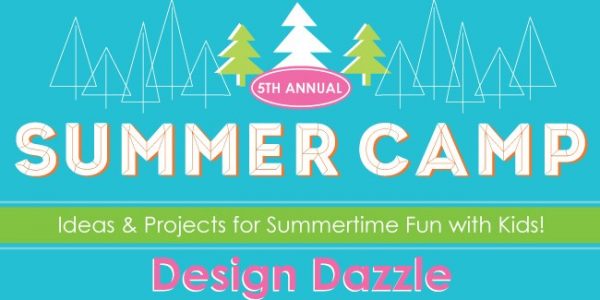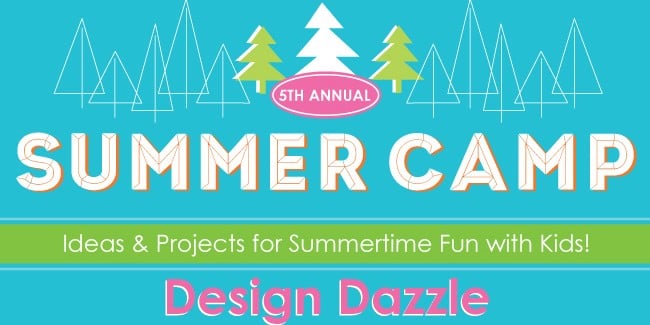 This looks like such fun, Jen! Thanks for being a part of our 5th Summer Camp Series!