This post may contain affiliate links that, at no additional cost to you, I may earn a small commission. Read our Disclosure Policy.
---
In honor of World Book Day (April 23 is World Book Day), I am sharing a few of my all-time favorite books and a bit of a description of each book. I have bookshelves full of books. So yes, I love to read but here is just a glimpse of some favorites.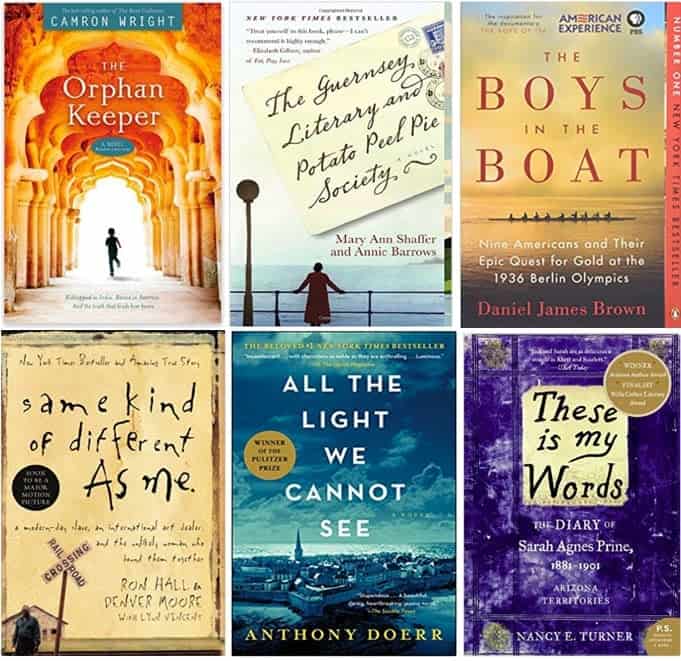 What stories do you connect with? I love all sorts of good books! The makings of a good read: grab a book you've been wanting to read, find yourself a comfy spot, maybe even a yummy drink and you've got all the makings of whisking yourself away into the story of a great book.
Seven-year-old Chellamuthu's life is changed forever when he is kidnapped from his village in India, sold to a Christian orphanage, and then adopted by an unsuspecting couple in the United States. It takes months before the boy can speak enough English to tell his parents that he already has a family back in India. Horrified, they try their best to track down his Indian family, but all avenues lead to dead ends. Meanwhile, they simply love him. Based on a remarkable true story and an unbelievable journey!
The Guernsey Literary and Potato Peel Society
This book is an epistolary (

in the form of letters

) and one of my all-time favorite books. It's a charming story with unique characters and their lives lived during the war. Don't judge a book by the title ; )
England is emerging from the shadow of World War II, and London writer Juliet Ashton is looking for her next book subject. Who could imagine that she would find it in a letter from a man she's never met, a native of the island of Guernsey! This man who was part of a WWII book club came across her name written inside a book and decided to write to her. They became pen pals and maybe more…
Out of the Depression comes an irresistible story about beating the odds and finding hope in the most desperate of times! Nine working-class boys from the American West showed the world at the 1936 Olympics in Berlin what true grit really meant. It is an improbable account of how impressive, unbelievable hard work and just a bit of magic can create an amazing story. My husband and FIL really enjoyed The Boys in the Boat. This book is being made into a movie, George Clooney is set to direct 'The Boys in the Boat' and I can't wait!
Growing up picking cotton in virtual slavery, a man breaks free. This story is about a homeless drifter who becomes friends with an upscale art dealer accustomed to the world of money and worldly goods. A gutsy, stubborn woman with a dream she shares with her art dealer husband. A story so incredible no novelist would dare dream it. Such an uplifting story! I couldn't put the book down – it's a sweet and inspiring read! This book was made into a movie (although the movie is slow and not as good as the book.).
This beautiful instant New York Times bestseller about a blind French girl and a German boy whose paths collide in occupied France as both try to survive the devastation of World War II. All The Light We Cannot See is supposedly being made as a limited series to be available on Netflix. That would be really amazing!
Sarah is a woman of spirit and fire who forges a full and remarkable existence in an unfamiliar and very harsh frontier. From child to determined young adult to loving mother—she shares the turbulent events, both joyous and tragic, that molded her. She has an enduring love with cavalry officer Captain Jack Elliot. Reminds me of a Little House on the Prarie book but grown-up style.
Here's a list of more books I've read and enjoyed:
Lilac Girls
All the Light We Cannot See
The Rent Collector
Me Before You
Orphan Train
Before We Were Yours
The Magnolia Story
Beneath a Scarlett Sky
A Long Way Home Memoir
The Hiding Place
Little Princes: One Mans Promise to Bring Home the Lost Children of Nepal
Left to Tell: Discovering God Amidst the Rwandan
Unbroken
The Immortal Life of Henrietta Lacks
A Man Called Ove
When Breath Becomes Air
Wonder – good to read as a family with kids
I hope you find yourself some time to get a new book and immerse yourself in a wonderful story.
Please comment and share your favorite book below!