This post may contain affiliate links that, at no additional cost to you, I may earn a small commission. Read our Disclosure Policy.
Here's the complete tutorial on how to make giant bubbles!
This post includes giant bubbles kit, giant bubble recipe and free printable labels!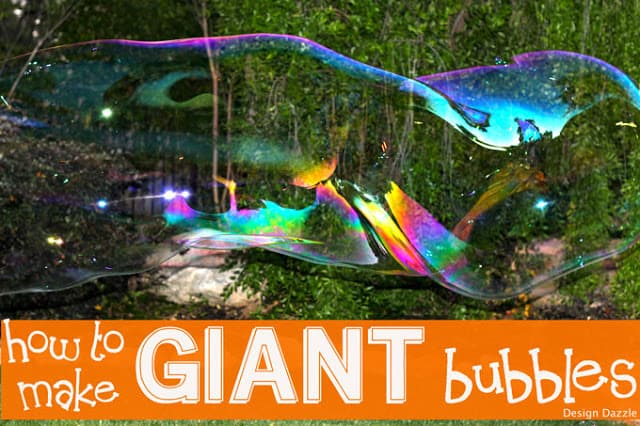 Watch the video on how-to make giant bubbles: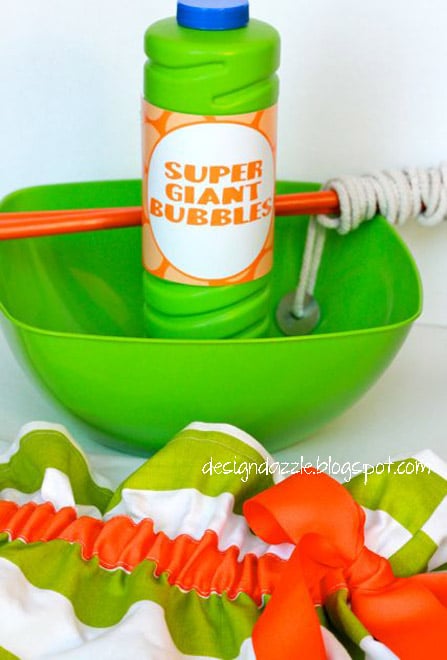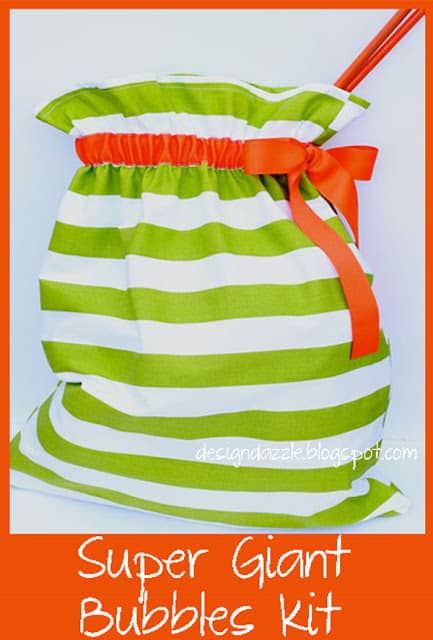 This post contains affiliate links at no additional cost to you. For further information, please see our disclosure policy.
Super giant bubbles are addicting to young and old.
Kids would love to receive this as a gift or even help make the kit.
I made the simple drawstring sack to hold the bubble kit supplies.
The bubble recipe is shown below and I share the **secret** ingredient to help make the giant bubbles last longer.
My teenage daughter enjoyed herself while making these super giant bubbles in our backyard.
Like I said, "fun for all ages"! The colors and shapes produced are mesmerizing!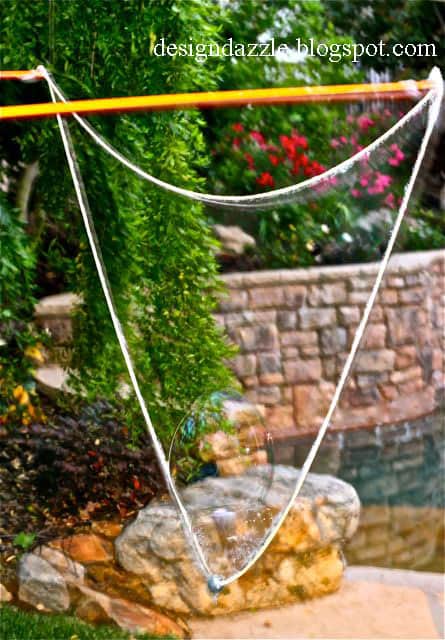 This is what the bubble wand stick looks like when dipped in bubble solution and "opened up" to make bubbles.
Notice the washer at the bottom of the string this helps "weigh" down the string and doesn't interfere with the bubbles.
Look closely and you'll see the bubble solution inside the entire area of the "triangle" shaped string and another smaller bubble forming.
This post contains affiliate links at no additional cost to you. For further information, please see our disclosure policy.
Tutorial how-to make your own Super Giant Bubbles Kit: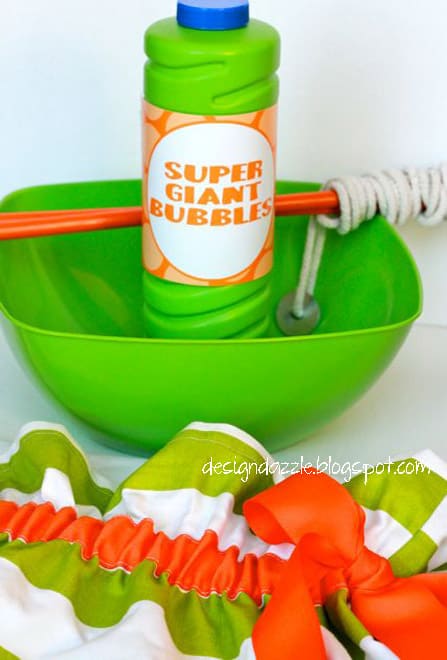 Bubble Kit Supplies:
1 bowl – purchased at the dollar store
1 bottle of "Super Giant Bubble Solution" (recipe below). I used an empty bubble bottle and poured in my secret recipe and attached the label
1 Set of Bubble Wand Sticks
Bubble Label (free printable below)
Cloth sack to keep everything together
Bubble Wand Sticks:


Bubble Wand Sticks
2 wood dowels 3 feet in length
2 eye screws
1 washer (heavy enough to weigh down cord)
12 feet cotton piping cord (can be found in sewing stores) or you can purchase it online here.
cut into two lengths one 8 feet and one 4 feet
instead of using the dowels and screws you could purchase this inexpensive pole rod and use it instead.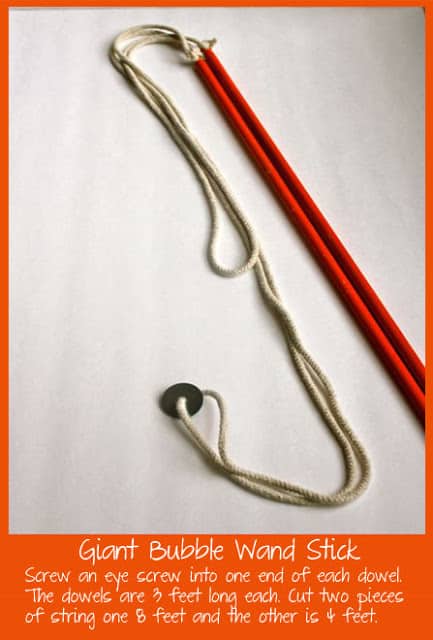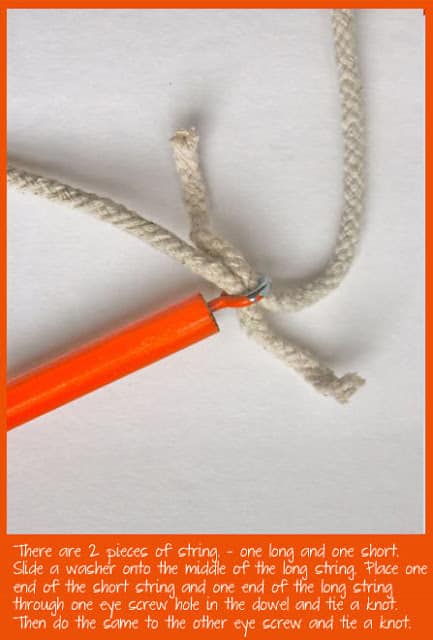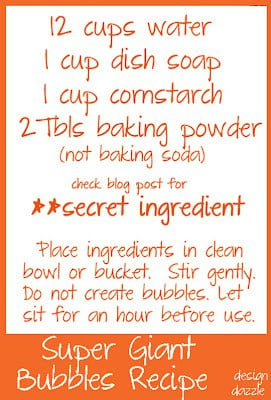 Super Giant Bubble Recipe:

optional:
J-Lube This is what vets use for obstetrics for pets.
I know it sounds weird but you can mix this with water and use this instead of the personal lubricant.
The bottle is under $20 and can be used to create hundreds of gallons of bubble solution (so it is quite a bit cheaper than personal lubricant).
Mix 1 teaspoon with 12 cups of water and use this in the bubbles recipe with no added personal lubricant.
Experiment with how much J-Lube powder to add to the water.
TO PURCHASE THE WAND & BUBBLE SOLUTION:
Bubble Wands & Bubble Solution
I found this item on Amazon that sells the wands already made and the bubble solution for giant bubbles.
No DIY or bubble making recipe. It's already done!
TIPS FOR MAKING BUBBLE SOLUTION:
I used Dawn (blue) dish washing soap.
The recipe is cloudy at first but gets clear after a day or so.
Stir occasionally to help dissolve the cornstarch.
You can try adding only 1/2 cup of cornstarch instead of 1 cup – it's worked for me in the past.
If you want your bubbles to have a little more staying power, here is the secret ingredient mix a tube (3 oz.) of personal lubricant (yes, that is correct) with 1 cup of very warm water – mix well.
After it cooled I added the water/lubricant to the above recipe.
The lubricant was purchased at the dollar store.
This recipe is the exact solution we used to make the giant bubbles including the personal lubricant.
The polymer in the personal lubricant is what is needed to create giant bubbles.
Regular bubble solution will not work for giant bubbles.
Water that is very hard or alkaline might not work well.
Another tip a reader suggested was to warm the 12 cups of water on the stove and add the cornstarch until dissolved.
I haven't tried this yet but sounds like a good tip. Once the water has cooled then add the lubricant.
Tips on How to Make Giant Bubbles:
High humidity is the perfect time to create giant bubbles (75% humidity or better). Check weather.com to see the humidity in your area.
There are lots of variables when trying to make giant bubbles. If at first you don't succeed, try, try again!!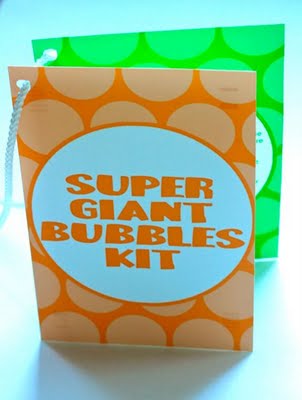 Print the "Super Giant Bubbles Kit" label, punch a hole in the corner, thread with heavy duty string and tie onto the cloth sack.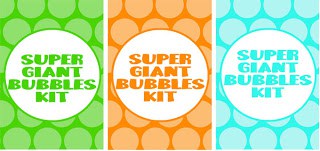 Super Giant Bubble Kit labels – 4″ x 6″ in size.
Instructions on how to use the Super Giant Bubbles solution.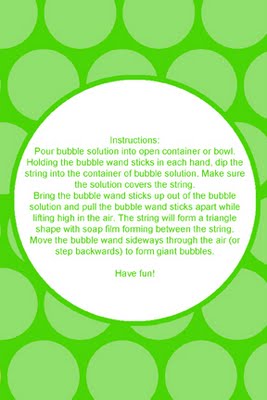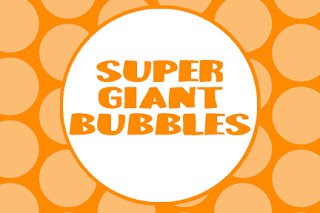 Label for bubbles bottle.
These Super Giant Bubbles printables are FREE and available for immediate download by subscribing to Design Dazzle!
To receive this free printable – enter your email address in the box below and click submit. Make sure to check your inbox for an email from Design Dazzle. You will have access to all of our FREE printables and also will receive an email/newsletter filled with lots of great information. Don't worry your email address will never be sold
Printable files are for personal use only. They are not for commercial use.
Check out our Summer Camp ideas
Save
Save
Save
Save
Save
Save
Save
Save
Save