This post may contain affiliate links that, at no additional cost to you, I may earn a small commission. Read our Disclosure Policy.
This adorable little mason jar aquarium are perfect for the crafty and curious.
Kids can make their own fish homes out of mason jars, using aquarium decor found at the pet store.
Then, using their favorite little toy fishes, your kids can place them in their personal aquarium as if they are swimming!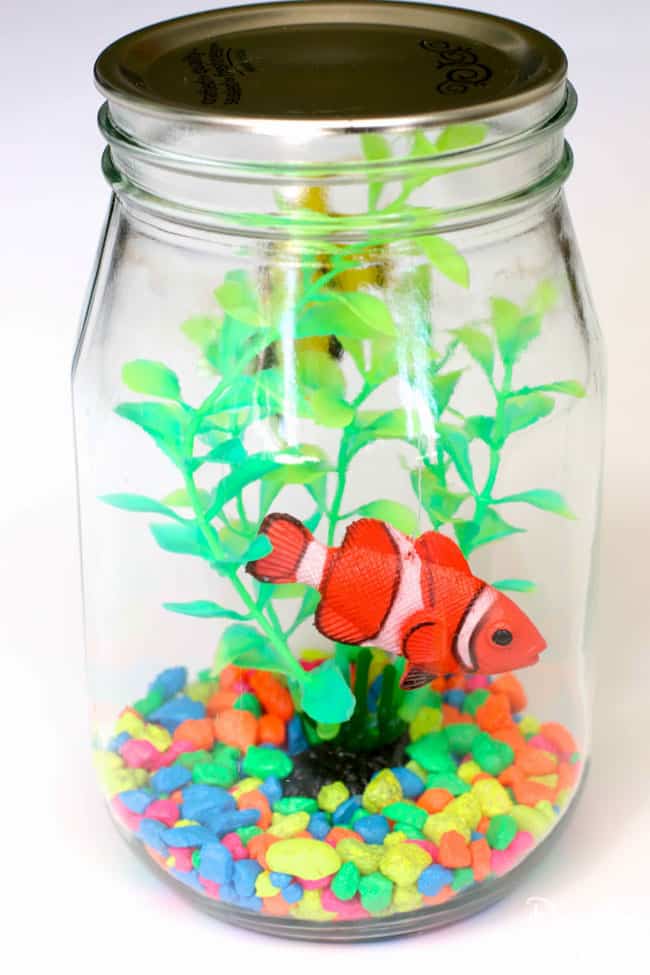 When I went out to buy the supplies for this project, it cost me about $15 to get the things I did not already own– such as the aquarium gravel, plants, and toy fishes.
After I finished my mason jar aquarium though, I realized that I still had enough supplies to make about four more.
So you could end up spending about $3 an aquarium jar if you need a few.
That's a pretty great deal for such a cute project!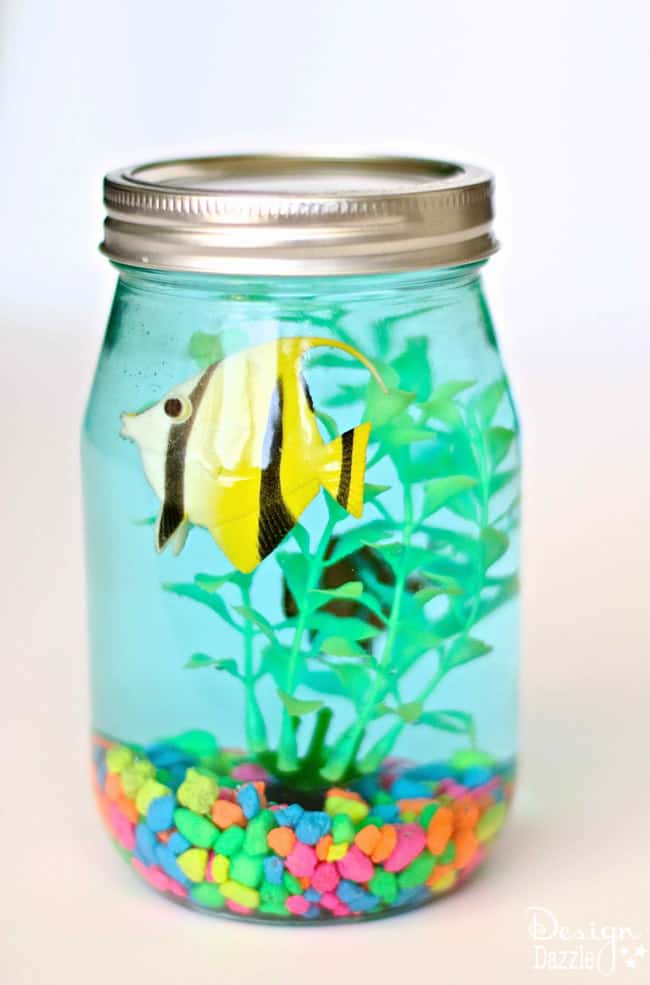 Be sure to subscribe to my YouTube page for some more fun videos, tips, and tricks!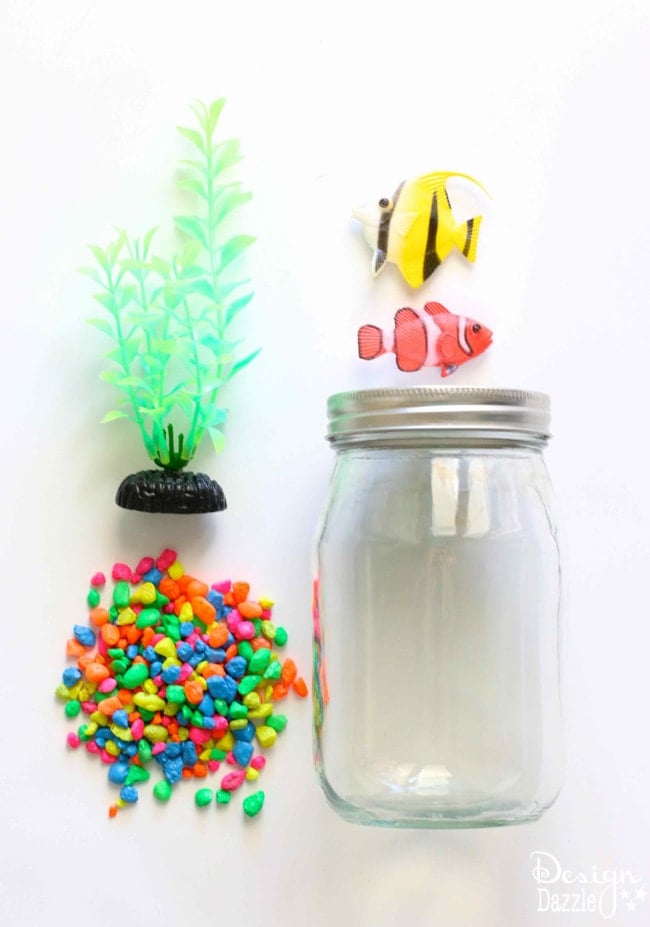 Supplies:
Mason Jar with Lid
Aquarium Gravel
Plastic Plants
Plastic Toy Fishes
Fishing Line
Food Coloring
Sewing Needle
Hot Glue Gun
Scissors
Step 1:
Hot glue down a plastic plant to the bottom of the inside of the mason jar.
Then, add a handful or two of aquarium gravel until the bottom of the jar is completely covered (about 1 inch).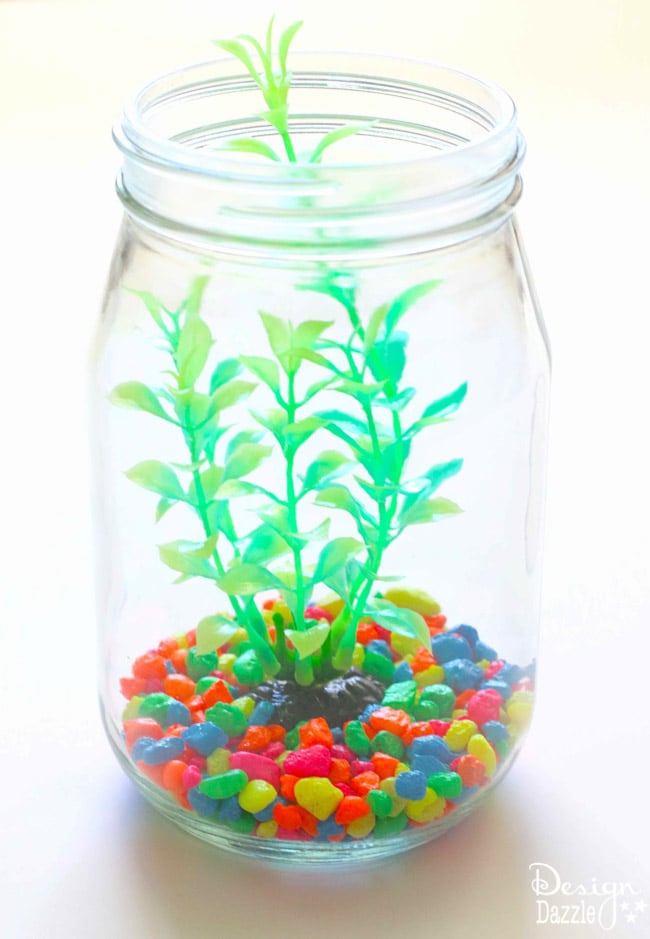 Step 2:
This next step is for adults only.
Take a sewing needle and hold it over an open flame for just a few seconds– just enough to make it hot.
Then, puncture a small hole into the top fin of one of your plastic fish. (He won't feel a thing, I promise).
This is done so that you can thread fishing line through it.
Please be careful, as the needle gets very hot.
It needs to be hot enough to melt the plastic so that the needle can make its way through the other side if the fish.
Remember this part is adults only ; )
Thread the fishing line through the hole in the toy fish.
Measure out your fishing line to make sure your fish hangs at the desired height.
Place a small dot of hot glue on the bottom of your mason jar lid, and set a loop of the fishing line in the glue.
I like to use an old spoon to help me press things like this into hot glue.
That way, I don't burn my fingers! Put another dot of glue on top of the loop to secure it.
Once the glue is dried, cut off any excess fishing line.
Now the fish hangs from the lid. It's swimming in air!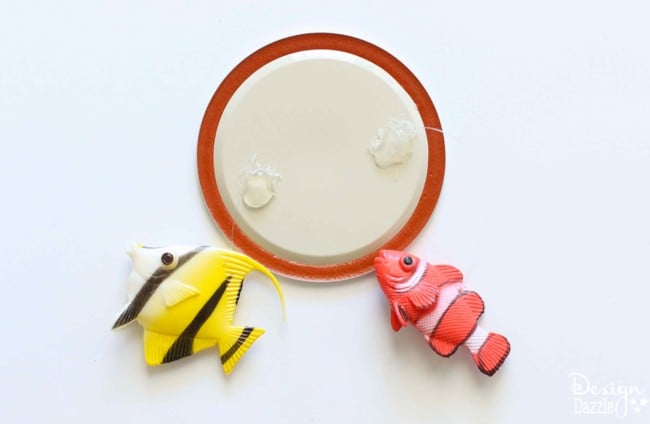 Step 3:
Fill your mason jar with colored water. Place the hanging fish inside the jar, and screw on the lid.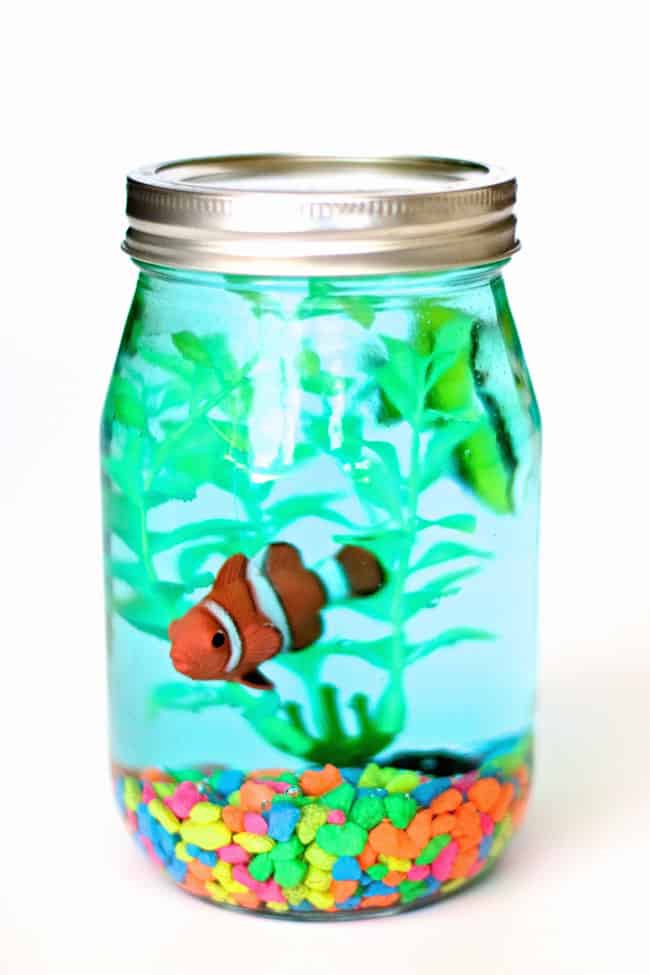 Now you have your very own, handheld, personal aquarium!
These are great to use as party favors or presents.
I think kids would have a lot of fun making these for their friends.
Then they could each have one!
Enjoy your maintenance-free pet fishes!


Save
Save
Save