This post may contain affiliate links that, at no additional cost to you, I may earn a small commission. Read our Disclosure Policy.

In case you didn't get a chance to see the Super Heroes Party featured earlier today, make sure to check it out. This retro milk bar was combined with the Super Heroes party. Tiny Tots Toy Hire created a cute theme called "Calling all Superheroes: Help Save the Milk Bar!" This event was perfectly tailored for both boys and girls.
Hire props on the beautifully decorated Retro Milk Bar style dessert table (styled by Sophisticated Yum) included a
mini retro jukebox
, a gumball machine and various glass jars and cake stands filled to the brim with sweet treats, all sitting on a back and white checkered floor. Yummy goodies included macarons, sundae push pops, home style melting moments and choc chip cookies, cake pops and lots more!

Not so far away from the Retro Milk Bar was a thirst quenching lemonade cart with a glass beverage dispenser, and a melt-in-your-mouth old fashioned "Corn &; Candy Station". Opposite the popcorn & fairy floss was the "Boom", "Wham" and "POW"  Superhero table (styled by
Sophisticated Yum). This cool-looking table featured a custom made backdrop to match the invitations (by Tiny Tots Toy Hire), 'shazzam rings', mini bomb cake bites, lollies in colourful tin buckets, personalised vanilla cupcakes and cookie pops to match the boy and girl Superheroes featured on the invitation.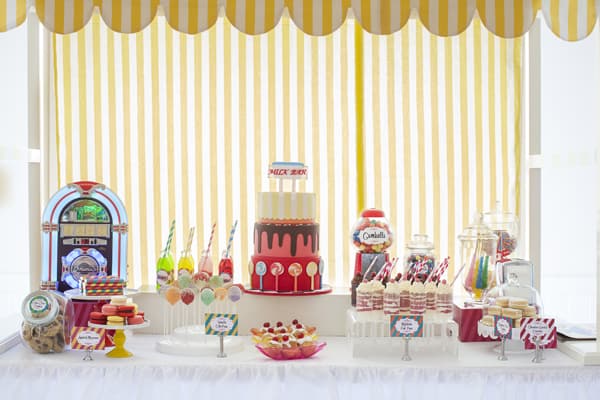 Such a cute striped yellow fabric awning and backdrop for the retro dessert bar.
"We wanted to show that boys and girls parties can be combined
successfully and still look amazing and be lots of fun," said Dalia,
director of Tiny Tots Toy Hire. "It just takes a little creativity and
thinking outside the box! We had a blast styling our new prop and
printables range to appeal to all the little guests, with the custom
made vintage style phone booth an absolute hit even with the adults!"
"Making sure you have a large range of activities and toys to cater for
all age groups is really important. It really makes all the difference
in making it a party to remember, because at the end of the day it's all
about how much fun they had and how relaxed the parents were!"
Vendors:
Dessert table styling (Retro Milk Bar and Superhero)
Sophisticated Yum – www.sophisticatedyum.com.au
Photography
Eclektic Photography + Design – www.eclektic.com.au
All cookies
Design My Cupcake – www.designmycupcake.com
Cake pops, push pops and bomb cake bites
Theme My Party – www.thememyparty.com.au
Lollipop hair tie favours and photo props
Charli Mae – https://www.facebook.com/charlimae.1
Macarons
Her Macarons – www.facebook.com/hermacarons
Party ware
The Party Studio – www.thepartystudio.com.au
Confectionary- The Professors Lolly Shop – www.theprofessors.com.au
French dessert (Choux à la crème) – Fleur De Sel – www.fleurdesel.com.au
Title:
Kids Parties: Retro Milk Bar
Mentions:
dessert shoppe, kids dessert bar, Kids Parties, retro dessert bar, retro milk bar
Last Updated:
August 8, 2020