This shop has been compensated by Collective Bias, Inc. and its advertiser. All opinions are mine alone. #SweeterTogether #CollectiveBias
I love spending warm summer nights with family and friends and there is just something so magical about watching a movie under the stars. Today I'm sharing ideas for hosting an outdoor movie night in 5 simple steps – so you can plan one, too!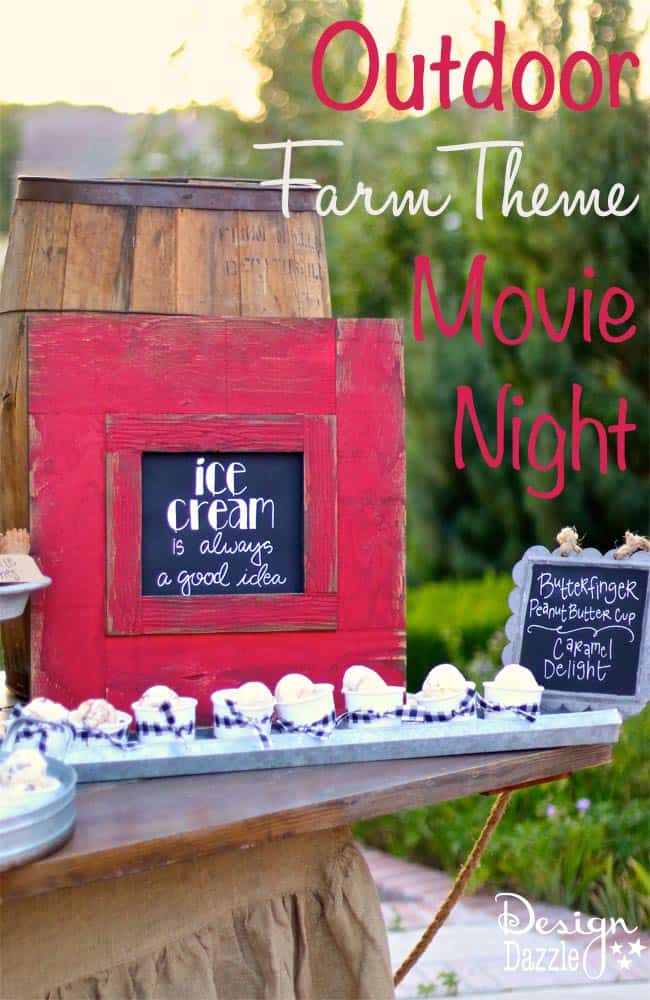 Now, let's get on with the steps for hosting an outdoor movie night!
Step 1 – Choose A Movie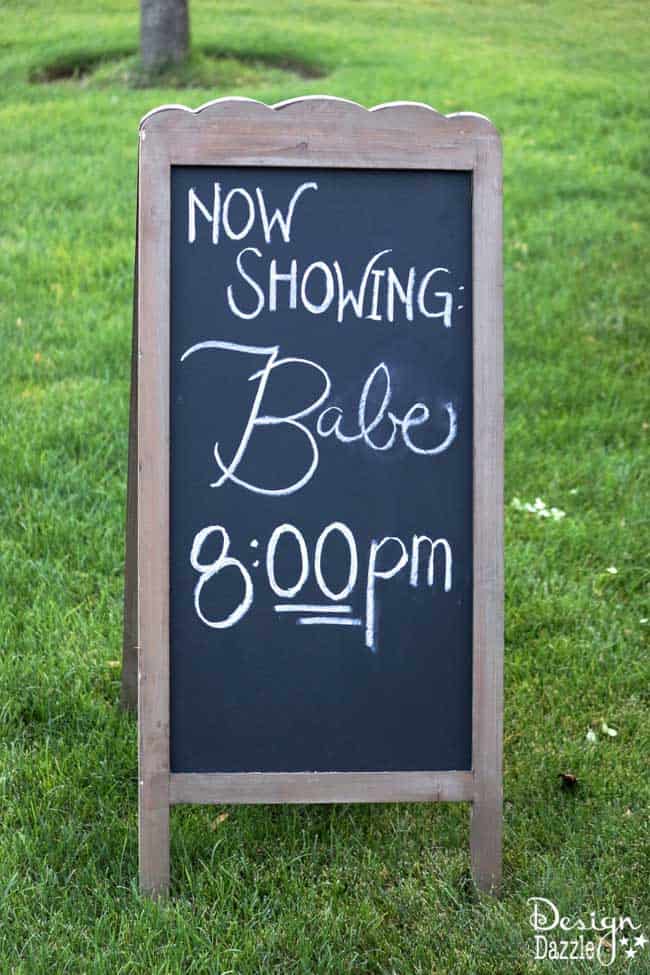 You want to choose a film that fits your audience. If kids are attending, make sure the movie is appropriate for families. For my outdoor movie night I chose Babe. This is such a darling movie! If you haven't seen it and you enjoy heartwarming movies, check it out!
Step 2 – Choose A Theme
Use your movie as the inspiration for your party decor and treats or decide on a theme and choose a movie. I selected on a fun farm theme for our movie night (I have lots of farm decor). This was the reason I choose the movie Babe! There are also some other great movie selections that has a farm theme or feel to it – Charlotte's Web (excellent movie for kids and families) and Places in The Heart are a couple of suggestions.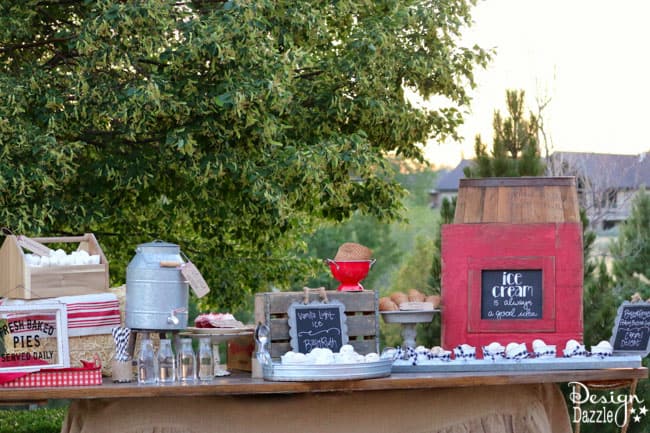 To keep set-up simple I shopped my own home decor for the tablescape. I looked for crates, burlap, and anything with galvanized steel. I didn't specifically choose red but a lot of my accent pieces were red so I decided to go with it! I love this sign – "ice cream is always a good idea". Ice cream was placed in both a galvanized steel tray and chicken feeder. The chicken feeder is brand new it is a reproduction.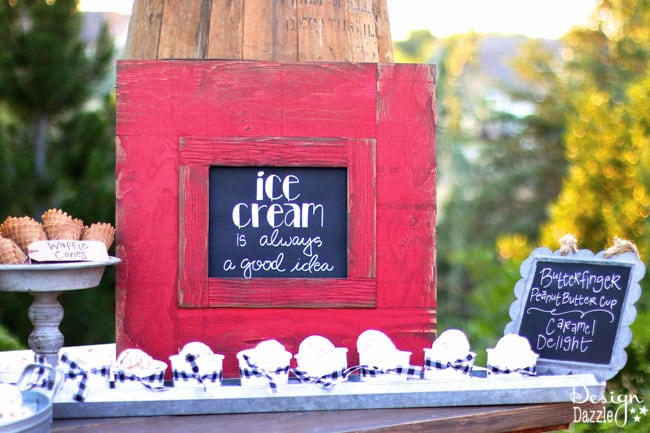 Step 3 – Seating and Comfort
Have your guests bring their own blankets and chairs and remind them to dress in layers to keep warm! We have plenty of room for friends to bring blankets, beach chair or camping chairs. Provide bug repellent if you need to. We have a bottle of bug spray for guests to use if they choose too. For some reason, the bugs really love my hubby but usually leave me alone ; ) Also, make sure to have lighting nearby that guests can still enjoy the movie in the dark but can easily get to the refreshement table or restroom.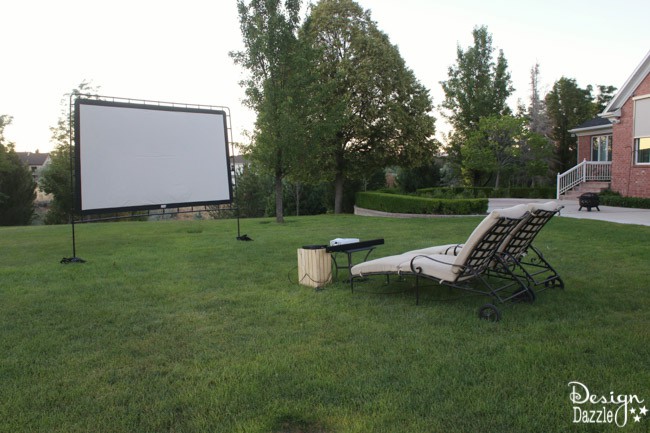 Step 4 – Equipment
For an outdoor movie you'll need an outdoor screen, projector, DVD player, and speakers. Make sure your speakers are good quality for small crowds of people.
Step 5 – Pre-Prep Refreshments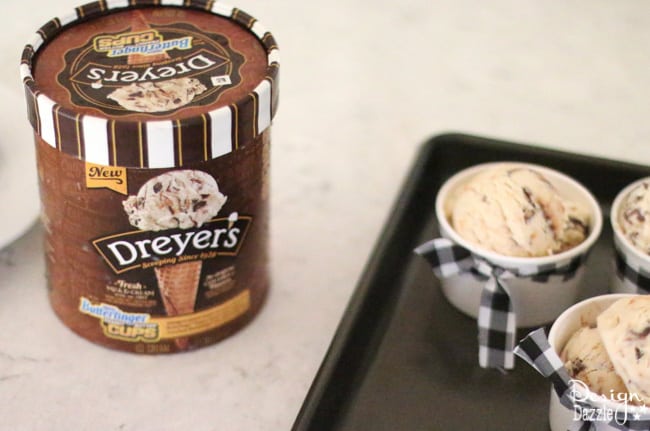 You can't have a movie night without refreshments and a cold treat so I went to Walmart to pick up some yummy DREYER'S Ice Cream (so easy to find in the freezer aisle). Everyone loves a good scoop or two of ice cream!
I like to pre-scoop ice cream ahead of time. It is a great way to serve a lot of ice cream and still have time to spend with your guests. Pre-scoop ice cream into individual containers and place on a cookie sheet in the freezer the day before your party so it has time to set up and freeze hard again. You'll be so happy you did this when it's party time and all the work has already been done! When serving the ice cream, place ice or dry ice on your serving tray to help keep the ice cream cold.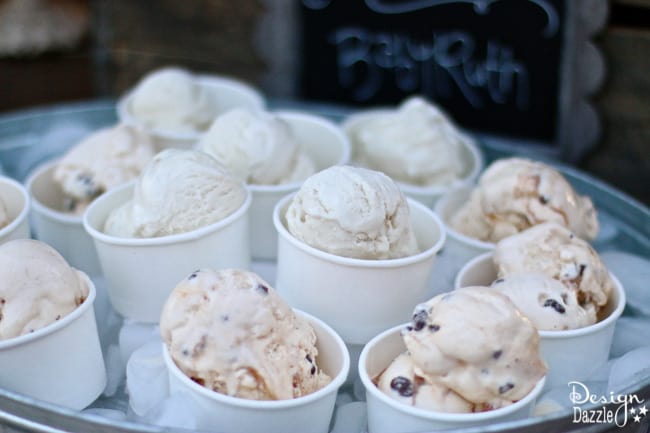 I served DREYER'S SLOW CHURNED® Caramel Delight Light Ice Cream, DREYER'S SLOW CHURNED® Vanilla Light Ice Cream, DREYER'S with Nestlé Butterfinger® Peanut Butter Cups, and DREYER'S with Nestlé Baby Ruth® during our movie night. Chalkboard signs are used to share the ice cream flavors.
DREYER'S has some delicious flavors inspired by classic candy favorites. They are made with fresh milk and cream with no rBST and they do not contain artificial flavors or colors.
DREYER'S SLOW CHURNED® Simple Recipes are made with real, simple ingredients like fresh milk and cream. In addition to not containing artificial flavors or colors, they do not contain GMO ingredients.
If you'd like to attend a free demo you can check the schedule here.
Another simple refreshment tip is to purchase pre-made treats. Check the bakery for mini pies and cupcakes while you're out picking up your ice cream and stock up on fresh seasonal summer fruit (cherries, peaches, etc) and other treats that are ready to go. Water is always refreshing and an easy, family-friendly beverage choice.
There is not a better way to embrace summer than with an evening gathering under the stars watching movies, chatting and eating!
Party Tutorial: How-to Set A Farm Party Table
I have a DIY hanging table that we removed from under our patio and moved it out so it would be in a better position for refreshments. I always shop my home for all my party theme decor. I check every room to see what could possible work for my theme.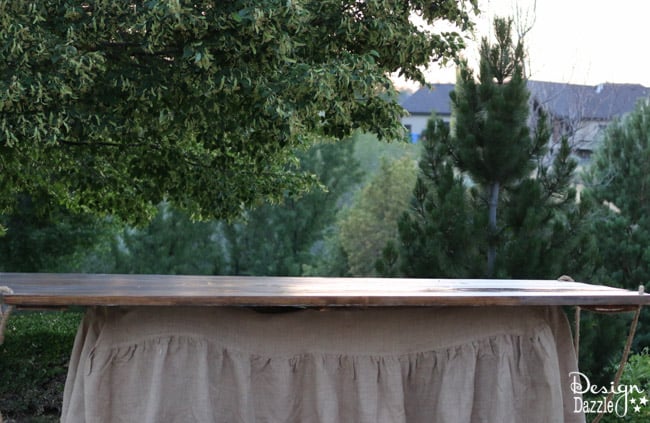 Place the largest objects on the table first. In this case, it is a barrel and hay bale – both very farm appropriate.
Find a place for your drink dispenser. Position crates and signs in the best spot.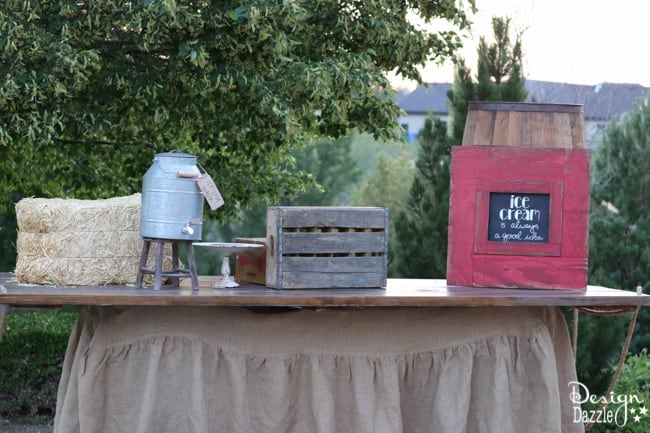 Now is the time to start bring out food serving trays with food or without depending on what it is.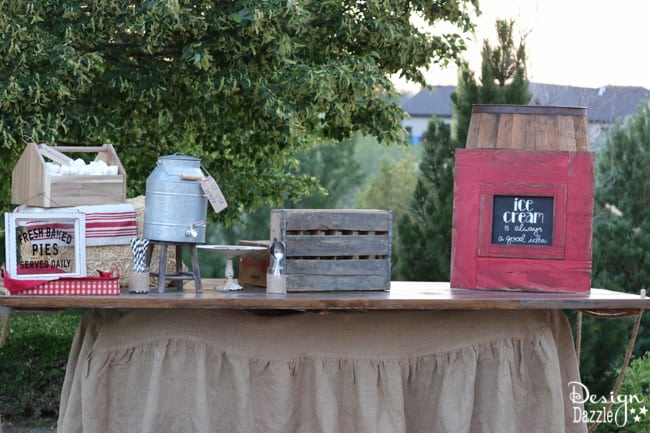 The last details are cutlery, cups, straws, more food items.
The very last detail is the food that needs to be brought out while the guests are there – such as the ice cream!! Earlier I had brought out the empty serving trays for the ice cream to make sure there was plenty of room for the trays.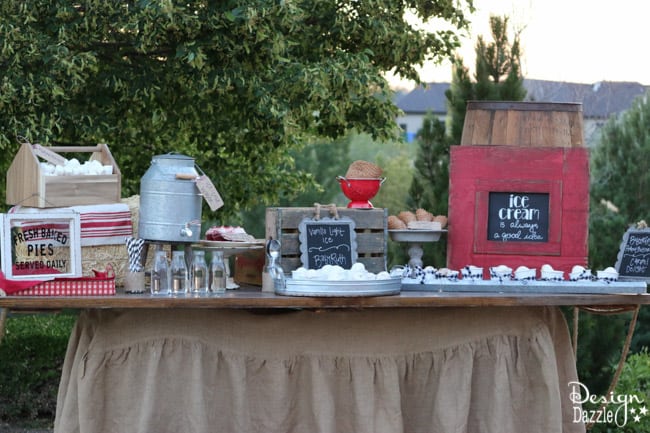 I hope you are inspired to host a fun outdoor movie night with family or friends this summer! Don't forget to pick up some DREYER'S Ice Cream when you do!


Save
Save
Save
Save
Save
Save
Save
Save
Save
Save
Save