This post may contain affiliate links that, at no additional cost to you, I may earn a small commission. Read our Disclosure Policy.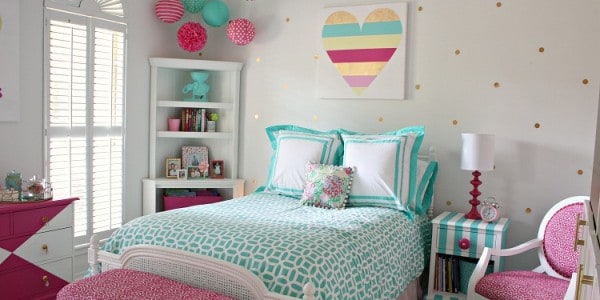 When your sweet baby girl is growing up and starting to think about middle school it just might be time for a room makeover. And with a darling room like this bright and bold tween room from Cyndy at The Creativity Exchange, you might let her grow a little bigger before making her promise to stay little forever. I love how this room has an innocence about it. The colors are clean and pure in shades of teal and pink….but the patterns are bold and trendy. The furniture is classic white and yet it's super playful with stripes and patterns. What a fun combination of the expected with the unexpected!
This little cutie of a dresser is off to the left of the bed. I can't decide which is my favorite… the paint job or the drawers pulls! Either way it's super cute.
 One of the first things to catch my eye with this room is the personalized art work. Cyndy says that her daughter's artwork is "framed throughout the room to remind her that she can create anything she wants for her environment". Such a wonderful idea!
Find out more details about this room (including a tutorial for the amazing chandelier) over at The Creativity Exchange.