If you are putting your boys in a room together you can't go wrong with a black and white shared boys room like this one. There are so many things about this room that I just absolutely LOVE! You can check out more photos of this room at Nest Design Studio, but here are a few pictures of the details that really stuck out to me!
Check out that night stand and desk lamp, it is so modern for this boys room. The added color with the decorations on the night stand are fun too.
Check out this cute closet, everything is nicely organized and separated. Even labeled with their initals.
I love the garlands hanging on the wall and the closet, and the book shelf behind the closet door.
I love the use of animals heads in room decor, it's really trendy these days but super fun. That rhino is really unique and the framed wall art is always fun too.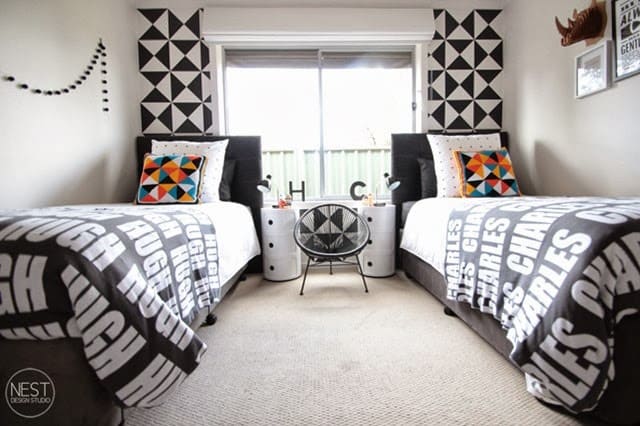 I saved the best for last, I'm just drooling over the painted pattern wall. I love fun walls. And check out the beds, they have their names on their bedspreads and a beautiful colorful pillow!
This is such a fun room that I'm sure these boys enjoy every minute in. Thanks Belinda from Nest Design Studio for showing us how its done with a shared boys room!