This post may contain affiliate links that, at no additional cost to you, I may earn a small commission. Read our Disclosure Policy.
We've been staying in Vegas for years! I have stayed in several different hotels- this post will give you my favorite places of where to stay in Las Vegas!
I've been staying in Vegas for years. The many hotels I've booked and stayed at are: Luxor, Excalibur, Circus Circus, Bally's, MGM Grand, Monte Carlo, Hilton Grand Vacations (upcoming trip to The Palms) and more  I just can't remember them all.
The past few years we've stayed at the MGM Grand for four days at a time for an annual friends trip. It's a fabulous time!  The MGM Grand is just a few minutes from the airport and is located on the LV strip.  It is a convenient location to many shops, restaurants, and other hotels. The best feature is certainly the pool and lazy river area. But I wouldn't recommend it for families. Not a lot of kids here at this hotel (there are some). I would say it is more of an adult atmosphere and it is quite the trek to get to the pool. Once you get there it is great! They have severeal pools plus the lazy river pool – which is awesome. I don't like swimming in the cold water but the water temperature is refreshing – not too hot and not too cold. We rented a pool cabana for $1000 for the day.  We were comped drinks and food for our group. So we spent about that amount in food and drinks. With a group, you can share the costs of the cabana rental.
Delicious food at the cabana. I always get the watermelon salad with feta.
A day hanging at the cabana with friends.
Across the street from the MGM Grand.
TIPS:
Hotel Location
Stay on the strip or off the strip? Of course, you will want to base your hotel choice on the location, facilities, pool (if that is important to you), entertainment and restaurants. My favorite "off the strip" hotel is the Hilton Grand Vacations.  Just a heads up – I'm not a gambler, smoker or drinker. So the Hilton Grand Vacations is great because there is no casino in the hotel. It's actually like time share condos with small kitchenettes.  The hotel is clean and it's a 100% non-smoking hotel. I've stayed there several times – it's been a great place depending on what you need. If you want relaxation, a pool, some sight seeing and going to the strip occasionally this could work. If you are meeting friends and want more of a party scene, see shows, eat at many restaurants and constantly on the go – find a hotel on the strip.
The MGM is next door to lots of shopping and fast food places. Shake Shack is across the street. Hershey's Chocolate world is close-by across the street!
The Signature at MGM Grand is a condo-hotel behind the MGM Grand Las Vegas resort and is an all-suite, casino-free resort. Each suite tower at the resort features its own private pool, both family-friendly and adult-only. We will try this place next time we visit Las Vegas. Staying at the Signature you can access all MGM Grand ammenities, including the pool areas at no charge! The signature is not attached to the MGM, there is an interior walkway to the MGM (approx 5 min) to reach the pool area. The rooms have balconys, kitchenettes, living space along with bedrooms, and bathrooms.

Hotel Security
When staying at any hotel make sure the door is completely shut whether inside your room or leaving your room. We had friends that did NOT close their hotel room door all the way (accidentally) and during the night someone came in while they were asleep and stole all their money right out of their wallets and purse. These are known as "door push" burglaries. A burglar finds a room to steal from just by going around and pushing on doors until they find one that pushes open.
I have never been concerned about safety while staying at the MGM. I feel very comfortable and safe there. The stories I hear about staying at hotels is mainly people not shutting their hotel doors completely. People will try to access a room that the hotel door has not been closed properly. My safety and security are paramount anywhere I and my family stay. For an added bonus you can bring your own security lock. Here are a few travel locks that can easily be placed in a suitcase and travel with https://amzn.to/2f5ExHM or the rubber stopper to place under the door. Here is a Door Jammer https://amzn.to/2wqVZcc  this looks like it can work with most doors the wedge security alarm https://amzn.to/2fir2ky
Check-In Process
We waited in line for 30-35 minutes (not anymore). Yes, it is a long time to wait to check-in. However, the check-in desk is giving you time to get situated at their hotel and ask any questions you need. They are definitely giving you great customer service and that takes a bit of time. But now we use the MGM app that makes check-in a breeze.  There are other benefits such as receiving notifications that your room is ready, book a table, browse shows, etc. It is a great way not to wait in line.
Mini-Bar – Hotels at times will charge a restocking fee if you store personal items in the minibar. It can be a hefty fee – $50. Check into renting a mini-refrigerator instead. The last time I needed one they charged $25. Cheaper than storing in the minibar and getting fined. Some hotels will also fix the minibar and remove mini-bar stuff so that you can store your yummy food/drinks. Just ask beforehand so no unexpected surprises.
Resort Fees
Some hotels will charge you a fee to use their facilities. In Las Vegas this is almost a given that you will be paying resort fees. If you book with a 3rd party, typically you need to pay the resort fees when you check-in.  You might want to check to see how much the fees are when booking. Staying at the MGM cost us an extra $35 in resort fees daily.
Discounts on Show Tickets
I recommend visiting one of the Tix4Tonight booths if you would like to attend a show or concert at a discounted price. There are 10 convenient locations and their staff is helpful if you have questions.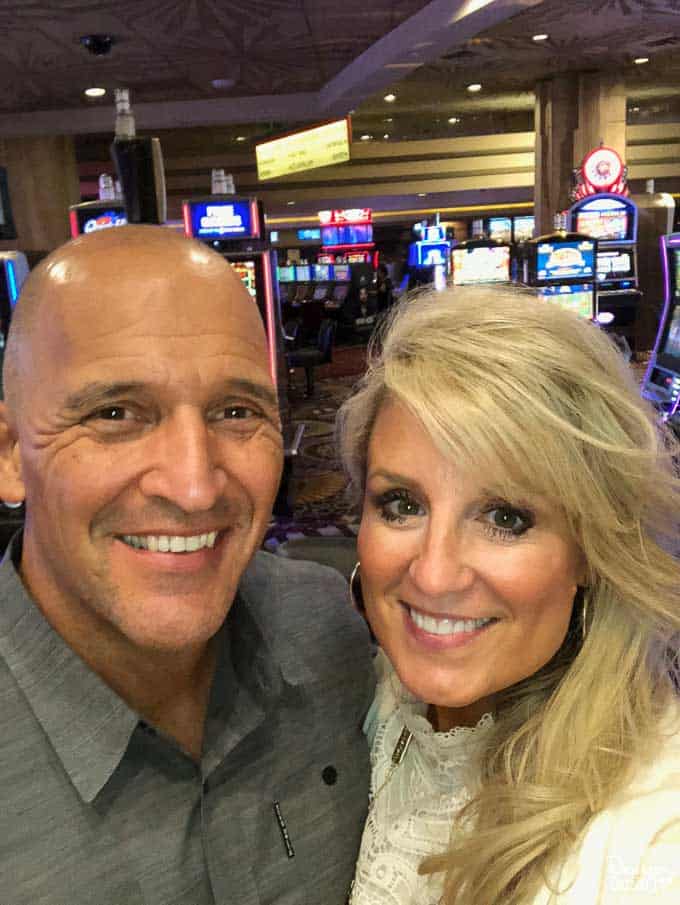 Dressing up after a pool day to attend one of the thousands of shows!
Off The Strip – Day Trip
Valley of Fire  – Located in the Mojave Desert.  Such beautiful scenery with red sandstone formations and lots of hiking trails. It is the perfect half-day excursion.
Hoover Dam is less than a 45-minute drive from the Las Vegas strip. You can simply go see the dam or book a tour. You can walk across it, or drive over it and park
Seven Magic Mountains – 10 miles south of Las Vegas this is a large scale public art of 7 towers of bright-colored boulders. This is a temporary exhibition.
Where do you like to stay? MGM is a favorite of mine – it is reasonably priced and a great location. I have not been compensated for this post. I just like staying there.

Title:
Where to Stay in Las Vegas
Mentions:
hotel stays, las vegas, Las Vegas getaway, Las Vegas hotels, travel ideas, vegas travel, viva lasvegas
Keywords:
where to stay in Las Vegas
Last Updated:
October 22, 2019