This post may contain affiliate links that, at no additional cost to you, I may earn a small commission. Read our Disclosure Policy.
Things To Do In Mull
Nestled off the western coast of Scotland, the Isle of Mull stands as a testament to the rugged beauty and timeless charm that the region is renowned for. After spending a few days there, we are sharing some of the best things to do on the Isle of Mull Scotland, and where we stayed. Mull has stunning landscapes, a rich history, a unique culture, and a captivating destination that you will want to visit, see, and explore. Is it worth a visit? Yes, absolutely!!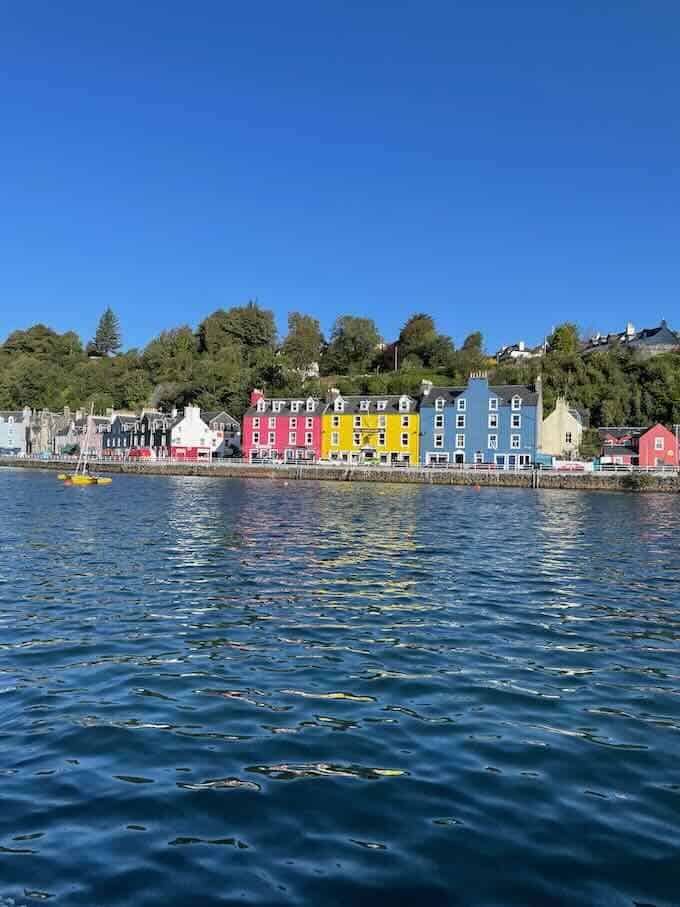 The Isle of Mull has a coastline of 300 miles, and its climate is moderate for Scotland. We were staying in Fort William which is about an hour driving to Oban and decided to visit Mull for a few days. How do you get to the Isle of Mull? You cannot drive to Mull but you can take your car on the ferry from Oban. Enjoy the images of this beautiful place.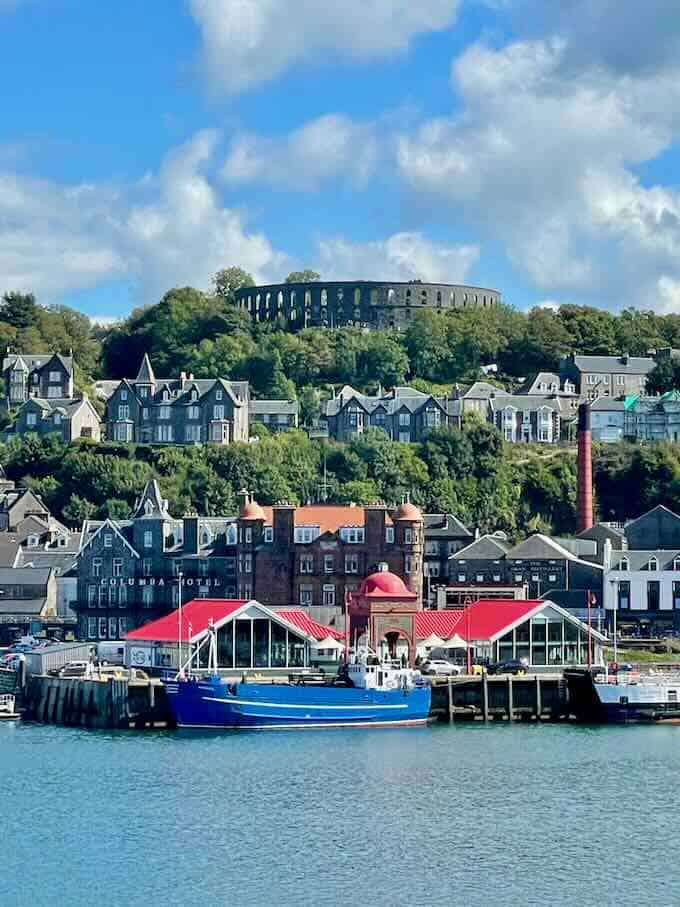 Ferries Oban to
Mull
How to get to Mull l is easy when using the ferry from Oban to Craignure. Craignure is a small village on Mull. The main ferry port is located there. The above image was taken from the ferry of the town of Oban.
You must arrive early and prebook your ferry ticket with Calmac Ferry to secure a spot. The cost for two adults and a car is about $28 US. It's a 45-minute voyage and a very pleasant and scenic route. There is a cafeteria on board the ship with warm food and beverages. You will drive your car onto the ship which is a very easy process. Give yourself plenty of time to find the ferry plaza. Our map was a little confusing and it took longer to arrive than expected.
Important tip: On the return ferry trip back Craignure to Oban, we arrived 40 minutes prior to departure and were one of the last cars allowed to board. Many cars were less fortunate and turned away. Arrive at least an hour before departure to ensure your spot. Caledonian MacBrayne operates ferries to the Isle of Mull. Our hotel booked our spot for our return back to Scotland's mainland. See the info for Oban to Mull Ferry ticketing information.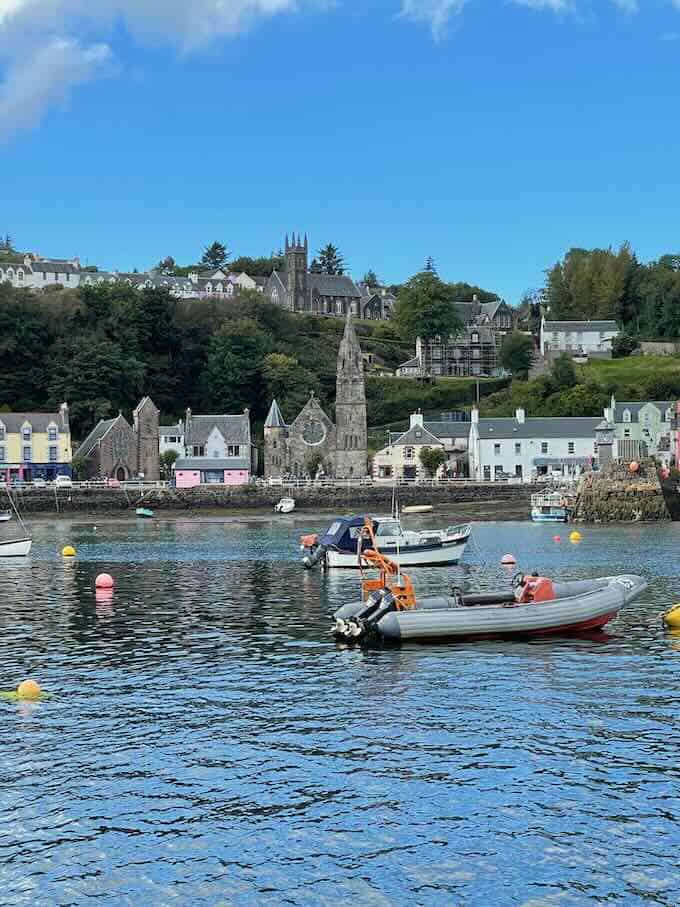 Boat Trips From
Mull
For nature lovers, boat trips on a scenic route are a must-do. Embark on captivating boat tours that unveil the rugged coastline, revealing hidden coves and breathtaking cliffs.
Keep your camera ready for a chance to spot the majestic white-tailed sea eagles that call Mull home. One of the best places to see them is on a Mull Eagle Watch excursion, where knowledgeable guides share insights about these remarkable creatures.
At the Oban port, along the waterfront, there are signs with info to book all kinds of boat trips. We took a boat trip to Fingal's Cave but we booked this ahead of time.

Isle of Staffa
A must-do is a day excursion boat ride out to Fingal's cave on the Isle of Staffa. Staffa Island, situated in the Inner Hebrides, is a small, unpopulated isle designated as a National Nature Reserve. It seemed like there were cliffs for miles.
When I got close to a cliff edge I laid down and inched to the edge on my stomach. Although I have a dislike for heights, when there are no railings, my main concern was not to go over the edge : ) Yikes, it was a long way down : )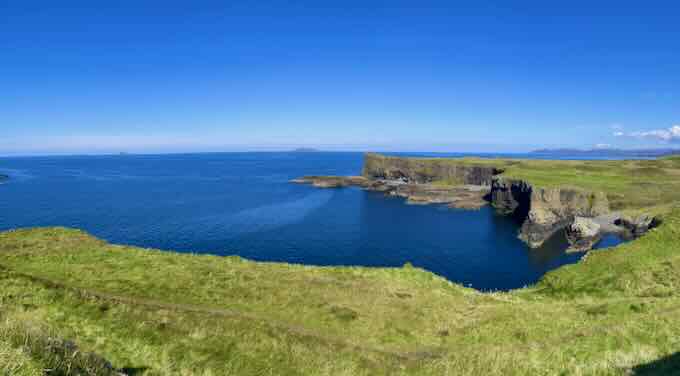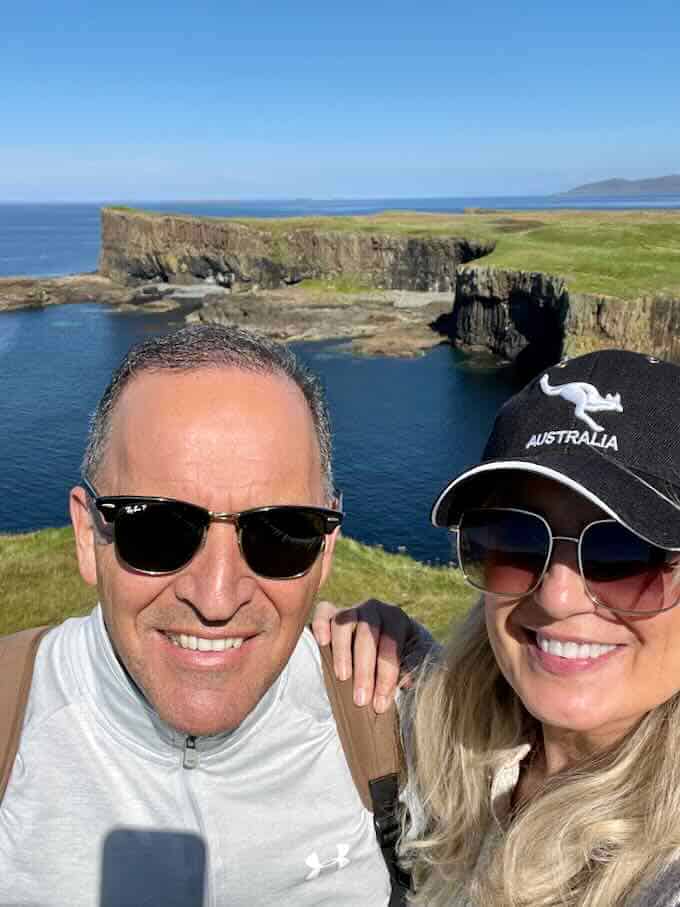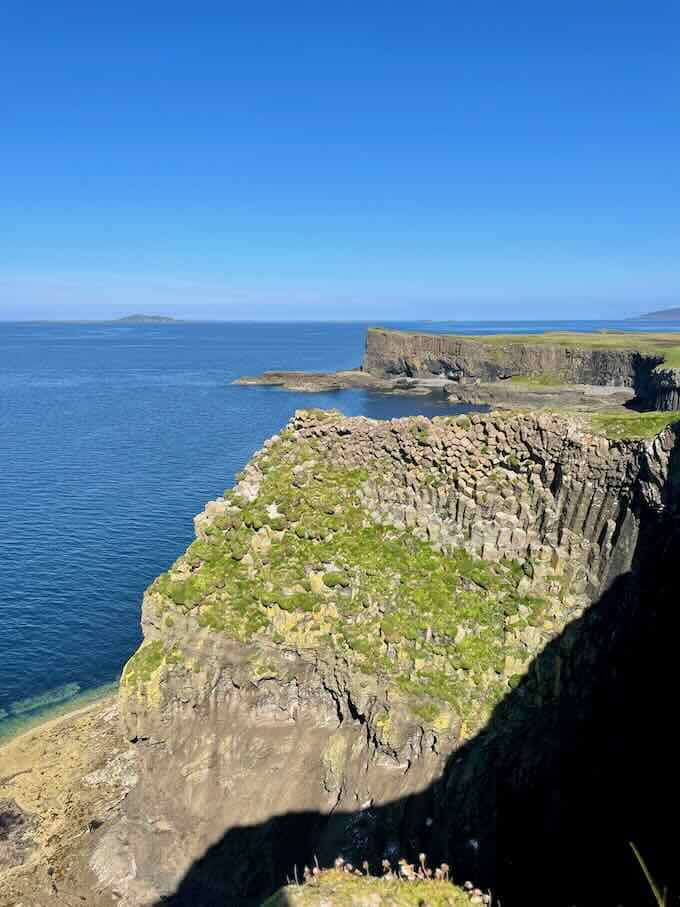 Staffa Tours is the company we booked for the excursion to take a boat tour. It's about a one-hour ride out to the isle from Tobermory. If you have time to do this tour, it was a highlight of our visit to Mull. I share more details on this post and more about Fingal's Cave below.

Fingal's Cave
Fingal's Cave is a natural wonder located on the uninhabited island of Staffa in Scotland. It is renowned for its unique geological formations and its striking beauty, making it a popular destination! We so very much enjoyed our visit inside the cave and to Staffa. We took a picnic lunch and sat in the cave to eat. We have a wonderful memory of picnicking inside Fingal's cave. The cave is easily walked into and there are handrails if you need a little help. You can't walk too far inside the cave but enough to very much enjoy it.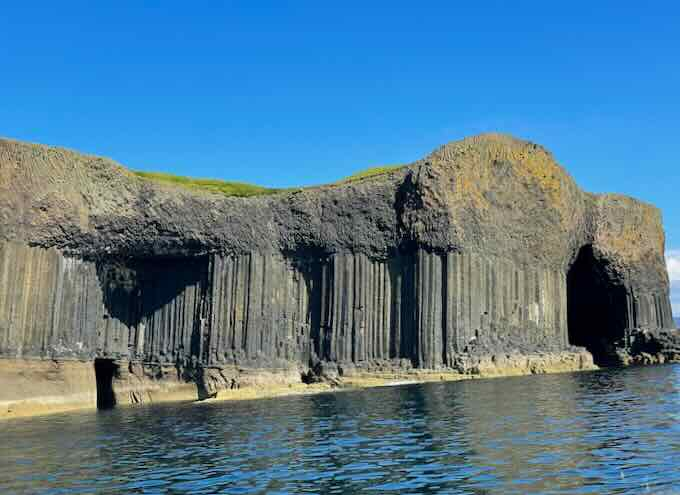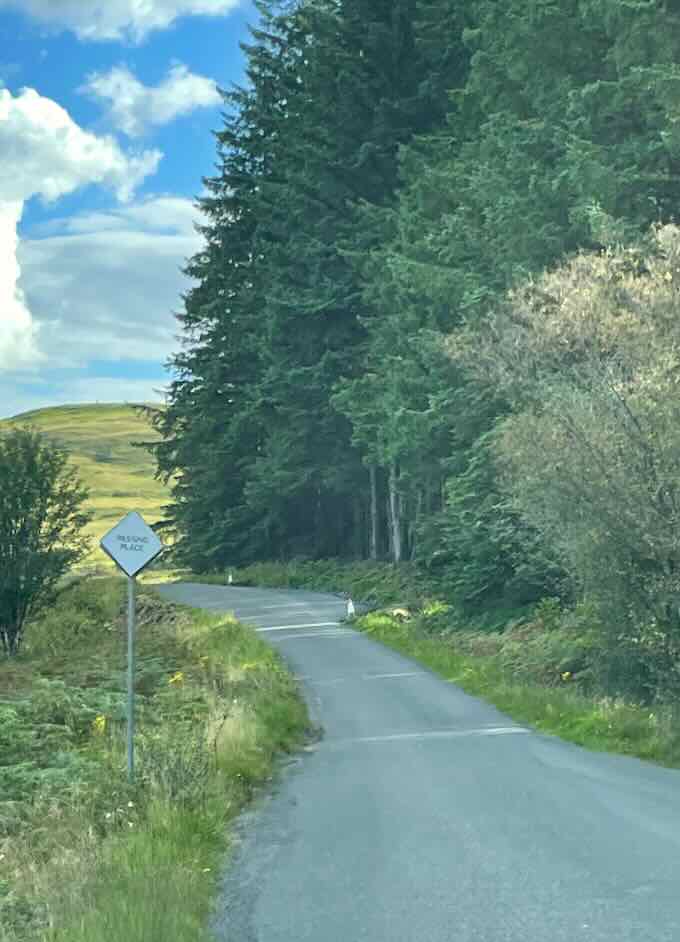 Driving On Mull
We found out real quickly there are some areas that have single lanes and there are passing places. So if you see a car coming, pull off to the side of the road. Everyone was very courteous and we never had any problems. You always pull over to the LEFT to allow cars who are approaching you to pass.
If you want a leisurely drive, make sure to pull over to the LEFT to allow cars behind you to pass. Do not park in passing places. They are strictly for passing. You can see passing places signs along the roads.
Drive with care and check the country's driving rules for guidance. Although we had a car rental when we flew into the airport and drove all around the country. There is a small car hire located in Mull.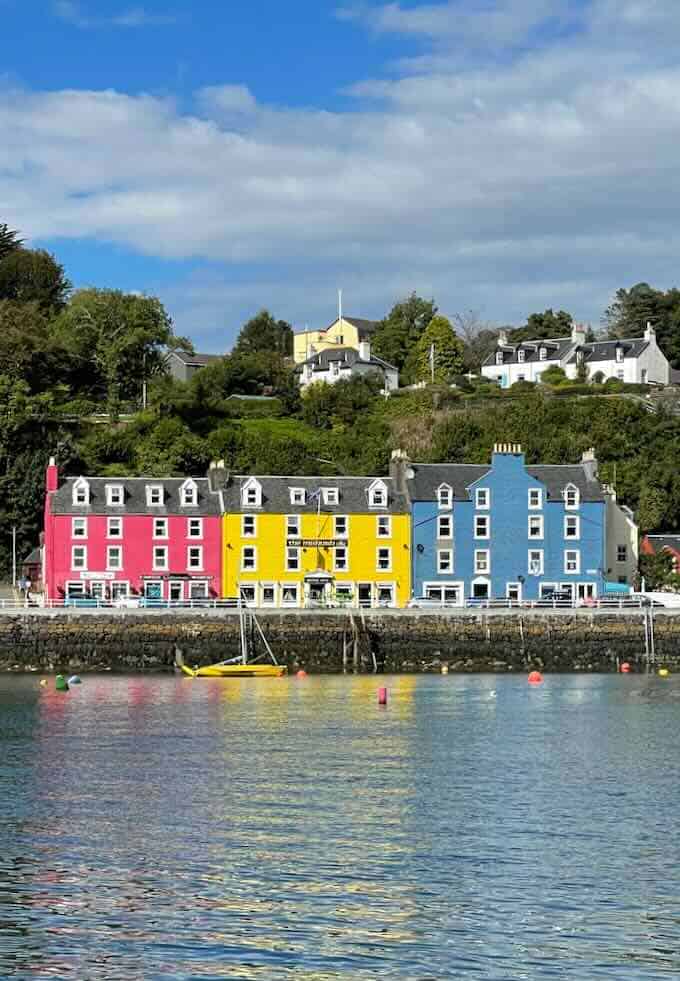 Mull Video
Explore Small Villages – Tobermory
To experience the local culture, take leisurely strolls through the charming villages that dot the landscape. Don't miss the vibrant town of Tobermory, known for its colorful waterfront buildings, and the Tobermory Distillery.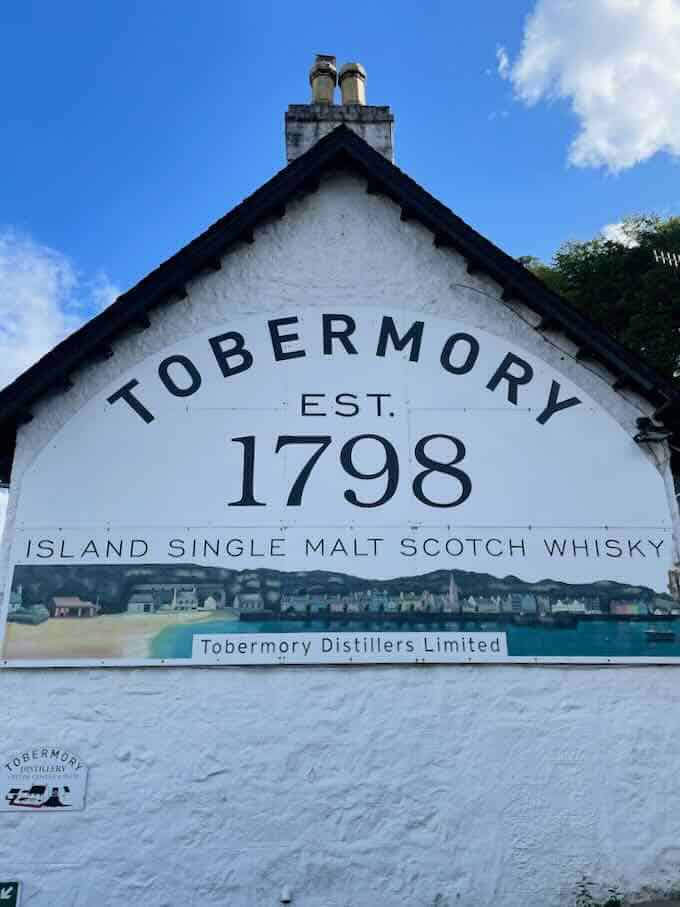 Tobermory is a favorite small town to visit. Balamory was a popular children's series that was filmed there in Tobermory. Although, I haven't seen the series I might try to see if I can watch an episode or two because I miss this small village!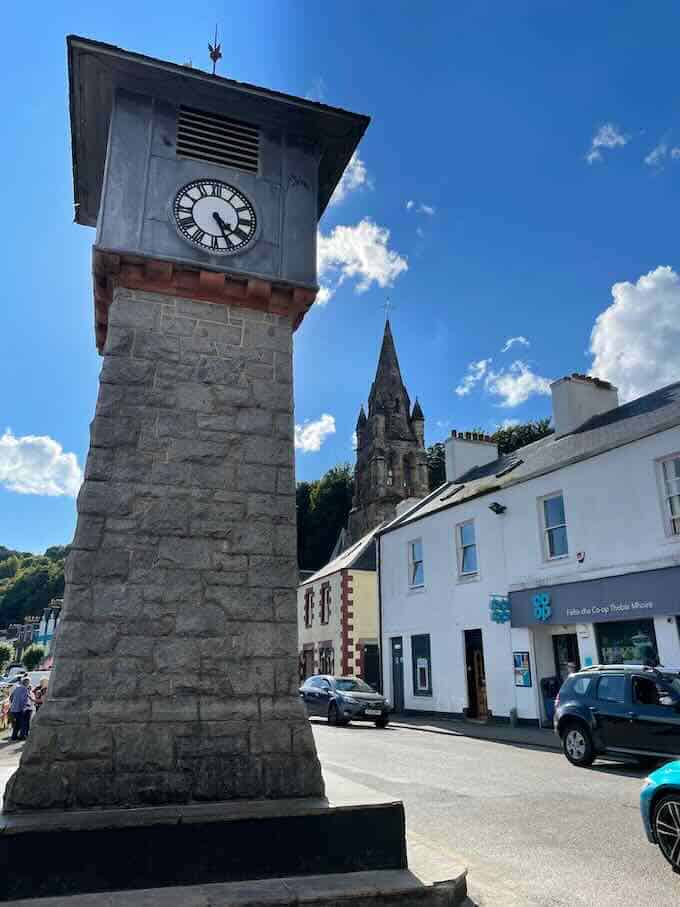 A typical village of bakeries, cafes, sweet shops, gift shops, and a pretty church makes for a lovely stroll along the sidewalks. I thoroughly enjoyed our visit to Tobermory after we were done with the boat tour to Staffa. There is also a ferry to Tobermory from the village of Kilchoan.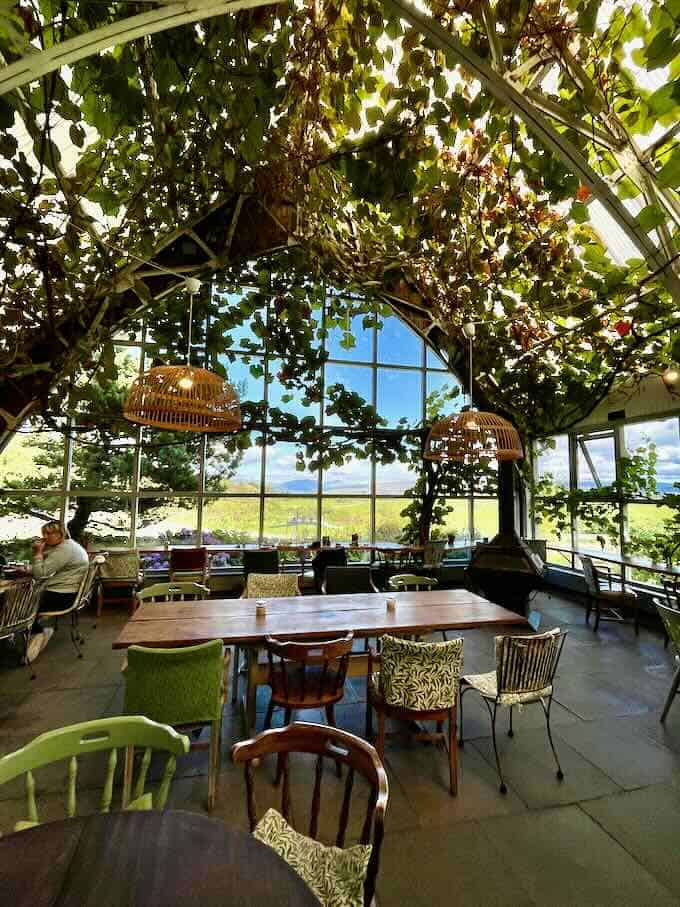 Isle of Mull Cheese Farm
Another favorite thing to do was visit the Isle of Mull Cheese Farm. This is a hidden gem, where not only do they make cheese, but it's a multi-generational farm that is completely sustainable. We watched them bring the cows in for milking. So enjoyable watching the dogs and the help on ATVs rounding up the cows!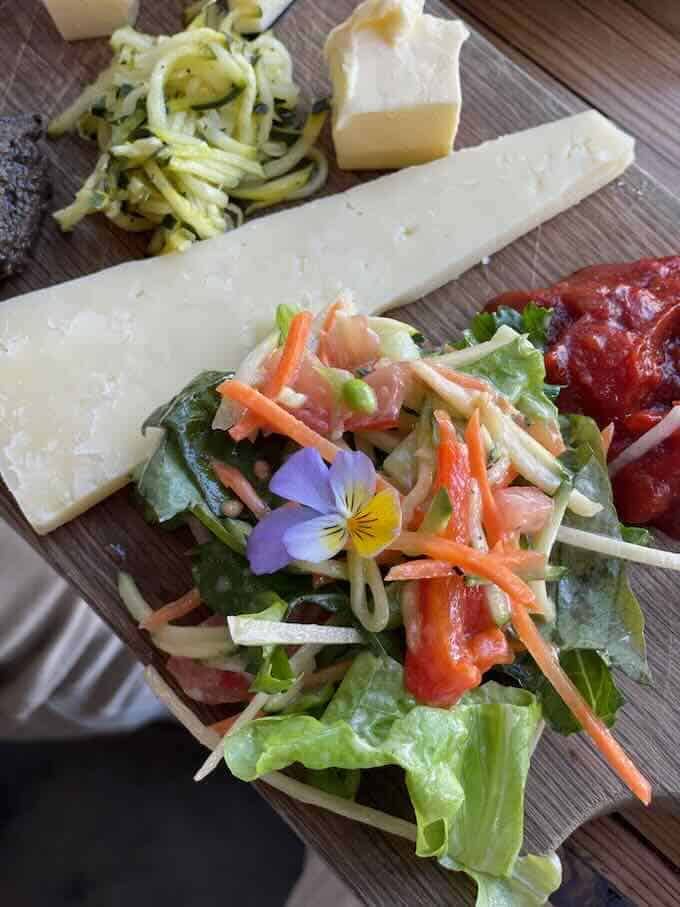 The meal was incredibly delicious and beautifully presented! We ate a large lunch so we made sure to purchase some sweets for the road and they were yummy and did not disappoint.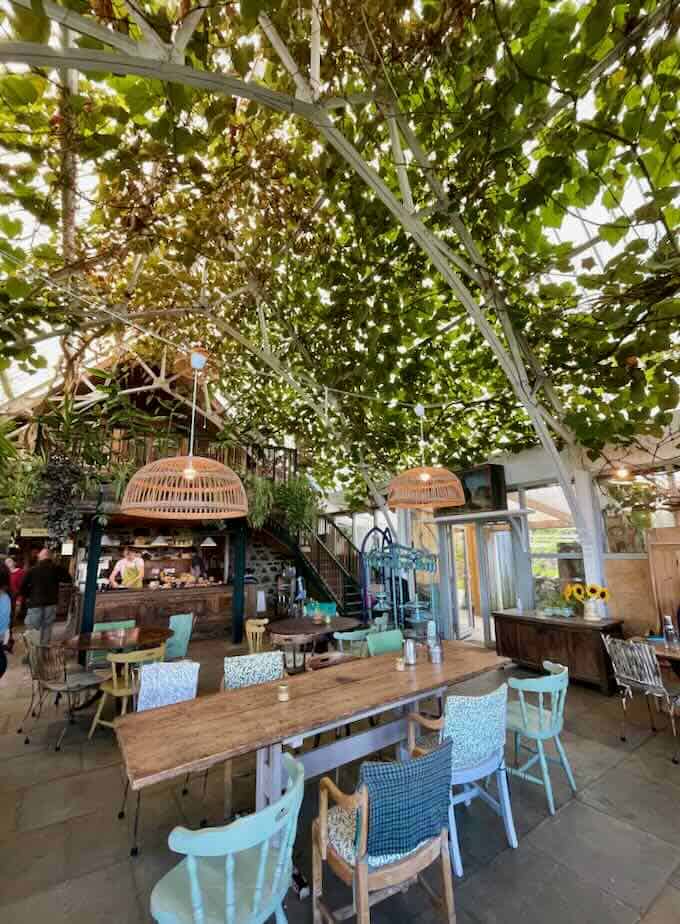 The glass-enclosed barn is where you order your food and eat. It is adorned INSIDE with flourishing grapevines and is absolutely breathtaking. From my memory, they said they had been growing the grapevines inside the barn since 1989. There are also tables outside to eat at and enjoy the farm setting.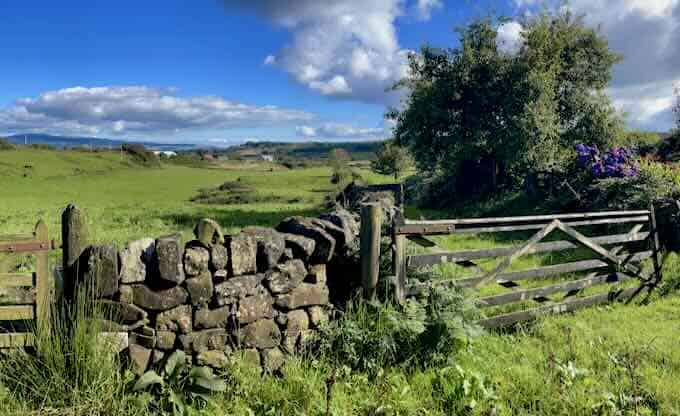 You can do farm tours. But make sure to find out in advance details and times. If you are staying in Tobermory, the cheese farm is about a 15-20 minute walk and can be a bit of an incline.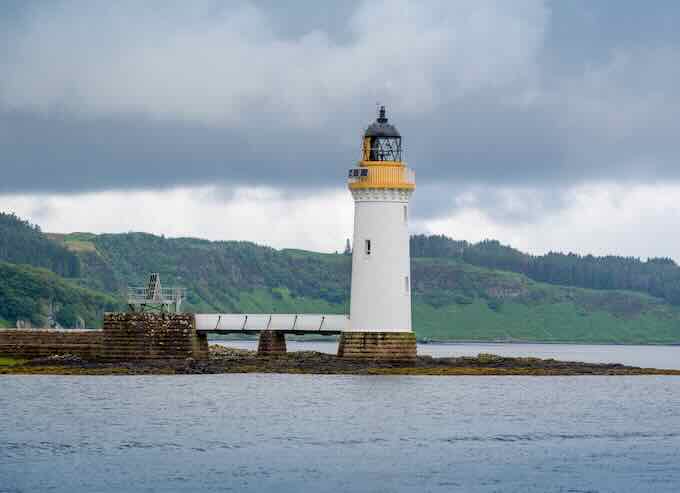 Walk/Hike to Tobermory Lighthouse (Rubha nan Gall)
Close to the town of Tobermory, this trail is 3.4 miles and takes about 1 1/2 hours to do there and back. There are picturesque views to get to the lighthouse and back. You can locate the lighthouse trail in close proximity to the RNLI Lifeboat Station on Main Street in Tobermory.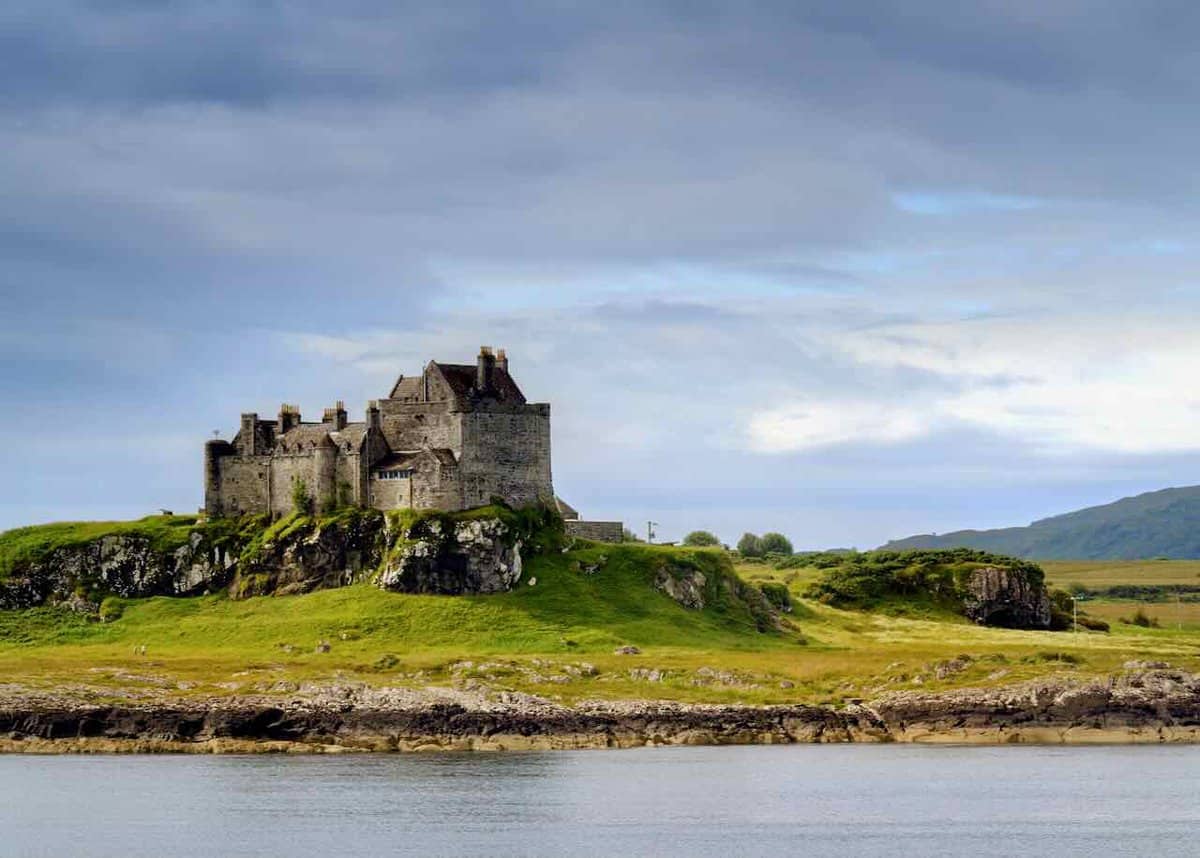 Duart Castle
History buffs can explore the local area and iconic Duart Castle, a well-preserved medieval fortress with panoramic views that is only 3.5 miles from Craignure. The castle's rich history is woven into the fabric of the island, offering a glimpse into the past of the MacLean clan. It is free to walk the castle grounds and to visit the tearoom and shop. Entry into the castle costs about $12 US ea.
Additionally, Mull boasts an array of standing stones and historical sites, such as St. Columba's Chapel, providing a window into its ancient past. St Columba Chapel is 14 miles from Craignure and 22 minutes by car.
Isle of
Mull

Hotels

Mull is, without a doubt, one of the most versatile Scottish islands. From picture-perfect, touristy Tobermory and the majestic East Coast castles to the rugged North and Central regions to the sandy beaches and great walks of South and Southwest Mull, it truly is an island with something for everyone. But it is not just the scenery or the activities that make Mull a memorable holiday destination. It also boasts some rather unique accommodations to tempt the visitor to linger.

For those seeking relaxation, Mull offers a wide range of accommodation options, from luxury hotels to cozy bed and breakfasts.

Isle of
Mull

Hotel and Spa

This is where we stayed for two nights. It's located in Craignure and about a two-minute drive from the ferry terminal. It's a luxury hotel without the luxury prices. We paid about $175 US a night. It offers great dining, comfort, a nice cottage room, and sitting areas to admire the commanding views of the sea.

We ate a delicious meal while taking in the picturesque surroundings. We didn't indulge in any spa services on this visit. The front desk was very helpful and suggested things to do and booked our ferry back to Oban for us. Visit their website Isle of Mull Hotel and Spa I would highly recommend a stay there if you want to stay on this side of the isle. If you want more of a small village to stay in, Tobermory would be the place.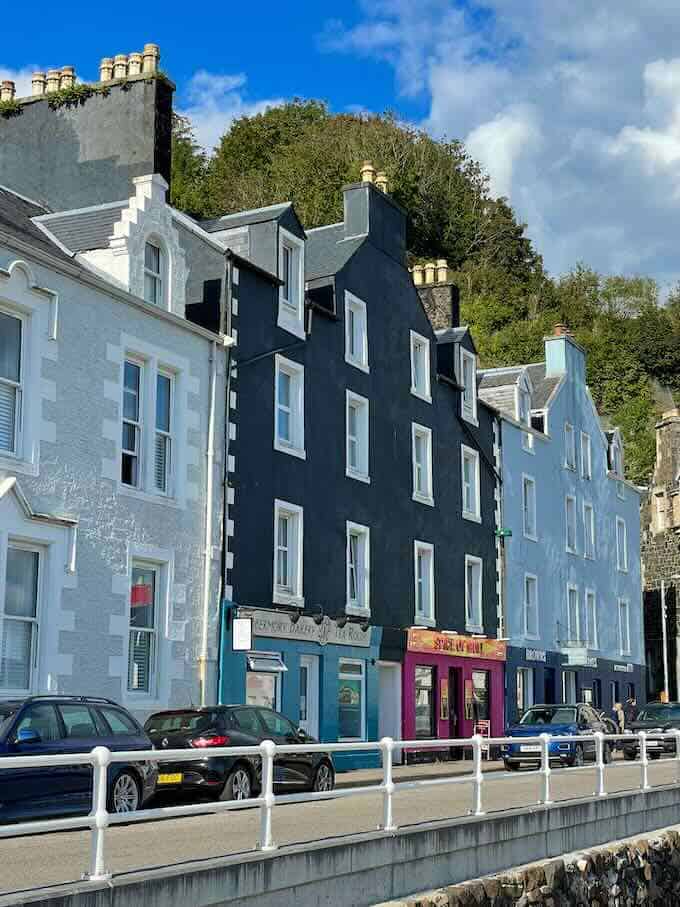 Tobermory Hotels
Accommodation abounds in Tobermory, the island capital and home of the Balamory children's TV series. But if you want something extra special or different, check the following options:
1. Western Isles Hotel: Still the grand dame of the island hotels, although not quite what it once was. The building is spectacular, the rooms are very well furnished, and the views are sublime. The hotel sits up above the town of Tobermory. You can see the rock building sitting on the hill in my pictures. Check out the website here. https://www.westernisleshotel.com/contact-us
The Harbor Guest House is a bed and breakfast with a view right on the harbor. The stunning views from the rooms make this a top pick. There are plenty of activities to enjoy in the quaint village.
Glengorm Castle
What about staying in a castle near Tobermory? The Glengrom Castle is available for guests and is quite a stunning setting and most impressive accommodation, a lavish castle that calls itself a bed and breakfast but will offer you a nice setting than most Scottish hotels. On the estate, there is a coffee shop and miles of great walks. There are also the best of many Mull holiday cottages right on the estate. It's 4 miles north of Tobermory on the north coast.
Iona Hotels and Accommodation & Island of Ulva
You can also engage in a cultural trip to the neighboring island of Ulva, where you can explore traditional crafts and customs. There are no cars but 4-wheel quad bikes on the island. We did not visit but would have very much enjoyed going there.
The nearby Isle of Iona is very photogenic: a peaceful place of sandy beaches and grassy cliff tops. It's a very popular place with tourists, but most don't realize the beautiful accommodation options and don't stay the night in Iona. Iona is a separate island from Mull. It takes about 5 minutes to get across on the boat from Fionnaport. Iana is another option for visiting and lodging.

Campsites on
Mull
1. Sheiling Holidays: If you fancy a spot of luxury camping on Mull you should head to Sheiling Holidays near Craignure. They are located on the shorefront with uninterrupted views of the sea and mountains. You don't even have to bring your own tent: these tents come ready-carpeted and with their own stoves. There is glamping, cottages, and camping. It's only 800 metres from the Craignure ferry terminal. It's a great base for exploring the little-visited central part of Mull.
2. Fidden Farm Campsite: A family business since 1952. If you love truly remote camping then head to this farm down the Knockvologan road from Fionnphort on the Mull mainland. It's near the beach that Robert Louis Stevenson was inspired to write Kidnapped.
3. Salen Bay Campsite is another option about 10 miles from Tobermory. There are 40 sites that offer 360-degree views of the sea and mountains. The sites include electric hookups and water.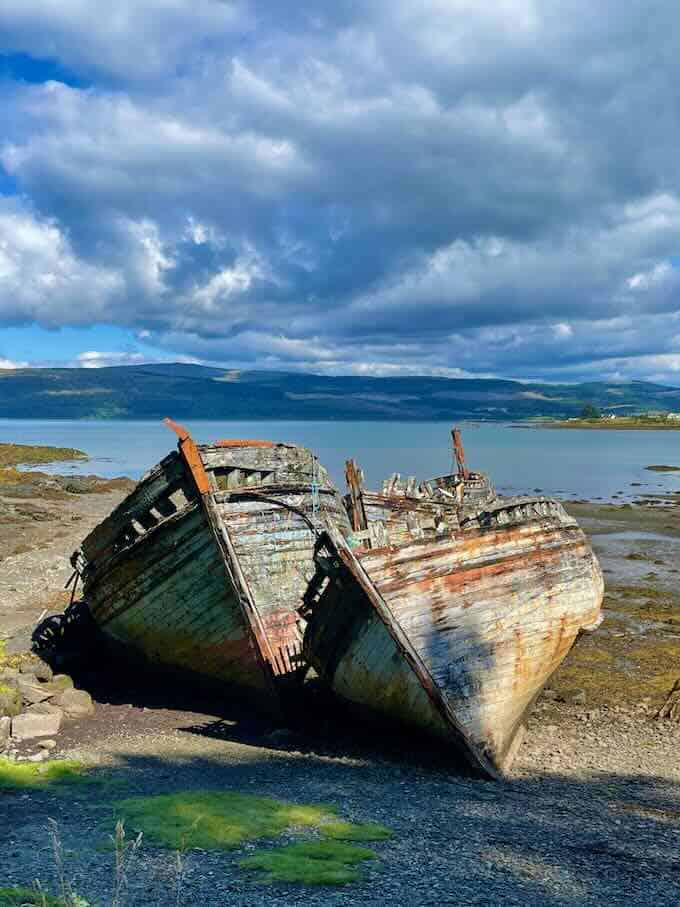 Geography of Mull
Mull is perfect for scenic driving tours, allowing you to explore the rugged landscapes and stunning vistas along the winding routes.
Mull's terrain bears the marks of glaciations (glens). It has a mountainous core, with the island's highest peak being Ben More, which reaches 3170 ft above sea level. Several peninsulas, predominantly moorlands, radiate from the center.
The Aros Peninsula to the north includes the main town of Tobermory, which was a burgh until 1973 when burghs were abolished. Most of its nearly 2,000 inhabitants reside here, and it's where the Tobermory distillery is located.
Numerous islands are situated off the west coast of Mull, including Erraid, Iona, and Ulva. Uninhabited isles include Eorsa, Gometra, Inch Kenneth, Little Colonsay, the Treshnish Isles, and Staffa with its famous Fingal's Cave.
The two distant rock lighthouses are also visible from the southwest of Mull: Dubh Artach and Skerryvore. The Torran Rocks constitute a large area of reefs, islets, and skerries (rocky outcrops), spanning approximately 15 square kilometers. They are located 3 kilometers southwest, between the Ross of Mull peninsula and Dubh Artach.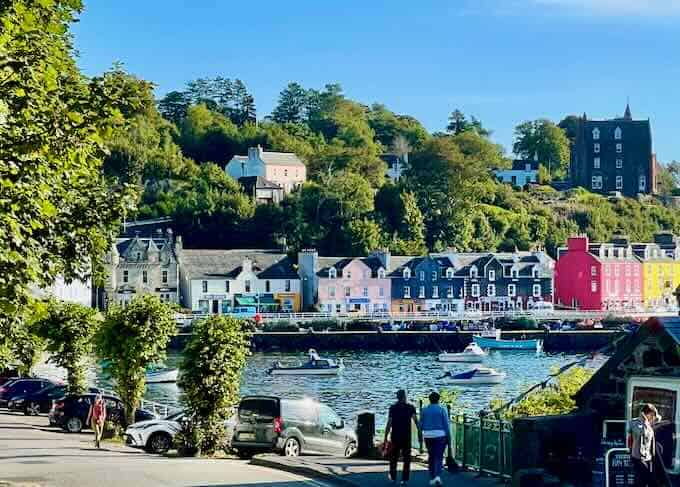 Final Thoughts on Isle of Mull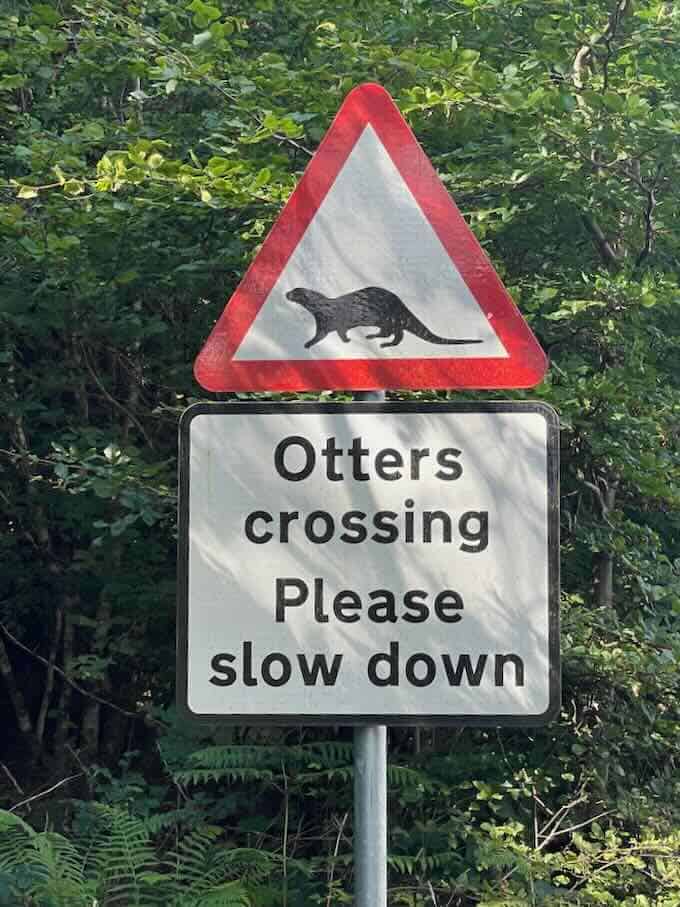 The Isle of
Mull
is a haven of natural beauty, wonders, and cultural richness. From boat trips to castle explorations, this island offers an unforgettable adventure for every traveler. When I saw this otter crossing sign, I thought I had arrived! It's not often you see an otter crossing sign. To sum up Mull – it's charming with beauty everywhere you look. Whether you're interested in wildlife, history, small villages or simply soaking in the stunning scenery,
Mull
is a destination that promises to leave you enchanted by its allure.
More of our Travels in Europe
Visiting Switzerland?