This post may contain affiliate links that, at no additional cost to you, I may earn a small commission. Read our Disclosure Policy.
Isle of Staffa
An essential experience is taking a day excursion boat trip to visit the Isle of Staffa and Fingal's Cave. Located in the Inner Hebrides of Scotland, Staffa Island is a small, uninhabited landmass designated as a National Nature Reserve. We were so glad we were able to visit western Scotland and tour the well-known wonder that is a geological marvel. It's a bucket list item we were able to cross off.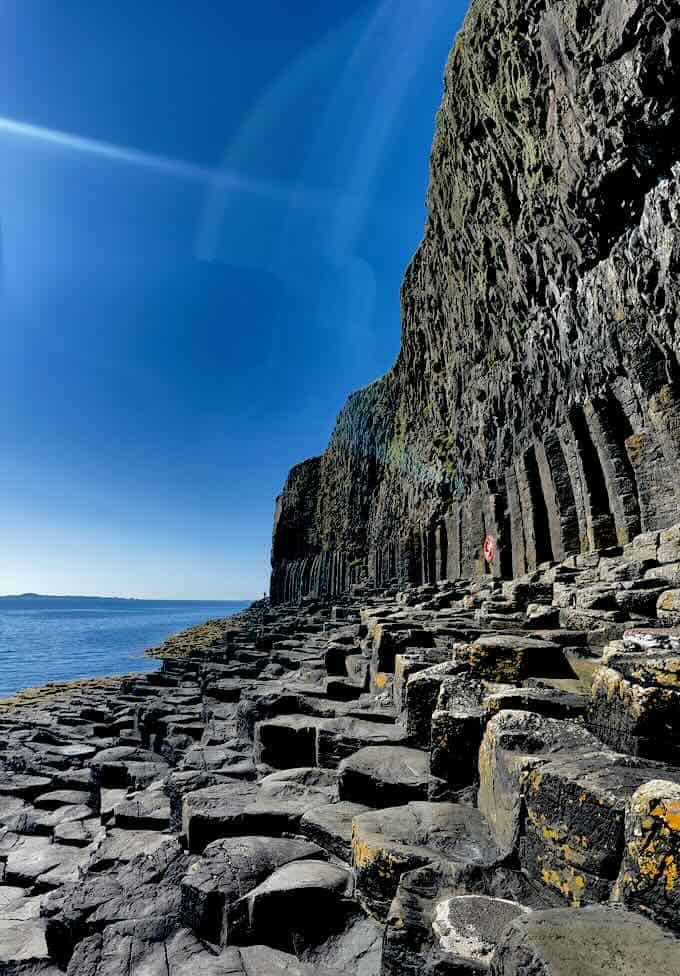 Why Visit Staffa + Fingal's Cave?
Fingal's Cave is located on the Isle of Staffa. Fingal's Cave is a sea cave that is a geological wonder, acoustic phenomenon, scenic beauty, and more! The tranquil atmosphere of Fingal's Cave provides a peaceful escape from the hustle and bustle of everyday life. It's a place where you can connect with nature and enjoy a serene environment. In the image below we are walking around Staffa and enjoying the scenery and peace of the isle.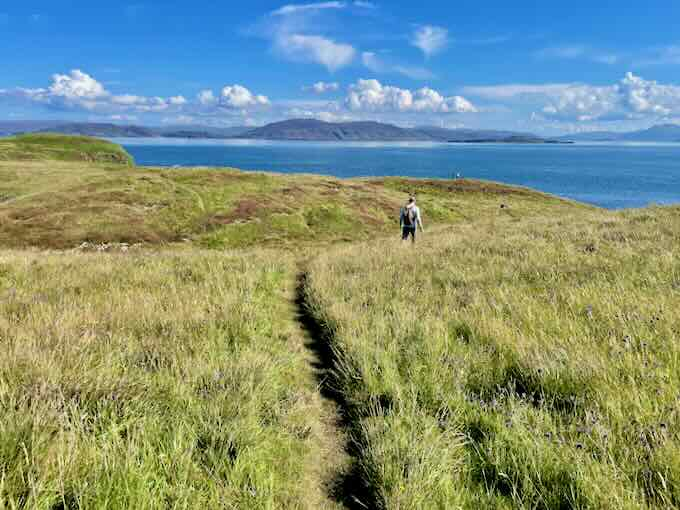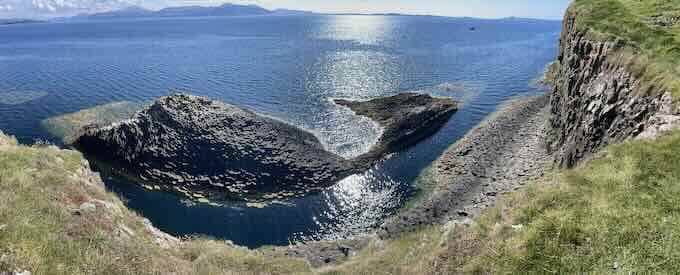 Fingal's Cave and Staffa are where you can see the renowned hexagonal rock columns, created millions of years ago through volcanic eruptions.
Are you familiar with Giant's Causeway in Ireland? We have been to Giants Causeway and these hexagonal rock columns totally remind me of that place in Northern Ireland when we visited. The Isle of Staffa and Fingals Cave are about 80 miles from Giants Causeway and they have similar basalt columns. It is said the same ancient lava flow created both areas in Ireland and Scotland. This is the reason we were eager to explore Staffa and Fingal's cave.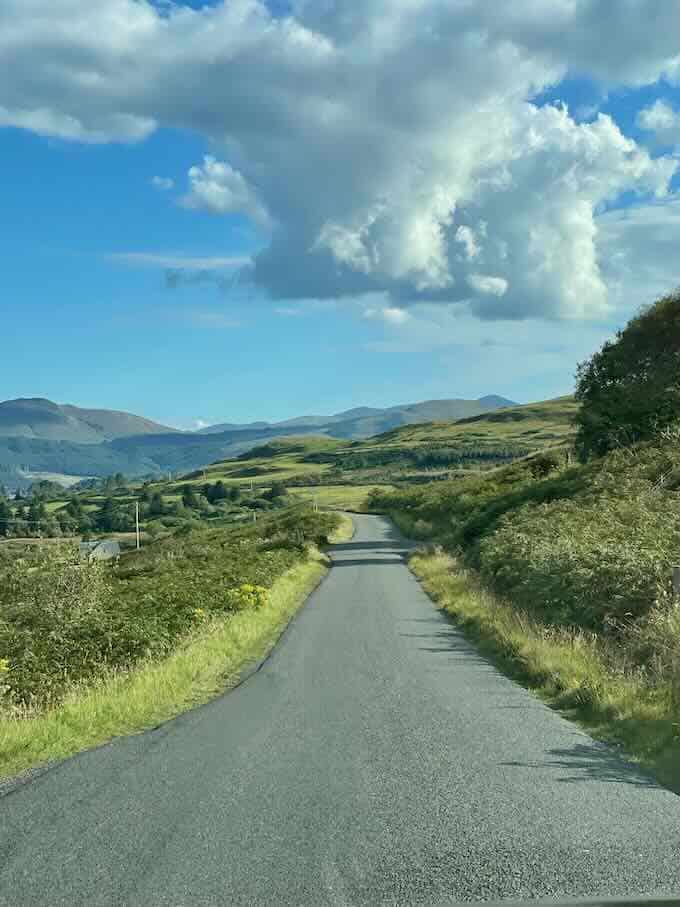 ​Getting to Fingal's Cave
We made our boat tour reservation with Staffa Tours, the company that organizes the excursion to leave from the Tobermory port. We drove to Tobermory from our hotel. As you can see by the image above they mainly have one-way roads with passing places. It is quite a kick to drive there. But we felt safe and everyone was a very courteous driver.
​IMPORTANT TIP: If you are driving to get to a port to meet the boat, give yourself plenty of time to get there. These are only one-way roads and it can take a lot longer to get where you're going. I would hate for you to miss the boat. Especially during busy seasons give yourself a lot of extra time.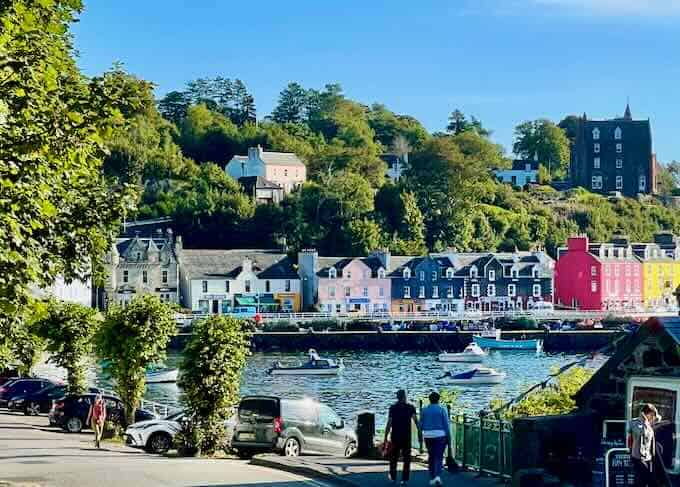 We boarded the boat at the Tobermory port. The journey to the island from Tobermory takes approximately one hour by boat to the uninhabited island of Staffa. Staffa Tours leaves from many different ports. See which port is best for your needs.
If you are not staying on the isle of Mull, you can catch a Staffa Tour from Oban which is on the west coast of Scotland. That is where we got on the ferry boat in Oban and took our rental car over to Mull. It's a big port. There are many boat operators that offer tours from the mainland.
Once you arrive on Staffa it's just a matter of walking to Fingal's Cave. The cost of the boat tour was about $68 US ea. Check their website for details.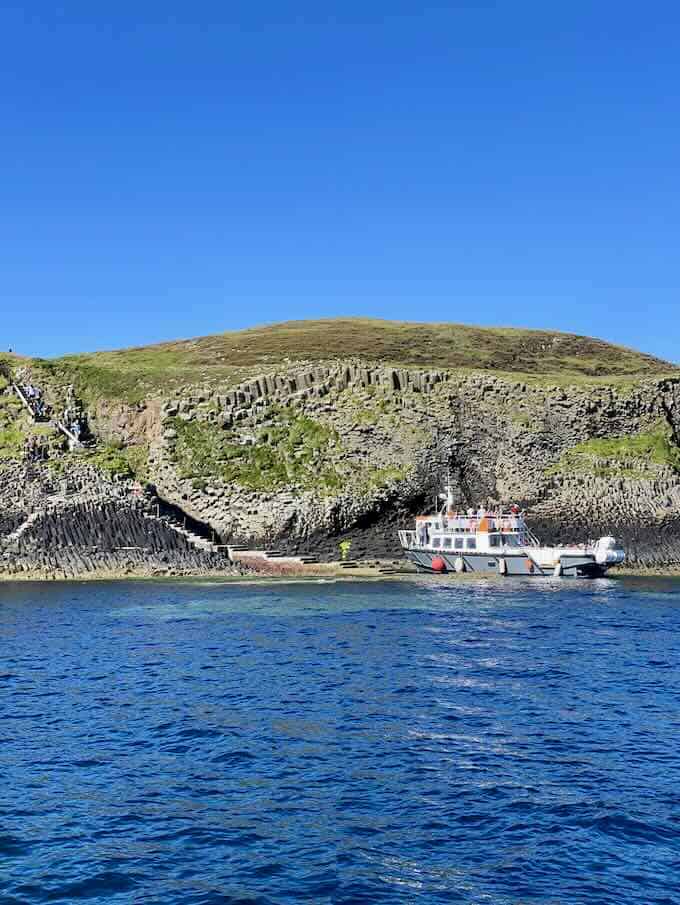 What to Do on The Isle of Staffa
We were allowed 75 minutes to explore on our own on the Isle. When we disembarked the boat, there was a series of steep steps leading to the island's summit. Once we reached the top (5-10 minutes), we were greeted with a plethora of vistas, stunning rock formations, sheer cliffs, and delightful views of the water.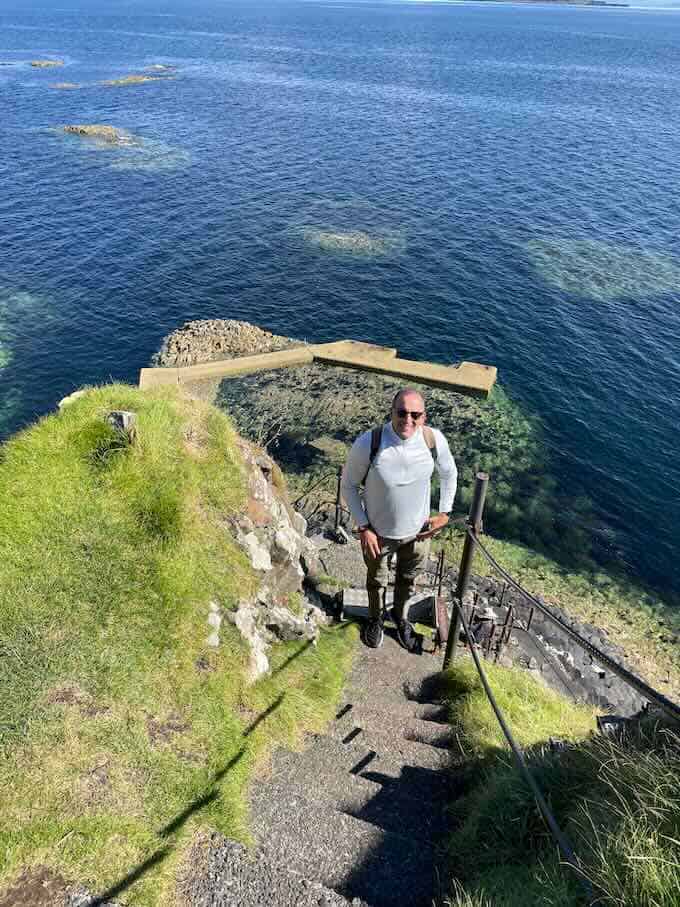 We were there at the beginning of September and were lucky to be there on the most amazing weather day of the year (according to the crew). I've heard it can get windy and very cold. Be prepared for the right gear for the time of year you will be visiting. There is a plaque and donation box on the isle.
​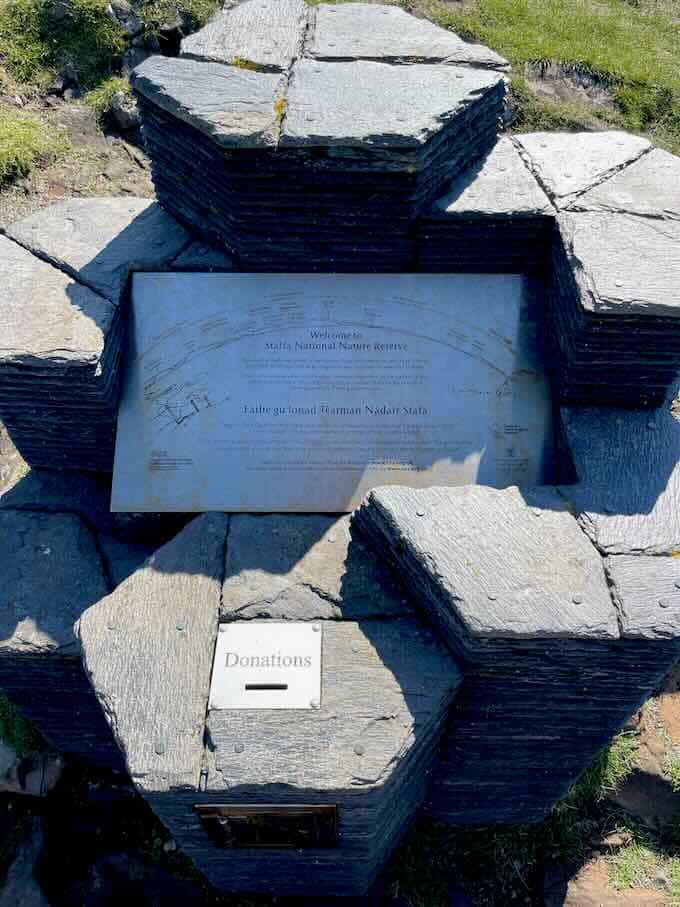 I was grateful for the beautiful weather although it was a warm day, I still wore a sweater. You will have enough time to walk to the opposite side of the island and to the other side during the 75 minutes but it wouldn't leave much time to visit Fingal's Cave.
We walked around on top of the tiny uninhabited island and spent about 45 minutes of our time getting to and sitting inside Fingal's Cave.
​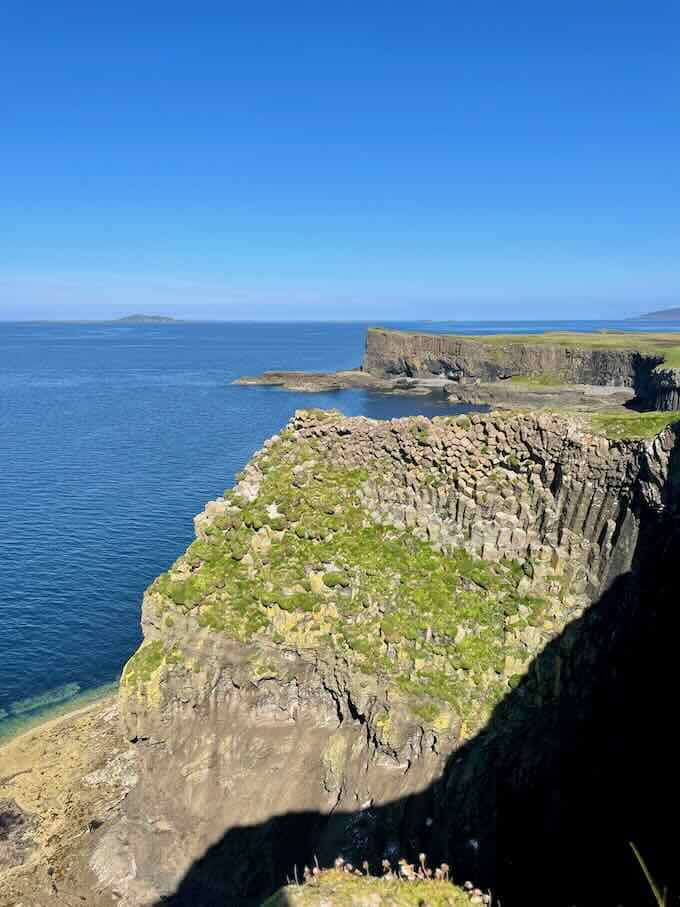 Fingal's Cave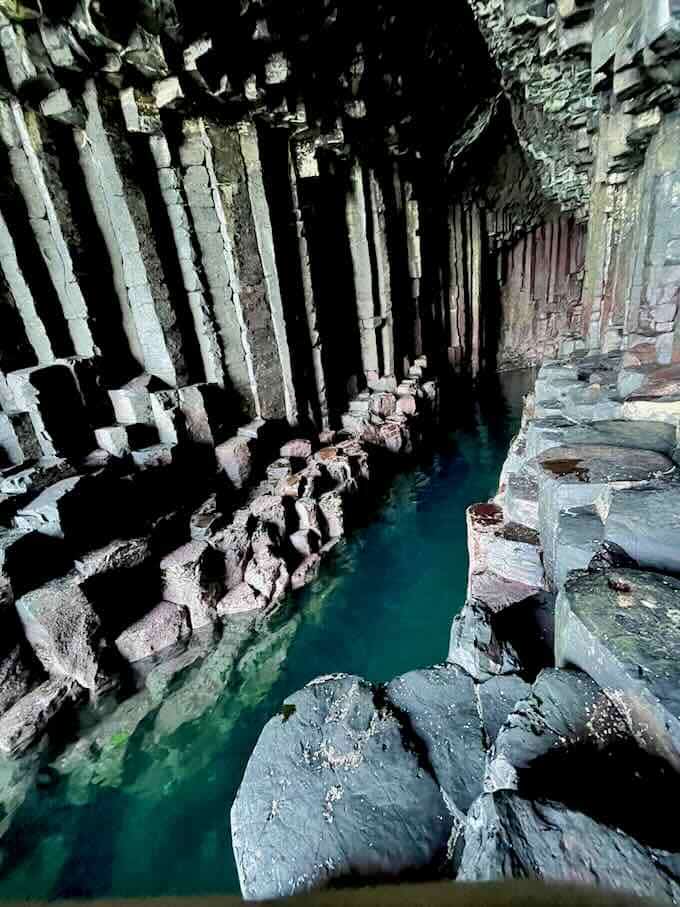 Before the boat docked to allow passengers off to explore the cave and isle, the captain backed the boat near the mouth of the cave to allow an unbelievable perspective of the cave. It's awesome! The basalt pillars are an amazing part of a national nature reserve and such a unique geological feature. It seems like there are pinks, plums, and blues inside the cave. The water is the most amazing color of a bright aqua green.
The ocean waves were very mild with calm conditions when we were there. Just gentle laps at sea level. I can only imagine during the winter how high those waves must get. I would not want to be on a small boat in open water during a winter storm in that area.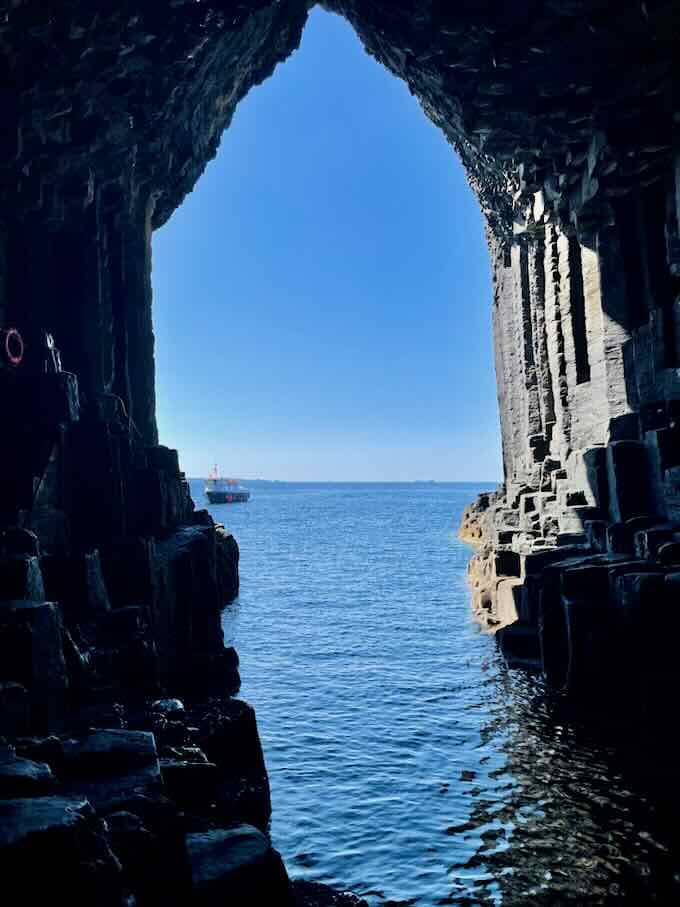 Here is where you will explore what we think are the most amazing volcanic hexagonal column formations in the world. It brought back memories of our visit to the Giant's Causeways in Ireland, but even more grand because we got to go inside the cave full of formations.
It's good to know the cave echoes and has amazing natural acoustics. If you have a lovely voice, you might want to give it a go if no one else is around.
Inside Fingal's Cave, there is a natural walkway with rock steps. Also for safety handrails were added. Several visitors brought their dogs on the trip.
Eating on Staffa Isle
Since this small island of Staffa has no shops, you might want to bring your own food. We were only gone for about 3 hours. But it was so enjoyable to eat while there on Staffa. We purchased food at a grocers in Tobermory before we got on the boat. Scroll down for more details because their food was delish!
We ventured high and low and eventually inside the interior of the cave where we sat inside and ate our picnic lunch. Yes, inside the cave! Make sure to bring a picnic lunch because that was a favorite memory to do.
​My only regret was not playing the Hebrides Overture written by Mendelssohn while sitting in the cave eating our lunch. The Hebridean Overture was inspired by Mendelssohn's visit to Fingal's Cave.
View of Fingal's Cave From The Boat
Boat charters leave from Tobermory to Staffa. Tobermory is 21 miles and about a 36-minute drive from Craignure where we were staying. When we arrived in the morning there was ample free parking at the Tobermory harbor. This is a must-do trip to Fingal's Cave. The Staffa Tours website link shown will give you all the details.
​
Before The Boat Tour
Before getting on your boat charter head to the Tobermory Stores for breakfast (if you haven't eaten) and goodies for a picnic lunch on Staffa Isle. When headed into the town of Tobermory, this Tobermory Stores (see image above) is on the left-hand side of the street across from the harbor.
Someone local had recommended getting sandwiches and goodies there. The breakfast rolls were delicious and there's ample cheese, crackers, deli meats, and sweets to select for your picnic. Bring a small day pack to pack your food. The store is within a block of walking to the harbor or you can park in front of the store and then onto the free harbor parking. It's literally a 3-minute walk to where we boarded the boat.
Worth Visiting Fingal's Cave and Staffa?
Yes, a wonderful half-day trip was enjoyed very much! The only thing that could have made it better was to see the Puffins. There were no Puffins around when we were there. They are usually on the Isle of Staffa from April through the beginning of August. We did, however, see a Puffin close-up at a museum. : )
This isle of Staffa has hosted many famous visitors, such as Queen Victoria, John Keats, and many more and has helped create wonderful music. The natural wonder is magnificent. I highly recommend visiting Staffa and of course, while you're there Fingal's Cave (cave of melody).
More Tips on the Best Things To Do in Scotland
Visiting Switzerland?