This post may contain affiliate links that, at no additional cost to you, I may earn a small commission. Read our Disclosure Policy.
The Schilthorn is one of the tallest peaks in the Bernese Alps (2,970 meters or 9,744 feet) and offers some of the most stunning views of the Monch, Eiger, Jungfrau, and more. The best things to do at Schilthorn Switzerland in my opinion are the jaw-dropping views and the fun adventure of getting there.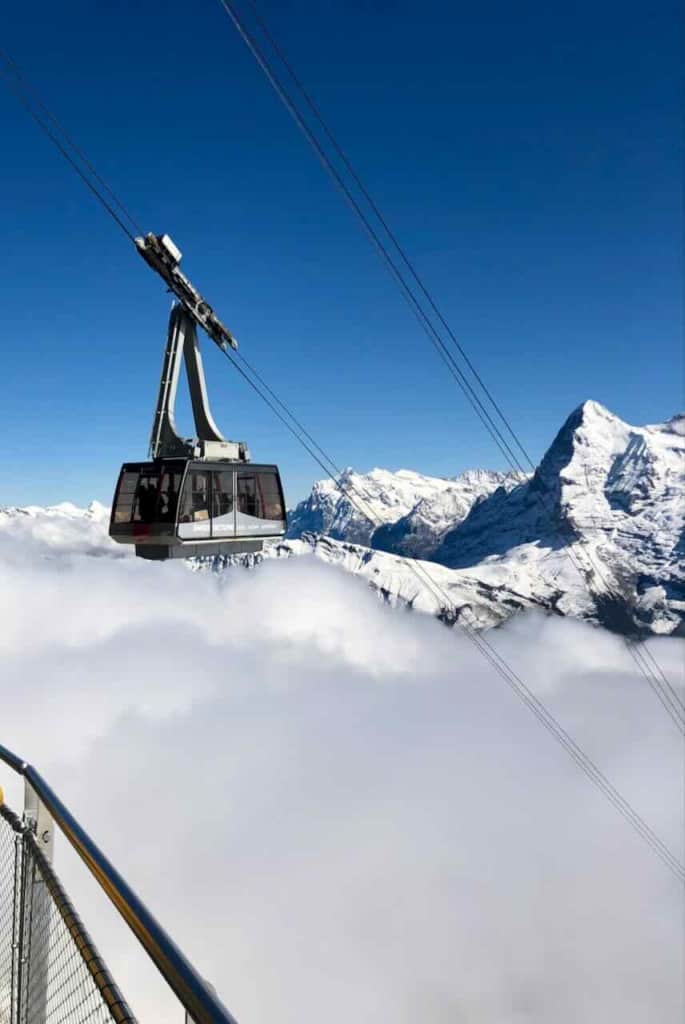 Why Go to the Schilthorn?
The panorama of over 200 mountain peaks and ranges of the Swiss Alps is spectacular. It seems like you are on top of the world with the incredible mountains and views.
It certainly is an adventure just to get to Schilthorn. The views just to get to the top are fabulous and the experience of it all is amazing.
Read more for tips on the best things to do at Schilthorn Switzerland.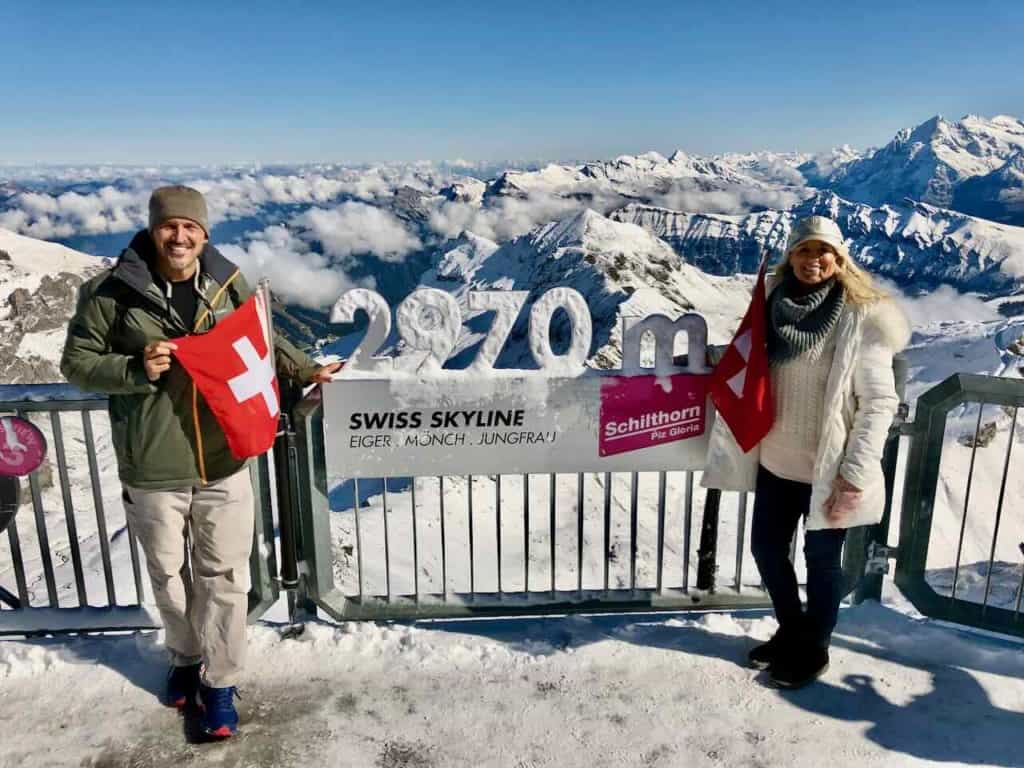 The 1969 James Bond film "On Her Majesty's Secret Service" was filmed at Schilthorn. The Bond World and other memorabilia pay tribute to the movie.
The journey to Schilthorn is equally impressive. A gondola ride and visit to the authentic Alpine Villages of Gimmelwald, Murren, and Birg are also a must during this activity.
This "how-to" will tell you everything you need to know to travel to Schilthorn, the best things to do, and things to do along the way.
How to Get to Schilthorn
Cable cars are the easiest and most accessible way to travel to Schilthorn from Lauterbrunnen or Stechelberg. Although, you can officially hike there. I prefer the cable car.
From Lauterbrunnen Option #1 – Grutschalp to Murren to Birg to Scilthorn (approx 50 mins total)
From Lauterbrunnen, take the cable car up to Grutschalp. Transition to the train to Murren. We rode the classic old mountain railway train (built sometime in the 1900's). I sat behind the conductor and took this picture.
Once in Murren, we walked about 10 minutes through town to the cable car station. Take the cable car to Birg and then to Schilthorn. We were staying in Lauterbrunnen and the cable car was a one-minute walk from our hotel. This is the route we took.
From Lauterbrunnen Option #2 – Stechelberg to Gimmelwald to Murren to Birg to Schilthorn (45 mins total)
From Lauterbrunnen, board the city bus #141 at the train station to Stechelberg or drive 3.5 miles to Stechelberg and park in the lot. Take the cable car up to Gimmelwald, At Gimmelwald, transfer to the cable car to Murren. In Murren take the cable car to Birg and then transfer to the Schilthorn cable car.
From Interlaken
Take the 20-minute train ride to Lauterbrunnen. Follow option #1 directions.
Swiss Travel Pass
Traveling up to Murren with the Swiss Travel Pass is free. From Murren to Schilthorn the discount is 50%.
Schilthorn Boarding Pass
You may purchase a guaranteed boarding pass departure time for your leg from Murren to Schilthorn for an extra 5 CHF. They can be purchased online or at the ticket counter. If traveling mid-day, wait times can be 30-60 minutes or longer. Reserved boarding passes are highly recommended during peak times. NOTE: check for boarding pass info for Schilthorn
The Best Things to Do at Schilthorn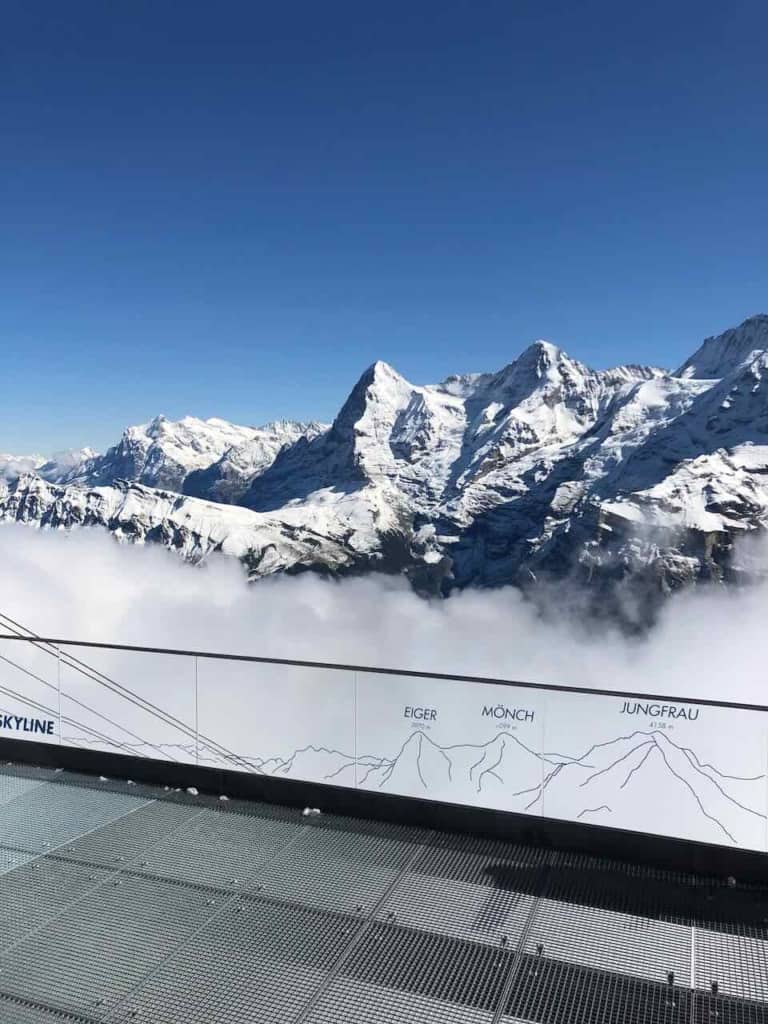 Skyline View Platform
You've come for the views and you will not be disappointed. The Eiger, Monch, and Jungfrau in all their splendor are waiting for you. You can easily spend quite a while gazing at the mountain peaks from all the different vantages.
007 Walk of Fame
Below the Skyline View Platform is the 007 Walk of Fame. The walk is a tribute to all the actors that starred in the movie.
Piz Gloria View
Another stunning viewing area of the snowcapped Swiss Alps.
Eat at the Piz Gloria Restaurant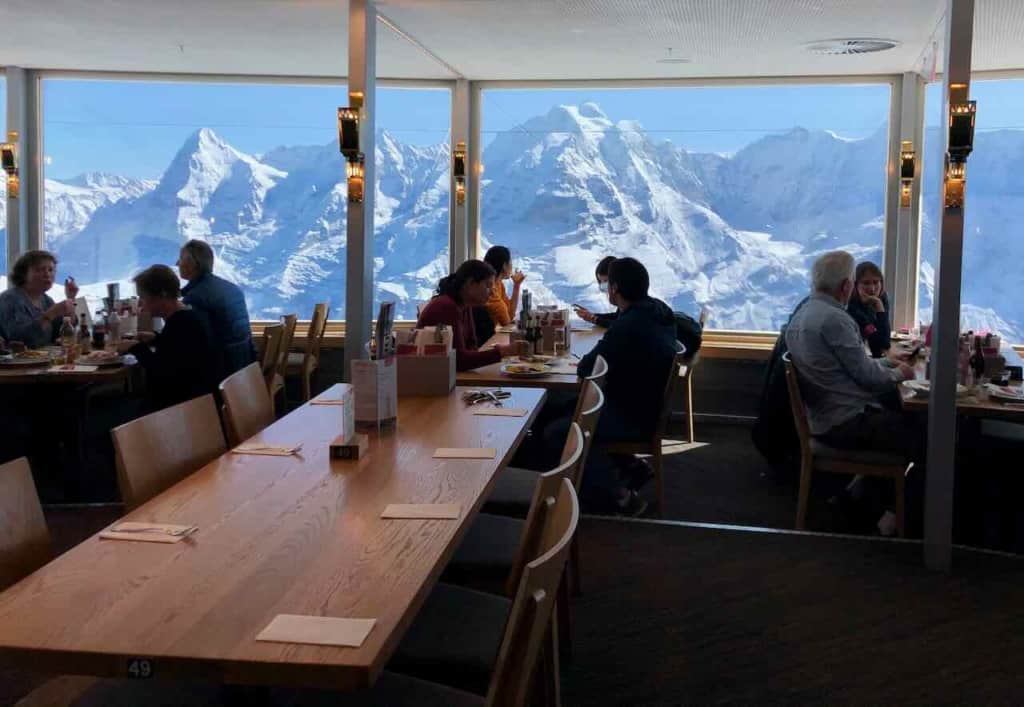 It is a 360-degree revolving restaurant that serves a James Bond brunch each day until 2 pm. Always check their website for updated information.
Other menu items are available for order. You can have a lunch or snack while gazing out the 360-degree windows as the restaurant rotates in a complete circle every 45 minutes. We weren't that hungry but decided to order some fries and hot chocolate. Good choice – yummy and it warmed us up a bit.
Bond World
Downstairs you'll find the Bond World dedicated to the movie. There you'll find movie memorabilia, posters, interactive displays, and other curiosities. Don't forget to visit the James Bond themed bathroom. Even if you don't have to go at least walk in and wash your hands. It's a clever design.
Bond Cinema
Here you can watch highlights from the James Bond movie.
How Much Time Does it Take to Explore Schilthorn?
Once you have arrived, plan for 2-3 hours especially if you intend to dine and want to take everything in.
Take the Cable Back to Birg and Explore
It's a quick cable ride back to Birg where there is adventure waiting.
Birg Thrill Walk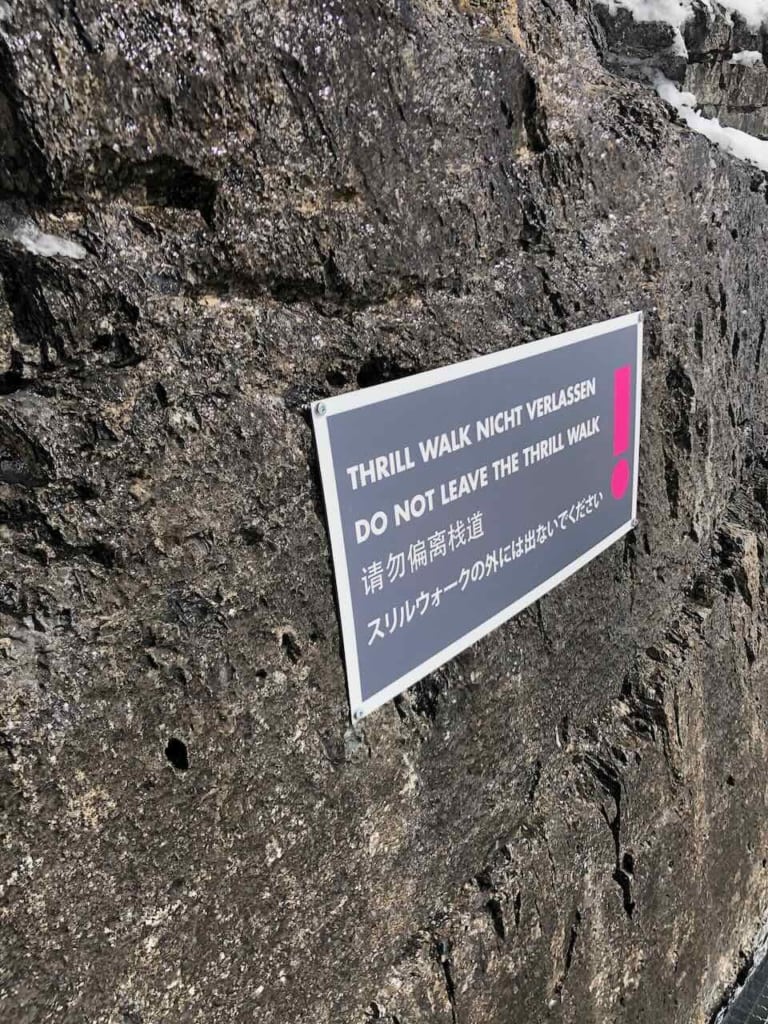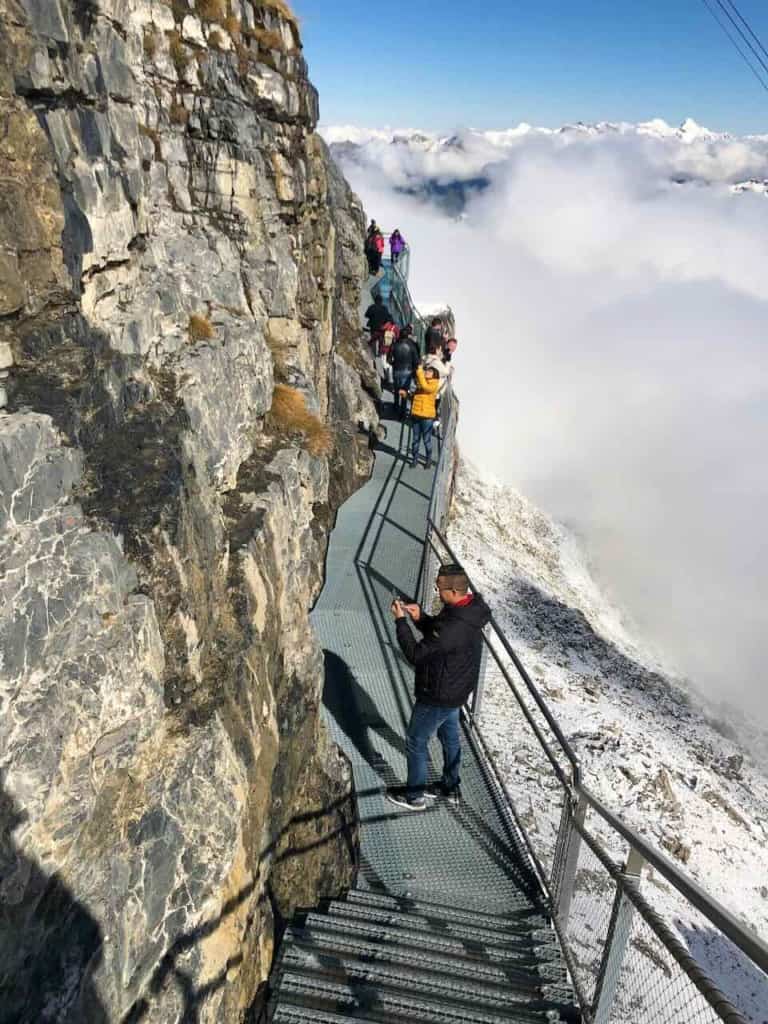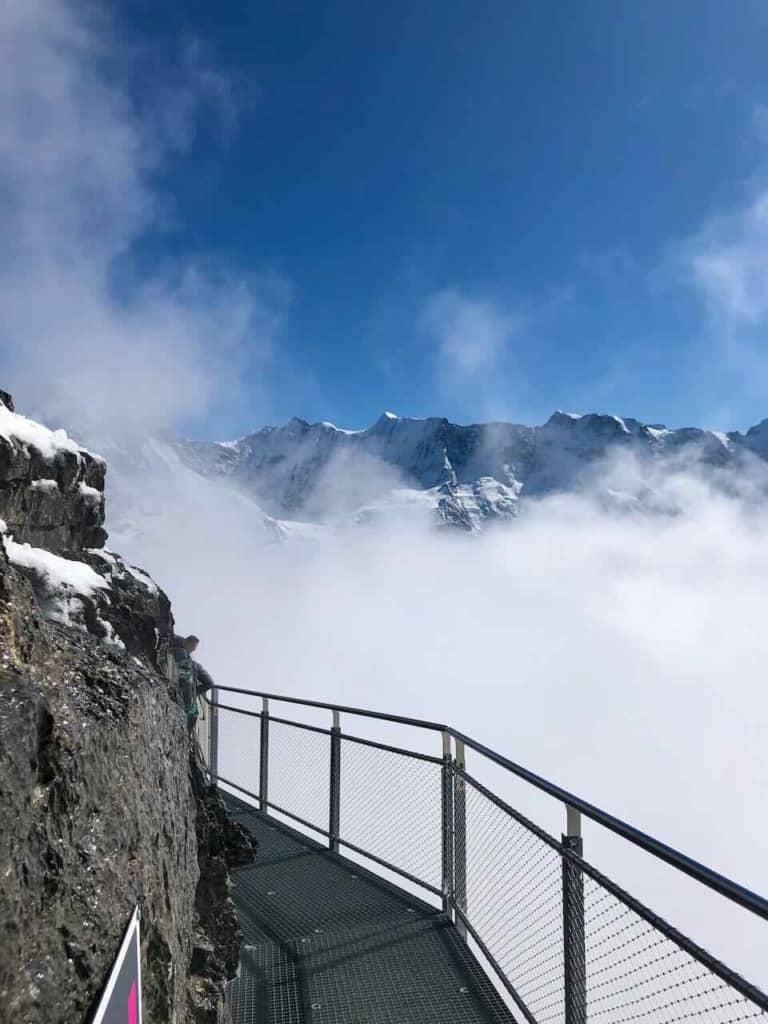 It's a 200-meter metal walking platform attached to the cliff's side. There are different thrills along the way including a metal cable tightrope walk, a crawl through a metal mesh tube, and a glass walking platform that stands over the abyss.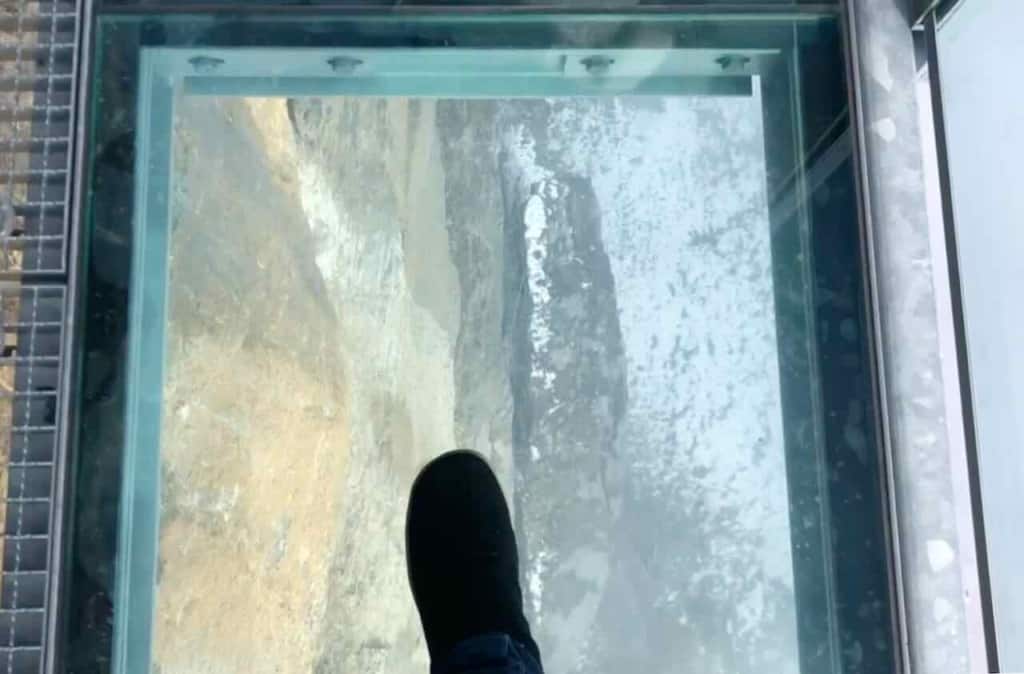 That is my foot walking on the glass. I don't particularly like heights (your walking on the side of a cliff) but this was fun to do!
Back to Murren and then Gimmelwald
Take the time to explore both Murren and Gimmelwald on your journey back into the Lauterbrunnen Valley. These are quintessential high Alpine Swiss Villages. If you didn't have lunch at Schilthorn there are lots of choices for food in both villages.
Or, stop at one of the Honesty Stores for a bit of cheese or other snacks. They're fun!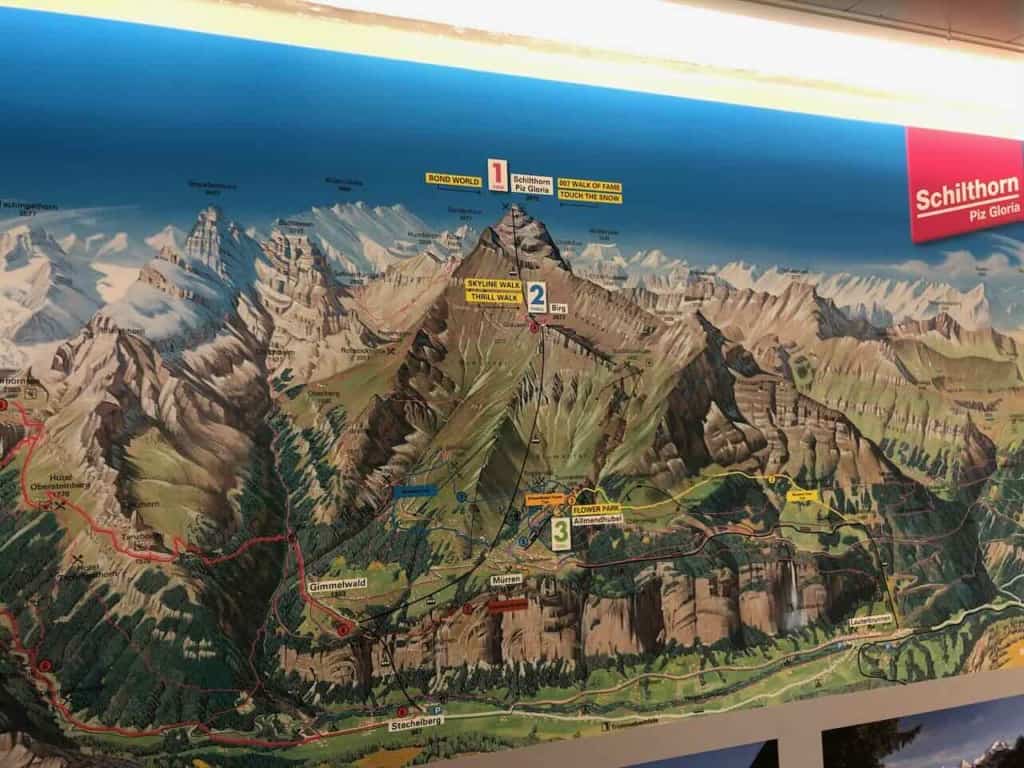 Cable Car Down to Stechelberg
Once you've finished your exploring, board the cable car in Gimmelwald and head back down to the valley floor. If possible, try to queue at the front of the line. As you board, head straight to the window on the downside of the cable car.
The views and ride are great! Take lots of pictures and don't forget video. The image above is a picture I took of a map showing the various villages, cable rides, and the top at Schilthorn. It shows how far we traveled from Stechelberg.
Trummelbach Falls
Either drive 1.8 miles to the Trummelbach Falls parking lot or board bus #141 at Stechelberg to the falls.
The falls are a rare natural wonder and a Unesco World Heritage site. You stand among the 10 subterranean falls as they cascade past you over 1,300 feet to the valley floor at 20,000 liters of water per second.
The falls are generally open from April to November from 9 am to 5 pm and July to August from 8:30 am to 6 pm. You'll need about 1.5 hours to view all the falls. See our post on "The How to for the Trummelbach Falls in Lauterbrunnen Switzerland".
Back to Lauterbrunnen or Your Homebase
Board city bus #141 at the falls and return to the train station in Lauterbrunnen. From the train station travel back to your point of origin or if staying in Lauterbrunnen, you're home!
Final Thoughts for The Best Things to Do at Schilthorn
This is a fun-filled and full day of amazing activities. Especially if you explore Birg, Murren, Gimmelwald, and Trummlebach Falls. You won't be disappointed. But don't rush. Ensure you take the time to see everything you want at each stop and if time permits, do more. This will be one of your most memorable days in Switzerland. It is a special with jaw-dropping scenery.
Pro Tips for Schilthorn Switzerland
Early Arrival at Schilthorn
Get to Schilthorn by 9 am. You will avoid crowds and have time to do the full itinerary.
Purchase Schilthorn Boarding Pass
The boarding pass guarantees a seat and time for your ride up to Schilthorn. If you intend to arrive at 9 am, you could probably bypass the reservation. But if you are traveling later in the day, definitely purchase the boarding pass for 5 CHF.
Wear Layers
It will be much colder at Schilthorn than on the valley floor. Check online for weather temperatures at Schilthorn. We wore winter jackets, warm sweaters, and beanies in early October. On our latest trip in September, my husband wore a t-shirt in Gimmelwald and Murren and a jacket in the higher elevations.
Footwear
Wear comfortable walking sneakers or shoes that have traction. There is a lot of walking, stairs, escalators, and walking in the snow. Things can be slick.
Weather
We were there on the off-season so we purchased tickets when we arrived in the Lauterbrunnen area. We checked the weather for the best day to go. Luckily for us, it was a fabulous day. Hopefully, there will be very little clouds for a more joyous experience. Grey clouds did come in for a few minutes but went away quickly.
MORE TIPS ON THE BEST THINGS TO DO IN SWITZERLAND:
IF YOU ARE PLANNING A TRIP TO SWITZERLAND, VISIT OUR TOP THINGS TO DO IN LAUTERBRUNNEN SWITZERLAND FOR MORE IDEAS.