This post may contain affiliate links that, at no additional cost to you, I may earn a small commission. Read our Disclosure Policy.
A great way to get to know an area is to book a guided bicycle tour. Our guided e-bike tour of Interlaken was no exception. We found Flying Wheels to be the best guided e-bike tour in Interlaken Switzerland.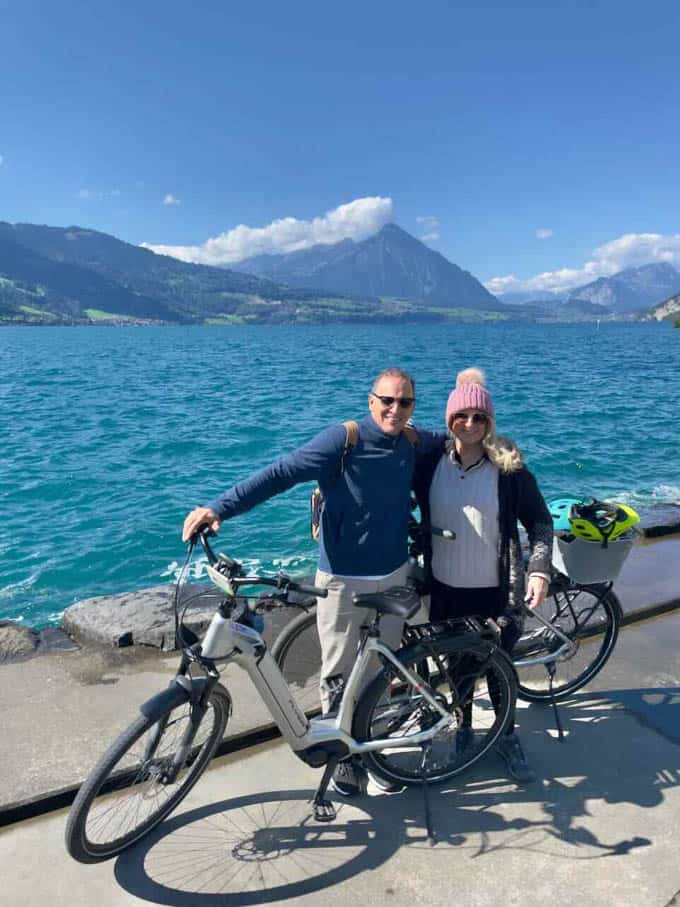 We have found the local tour guides to be very knowledgeable and informative about the local scene, customs, highlights, history, and especially food. It's always about the food, right? Often times the best things we see and experience on a bicycle tour lead us to new discoveries we had not anticipated.
Interlaken is the gateway to the Lauterbrunnen Valley. I share more details here on top things to do in Lauterbrunnen Switzerland. It lies between Lake Brienz and Lake Thurn in the Bernese Oberland and Jungfrau region of the Swiss Alps.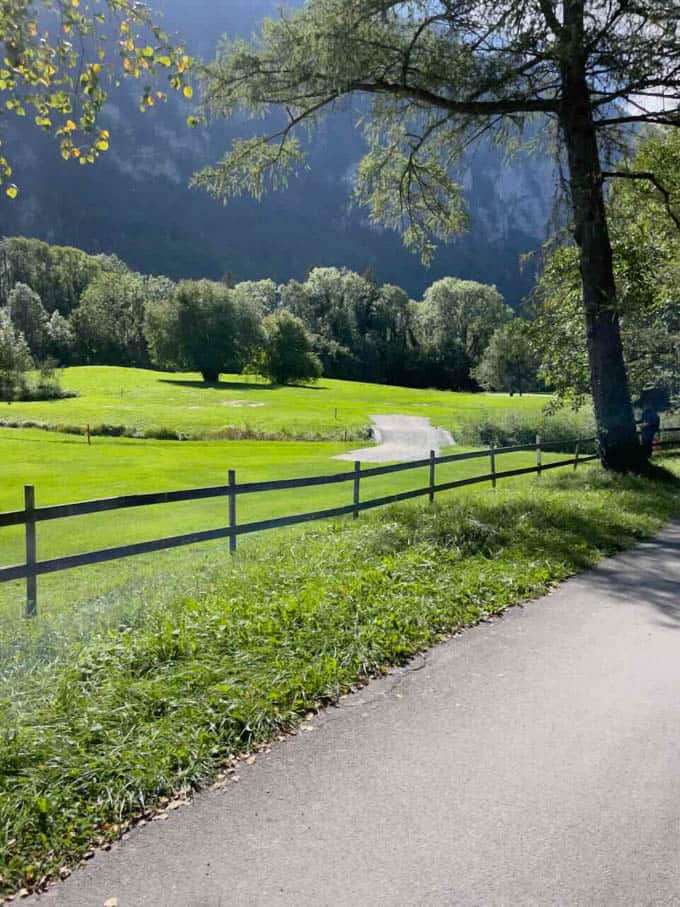 It's in a superb location to further explore the Lauterbrunnen Valley, mountain peaks, and all the natural beauty of Switzerland. It has more of a small-town vibe than the traditional alpine villages of Grindelwald, Lauterbrurren, Gimmelwald, and Murren. But it still has all the old-world charm found in its historic areas and is a great place to explore on bikes.
Sometimes we will do a guided bike tour and other times we rent bikes and head out on our own. It just depends. I'm really glad we did this e-bike tour in Interlaken Switzerland because trying to find all these side streets and pathways would have been very difficult. We also learn a lot when we have a bike tour guide.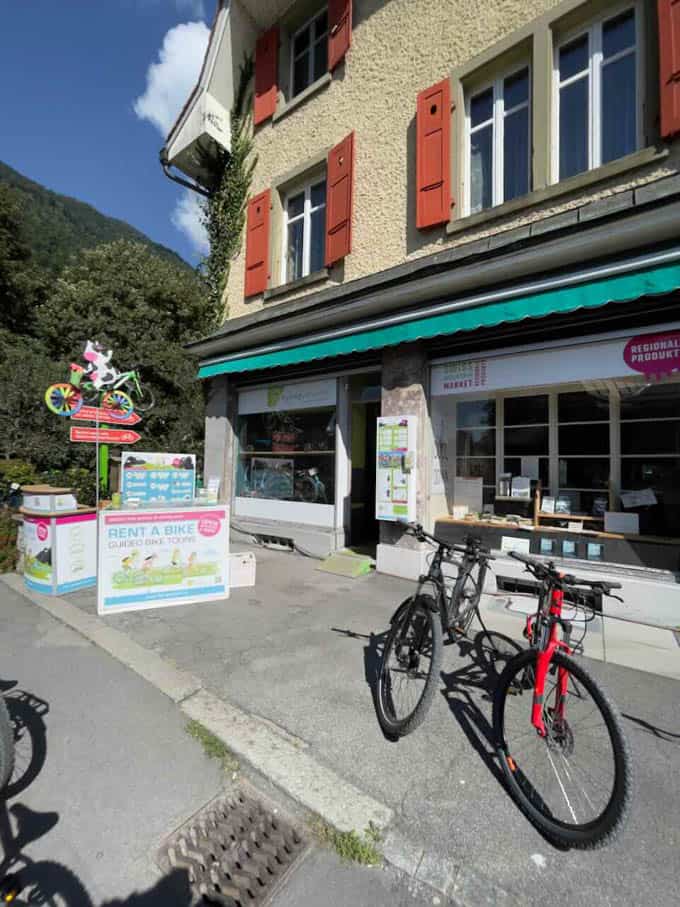 In Interlaken, we booked a 3-hour e-bike tour with Flying Wheels. We arrived via the train from Grindelwald with Interlaken OST train station as the closest stop to Flying Wheels. It's normally a short 5-minute walk to the shop but we detoured to look at some of the shops along the way.
We joined the rest of our group of eight as we were fitted for bikes. The bikes were high quality, well maintained, easy to operate, and comfortable. We were very pleased with the bikes. Baskets could be added to the bikes to carry jackets, water bottles, or other necessities at no extra cost. After introductions, we headed out with our guide, George.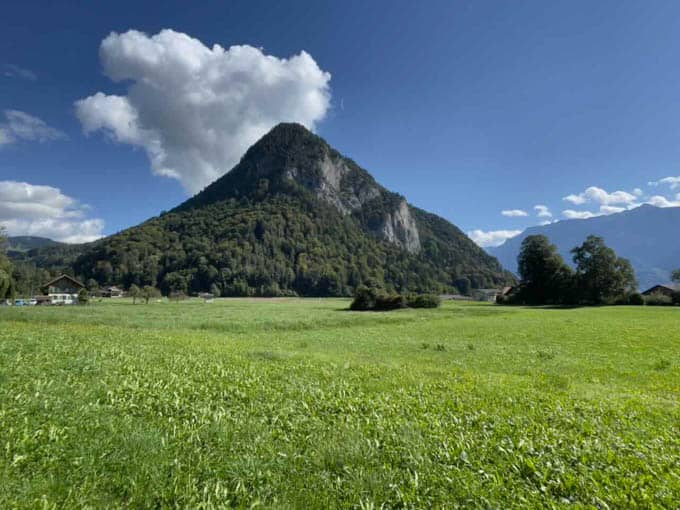 George was super! He was friendly, personable, and knowledgeable about Interlaken's past and present. He took great care of the group's safety. He was always very aware of the traffic conditions and the progress of each rider. Much of the route is along bike paths, trails, and scenic river paths. We felt very safe the entire route. In all, we traveled about 10 miles throughout the Interlaken area.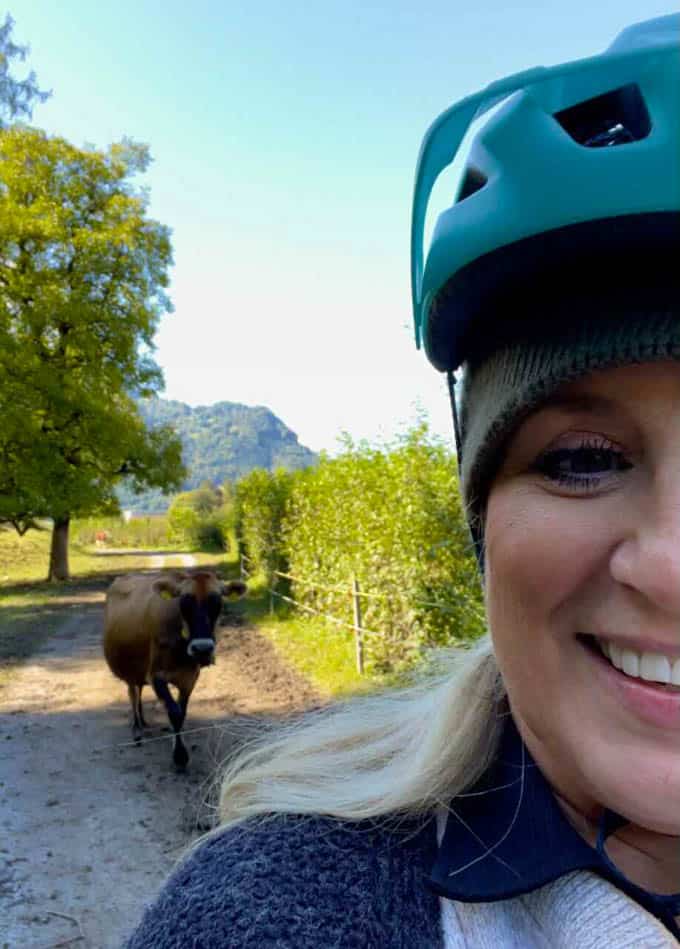 There were many highlights along the route. An unforgettable experience was navigating through a cow pasture that was full of cows wearing their cowbell necklaces. I could reach out and touch the cows as I passed them. Lots of fun.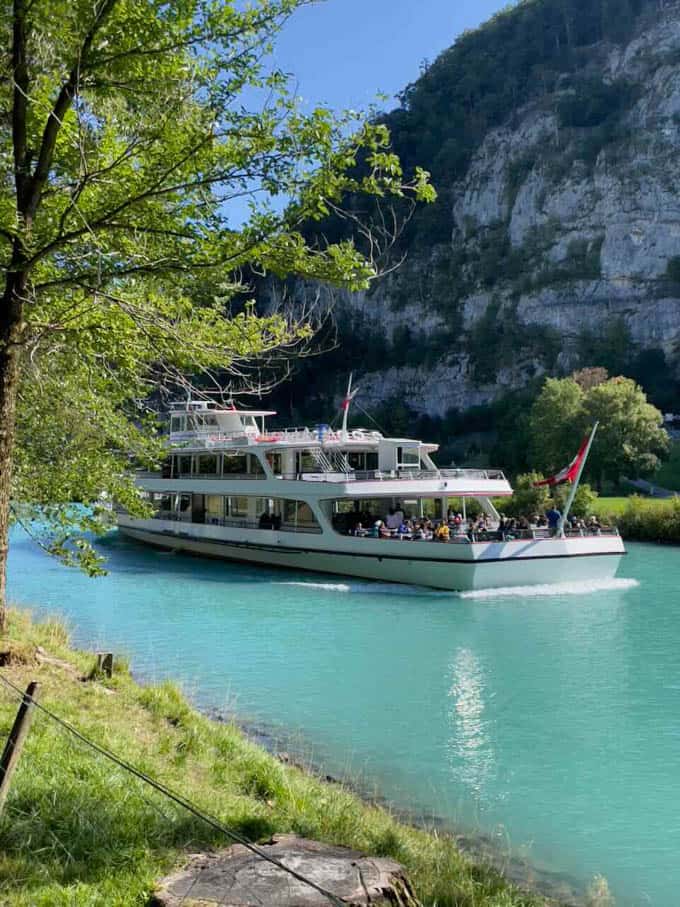 One of the most scenic was riding on the path along the turquoise-blue River Aare. The path meandered under a tree canopy as boats navigated the river along the alpine countryside, It was definitely one of the highlights of this tour.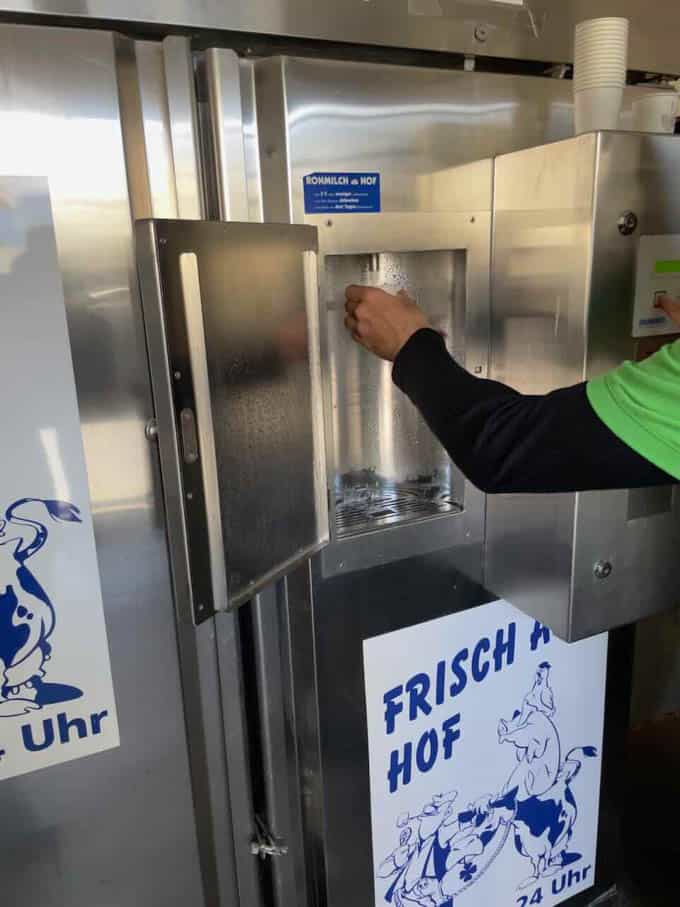 A unique experience was our visit to a local farm. We toured a traditional farm in the city that provides the neighborhood with food staples. We sampled fresh milk at a vending machine and watched as patrons collected their fresh milk and cheese and left their money on an honor system.
We made stops at the deep blue Lake Thun and Turquoise Lake Brienz shorelines for a very nice photo op. At another lakeside stop, we indulged in yummy ice cream from a kiosk.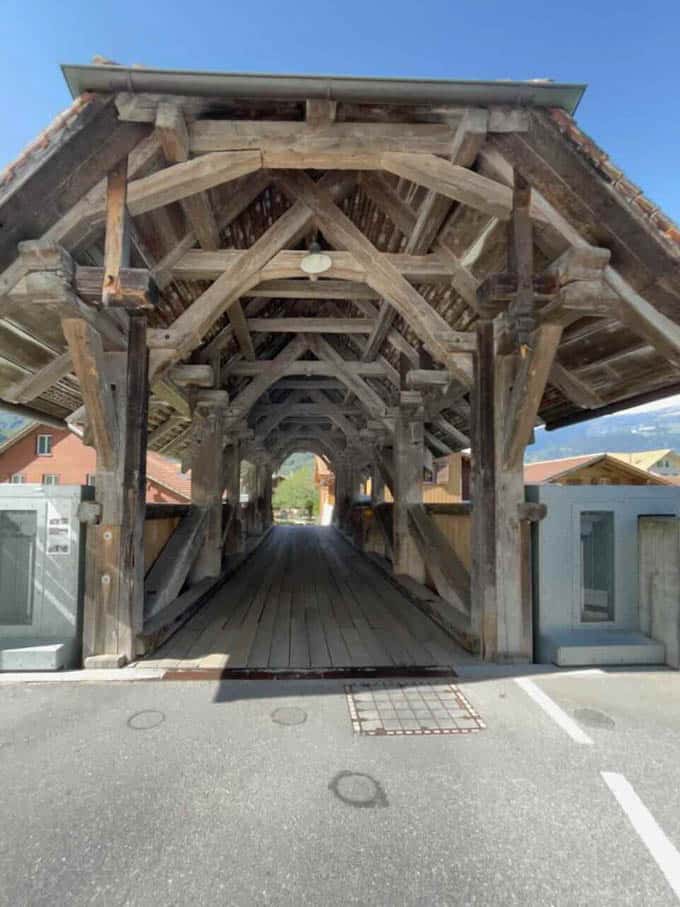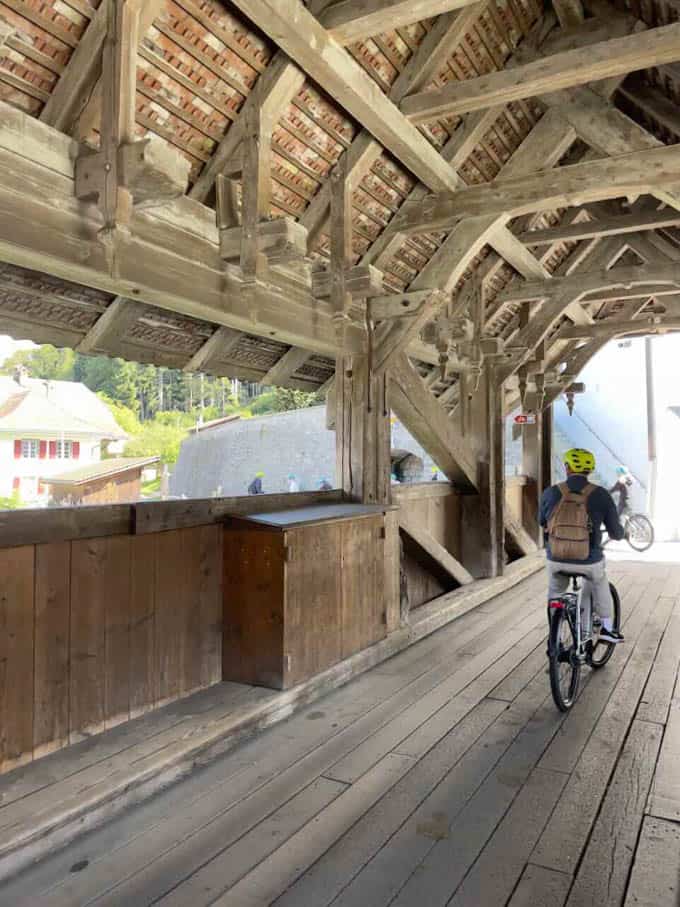 Our exploration took us to the beautiful village of Unterseen where we learned insights of the village's historic center and rich history. During our trip, we rode across the old wooden bridge Gsteigbrücke (a lift bridge when needed for heavy floods) that spans a river in Wilderswil. Another photo opportunity along the bike route.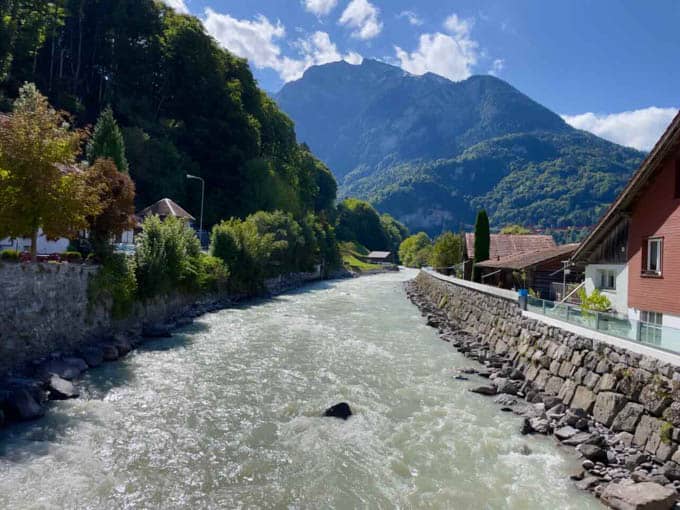 We saw many beautiful landscapes and learned so much more about Interlaken on this excursion. Many of the things we saw and did would have passed us by had we not taken the tour. We would not have known what we missed.
We love bike tours or riding bikes on our own as bike riding is one of our go-to activities when we visit a new area. The cost for the 3-hour e-bike tour was $129 CHF each. Our guided electric bike tour of Interlaken was the best and the perfect place to start our day and we highly recommend it!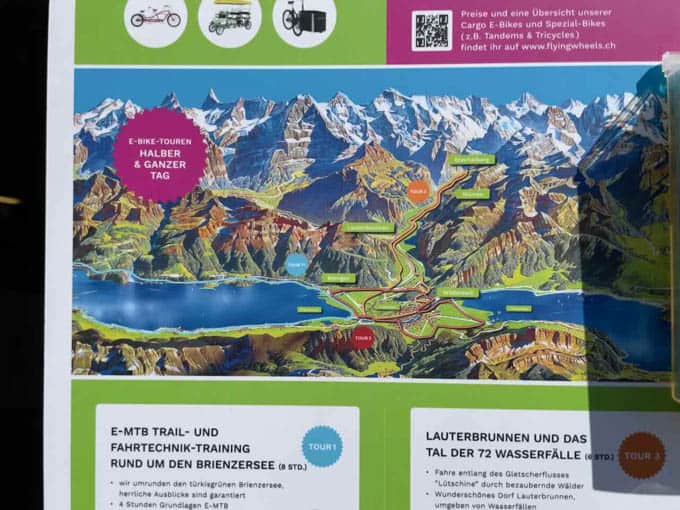 Flying Wheels also offers hourly and multi-day rentals for your personal bike rides. The image above shows some of their different routes. Their selection includes a variety of different types of bikes to rent from e-bikes to comfort cruisers and a full-suspension mountain bike. Their prices range for bike rentals and bike tours are reasonably priced.
I hope you enjoyed reading about the best guided e-bike tour in Interlaken Switzerland. We sure enjoyed the bike ride and would do it again in a heartbeat!
I have many posts to write about our time in Switzerland. Here are a few posts I've shared so far.
MORE TIPS ON THE BEST THINGS TO DO IN SWITZERLAND:
IF YOU ARE PLANNING A TRIP TO SWITZERLAND, VISIT OUR TOP THINGS TO DO IN LAUTERBRUNNEN SWITZERLAND FOR MORE IDEAS.