This post may contain affiliate links that, at no additional cost to you, I may earn a small commission. Read our Disclosure Policy.
Lucerne with its background of snow-capped mountains and its fairytale-like turrets and covered wooden bridges is considered Switzerland's most elegant, and prettiest city that offers a variety of things to do. We truly enjoyed this beautiful area and the many options for day trips from Lucerne.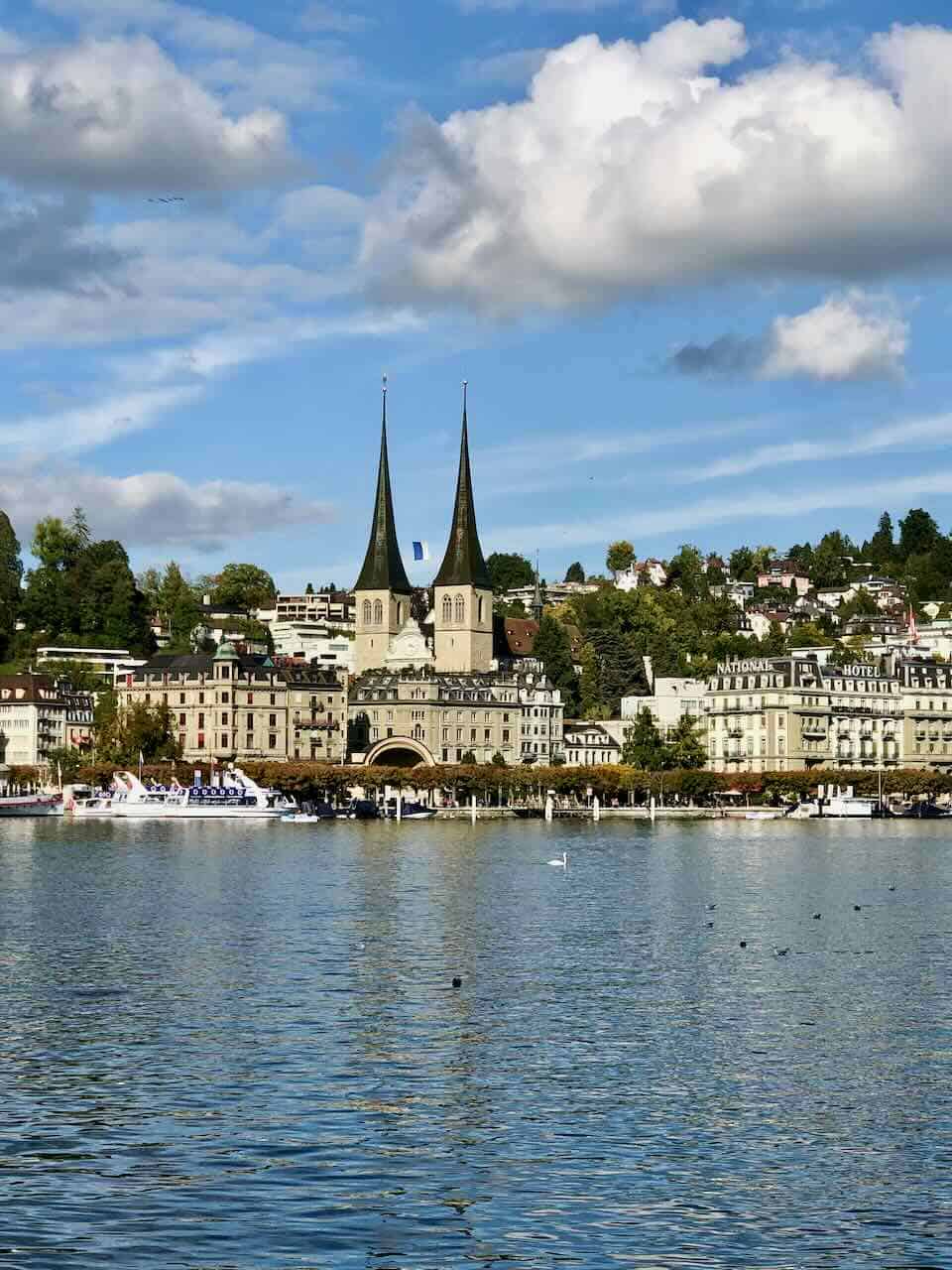 Is Lucerne Worth Visiting?
The beautiful city of Lucerne offers not only its own charming attractions, and spectacular views but also serves as a gateway to some of the most breathtaking natural wonders Switzerland has to offer. We loved our visit to Lucerne!
With its central location, excellent public transport connections, and a myriad of options for day trips, Lucerne is a haven for travelers seeking to explore the beauty of the Swiss Alps and its surrounding areas.
Whether you're a nature enthusiast, adventure seeker, or history buff, Lucerne's day trips cater to all preferences. The Swiss Travel Pass is an excellent option for seamless travel, providing access to various modes of transportation and attractions.
While the summer months offer pleasant weather for outdoor activities, the winter months create a snowy wonderland for skiing and snowboarding enthusiasts. We were in Lucerne in the fall and it was fabulous weather! And yes, Lucerne is very much worth visiting!
Lucerne downtown
Best Lucerne Day Trips And Beautiful Places You Have To Visit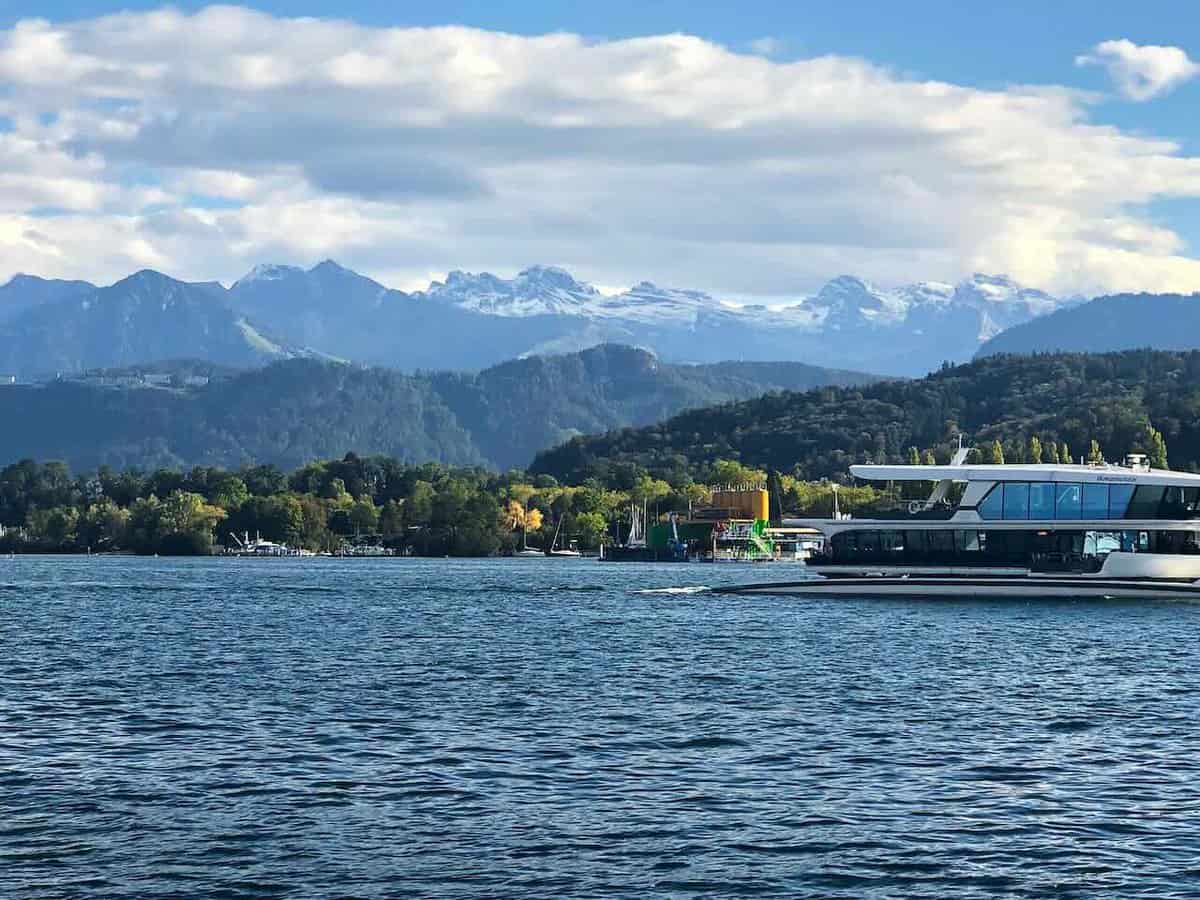 Lucerne Lake and Mountain views
Lake Lucerne's Nearby Mountains
A trip to the mountains can make all things better, especially Lucerne's Mount Pilatus (the unmissable trip). Climb slowly to the summit on the world's steepest cogwheel railway through meadows dotted with trees. You will gasp at the panorama of Lucerne laid out before! Make sure to listen to the cowbells from cows that provide exquisite milk for Swiss chocolate.
Lucerne Lake and Mountain views
Boat Trips On Lake Lucerne
For a taste of romance take a lake cruise to any of the beautiful, sparkling little towns that surround the lake, Viznau or Weggis.
When I go back to Switzerland I would love to stay in Visnau at Hotel Vitznauerhof. It's a charming Swiss hotel sitting on the lakefront. A boat tour sailing around these village towns is superb.
Once on land, stop off and ride the steep cog-wheel rails or take a cable car up to the summits of the nearby mountains. Rigi, Stanserhorn, and Lucerne's own Mount Pilatus mountains are the favorites or travel on (still via ferry) to the acclaimed Alpine resort of Engelberg and the breathtaking icebound Titlis summit nearby. From Lucerne, it takes about an hour by train to Engelberg.
Mount Pilatus
If you're seeking an adrenaline rush, a day tour to Mount Pilatus won't disappoint. A boat ride across Lake Lucerne to Alpnachstad is followed by a ride on the steepest cogwheel train in the world.
Picture inside the Cogwheel
Starting in Lucerne we boarded the boat in downtown and arrived in Alpnachstad about an hour later. As you arrive in Alpnachstad, you'll see the Pilatus Railway. This cogwheel railway will take you up to Mount Pilatus, one of Switzerland's most famous mountain peaks.
Hotel and observation deck at Mt. Pilatus
Once you arrive in Mt Pilatus there is a hotel, observation deck, restaurant, and activities such as hiking. We spent over an hour at the top enjoying the views, the observation deck, and watching (and listening) the Swiss Alpine horns being played.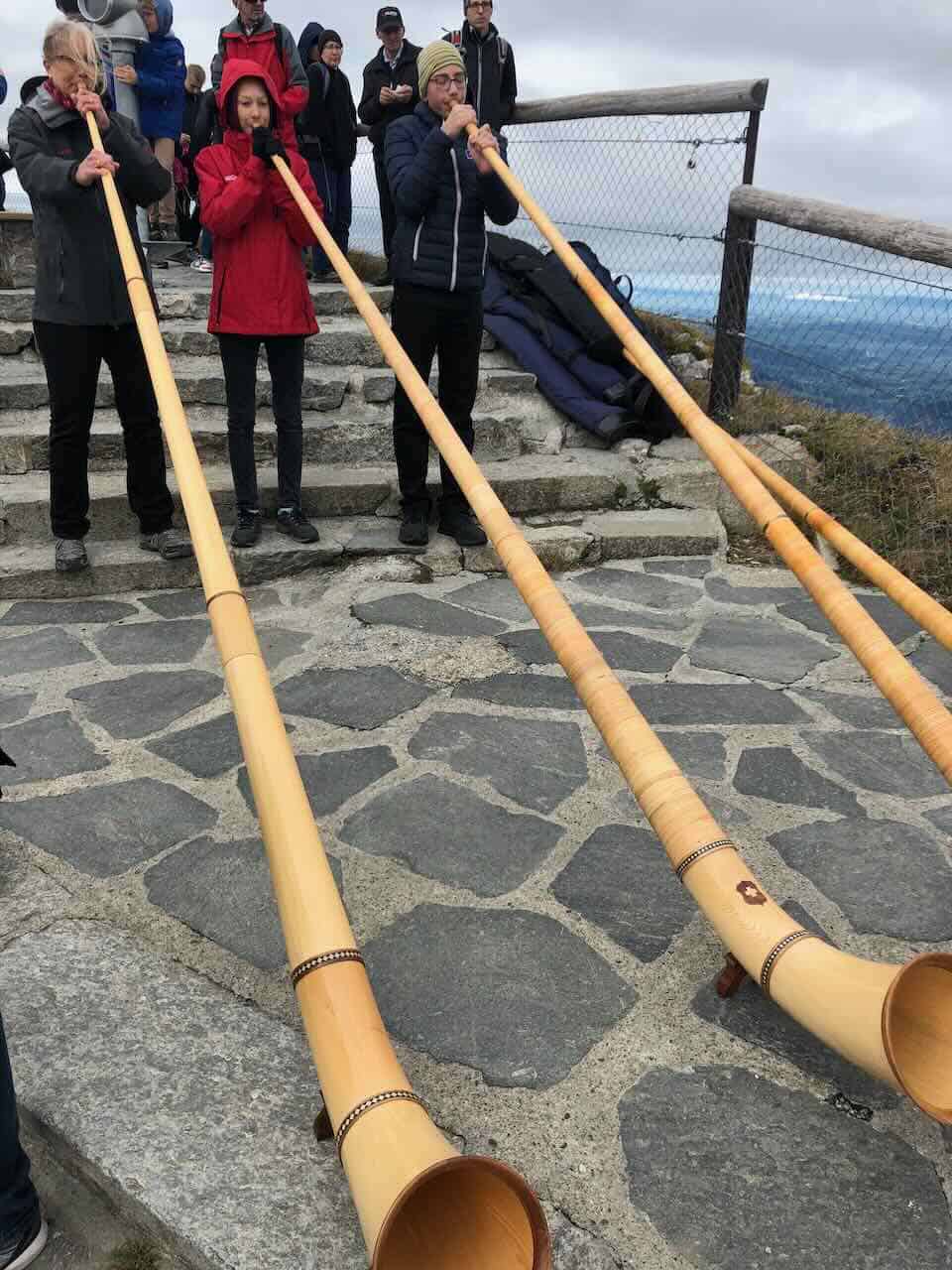 A highlight standing at the top of the Swiss Alps enjoying the views and listening to and watching the Alpine horns playing! This was a highlight on our day trips from Lucerne.
Mt. Pilatus
Frakmuntegg
Once finished at Mt. Pilatus, we headed back down the mountain and made stops along the way on the cable car. Full of adventure and fun the next stop in the cable car is Frakmuntegg. There is a toboggan run, a rope park, hikes, the dragon swing, and more.
You can even spend the night in a tree tent at Frakmuntegg! It's a floating "Tree Tent" (tents are off the ground and spanned between trees). In the tent, there is space for two or three people. For more information on the Switzerland Tree Tent and the grill buffet dinner and breakfast.
Photo of toboggan ride
I have a thing for speed and the toboggan run did not disappoint with a 4,429-foot-long curved steel channel slide. You sit on a wheeled sled that has a brake and handles to easily control the sled.
The picture above shows part of the toboggan slide with my hubby riding backwards. When you arrive at the bottom of the slide on the wheeled-sled, there is a machine that pulls you back up to the top. So you don't have to walk back up. Brilliant!
It felt completely safe and was an enjoyable ride. There are lockers near the toboggan ride so you can keep your valuables in there while on the ride. Check out the video below to see more of Mt. Pilatus, the views from the cable car, and the toboggan ride.
We got back on the cable car to get down the mountain, once off in Kriens we had a 5-minute walk to the bus which is public transportation and it took about 10 minutes to get back to Luzern/Lucerne. The bus comes by often.
The trip can easily be done in the opposite direction getting on the bus at Kriens and ending with the lake cruise. The panoramic gondola cableway flies over the roofs of Kriens and soon you'll be viewing nature and the recreational areas on the mountain. We had the best time on the journey there and back and all the things to do in between.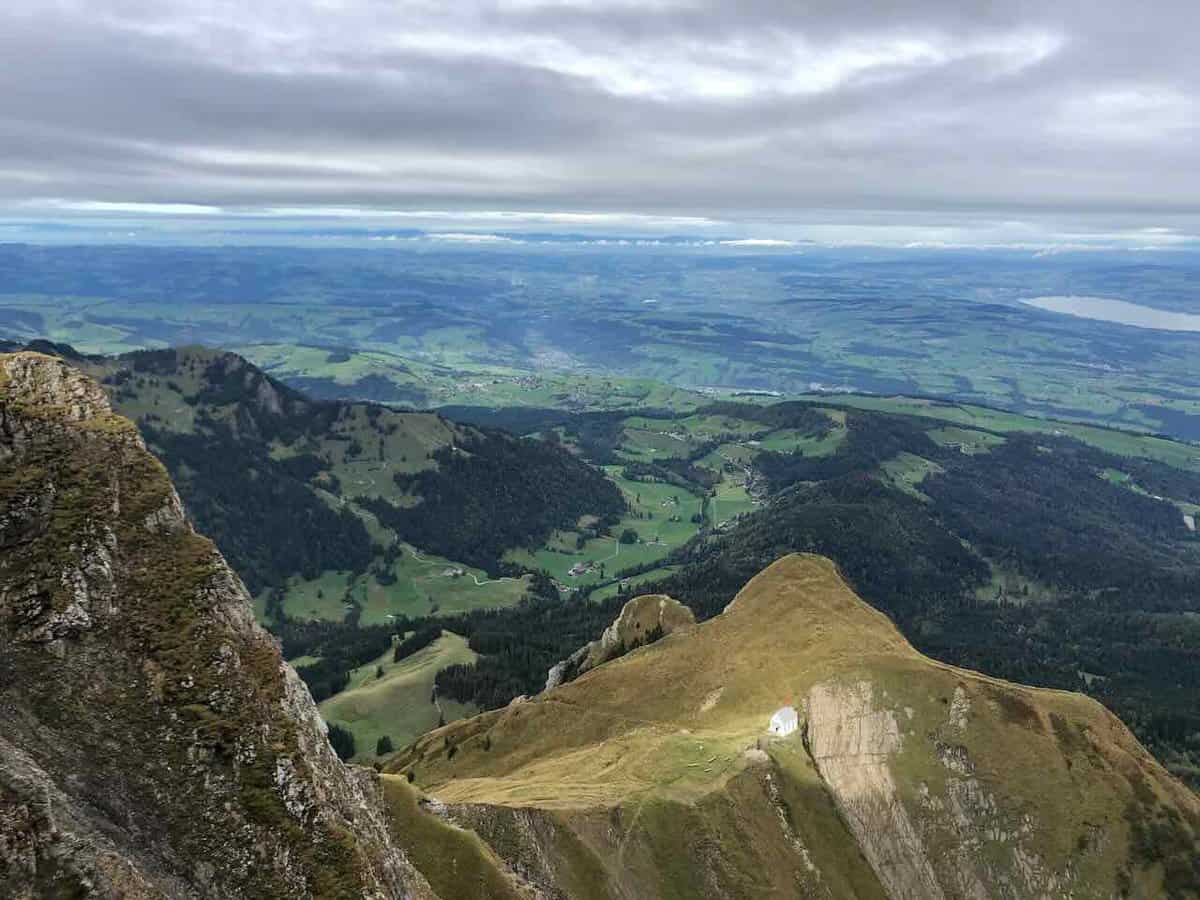 The views from Pilatus are nothing short of spectacular, and in winter, it transforms into a wonderland for snow sports enthusiasts. We rode the steepest cogwheel in the world and let me tell you it is steep! But surprisingly it didn't feel scary.
The journey to Mt. Pilates is a thrilling adventure that involves a loop of transportation. As you can see, we traveled by boat, cogwheel, cableway, and bus for the Mount Pilates Golden Round trip. Check for available dates and pricing of the Golden Round trip.
In my opinion, the Golden Round trip is the best way to get to Mt. Pilates from Lucerne. In the image below check the various regions of the trip all with Swiss spelling. I prefer our journey starting with the boat in Lucerne and leaving Kriens to get back to Lucerne. Mount Pilatus is a fabulous day trips from Lucerne.
Mount Titlis
Looking for the ideal destination for alpine adventures and outdoor sports? Look no further than Engelberg with a visit to Mt Titlis!
This breathtaking locale offers unparalleled mountain experiences that are sure to leave you feeling exhilarated and fulfilled. Whether you're seeking the ultimate outdoor challenge – hiking, biking, and climbing or simply looking for a moment of pretty views.
The Alpine Cheese Trail (Alpkäse Trail) leads past seven alpine cheese dairies where you can see alpine farmers making cheese. These dairy farms can be hiked to or ride e-bikes. Engelberg is the place to be.
The journey begins with a scenic train ride followed by a thrilling cogwheel train ascent to Engelberg. From there, a rotating cable car, the world's first of its kind, takes you to the summit.
At over 3,000 meters above sea level, you'll be treated to a panoramic view of surrounding peaks. The Ice Flyer chairlift and Glacier Cave (150-meter-long cave walkway under a glacier) are added delights for adventure enthusiasts.
Mount Rigi
For a more leisurely exploration, Mount Rigi is an ideal choice. To get to Mt Rigi from Lucerne, there are three primary options: taking the cogwheel railway, a cable car, or a combination of a boat and a cable car.
The views at the top make this a day trip that is very popular. Whether in winter or summer, the views from Mt Rigi are awe-inspiring. The summit offers a 360-degree panorama of the Swiss Alps, while the various walking trails allow you to immerse yourself in the region's scenic beauty.
Bernese Oberland Region
Venturing a bit further, the Bernese Oberland is a popular destination reachable in 1 hour from Lucerne by car or two hours by train. A highlight for us was a bike tour in Interlaken. Iconic places like Kleine Scheidegg and Jungfraujoch, known as the "Top of Europe," offer incredible views and attractions.
Although those places do take more than an hour to get to from Lucerne. Once you get to Interlaken trains and gondolas take you to these heights, passing through quaint villages and picturesque landscapes.
Harder Kulm
Lake Brienz
For a more relaxed day trip, explore the serene beauty of Lake Brienz (and Lake Thun). A train ride from Lucerne to Interlaken takes you to these lakeside paradises, where you can enjoy boat tours, charming towns, and even a stroll on the famous suspension bridge at Lake Brienz.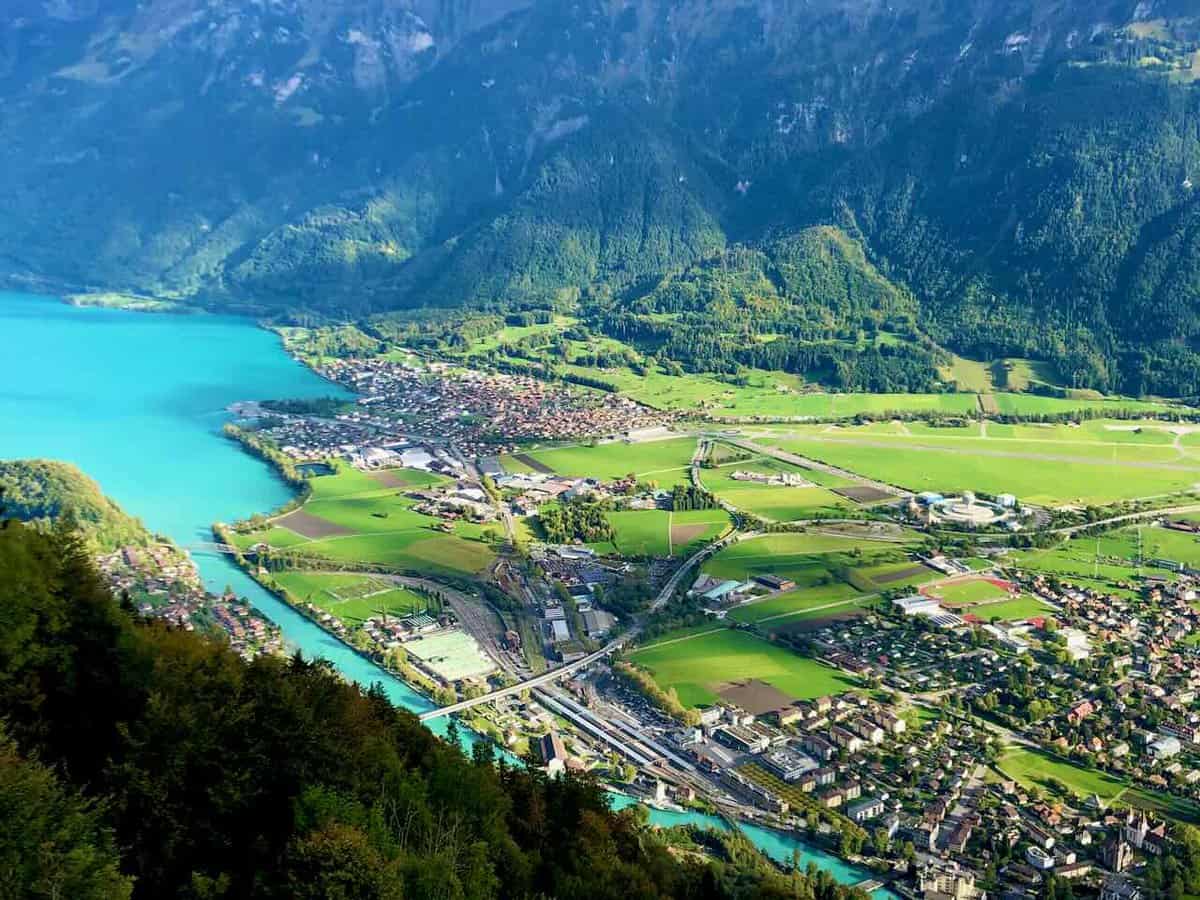 The teal-colored lakes can be viewed at the summit of Harder Kulm. It is almost 3 miles to hike to Harder Kulm (from Interlaken) or you can take the 10-minute ride on the funicular getting on it at Interlaken.
Lauterbrunnen Valley
Lauterbrunnen is 1 1/2 hours from Lucerne by car and is located in the Bernese Oberland region. You can also take the train, but it is a bit longer ride. If you haven't been to Lauterbrunnen, it's a must on the list. It's one of our favorite areas of the world and a perfect day trips from Lucerne.
Stream in Lauterbrunnen Valley
I would honestly make this more of a day trip if you can and at least spend 1-2 nights in the Lauterbrunnen area or Grindelwald. I have several blog posts written on the Lauterbrunnen Valley. One of our most magical bike rides ever was riding from Lauterbrunnen to Murren.
Picture taken from the train in Lauterbrunnen Valley
Schilthorn
At 9,744 feet, the Schilthorn stands tall as one of the highest peaks in the Bernese Alps. From its summit, visitors can enjoy breathtaking views of the Monch, Eiger, and Jungfrau mountains.
For those seeking adventure, the journey to Schilthorn is just as enjoyable as the destination itself. In my opinion, the highlight of Schilthorn is the combination of awe-inspiring views and the journey to get there.
It takes about 50 minutes to get to the top of Schilthorn (train and cable car) from Lauterbrunnen. You can do this for a day trip by leaving Lucerne early in the morning. However, I would definitely recommend staying at least 1-2 nights in the Lauterbrunnen/Grindelwald area since there is so much to do. The best things to do at Schilthorn.
Zurich
Only 35 miles from Lucerne, Zurich is a large city on the lake. Visiting the old town (Altstadt) was a highlight of our time spent in Zurich. To be quite honest Zurich was our least favorite city in Switzerland. It's a big city with beautiful lake views but we appreciated the Alps and smaller towns and villages more. It is an easy day trip from Lucerne. I definitely would use my base in Lucerne and not in Zurich.
Lake Zurich downtown (Altstadt)
The are many museums and art galleries in Zurich. The Bahnhofstrasse features a variety of haute-couture shopping. Be prepared to drop some serious cash in those stores!
What To Do In Lucerne
Lucerne is not only one of Switzerland's most beautiful cities but also serves as a perfect starting point for exploring the enchanting Swiss Alps and its surrounding areas. As you can see, there are plenty of day trips From Lucerne.
With its well-connected train station, a plethora of guided tours, and a multitude of attractions, Lucerne promises a memorable and fulfilling day-trip experience.
So pack your bags, hop on a boat, train, or cable car, and embark on an unforgettable journey through the scenic wonders of central Switzerland.
Medieval winding streets, cobbled squares, and liberally frescoed ancient buildings blend in with the modern buildings of which the inhabitants are so proud.
Chapel Bridge in Lucerne at night
A manageable and walkable city, Lucerne is the perfect base for short excursions to the mountains and towns around the lake.
Chapel Bridge and Old Town Lucerne
Lucerne has enough quality restaurants to please the most discerning, seriously good shops for retail therapy, and museums and historical buildings
Traveling around is made easy, with combined tickets for the lake and railway. The lake is a method of travel highly recommended, linking the towns around the lake with paddle steamers that dodge the white swans for which Lucerne is famous!
Tickets can be purchased giving you the choice of lake steamer one way, mountain railway in between, then back with Swiss Rail or bus.
THE BEST THINGS TO DO IN SWITZERLAND: