This post may contain affiliate links that, at no additional cost to you, I may earn a small commission. Read our Disclosure Policy.
So have you ever stayed at a hotel just to swim in their pool? Well, I can honestly say that we stayed at Marina Bay Sands solely for the purpose of swimming in their infinity pool. And it was L.O.V.E.L.Y! True story! But of course, we spent much time doing as much as possible while we stayed here. This hotel is a destination, luxury 5-star hotel.
My very first time in Singapore was in January and we absolutely loved it.
It all started with watching a Netflix documentary on awesome hotels. Marina Bay Sands was one of the hotels shared on the documentary and the details about the hotel made me want to visit.
It looked intriguing and such an amazing place.
While watching the documentary, I looked up some airfare to Singapore and said to my hubby, "looks like we're going to Singapore and by the way, since we are so close to Thailand we'll go there too! : )
He is such a good sport.
The image below is the Marina Bay Sands resort at night taken from across the harbor.
The MBS infinity pool is world famous. January was a lovely time to visit with warm water a couple of short rain showers but mostly sunny and warm.
Marina Bay Sands in Singapore is a beautiful and AMAZING hotel.
The MBS is iconic and part of the beauty of the Singapore skyline. We stayed there for 2 nights and at another boutique hotel near Chinatown in Singapore the other 3 nights.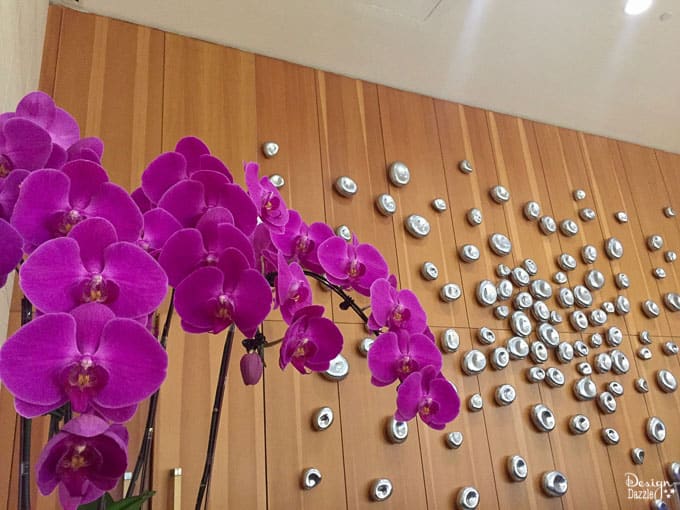 I'm rather cheap when it comes to staying in a hotel. Because typically we are out and about visiting all the sites of the place we are visiting.
So not too much time is spent in the hotel typically.
BUT, the MBS was different this was a destination hotel with amazing restaurants, impressive architecture and the most amazing world-famous infinity pool and a mall called, The Shoppes at Marina Bay Sands.
MBS was in the $500-$700 range per night. So it definitely wasn't cheap and not a price we typically pay when staying in hotels.
This was the most I've ever spent on a stay at a hotel. But it was so worth it! With tax it cost about $1400 for the two nights we stayed.
We stayed in Grand King room (at the time of this writing), the extra cost is well well worth it. Our room included access to Club55 which is a lounge. Club55 includes breakfast, afternoon tea, and evening canapes. It worked out great for us. The food was fine – not excellent but not bad. Since we upgraded to a club room the food was free. The staff was very professional and kind.
As of this writing, during the day (6.30am – 7pm), Club55 is an exclusive lounge for Club Room, Grand Club Room and Suite guests, serving complimentary breakfast, afternoon tea, and evening beverages and canapés.
Because we stayed in a Grand King room we were able to check-in at the Sands Lounge.
On arrival there was a huge queue for the reception check-in desks. Not for the upgraded room, we checked in at the Sands lounge and were able to by-pass the check-in registration desk and long line and went into a private lounge for check-in.
The private lounge for check-in is upscale and chic and we sat down in comfy chairs and was greeted by a very kind registration clerk who helped get us all check-in and knowledgeable about some of the details of the hotel. Tea and coffee were offered in a little station area iside the Sands Lounge.
We got to hang out at MBS for 3 days (2 nights). We arrived as soon as we could and checked our luggage in. We walked around while we waited for our room to be ready.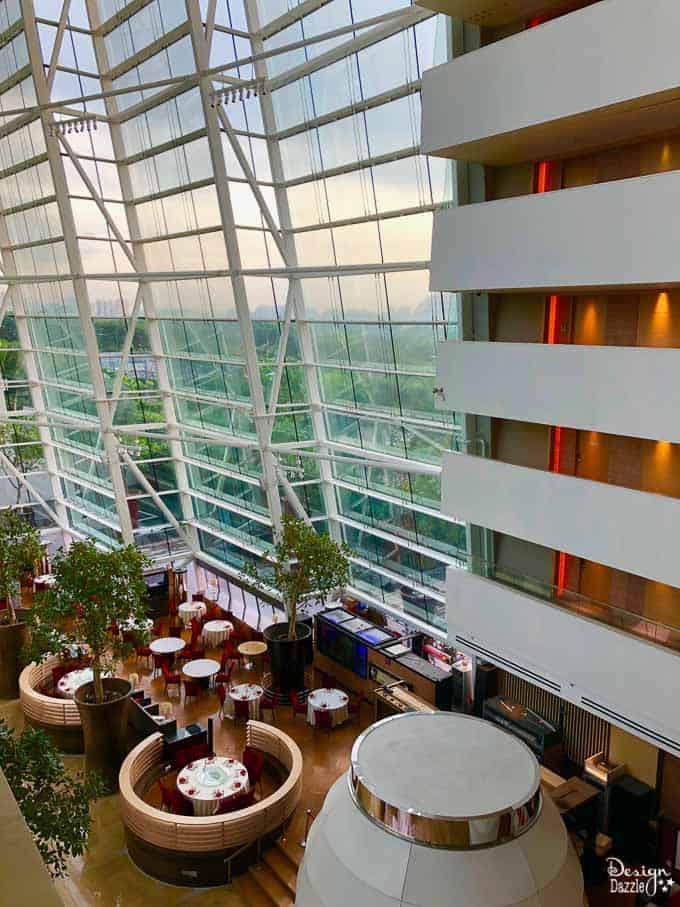 The room below is a garden room and overlooks the gardens and the ocean. We did not stay in this room.
I was able to take a photo when housekeeping was cleaning. The positive thing about this room is you have a balcony.
The city/harbor view has no patio but floor-to-ceiling windows.
MBS offers many room options with views of the skyline and harbor or the gardens and ocean.
The Deluxe Room or Premier Room are good for a typical night for a couple.
The Family Room has more ample space to spread out if you are traveling with a family or small group.
We stayed on the side that overlooked the city skyline and harbor. The image below was taken from our hotel room at night.
I prefered the city view. It is more of a personal decision.
Seating sculpture near the registration desk at the front entry.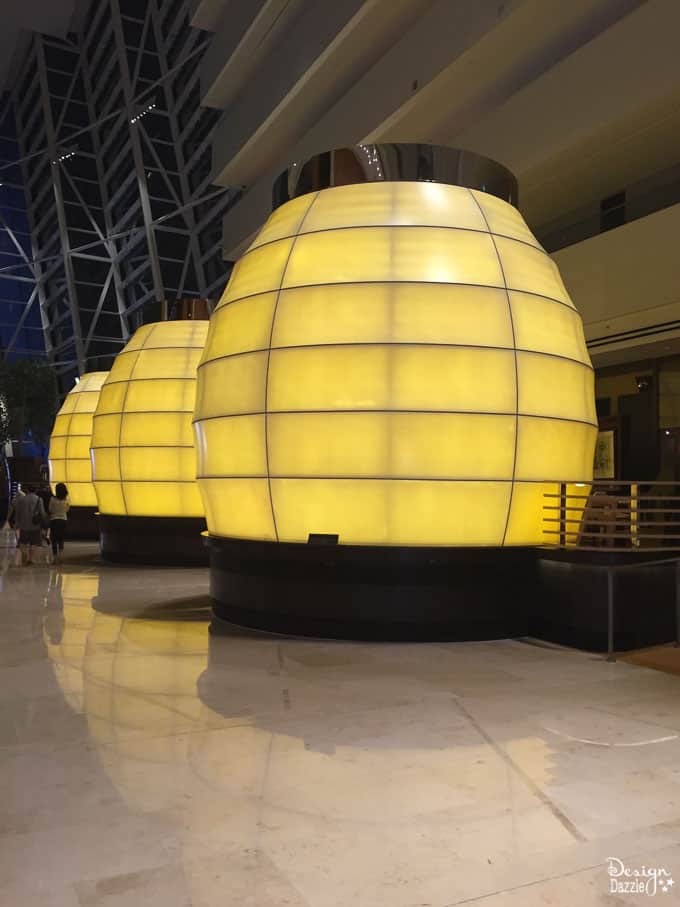 At MBS, there are three separate towers that are below the "deck" (called the Skypark) and are connected on top by the massive Skypark.
Each of the three towers are 58 stories high with a total of 2561 hotel rooms.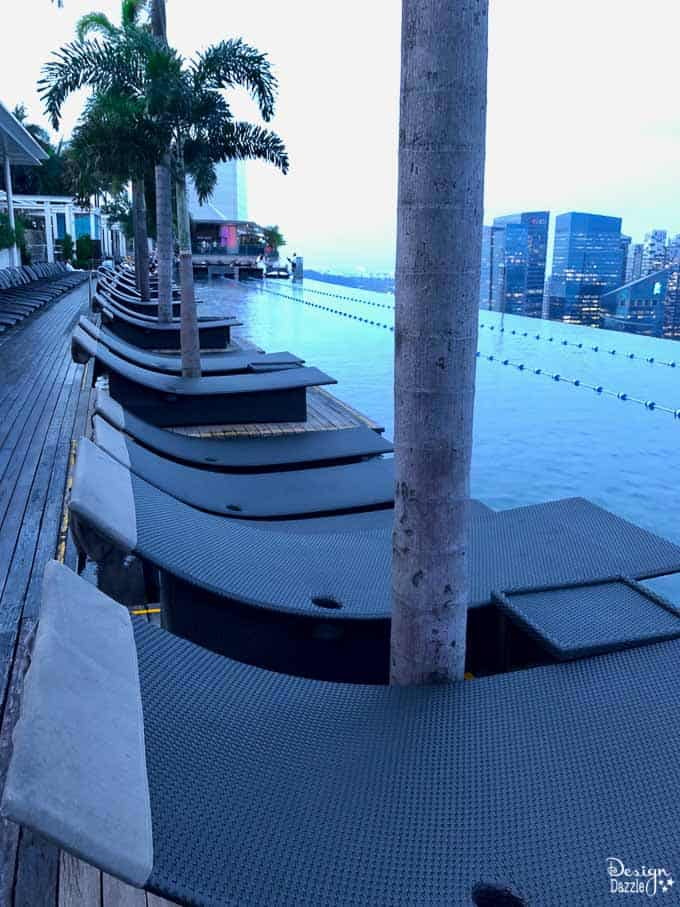 Want to know more about the INFINITY POOL? Checkout more information about The MBS SkyPark and the infinity pool part 2 on tips for staying at Marina Bay Sands and swimming in the infinity pool.
Make sure to check out all of my posts about Singapore:
Singapore: Details and Tips on Staying at Marina Bay Sands (the post you're reading)