This post may contain affiliate links that, at no additional cost to you, I may earn a small commission. Read our Disclosure Policy.
The convenience of having the whole world in your pocket has made it really hard to live without your cellphone, especially when you're far away on vacation. Using roaming data internationally without the right plan can cause your phone bill to rocket skywards in no time at all, which is something nobody wants to discover at the end of an amazing trip.
If you want to be able to share photos of your adventure, communicate with family and friends, or use these awesome travel apps,  then here are some tips on how you can use your phone internationally!
International Data Plan
Getting an international plan on your phone through your carrier is probably the easiest route to take – but it can also easily become the most expensive. If you are out of the country frequently you can get a plan that includes international use as part of your normal monthly bill.
Check your carrier to see if you can already use data while abroad. T-Mobile and Sprint offer this, so you don't have to worry about doing anything special when it comes to data. As for calling and texting, there are usually still restrictions on that, so double check to make sure you're not racking up a huge bill.
If you're only traveling internationally a few times a year you can temporarily add international data to your phone. Most phone carriers can add a limited about of international data use (along with phone calls and texting) to your plan for just one month. That way, you aren't signing up for something long term and don't have to worry about paying for something you won't be using.
When abroad, make sure to turn off your data and only use wi-fi to connect to the internet. If you don't, you'll come home to a very, very large phone bill that could easily reach over $1,000. This happened to my daughter on her first international trip and I almost had a heart attack when I found out. Thankfully, the phone company worked with us to get it down, but you definitely don't want that to happen to you!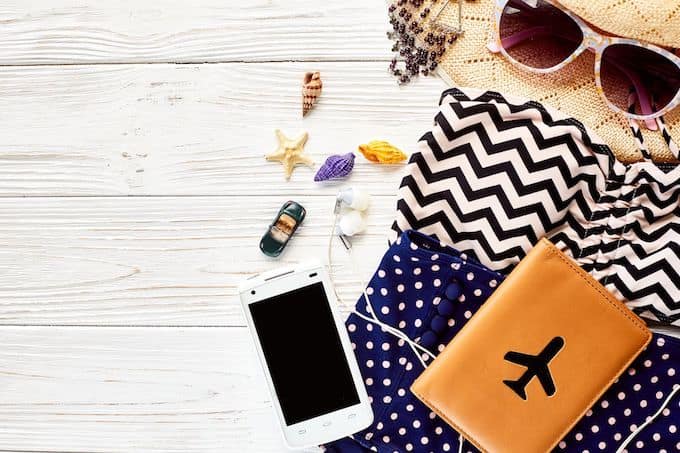 Buy A Local SIM Card
This is one of the most popular ways to use your phone abroad. For many, this is the least expensive and most practical option. You don't have to worry about a lot of international fees or having to call your service provider since you're essentially tapping into the local coverage by using a local pre-paid SIM card.
You can buy a SIM card for whatever country you're in at the local airport, online, or even in many gas station / convenience stores. Load the card with a number of texts, call minutes, and however much data you need and you're set. The nice thing about having a local pre-paid SIM card is that you are able to reload the card if you need more access, and you can also keep it for future use whenever you're back in that country.
However, in order to use a different SIM card, you'll have to unlock your current phone.
Unlocking Your Current Phone
If you have a GSM (Global System Communications) phone, then you'll be able to use it in more than one country.
A GSM phone will allow you to use different broadband companies around the world. If you're not sure if you have a GSM phone, all you have to do is call your phone company to have it unlocked.
Keep in mind that most companies do have some rules about when you're allowed to unlock your phone, so check your phone carrier to make sure you meet the requirements! Usually you just have to have owned your phone for a year.
After that's done you'll just have to get a SIM card for the country that you're visiting and load it with data! This allows you to use your phone in another country like it's a local phone, and makes it a lot easier to connect to the local network. SIM cards do need to be activated, so get that taken care of before you go!
Buy / Rent  A Phone
Sometimes calling your phone company or trying to unlock a phone can be a big hassle that you don't want to deal with, and who can blame you? In that case, renting or buying a phone that will work abroad may be the best option for you.
Companies like Cellular Abroad rent unlocked phones with international SIM cards that will make it easy for you to stay in touch while you're away. You don't have to worry about any permanent changes to your current phone plan, racking up roaming data charges, or something happening to your real phone (i.e. losing it or breaking it).
Look For Free WiFi
If you don't want to have to pay to use your phone abroad, then your best option is to keep an eye out for free WiFi!
When you get on the plane, make sure that you turn off your data completely. This can be done by going into your settings. With your data off, you won't get charged for anything trying to run in the background, like emails or social media updates.
With your data switched off, your phone will only update and be able to connect to the internet when it's connect to WiFi. The world is so connected via internet now that most hotels, Airbnbs, hostels, or other accommodations have free WiFi internet access as part of your stay. Many restaurants or tourists attractions also offer free reliable internet now, so it isn't as hard to be connected as it used to be.
Before you leave, do a quick Google search on ways to get free WiFi in the places you're staying. Many cities have a free wifi guide that will save you a lot of time looking for a place to use your phone!
 
Download FREE Travel Apps That Don't Require Wi-Fi
One of my favorite travel apps that my son told me about is TripAdvisor Hotels and Restaurants. We downloaded the app on my phone while we had wi-fi. Make sure to download the city you will be visiting beforehand. Once we got to our location we opened up the app on our phone so you can use offline. We were able to find fabulous places to eat nearby based on reviews. TripAdvisor makes it easy to find great restaurants and fun things to do, wherever you go. There are millions of traveller reviews, photos and maps from TripAdvisor. I use this app whenever we travel. It is a MUST app!
What are your favorite tips for using a cell phone internationally?
Here are some of my favorite International travel posts that you might be interested in!


Title:
The Ultimate Guide to Using Your Phone Abroad
Mentions:
getaway, international, international travel, travel, travel the world, vacation, world travel
Keywords:
using your phone abroad
Last Updated:
February 16, 2018