This post may contain affiliate links that, at no additional cost to you, I may earn a small commission. Read our Disclosure Policy.
I am Rachel and I get to work with Toni here at Design Dazzle. Last year my family and I moved to Barcelona for my husband's last semester of business school. What an amazing experience it was! Through all the wonderful memories, I learned a lot about traveling with a toddler. Here are some of my highlights and tips for traveling to Barcelona!
First, Sagrada Familia. The most iconic Barcelona spot. Don't skip and definitely pay to go inside. Major tourist site so please beware of pickpockets. Stroller friendly unless you want to go up to the towers, which isn't totally necessary.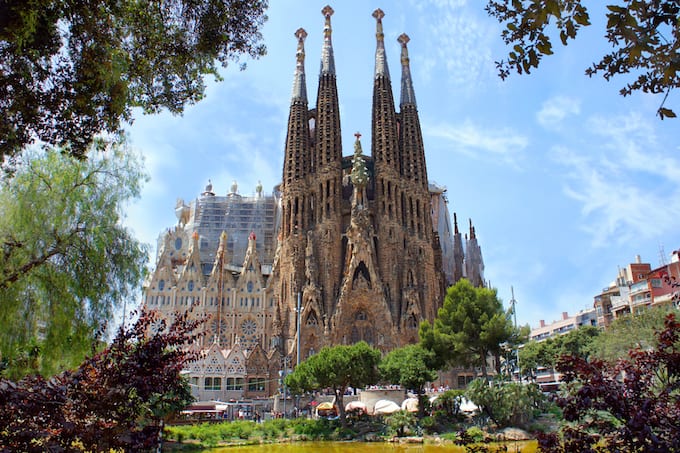 Park Guell. Gorgeous view of the whole city. Pay to go inside. Be ready to walk up hills if you are traveling there via mass transit and walking. Lots of stairs and steep hills, so strap a kid to you or be ready for a serious workout pushing a stroller.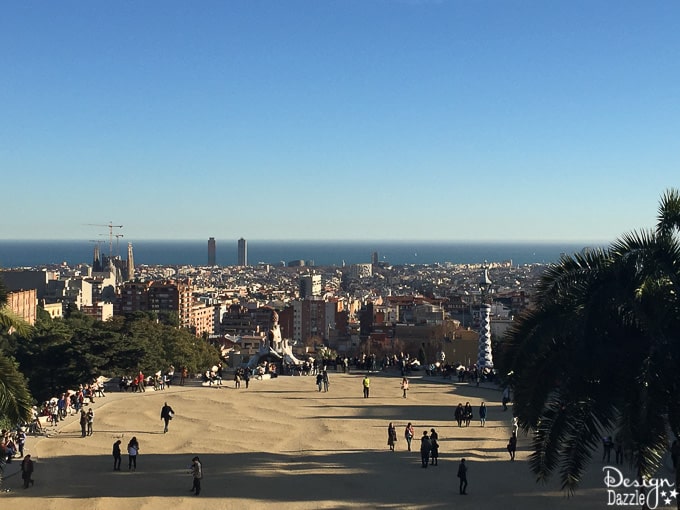 Gothic Quarter. Plan for a few hours to walk around the old part of town. Really neat shops and restaurants to wander through. There is lots of fresh juice around – STOP and get some! Delicious. My 2 year old loved all the fresh juice. Stroller friendly.
Camp Nou. If you are a soccer fan, like my husband is, don't skip on the chance to take a tour or go to a game! A huge highlight for my husband.
Las Ramblas. Here is where you will get your fun souvenirs to take home. Lots of fun stuff to look at! This is outdoor shopping. Definitely, bring a stroller. The street ends at the harbor.
Barcelona Cathedral. This cathedral is on the edge of the Gothic Quarter and is beautiful. Worth a gander.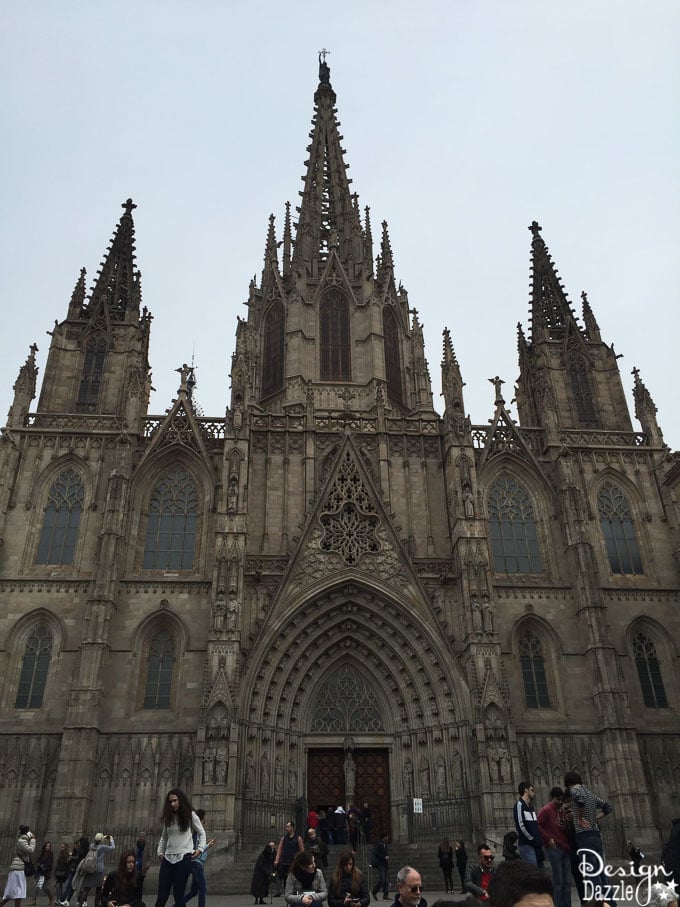 La Barceloneta. If you have time, spend a day at the beach and walk up and down the boardwalk. Break up the site seeing for your little one and enjoy some down time. Gorgeous views.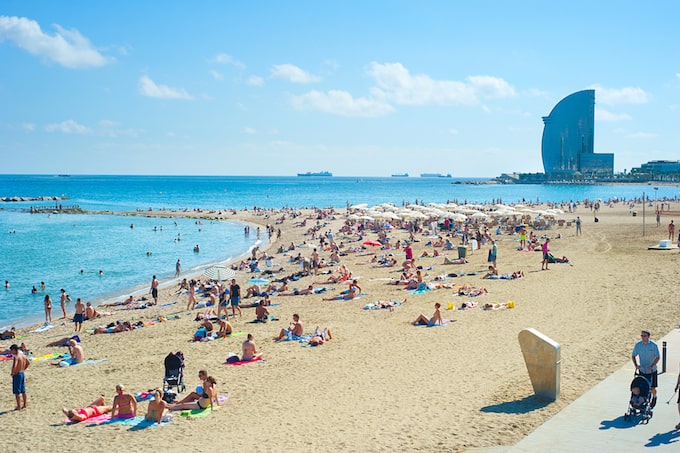 Placa de Catalunya. Main shopping hub. Walk down Passeig de Gracia for high-end shopping/window shopping.
Parc de la Ciutadella. Begin at Arc de Triomf and walk down to the park. Find the water fountain, the large elephant, and the zoo!
Typographia. This certainly isn't a classic stop, but this place has some amazing Barcelona shirts. I bought three and wear them regularly. Not your typical souvenir.
Flamenco. We set aside a night to watch some Flamenco dancers. The music and dancing were incredible. Really a uniquely Spanish experience.
What and Where to EAT!
The main things you need to try are tapas, paella (pie-A-uh), churros, and hot chocolate.
Arume – This is a MUST for Barcelona. Eat here and praise me later. If you want to try Paella, here is the place.
Felice – Spanish / American food that will knock your socks off. Never too crowded so good to bring your kiddo.
Cerveceria Catalana – This is a great place to get tapas that isn't as much of a bar atmosphere. Also they have mini hot dogs that my daughter loved.
Granja M. Viader – Churros and hot chocolate!
BRO Burgers y Bocatas Argentinos – Amazing hamburgers and fries. They make a mean milanesa.
El Rincon de la Abuela Venezolana – I ate the empanadas from here on a weekly basis. Try them all and don't forget the green sauce. So good.
Things of note traveling with a toddler.
A light, collapsable stroller was really helpful. My stroller even had a sling on it. This made it easy to pull a kid out, fold, and throw over my should when we needed to go down stairs or hop on the metro. This is the stroller I used and still love. Maclaren Triumph Stroller
There are parks with playground equipment every couple of blocks. Most of the parks are enclosed with a fence. Awesome to stop and let a little one run around and play throughout the day. Wish every city had these!
Most restaurants and grocery stores have fresh squeezed orange juice. Like, wait a minute while I squeeze the oranges, fresh. Take advantage of this! My toddler loved it.
Barcelona takes a nap from around 4pm – 6pm. It will be hard to find food during this time. In other words, a toddler will be up a little later. Plan accordingly.
General Tips.
Barcelona is known for its pickpockets. They are good and will definitely spot the tourist. Be alert. Don't keep things in your pockets and make sure to zip your purse. Backpacks and cross body bags are best.
Talk with your cell phone provider and add international data while you are traveling. This will be a lifesaver for directions and Trip Advisor. Also, download the Trip Advisor app. We used this a lot.
We stayed at an Airbnb and were very happy with our stay.
Barcelona is fabulous. Go and Enjoy EVERY MOMENT!
We love to travel here at Design Dazzle! If you're interested in any of our other travel posts, go here!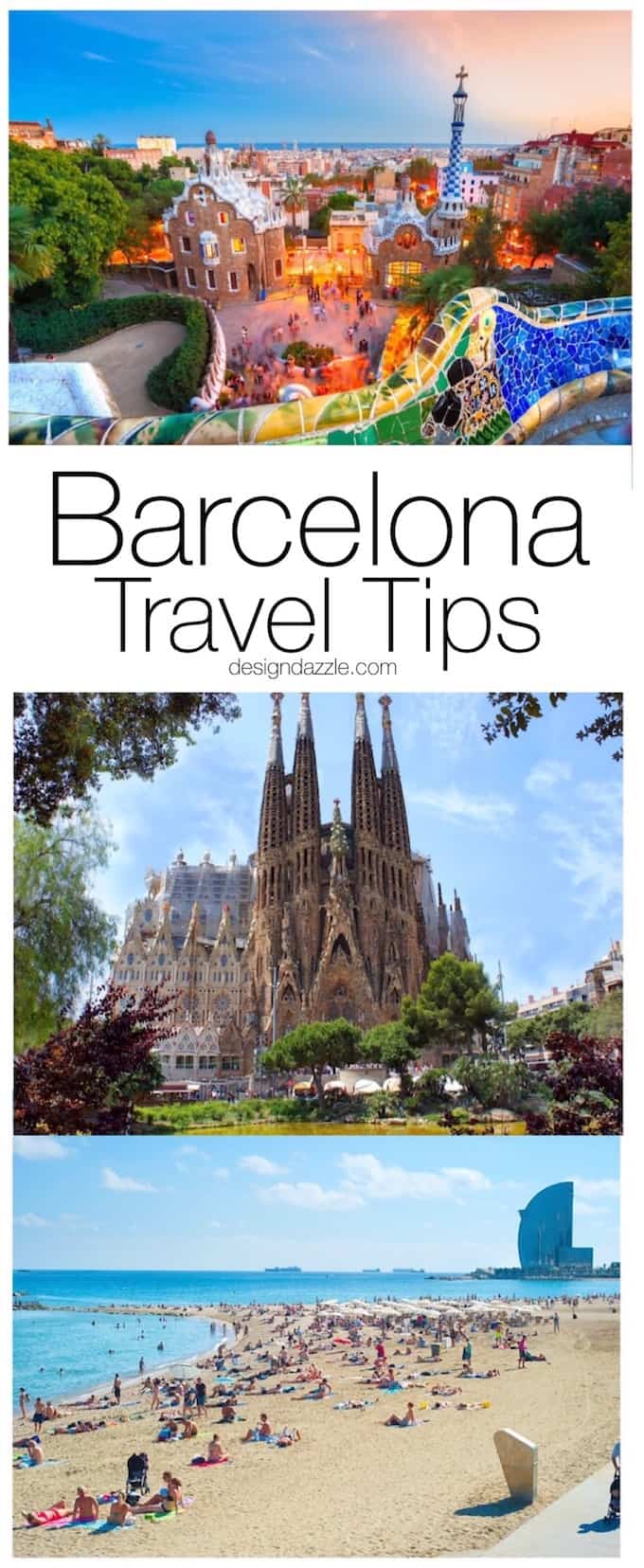 Save
Save
Title:
Traveling to Barcelona {with a toddler}
Mentions:
barcelona, fall getaway, family travel, getaway, international travel, spain, travel with kids, vacation
Keywords:
Traveling to Barcelona
Last Updated:
February 16, 2018