This post may contain affiliate links that, at no additional cost to you, I may earn a small commission. Read our Disclosure Policy.
This month, Michaels Makers challenge is Springtime in Paris. I was so excited when I found this out. I've been planning on doing this theme for a couple of months now and then I find out it is our assigned challenge! Yippee!! But not only is this our challenge for March – Michaels is doing an incredible giveaway, including a magical trip to Paris and more! You can WIN a trip!!! Find out the details at the end of the post. I've always been in love with Paris. I started doing a Paris theme party about 12 years ago. It was a hit and the cutest party ever. I also designed my daughters Pink Poodle Paris room (about 10 years ago now). But I actually visited Paris last year for the first time and fell in LOVE!!!! It was the highlight of my husband's and I Europe trip. One of my favorites was visiting the Eiffel tower and seeing it lit up at night. So, so magical!! I decided I would create a GOLD LEAF Eiffel Tower to be the focal point of my Springtime in Paris party. I've been shopping at Michaels for over 20 years and the great thing is they only keep getting better! This entire party came from Michaels with the exception of the gold fabric and the coffee filters. Yes, EVERYTHING else came from their store – blue tulle, Paris marquee letters, favors bags, cake stands, branches (sprayed pink), frames, pink glass candle tea lights, ceramic mason jars, bottles dipped in gold, ribbon, etc.
Check the post below for our free Eiffel Tower printables! Inspired by this amazing opportunity, here is my Springtime in Paris party along with the tutorial for the Eiffel Tower!
This party is all about that springtime Parisian magic – from pastels to blossoms, the Eiffel Tower to French macarons. If you saw my DIY Coffee Filter Flower post, that was just a preview of this beautiful party. Those flowers were so quick and easy to whip up, you'll want to make them for every party! I thought they screamed Paris to me – they are so light, beautiful, and springy.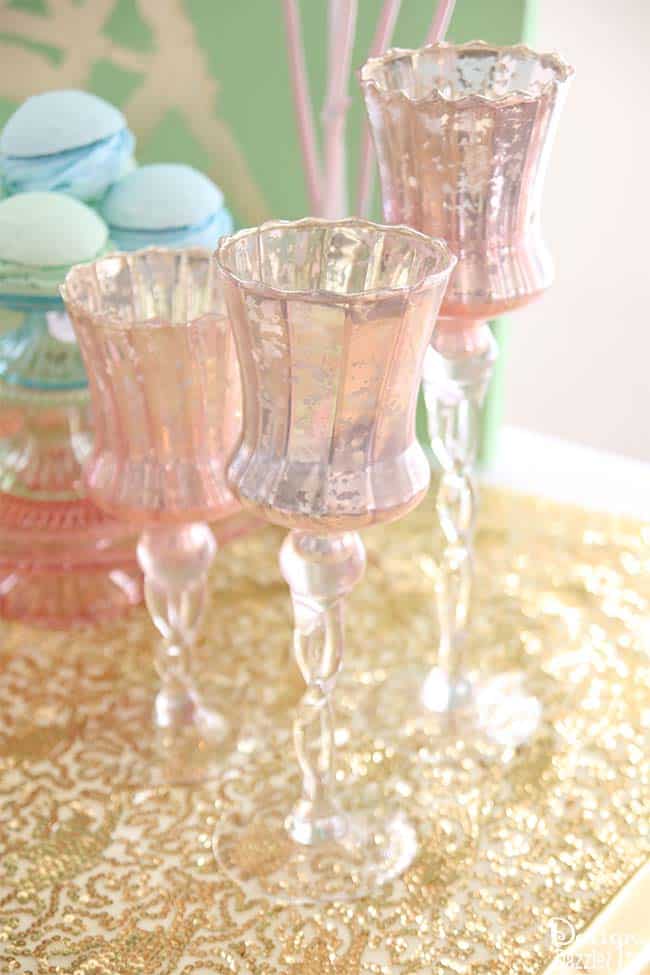 Creating this party gave me quite the case of wanderlust! Paris is such a dream. I hope one of my special readers wins this amazing giveaway!
I know you're all dying to hear more about this amazing giveaway from Michael's. The winner of the Michael's giveaway will receive:
· A four-night trip for two to Paris including airfare and hotel
· Spending money
· A VIP tour of the Louvre
· A private sketching lesson with Urban Sketchers
· A floral arranging class at Catherine Mueller Flower School
· A private baking class
Wow! Doesn't that sound like a dream getaway?! Touring the Louvre, arranging flowers, sketching, and baking are all the perfect activities to do in Paris. The lucky winner of this giveaway is in for such a treat!
Gold Leaf Eiffel Tower Art
36 in x 24 in canvas
paint
one package of gold leaf sheets
one bottle of gold leaf adhesive
2 foam brushes
1 soft, thin tipped paint brush
overhead projector or tracer projector
Eiffel Tower template
Step 1: Paint the canvas with a foam brush. Make sure to use smooth, even strokes to cover the whole canvas. Let it dry completely.
Step 2: Set up the tracer projector or overhead projector and line the Eiffel Tower template up on the canvas. I started from the bottom and made my way up to the top, breaking the picture into thirds.
Step 3: Trace the eiffel tower onto the canvas. Rather than trace with chalk or pencil, I skipped a step and traced the image by painting on the adhesive with a paint brush dipped in adhesive.
Step 4: Apply the gold leaf. Be sure to follow the directions on the package. My package said to wait about 20-30 minutes to apply the gold leaf. The gold leaf needs to be applied at the right time for the adhesive to work properly, so follow the directions very carefully.
Step 5: Lay down the gold leaf sheet and pat it down with the foam brush to make sure it stays securely. Wipe off the excess with the foam brush.
Step 6: Repeat steps 3, 4, & 5 topping on the whole Eiffel Tower. While gold leafing could seem a bit intimidating, it's not as hard as it looks! It can be tricky, but if you're careful and pay attention to the directions on the package, your gold leaf should turn out beautiful!
Now it's your turn! That's right, you can enter to win the trip of a lifetime to Paris too. How? By creating your own Parisian-inspired art, floral, baking or paper crafting project and uploading a photo to https://paris.michaels.com/ through

March 31

. You can also share your project on social using #SpringtimeInParis #Contest.
· What do you win? A four-night trip for two to Paris, 1,000 euros, a VIP tour of the Louvre, private classes including sketching, floral arranging, baking and more!
· If you need a little Paris inspiration to get you started, take a look at some of the Springtime in Paris projects on Michaels.com.
Make sure to check back in for more DIY projects from my Springtime in Paris party! I will be posting all the tutorials of how to get this look. I can't wait to share the rest, I hope you enjoy it. Good luck to each and every one of you in the Michael's Springtime in Paris giveaway!
The Eiffel Tower templates are FREE and available for immediate download by subscribing to Design Dazzle!
To receive this free printable – enter your email address in the box below and click submit. Make sure to check your inbox for an email from Design Dazzle. You will have access to all of our FREE printables and also will receive an email newsletter filled with lots of great information. Don't worry your email address will never be sold.
Printable files are for personal use only. They are not for commercial use.