Singapore is is a city bursting at the seams with attractions that are impressive, with exciting activities, and plenty of things to do for all the family. Read this post to see what we did and where we went while we were there!
On our trip we visited Sentosa Island, the Harry Potter Cafe, Gardens by the Bay – Cloud Forest, Flower Dome, Supertree Grove, the beach and ate lots of great food. The Shoppes at Marina Bay Sands (high-end mall) were amazing!! This shopping mall gives new meaning to retail therapy! We stayed in a Boutique hotel near  Chinatown.
Chinatown has great access to the subway. Which we used several times. You can catch the subway from the airport. We decided to get an Uber to our hotel. After staying in Chinatown, we went to the Marina Bay Sands for two nights before we flew to Thailand. MBS is pretty amazing.
Sentosa Island –
Sentosa Island is a popular resort 500-acre island (man-made) off the southern tip of Singapore. There are many activities on Sentosa – beautiful beaches, hotel resorts, restaurants, Universal Studios Singapore, Adventure Cove Waterpark, and more. You can drive a car to the island or take the Sentosa Skyride (an open-air cable chairlift) which is part attraction – part method of transportation – Sentosa Skyline Luge & Skyride is a perfect way of getting from A to B all whilst getting some great views across Singapore, as well as a fun ride too!
The Shoppes at Marina Bay Sands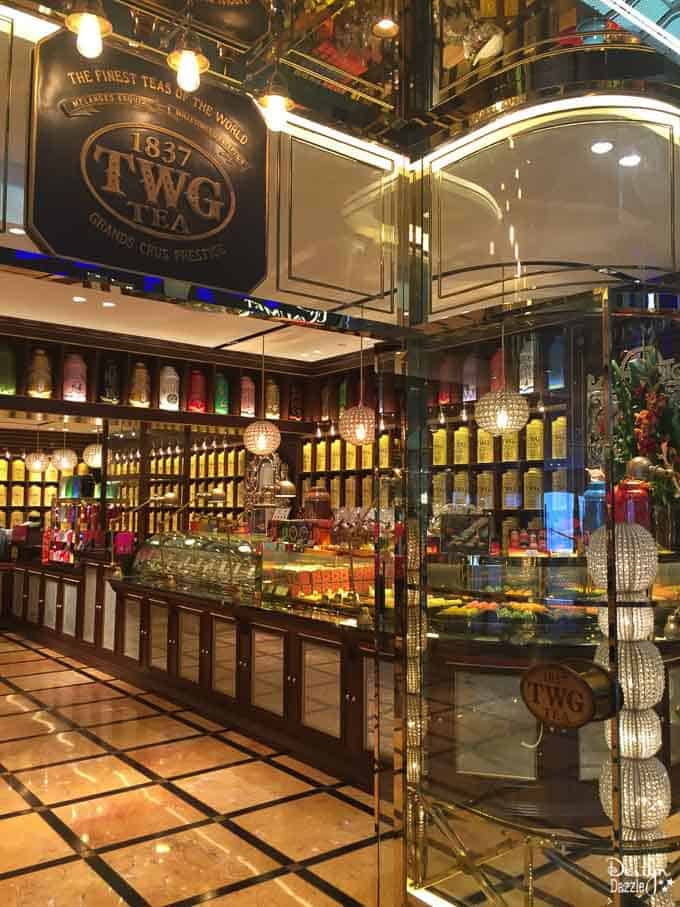 The Shoppes at Marina Bay Sands is an attached mall to the Marina Bay Sands. This is a VERY high-end mall with retailers that are pretty awesome. Let's just say the mall stores were ones that I wouldn't be purchasing jewelry, shoes or clothes. I looked at a 'sweatshirt' in a high -end brand name store and it was $300+!!
An indoor canal runs the length of the mall for Sampan (boat) rides. Sampan rides are available (for a fee) to ride in for any mall shoppers.
Also, located in The Shoppes are many celebrity chef restaurants. We ate at Bread Street Kitchen the food was good – nothing spectacular – not a fan of Gordon Ramsay just decided to eat there. On another day we purchased food to eat at the food court which was very reasonably priced food in the mall and it was quite yummy.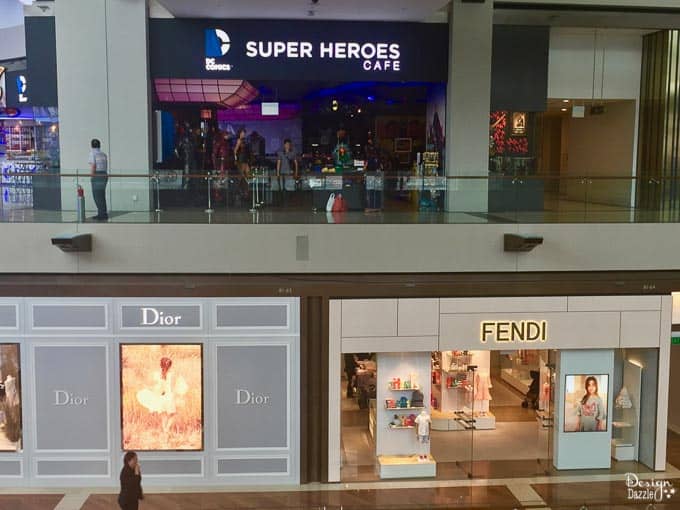 The Digital Light Canvas
The Digital Light Canvas (large circular floor) is near the food court. You can step into an interactive digital experience on a large floor that is unbelievable until you experience it. There are controlled LED lights, which allow for graphics to be rendered on the floor in real time, in reaction to people's movement and behavior. I loved watching the interaction with kids on this floor. There is a small fee to gain access to the light canvas. You can dance or walk on it and the images below your feet move. Pretty fun to be a bystander and watch all the action.
Spectra Free Light Show –
Spectra is a free outdoor light and water show displayed over the water at the Event Plaza along the promenade. It's a beautiful symphony of music, water, and light that's powered by lasers, fountain jets, and visual projectors.
The 15-minute show will mesmerize you with its dancing water fountains, colorful visual arts, and special lighting effects.
The video below I filmed from our hotel room where we watched the Spectra Light show. We could barely hear the music but fun to watch.
Marina Bay Sands and the world-famous infinity pool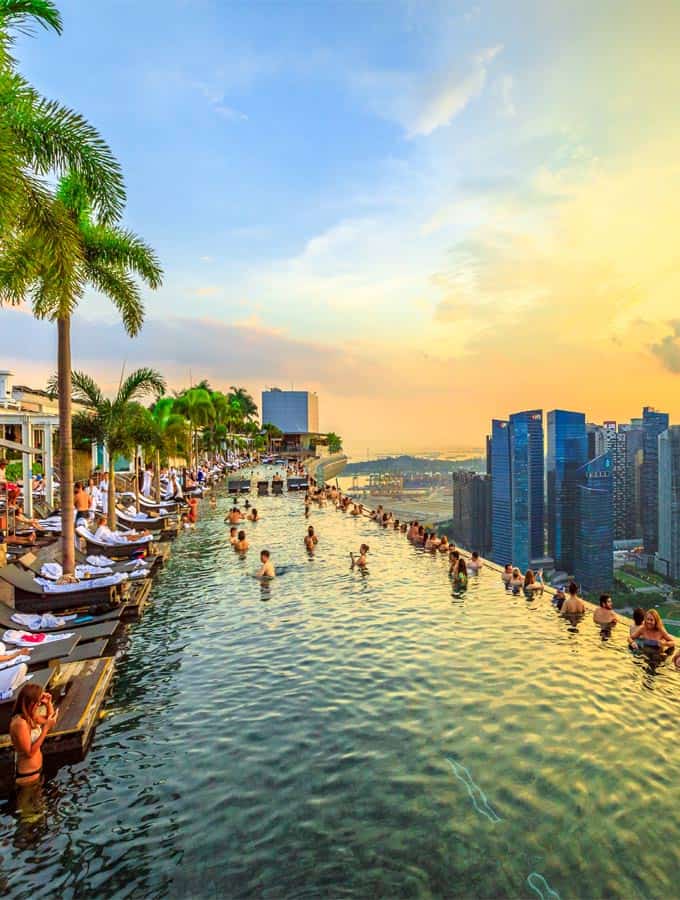 The pool. The world's largest rooftop infinity pool is approximately 490 feet long across Sands SkyPark. Accessible only by hotel guests, the iconic Infinity Pool at Marina Bay Sands has a stunning city-skyline view not found at any other Singapore hotel. I would recommend an early morning swim if you prefer to have fewer people or a late afternoon dip to catch the lovely sunset. The jacuzzies are on the opposite side of the infinity pool and offer a beautiful sunrise in the morning. I love sitting by a pool and reading. This pool I actually got in and swam. This is a must if you want to go to the edge and overlook the city of Singapore. COMPLETELY AMAZING. I loved every minute there.
Gardens by the Bay
Gardens by the Bay is a showpiece of horticulture and waterfront garden artistry along the bay and ocean. It is is an 250 acre nature park on the bay that is beautiful, entertaining and also educates visitors. There are an abundance of plants grown here that are seldom seen in this part of the world, there are different species in cool, temperate climates and also tropical forests and habitats.
Supertree Grove
Supertree Grove consists of an outdoor garden with real foliage, plants and manmade trees that are tall (80-160 feet high). There is an elevated walkway, the Skyway, between two of the larger Supertrees for visitors to enjoy a panoramic aerial view of the Gardens. Every night, at 7:45pm and 8:45pm (as of this writing), the Supertree Grove comes alive with a coordinated light and music show known as the Garden Rhapsody. It was mesmerizing and beautiful to watch. You will be dazzled to see this show and it's FREE!
Flower Dome
Step into the Flower Dome and stand in awe of nature. Spectacular and innovative, it is the largest glass greenhouse in the world. It's a world of perpetual spring! We enjoyed looking at all the various plants.
Cloud Forest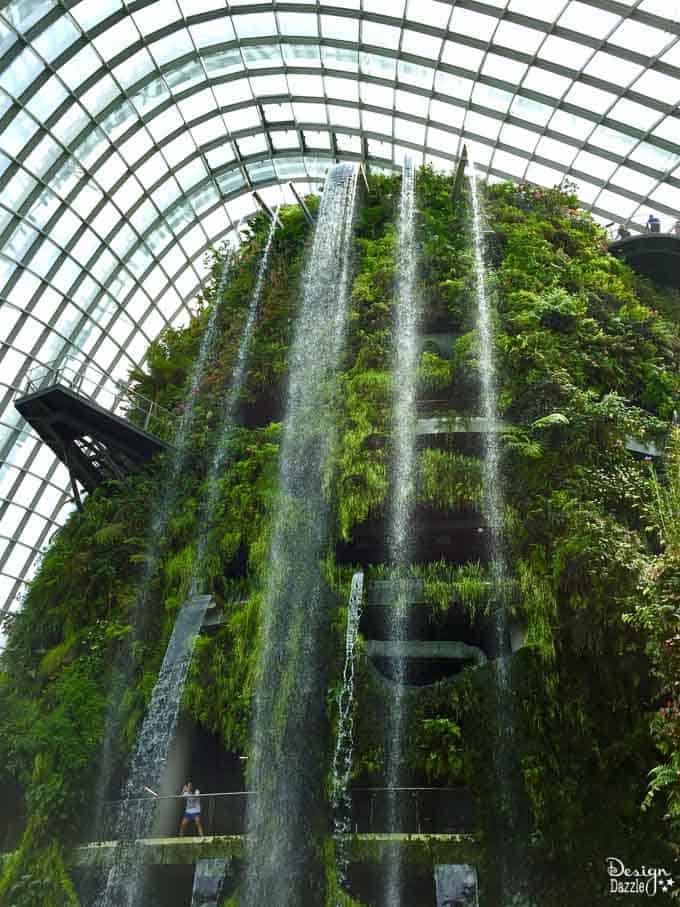 The "Cloud Mountain" itself is an intricate greenhouse type structure with plants such as orchids, ferns, peacock ferns, bromeliads, etc.. It consists of a number of levels, each with a different theme, including The Lost World, The Cavern, The Waterfall View, The Crystal Mountain, The Cloud Forest Gallery, The Cloud Forest Theatre and The Secret Garden.
Make sure to check out all of my posts about Singapore:
Singapore: What We Did and Where We Went  (the post you're reading)

Title:
Singapore: What We Did and Where We Went
Mentions:
budget travel, china town singapore, Singapore, travel on a budget, travel singapore, travel to singapore, world travel
Keywords:
Singapore: what we did and where we went while we were there
Last Updated:
September 2, 2019