Hi Friends! Have you been to Pinners Conference? If you have, you know how much FUN it is! If not, you are missing out. Pinners Conference is all about taking classes (over 90 to choose from), learning amazing skills/ideas/tips and hanging out with your girlfriends (guys are welcome too). And there is the SHOPPING!
I teach "
MAKING CHRISTMAS MAGICAL

". My class gets filled quickly so please make sure to sign up and register for a spot REGISTER HERE

use designdazzle  code when registering to save 10%

This years Pinners Conference will be held Friday, November 4th and Saturday November 5th at the Salt Palace Convention Center in Salt Lake City. My classes are Friday at 6:30 PM and Saturday at 9:30 AM.

My class description:
Toni will share Christmas ideas, traditions, activities, crafts and decorating tips, to inspire you to make Christmas a
magical time for your family! She will demonstrate how to decorate a Christmas tree during class.
Come be inspired – see and feel the magic of Christmas!

Classes are never "sold out" because a few seats are saved for day-of-show walk up attendees (first come, first served). But if a class says "Stand by only" it is sold out of pre-registered seats. But if you pre-register you don't have to worry about getting to my class early for a seat. It is first come first served – I only have so many seats in my class. The class is always FULL.
See the list of Pinners classes
This picture shows my very first year teaching at Pinners I've come a long way since then!
This will be my fourth class teaching Making Christmas Magical at Pinners Conference.
Fun friends and classes along the way!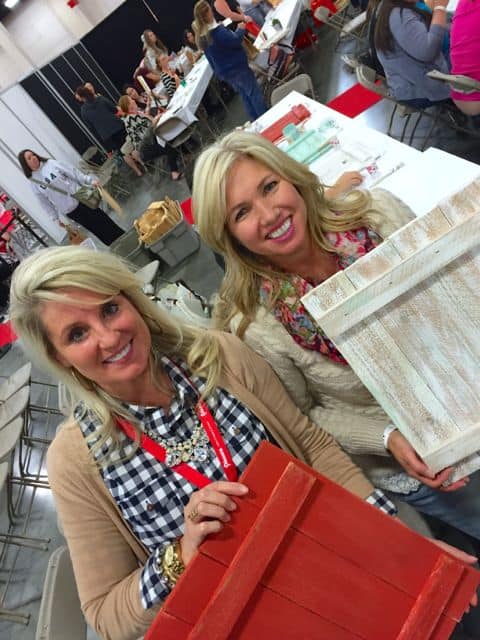 First year at Pinners Conference and the line went around the corner to get in. Four years later there are thousands more who come to Pinners. It's been a fun ride!
Toni Roberts is a holiday lover, event planner, designer, crafter and DIYer. She loves chasing her dreams and creating memories! She has appeared in magazines and makes television appearances. Her blog, DesignDazzle.com shares creative ideas with lots of readers from around the world!
Save
Title:
Making Christmas Magical at Pinners Conference
Last Updated:
February 16, 2018