This post may contain affiliate links that, at no additional cost to you, I may earn a small commission. Read our Disclosure Policy.
If I find something that I love using and especially if it makes my life easier (and cooking quicker), then I've got to share it! Here's my post on my favorite Kitchen Gadgets That Make Life Easier!
Throughout the years. I've used some of these gadgets a lot and some of these items are newer and on those I'm asking myself, "where have you been all my life?"
I'm not sure about you, but I don't like to cook EVERY.SINGLE.DAY of my life. But when I do cook – I'll do anything to make cooking quick and easy and that's where this post comes in.
Here are 30+ of my favorite kitchen and household items!
Egg holder refrigerator drawers keep eggs organized; you can always see how many you have with the clear tray that pulls out under a shelf. I have two – one for raw eggs and the other one for boiled eggs. Just make sure the measurements will fit your fridge otherwise it won't work.
Adjustable rolling pin with removable rings If you need a rolling pin that rolls out different thicknesses perfectly, this is it!! No more rolling dough that is uneven.
Silicone lid cover I use this ALL the time. Sadly we purchased this recently and wonder why we didn't know about these covers. These can be placed in the microwave or on the stovetop to help contain food messes. It works on all different sizes and materials to help with splashes.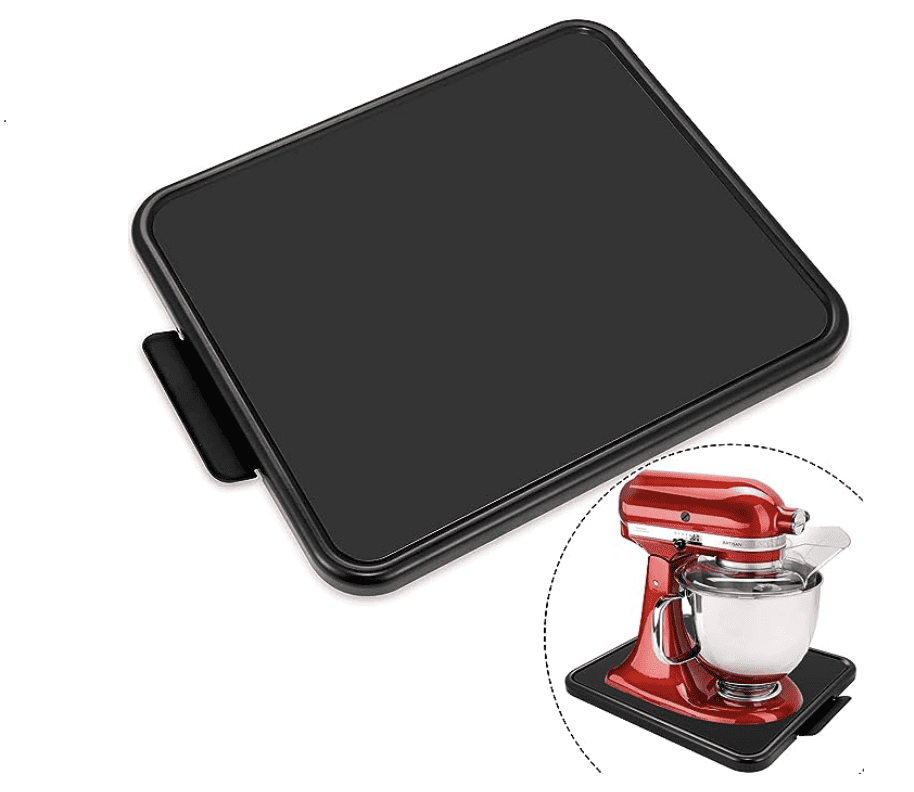 Save countertops from scratching. The kitchen appliance slider is made of durable steel with an anti-slip mat on the surface to keep all your appliances in place and slides out easily.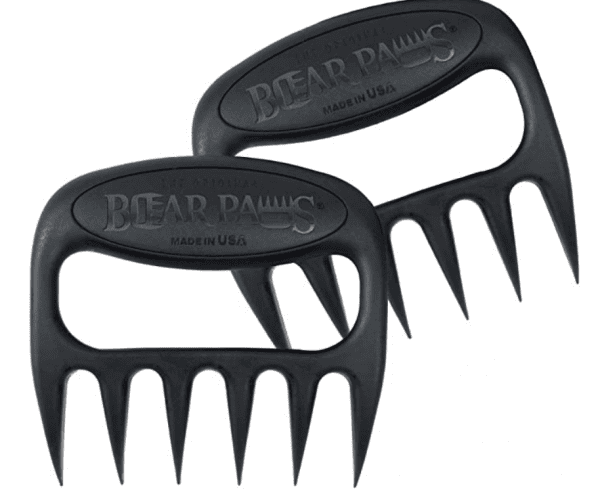 Bear Paws Shredder Claws – Easily Lift, Handle, Shred, and Cut Meats. You will love these – perfect for lifting a heavy roast and great for shredding cooked meat.

The hamburger meat chopper The 5-blade design is perfect for BREAKING up, chopping and stirring ground meat. Think sausage, ground hamburger, and turkey. We also used it to mash potatoes! It's a workhorse!

I use kitchen shearers ALL THE TIME. It's a must in my kitchen.
Non-slip silicone pastry mat. This mat is perfect to make cookies, pie, cinnamon rolls, bread etc. It's LARGE (3 different sizes). If you want to make yummy pastries/cookies this will help you reach that goal. It helps with sticking and sizing. It's a favorite.
Microwave MAGNETIC plate cover. THIS is brilliant. Leave it in your microwave at all times and pull it down from the INSIDE of the top of your microwave to COVER your food. Keeps your microwave clean!!
Clip on Strainer for Pots. It's a hands-free pot strainer! Brilliant! It is for smaller pots.

Instant Pot 7-in-1 Electric Pressure Cooker. This is a FAVORITE kitchen gadget. Cooks food fast and saves time. I really enjoy learning new recipes to make with this.
Healthy popcorn maker Makes yummy healthy popcorn in the microwave. Add seasonings and you've got a great snack.
Aluminum Commercial Baker's Big Sheet Heavy-duty and large cookie sheet. I use this all the time when baking.

Silpat non-stick baking mat If you like to bake, roast veggies this is a MUST! I've had a Silpat for decades. Freezer, microwave, and oven-safe. No need to use parchment paper. This fits the aluminum baking sheet above.
Bread keeper with vents The bread keeper is expandable and collapses to less than half its size for easy storage. Adjustable widths accommodate baked goods of varied sizes. If you bake bread, this is a great way to store the bread. It is not airtight. Check the size to make sure it works with your size bread pan.

I'm still learning how to use this Air Fryer. But the times I've used it – I love what we've made. Chicken, fries, chicken wings, chick peas, and more have been cooked in the Air Fryer. I'm not sure what my favorite is. But all the dishes were great!! One tip get a size Air Fryer for how many you'll be cooking for. This is a 4-quart. We cook for two. Next time I'll get a larger one.
I have a lot of herbal tea bags that I like having organized and out of their boxes. Two of these storage tea organizers make it work awesome. Mine are clear plastic.
OXO airtight storage container I've used these for years. I love keeping my food stored and organized in these containers. My baking zone is one of my favorite kitchen spots.
I use these clear self-adhesive holders to attach to OXO food storage containers (the ones shared above). It's a great way to hold instructions for recipes, etc. that are cut from a food package.
Turntable Kitchen Organizer I have SEVERAL of these. One I keep in my fridge – it's perfect for condiments. The other ones are in my pantry.

Washable Fridge Mats These have been in my fridge for many years. Easy to cut to fit your refrigerator shelves. The mats are lightweight and easy to clean.
Wall mount grocery bag dispenser Easily tuck up to 30 grocery bags through the slot for clutter-free storage. It seems like we always have a use for grocery bags – nice way to keep them organized. My dispenser lays flat – you can see it here in my under-the-sink kitchen pull-out.

In drawer knife storage. I love this so much that I wrote a blog post on it. A great solution to keep knives organized.
Over the Sink Colander Strainer Basket This is constantly used in our kitchen. The handles are expandable so they will fit most sinks. I use it to strain and rinse pasta and wash fruits and vegetables.
Ice Cream scoop – nonstick coating. This scoop makes a great rounded scoop of ice cream!
Steel double blade mincing knife makes chopping/mincing even faster and easier with two blades. Sharp blades.

8 Person Raclette with Cast Aluminum Grill Plate
Memorable dinner parties with family and friends are easy with the Raclette. Grill veggies and melt cheese indoors in your kitchen. It's a great way to have a "fondue" with everyone grilling their own food on the tabletop! It's a perfect way to celebrate Christmas and other holidays without a lot of cooking. We serve cut-up veggies, cooked red potatoes, pickled onions, and Raclette cheese. So our guests serve themselves throughout the day on Christmas. It's become a tradition. We love this!!
Sandwich bag rack. Perfect for no-hassle pour into "ziplock" type bags. Place the "ziplock" storage back between the green handles. The "ziplock" bag stands-up. So it's easy to pour food into bags. Great for helping out with freezer meals.

12 inch Swiss Army Carving/Slicing Knife
My husband purchased this and he LOVES it. Best carving knife he's ever owned. Excellent reviews. Price depends on size.
Kitchen food scale. Easy to use scale to measure out ingredients by weight.
Deluxe can opener. This can opener is heavy-duty and gets used all the time.
Ninja food chopper This gets used a lot. It's simple, small and easy to clean. I mostly use it to CHOP ONIONS. Yeah, baby! Great way to go without all the tears. Also, used to cut up veggies to make omelets.
HOUSEHOLD ITEMS
Not a kitchen gadget but certainly can clean the kitchen floors. This steam mop get the floor clean. It's lightweight and inexpensive. I really like using this. I know my floors are clean.
Battery Organizer Storage Case. I have had this for a long time and wish I would have known about this YEARS ago. It's such a great way to store batteries. You can also check the batteries to see if they're still good with the little check meter. Please be careful because batteries can catch on fire in perfect conditions found often in junk drawers containing loose batteries and metal objects like paper clips or keys. Under .
Clear glass spray bottles I use the bottles to store essential oil cleaners to clean my home with. I also use one filled with water and keep it near my iron.
Wall Mount Retractable Clothes Drying Rack This is used daily in our laundry room. You can see it used here in thelaundry room reveal. The space-saving retractable laundry clothes drying rack is awesome. It takes about two screws to mount to the wall. Great for gym clothes and delicates that need to be air-dried.
Microfiber feather duster (without the feathers)
I use this duster to clean baseboards, blinds, fans, etc. Extendable pole and a washable duster head make this great to use! In fact, my blinds need a good dusting. I'm getting this duster out to clean this weekend. : )
It's the Christmas season! This list would be great for holiday gifts, stocking stuffers, and a gift for you too!
Let me know what are your favorite kitchen gadgets?! As I mentioned, I own all of these utensils, gadgets, etc. I would purchase them again in a heartbeat. I like anything that makes my life easier.