This post may contain affiliate links that, at no additional cost to you, I may earn a small commission. Read our Disclosure Policy.
What is raclette and why is it the perfect dinner for Christmas, New Year's Eve, or Father's Day? How about any holiday when you want to serve yummy food and have guests!
Raclette is a Swiss dish of melted cheese that is prepared with vegetables, meats, and more and cooked on a special grill, and then scraped onto a plate over food. If you are a CHEESE LOVER, this is for you! It is a cheese-melting conversation piece! Learn how to throw a raclette party for a memorable event.
We use an electric table-top grill with small pans where the raclette cheese is melted and veggies are "cooked/grilled" on the tabletop grill. The melted raclette is scraped over the grilled veggies.
It's popular in Switzerland, Germany, and other parts of Europe and many eat raclette regularly in the winter, and it is becoming a popular way to celebrate Christmas and New Year's Eve.
Don't have a tabletop grill? You can still do this on the stove-top.
If you don't have a grill, use a frying pan to melt the cheese. Start with medium-low heat and do not burn the cheese. Warm/grill veggies in a pan. Scrape melted cheese over veggies/meat.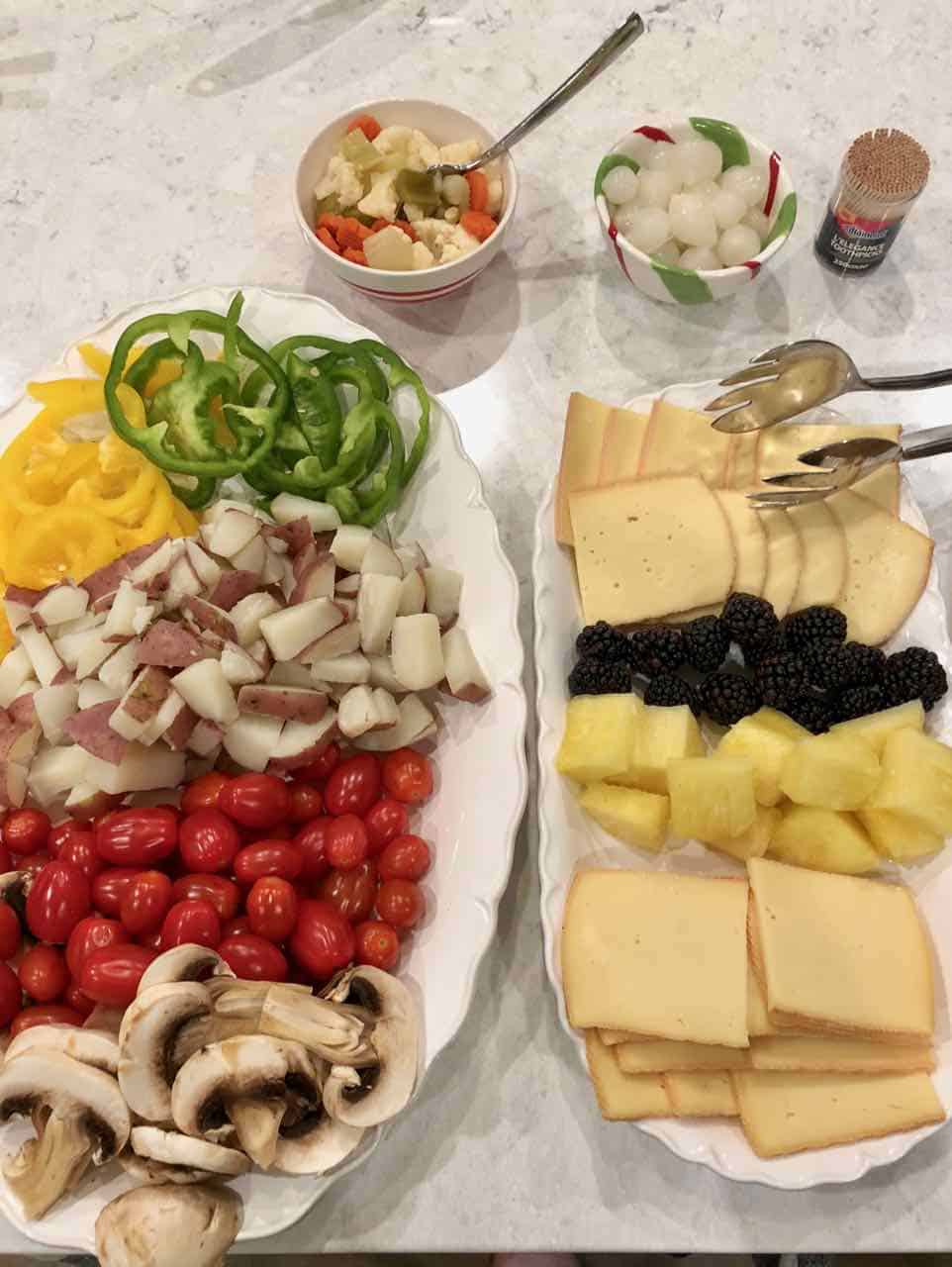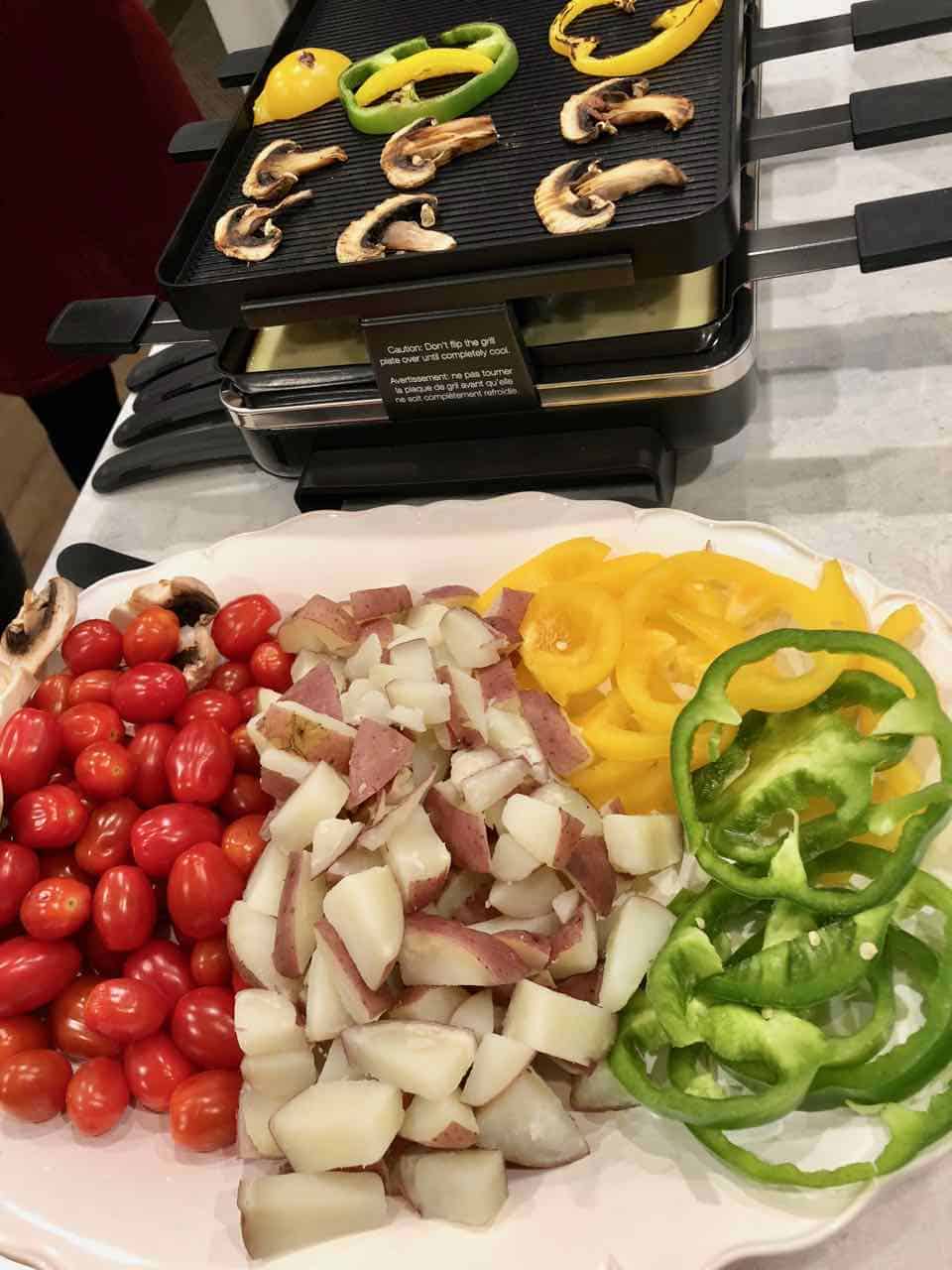 It is yummy and a great way to serve to a group of people – perfect for a dinner party. What's not to like about eating for hours around the "grill" and creating little delicious delights!
All you need to do as a host is supply the grill, raclette cheese, veggies and meats. Or have your guests bring assigned food already washed, cut and prepped. This makes it easier on the host and great for a gathering.
The word raclette comes from the French meaning "to scrape." When one eats raclette, you will end up scraping melted gooey cheese over grilled vegetables – yum!
The reasons you will love Raclette!
If you love cheese, you will love this
It is quick and easy to get ready. Wash and cut ingredients, boil potatoes and plate the food. 
Guests cook and serve for themselves
Raclette dinners extend over the hours. We serve it for a late lunch on Christmas day. Our family members graze on the food all day and into the night.
No cooking for mom on Christmas or New Years!! Spending time cooking elaborate dinners on Christmas is not my idea of fun
Whats not to like about enjoying your favorite foods with cheese!
With some prep beforehand, this is a very easy way to feed a dinner group and enjoy yourself at the party.
Everyone cooks their own food and grills it to their liking. How awesome is that?
The surface grills your favorite meat, seafood and vegetables while your cheese and sauces broil to perfection below the grill.
If you like fondue, you will like raclette. The difference between the two is raclettte is melted and poured over food whereas fondue you dip food into the melted cheese.
Don't just host the party, join it!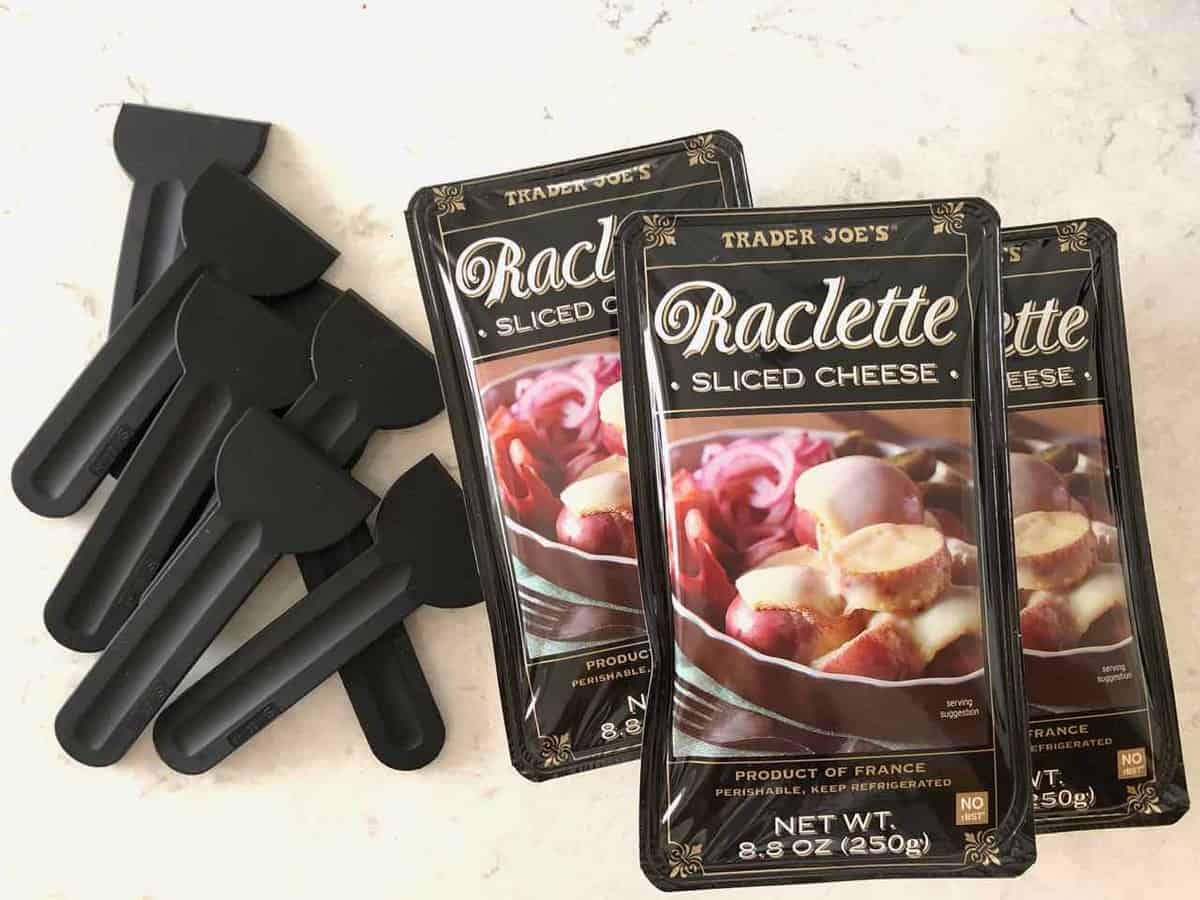 What cheese to use?
Raclette – Raclette cheese is perfect to make Raclette with and is the most traditional. If you can't find Raclette, a good melting cheese, would work. Other options…
Havarti
Gouda
Muenster
Gruyere
Purchase Raclette online
Where to find the cheese?
Raclette might be a tad harder to find. I purchase mine at Trader Joes. Whole foods also carries raclette cheese. Both places sell packages of pre-sliced raclette.
What to serve with melted Raclette cheese?
Since we are cheese lovers in this family, imagine all the possibilities of your favorites with yummy melted cheese. Try some of the following:
Small new potatoes boiled with the skins on and cut into bite-size pieces
Tomatoes
Zucchini
Sliced mushrooms
Bell peppers
Sliced onions
Cold cut deli meats such as prosciutto, salami ham, cooked mini sausages, etc.
Shrimp
Pickled veggies is also an important part of raclette – onions, gherkins
Gardineria (pronounced jar-din-AIR-ah) marinated vegetables. Check here to see what it looks like
Sliced apples
Walnuts are the perfect partner for apples and cheese
Slice and serve rustic bread/baguettes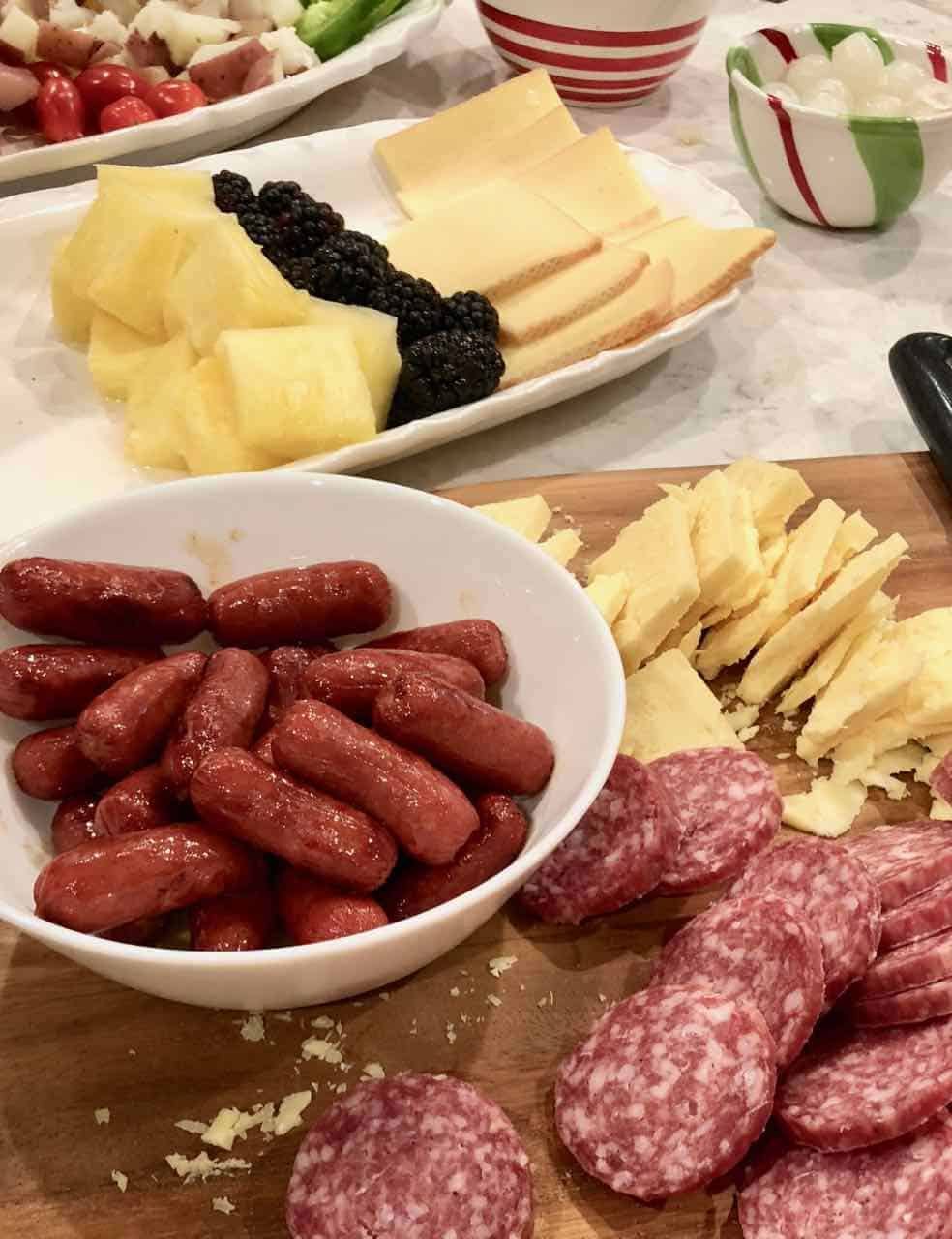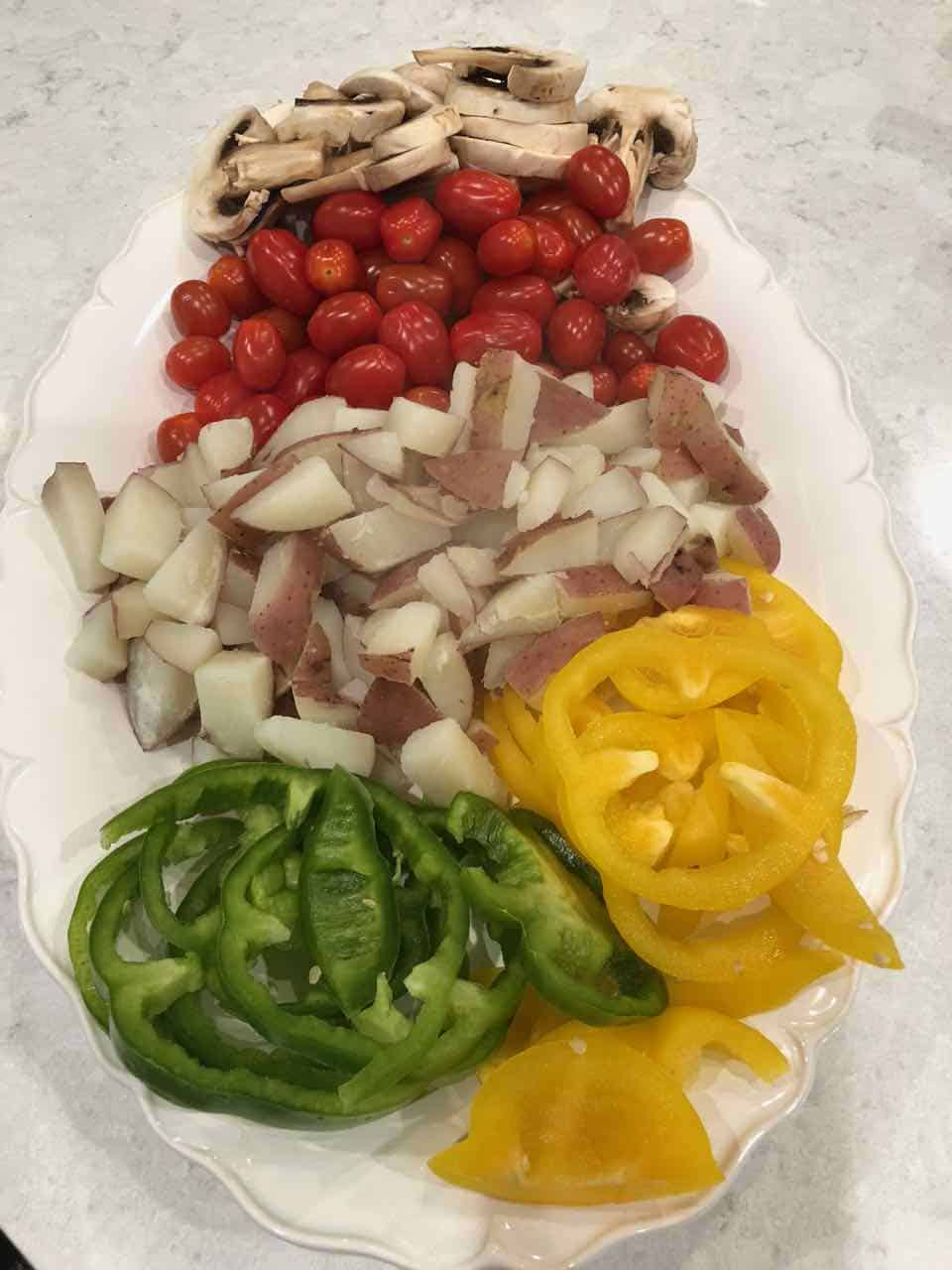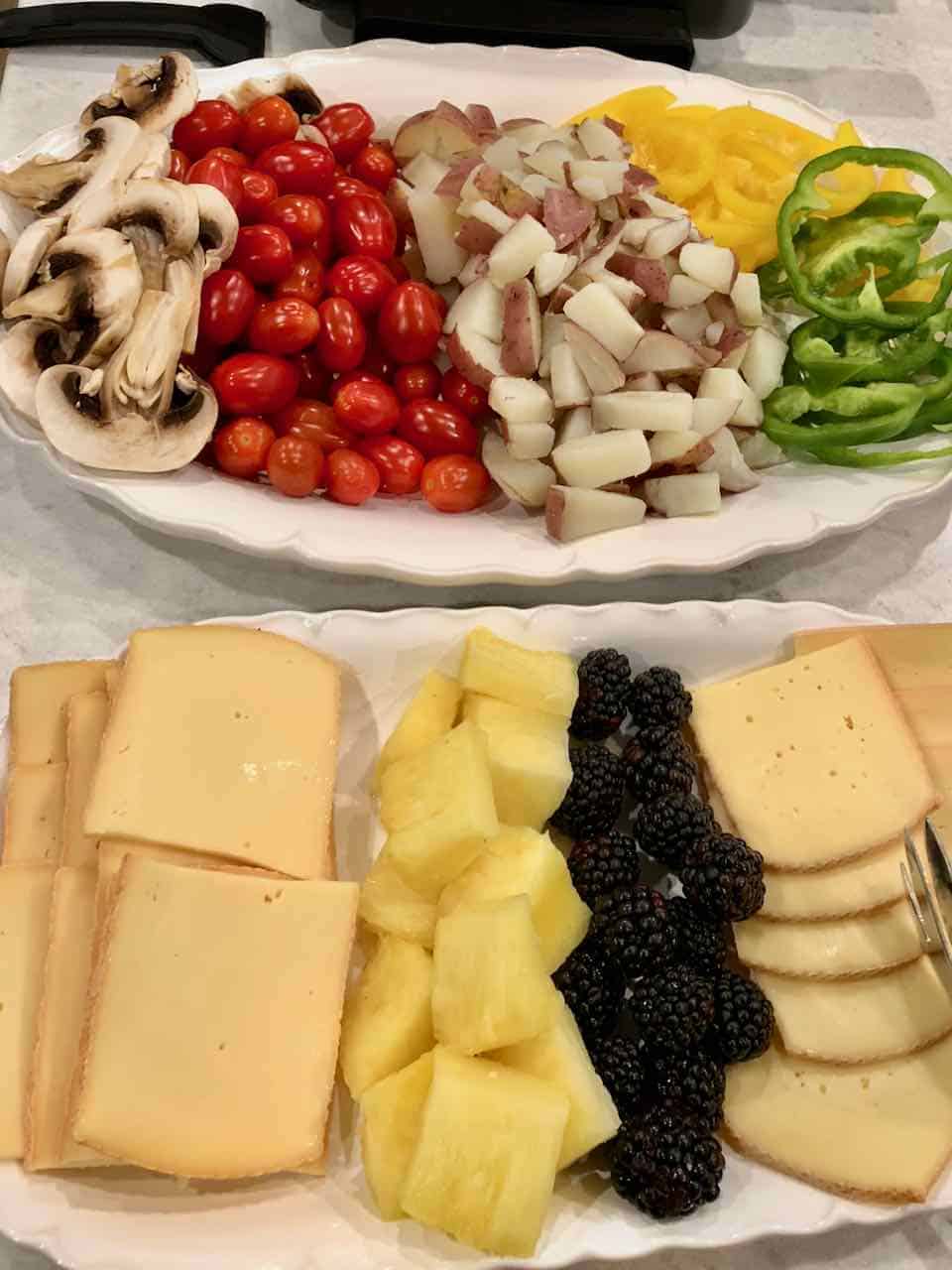 Preparation:
Shopping for the goodies – cheese, veggies and meats is pretty easy. All of these common ingredients can be found at your local grocery store.
Wash and cut veggies
Boil small potatoes
Plate all the food
Serve pearl onions, gherkins and/or gardineria in small bowls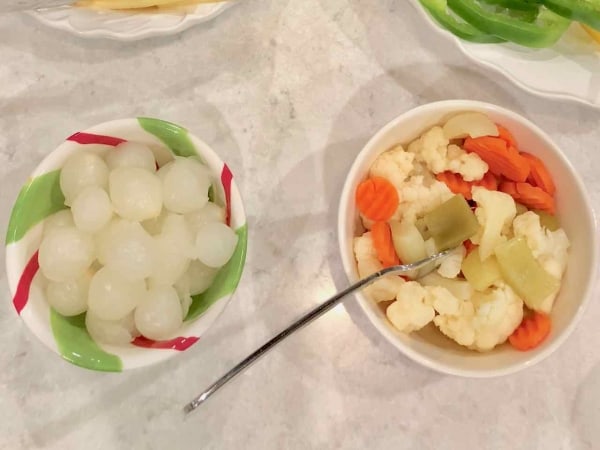 Tips for success:
Spray or brush olive oil/coconut oil on top of the grill, to avoid food getting stuck on the grill
Prepare all food ahead of time and serve on platters.
The grill can be placed in the center of a table and everyone eat around the grill.
We placed the grill on our kitchen island with all the food. Everyone served themselves throughout the day.
Turn the grill on to get hot and ready for the food. Once the cheese is melted you want to eat immediately and not wait.
When the meat and veggies are cooking, you're ready to melt the cheese.
Fill your raclette tray with cheese and any other ingredients, slide the tray onto the surface below the heating element. It's just like cooking under a broiler.
Raclette grill
The Raclette grill I purchased has a removal cooking plate which makes for easy clean-up. The 8 little pans are easy to use and clean, the handle does not get hot. I am pleased with the cast-iron grill top. The 8 trays allows for a dinner party for eight. If you have 8 or more guests and are seated while eating, the amount of guests can take turns melting their cheeses, etc. I am very happy with this grill. I would purchase another one if I wanted to have larger parties. Here is the one I purchased…
The ideal situation is for every guest is to have their own tray pan, if you need to squeeze a few more, ask couples to share. Or you can set the table-top grill on your kitchen island and guests take turns grilling and melting.
Majority of the grills have eight pans around a rectangle-shaped grill, there's also a circle-shaped model with six pans that works for round tables.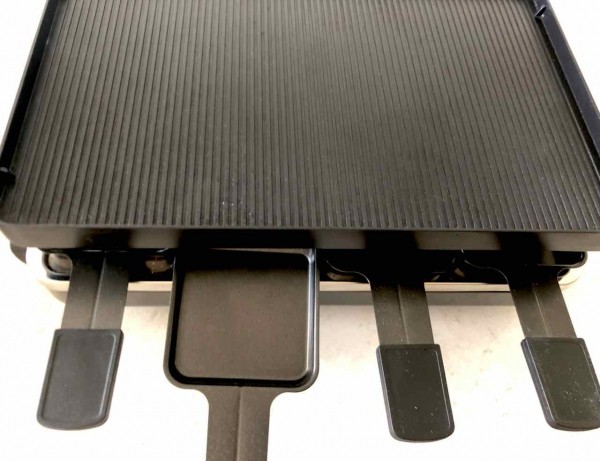 Removable grill top shown with pullout individual trays.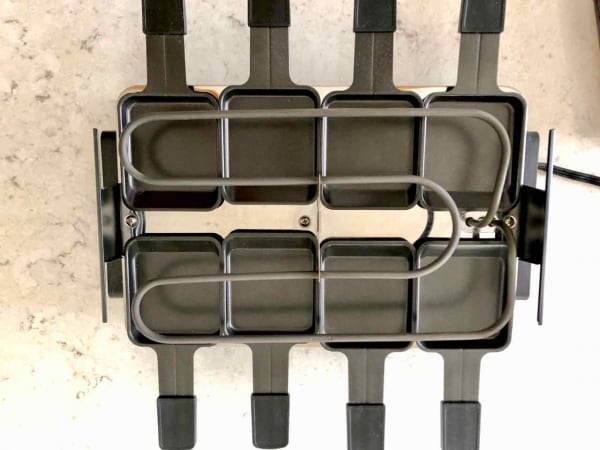 Raclette grill shown without the grill top. Heating elements are shown above the removable pullout trays.
You can see the melted cheese below under the grill top…
What about using the Raclette grill for dessert?
Doesn't that sound yummy? I will need to experiment. But I think serving cut-up fruit, pound cake, marshmallows, etc would be quite delicious with melted chocolate. Melt chocolate in the small trays on the grill- there you go. This is on my to-do list to try.
We are getting ready to eat raclette! We also shared smoked ribs my hubby smoked and ham. One of our favorites brie cheese with jelly and crackers was also served. For sure one of our favorite food days!!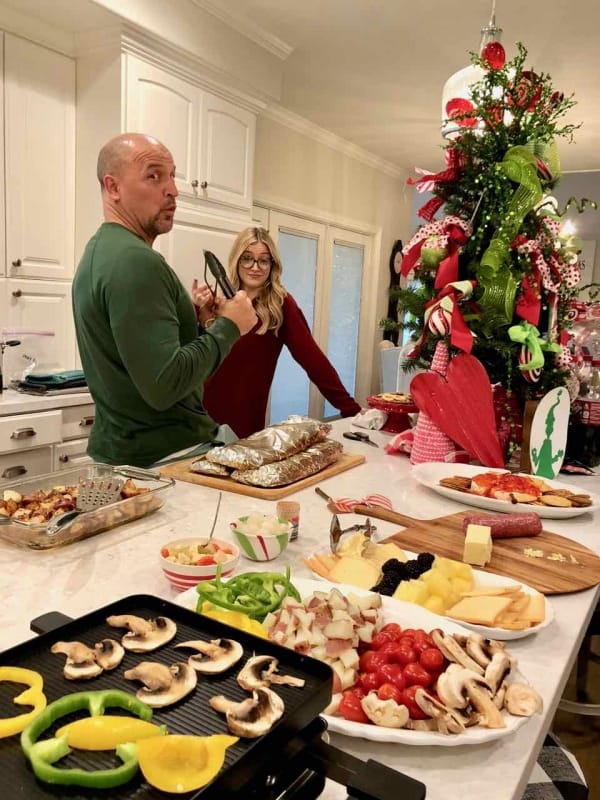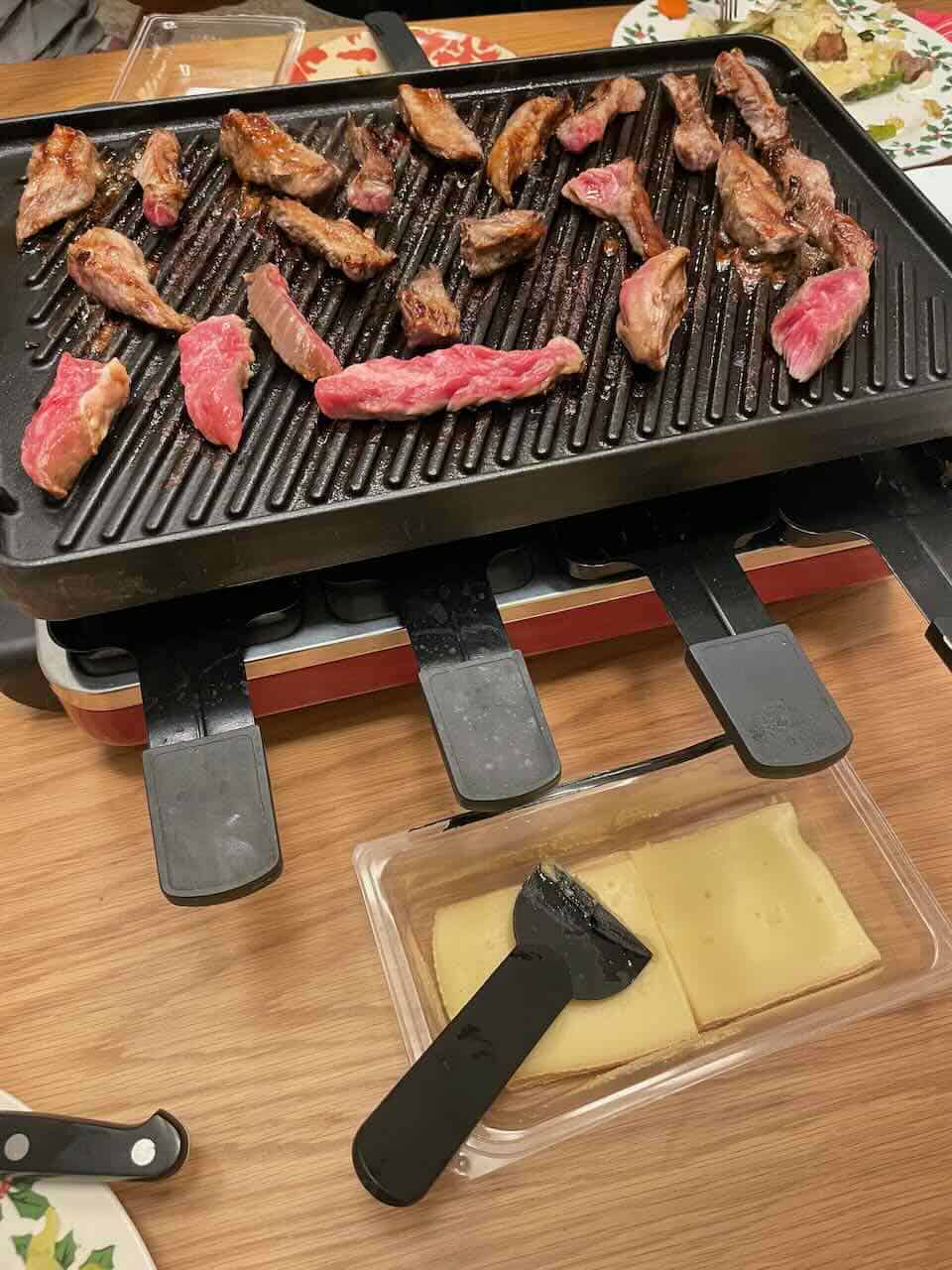 Omelets anyone?
One idea I will be using my tabletop grill is to use it for a gathering to make omelets. Get ready all the fixings for omelets – grated cheese, mushrooms, spinach, onions, tomatoes, etc. Each guest adds the egg/omelet mixture to their grill and then adds their extra goodies to create their own omelets. I'll let you know when I do this and how it turns out!
A raclette party is a wonderful way to gather with your family or favorite people for a fun and delicious communal meal. Learn how to throw one of your own for a foodie evening to remember!
What's better than wonderful memories involving food? This could be a great tradition to make for Christmas day, Christmas Eve, New Year's Eve, Fathers Day, and more!