This post may contain affiliate links that, at no additional cost to you, I may earn a small commission. Read our Disclosure Policy.
Do you hate doing laundry? Would you believe me if I told you that I don't?
When I re-did my laundry pantry room, I wanted to make sure that it was a place that I actually wanted to spend my time! This room will make you smile!!
So five weeks ago in my Laundry Pantry Room Combo post I announced that I will be participating in the One Room Challenge hosted by Calling It Home. For this challenge, I decided to show you how I re-did my Laundry Pantry room, aka "Pandry".
This week I will be focusing on how I added in my built-in ironing board and swing door! This is the fifth week of this laundry room pantry. Scroll to the bottom to see all the posts for the laundry room.
Next week is the big reveal so be sure to come back and see how the whole thing came together!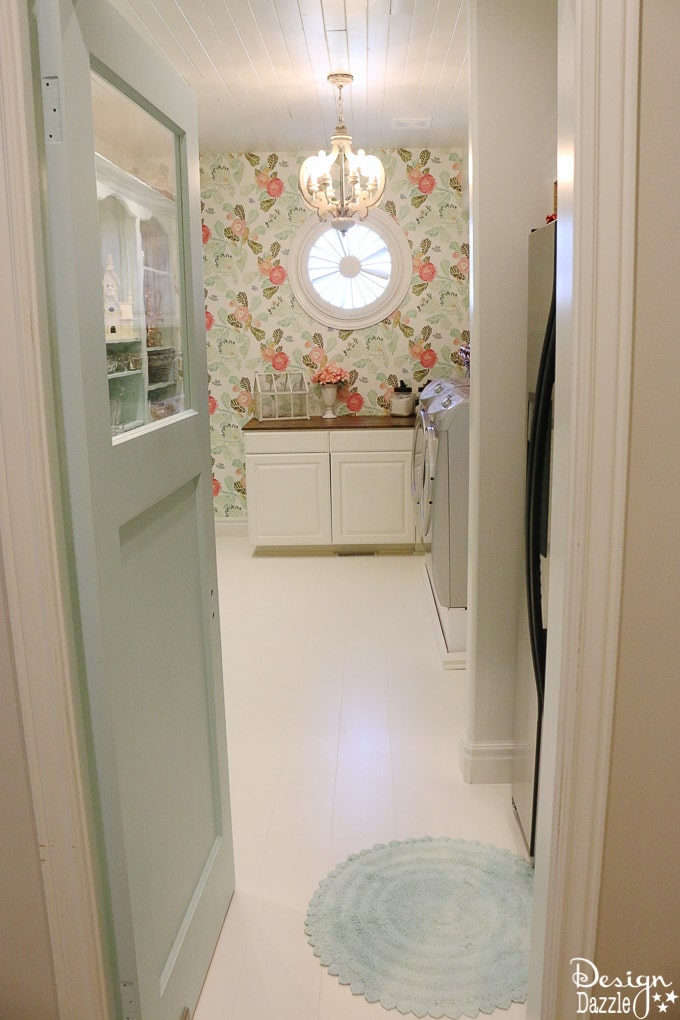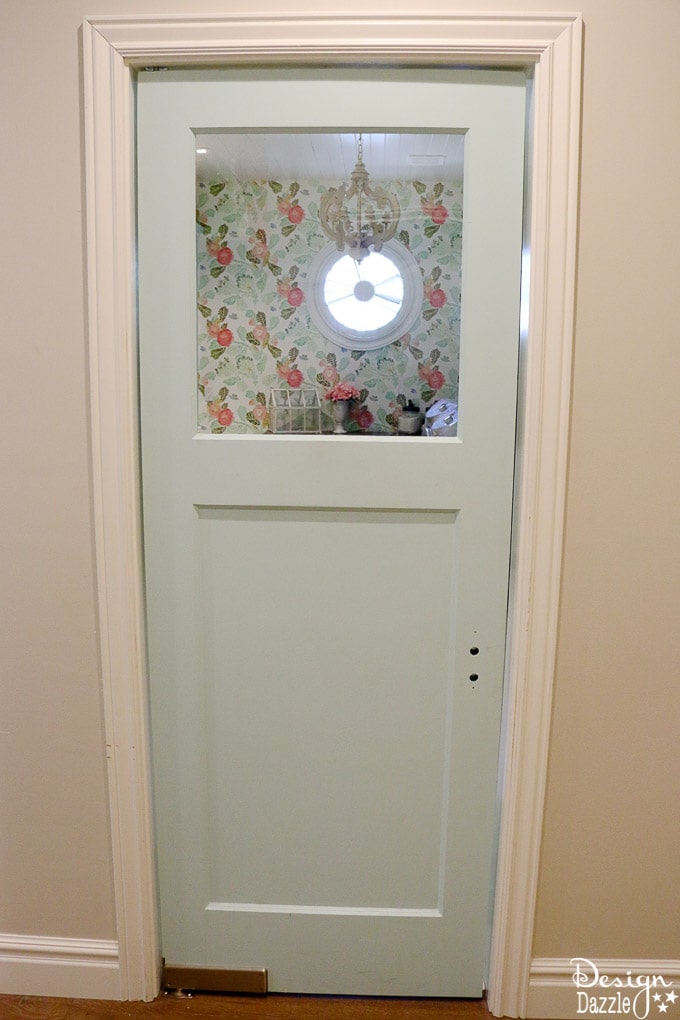 One of my very favorite parts of this room is my swing door. I love, love, love that it swings open when you walk in and closes when you walk out completely hands free! Majority of the time when I walk into the laundry room I have my hands full and the fact that I don't have to use have a free hand to open and close a door is an absolute game changer! I will never have any other type of door in my pandry room. I've had a few people ask me if the noise from the washer and dryer is loud throughout my house because the door doesn't latch all the way. My answer is that it isn't loud or bothersome at all! Even if the door doesn't latch all the way it still blocks out tons of noise like a regular door.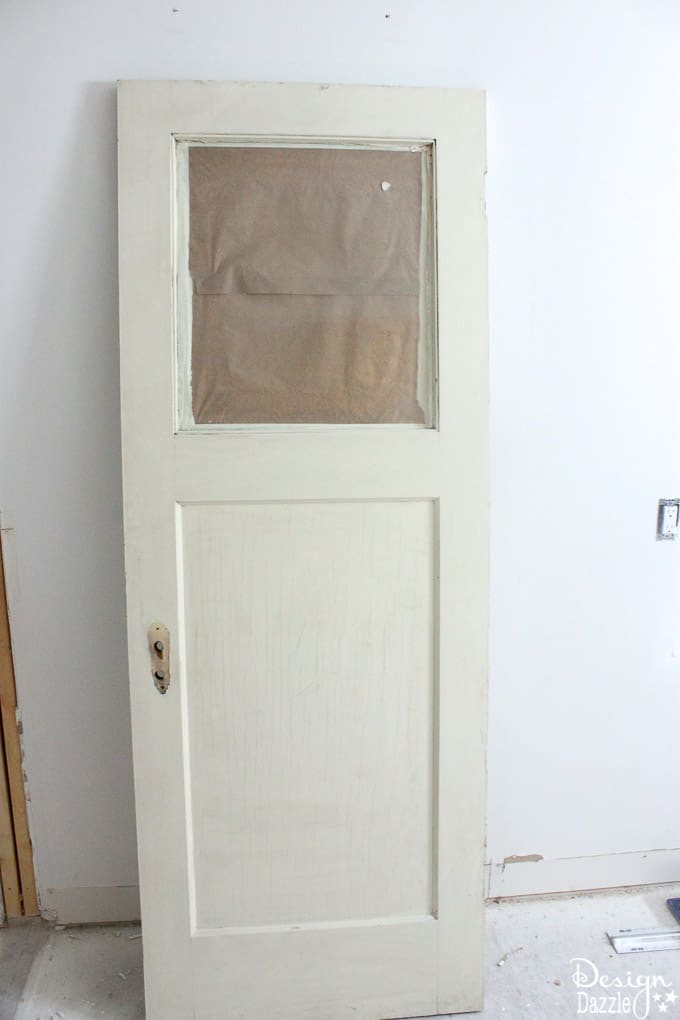 I bought this door off of online classifieds. It came from a house that was built in the 50's and they were remodeling that house and getting rid of this gorgeous door! When we started sanding down the door to paint it, we noticed that the color of the original door is almost exact same color as my built in cabinets that I showed you last week! You can see the color similarities below. How cool is that? There was also a vintage door knob that came with the door. Not sure what door knob, if any I'll put back on. Since you don't use a door knob with a swing door – it doesn't need one.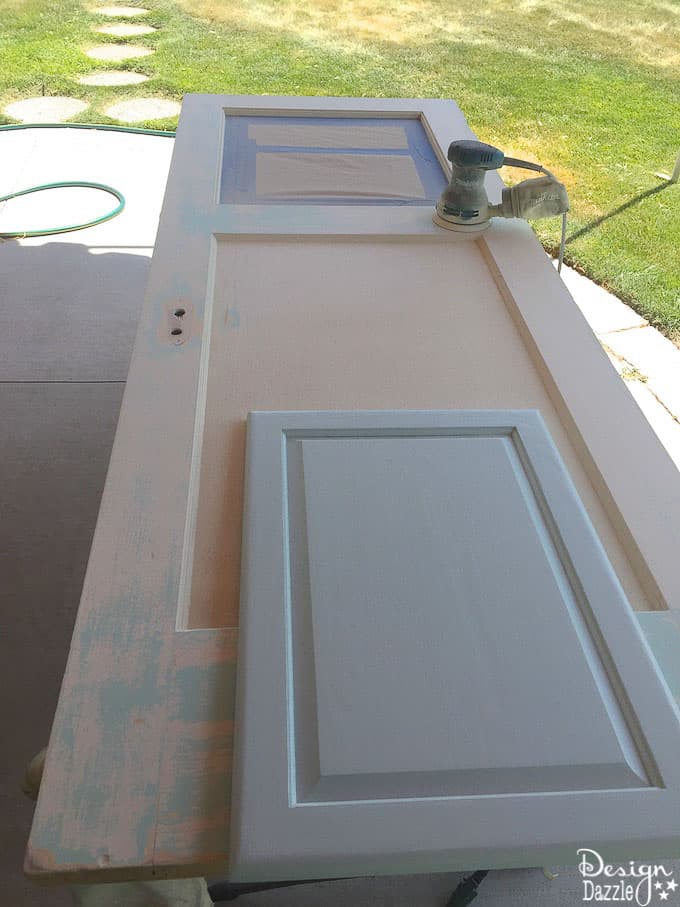 How To Turn a Regular Door Into a Swing Door:
Sand down the door really well.
Cover with tape any glass or hardware on the door that you don't want painted. *Quick tip* if you do get paint on glass, just take a razor blade and scrape off the paint!
Paint with one coat primer.
Paint with two coats lacquer paint in color Valspar "tranquility", the same color as my built in cabinets.
Install the swing door hinge and attach the door.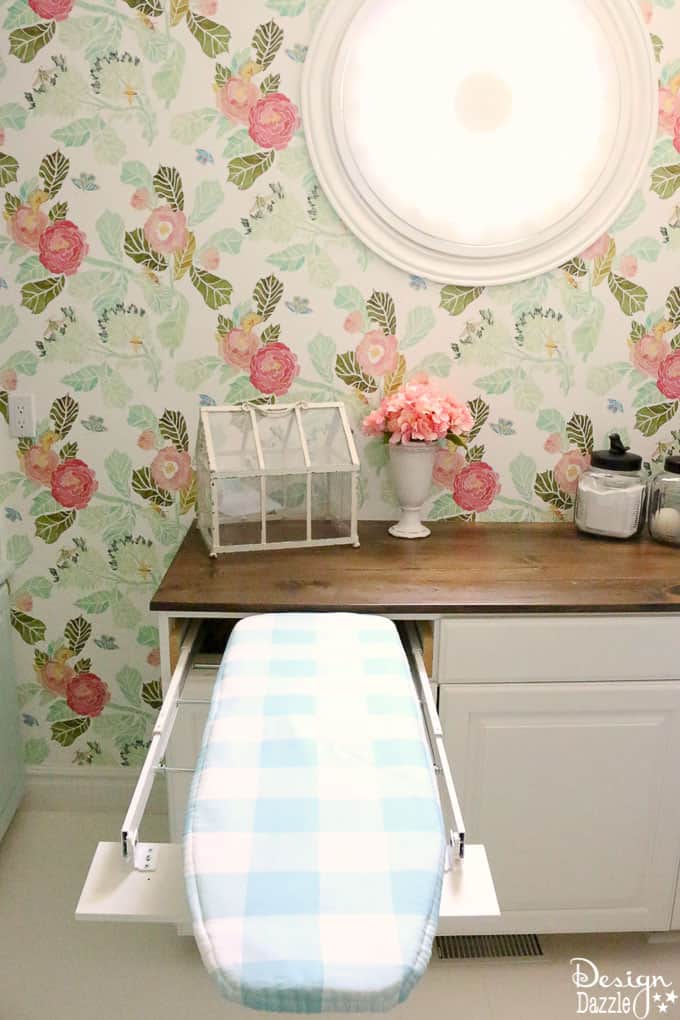 I absolutely love having my ironing board pullout. It's made it so I actually enjoy ironing! I really do. It's so nice to be able to pull it out when I need it and push it back in when I'm done. But you would never guess that an ironing board is in that drawer when it's closed!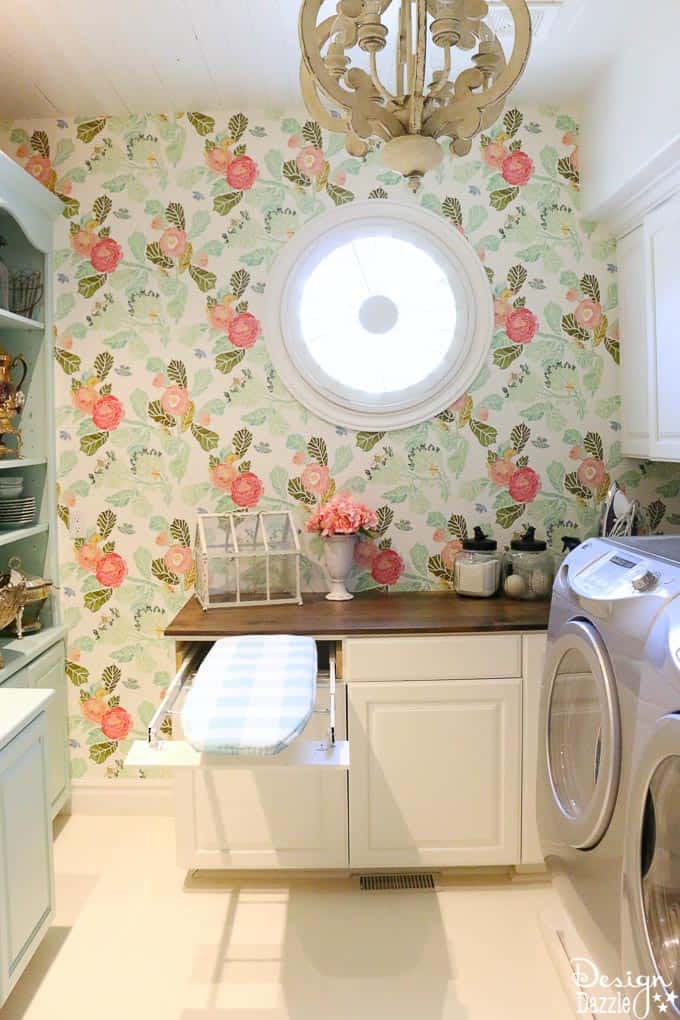 It was really simple to install this ironing board in a drawer. I used the Ironing Board in a Drawer kit purchased from Amazon. A handyman installed it for me. It didn't take too long and I had a pull-out ironing board. So cool!
The fabric for the custom made ironing board cover came from here. I hired a very talented seamstress to cover the ironing board pad that came with the board in a drawer with the new buffalo check fabric. Doesn't it make it look all pretty? Otherwise the ironing board pad cover was a silver gray which would have been pretty boring for my laundry pantry room.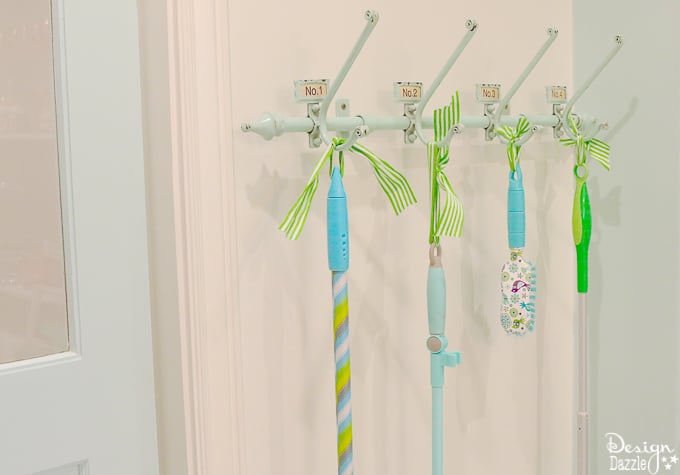 This hook that holds my sweep and mop is so cute and useful! It is actually a coat hanger but I love using it for my large cleaning supplies! You can buy a similar wall hangers here.
Chandeliers are the perfect finishing touch to any room! I found this one at a local store and had it installed. It's such a pretty chandelier and really just the icing on the cake for my wood ceiling! You can buy this exact chandelier here. You will love it!
I absolutely adore this wallpaper! It adds such a gorgeous design element to the room. I got it from Anthropologie. Click here for the direct link.
LAUNDRY ROOM POSTS REMODEL
LAUNDRY ROOM REMODEL – ANTIQUE DOOR MADE INTO A SWING DOOR (you are currently reading this post)
My goals for creating a Laundry Pantry Room Combo – PANDRY:
Create a happy room!
Add tons of storage for my serving pieces – cakes stands, glassware, apothecary jars, beverage dispensers, etc.

Incorporate different textures into the design
Add lighting and a cute chandelier
Wallpaper the focus wall
Creative way to use the ironing board
Tongue and groove ceiling
Add a swing door
Make sure all the essentials of a laundry room is included
Organization is a must
Create a spot for our extra refrigerator
Painted floor
Wood counters
Style and decorate the room
Be sure to come back next week to see the big reveal! Are you liking the room?


Save