This post may contain affiliate links that, at no additional cost to you, I may earn a small commission. Read our Disclosure Policy.
Doing laundry is a necessity of life – unfortunately. So I want to make sure that my laundry room is not only a beautiful room but that the room also makes me happy!
Decorating and lots of details can make that happen. So I'm out to make this room a happy room! When we first purchased our home, I was excited to remodel the laundry room. It had the most adorable round window, a few maple cabinets, and a utility sink!
I had an idea right away that I would make this not only a laundry room but make it double as a butler's pantry too. It is the perfect space saver when you combine your butler's pantry with the laundry room.
A butler's pantry typically stores serving items and not food. So no food will be stored in my laundry room. I've decided to create a new word for this room. I will call it my "PANDRY" pantry + laundry = "pandry".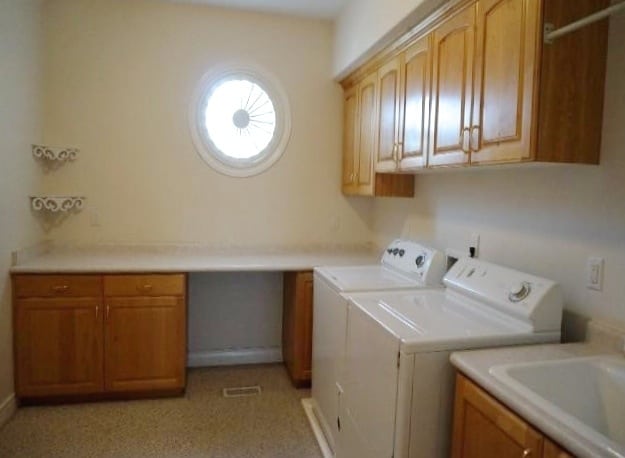 I've decided I will be participating in the One Room Challenge hosted by Calling It Home for this Laundry/Pantry combo room AND for my Bedroom Makeover: Decorating Using Amazon Finds.
The ORC challenge is a bi-annual event where bloggers become guest participants and a few designers are invited to make over an entire room. The catch? You have 6 weeks to get it done. I know you are probably thinking how can I possibly remodel two rooms in 6 weeks.
Well, to be quite honest the laundry/pantry combo room is 95% complete. It's ok with the rules to feature a room you've already completed. I just haven't blogged about it yet. I will be reporting my progress every Thursday for this room.
Be sure to check all of the other great posts in the One Room Challenge! You can find my previous ORC here when I remodeled my entryway and when I revealed my dream kitchen last year!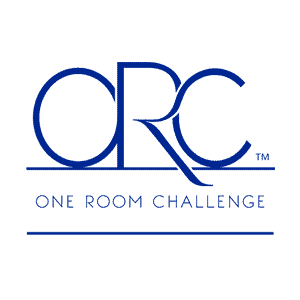 Shown above is the before picture. The cabinets were in excellent condition but the space planning in there could be improved for better functionality.
The essentials of a laundry room for me are the washer/dryer, utility sink, folding, sorting and ironing, storage, and a place to hang laundry (items not to be placed in the dryer).
Since I was also creating a "pandry" I needed to consider where to place cabinets for all my serving items – trust me I have a lot.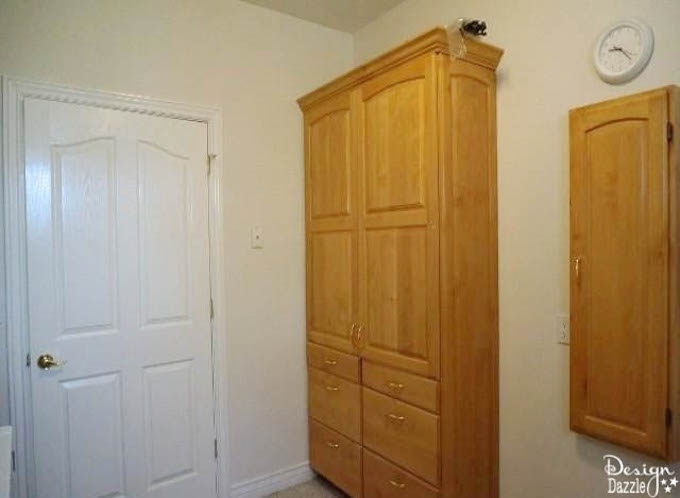 Walking into the laundry room this is the wall to the left. This is where I feel the space planning could be improved significantly.
The pull-down ironing board shown in the cabinet on the right will be removed and I have a better spot for the ironing board that doesn't take as much space. The cabinet on the left was removed and placed in my storage room.
Have you ever had a discussion with a spouse about a remodeling idea and they are TOTALLY against it? Well, this is what happened with this space.
What you are seeing here is outside of the laundry room – the coat closet is on the left and the empty space on the right is for an extra fridge or freezer.
My idea was to REMOVE the coat closet and add a wall to enclose the total space but open up the room. Now, why would I want to remove a coat closet? Because we have another one about 30 feet away and also, I created a little mudroom nook right across from this area (to hang coats). Check it out because it turned out so cute!
Did I get my own way with this area of the room? See below…
Yes, I did!
Since my hubby likes my decorating and room design. He told me to go ahead and do it! He wasn't completely on board at the time but he is NOW.
As you can see, this really opened up and made this laundry/pantry room quite a bit larger. The coat closet was completely removed and studs and drywall were added to create a wall. The opening is where my swing door will go.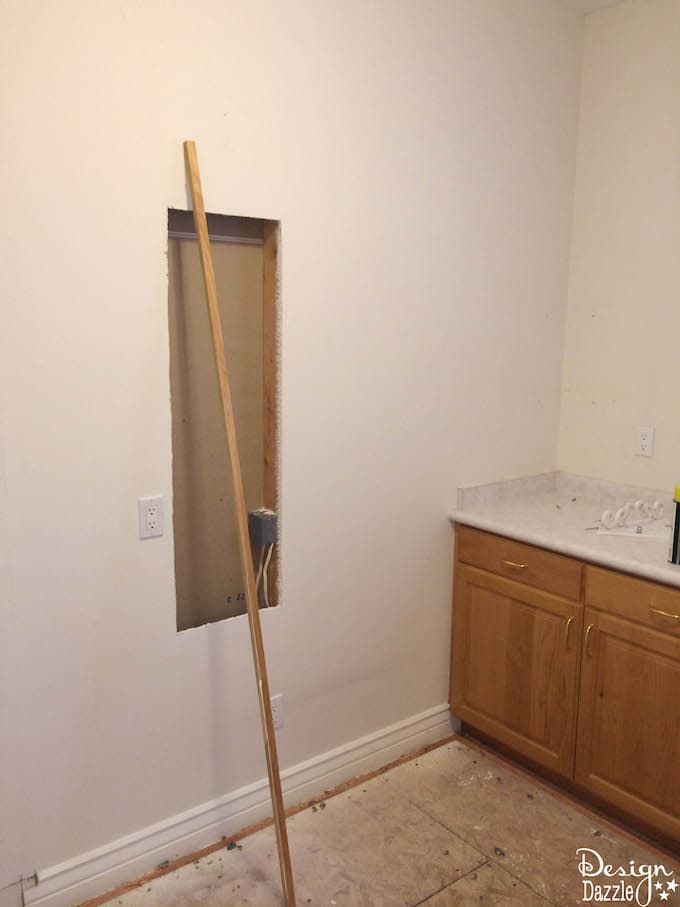 One of the first things done was to remove the carpet, remove the ironing board cabinet, and the other wall cabinet.
There was a gap between the lower base cabinets (maybe to place a chair). The cabinets were moved together to close the gap. The cabinet on the right is still in its original spot.
My goals for creating a Laundry Pantry Room Combo – PANDRY:
Create a happy room!
Add tons of storage for my serving pieces – cake stands, glassware, apothecary jars, beverage dispensers, etc.

Incorporate different textures into the design
Add lighting and a cute chandelier
Wallpaper the focus wall
Tongue and groove ceiling
Add a swing door
Make sure all the essentials of a laundry room is included
Organization is a must
Create a spot for our extra refrigerator
Painted floor
Wood counters
Style and decorate the room
Come back next week to see what was accomplished next.
Laundry Room Remodeling Posts


Save
Save
Save