This post may contain affiliate links that, at no additional cost to you, I may earn a small commission. Read our Disclosure Policy.
The cost of airfare is often the biggest thing that stands in the way of someone being able to see the world. Thankfully, Google Flights makes finding cheap airfare a lot easier than it used to be! Google Flights is not an app it is a website – so pretty easy to use. I thought I'd share some tips and tricks of how to find amazing deals on airfare using the site!
With these tips, you won't have to let the price of a ticket stop you from traveling!
Browse Destinations
The best thing to do when planning a trip is to keep an open mind. Being open to different options, dates, seasons and destinations is how you'll be able to find the best deals available.
Open up Google Flights and check out my favorite feature, the Explore Map.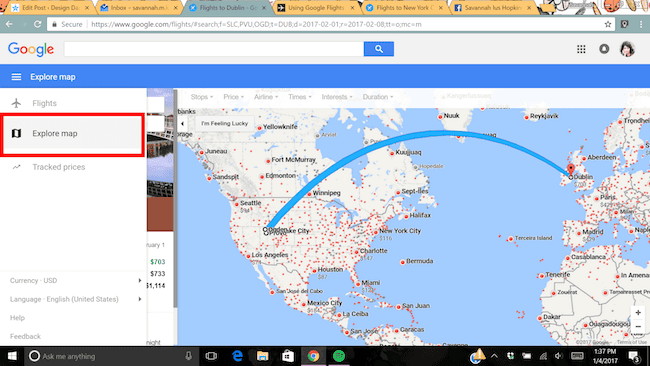 I love this feature because it allows you to see the current best deals and prices to any destination in the world in one place. Just type in your local or nearest airport to get current pricing.
Try hovering over different destinations that you're interested in and check out what the prices are looking like right now. you might be surprised at what you find!
After some exploring, I can see that prices to Europe from my local airport, Salt Lake City International, are pretty fantastic right now. Most popular destinations are under $1,000 round trip!
Another neat feature on the Explore Map page is the "I'm Feeling Lucky" option. If you're not sure what's out there, just let this button plan a hypothetical trip for you. It will pull up the lowest airfare and different hotel and destination information – all with one click!
I tried it out and it showed me that you could have a fantastic trip to Paris later this month! Pretty handy, right?
If seeing every airport in the world is a little overwhelming, you can narrow your search with the different options along the top. Filter your search according to certain dates, airlines, departure times, interests, and a few more options. Just remember that the more flexible you are, the more likely you'll be able to snag a killer deal!
This is the perfect first step in planning a trip because it gives you a wide and accurate look at your options. One you've picked a destination, it's time to start narrowing down the best time to in order to get the best ticket price.
Search Multiple Airlines And Dates At Once
After choosing your perfect vacation destination, go into the Flights tab to get more details about ticket prices.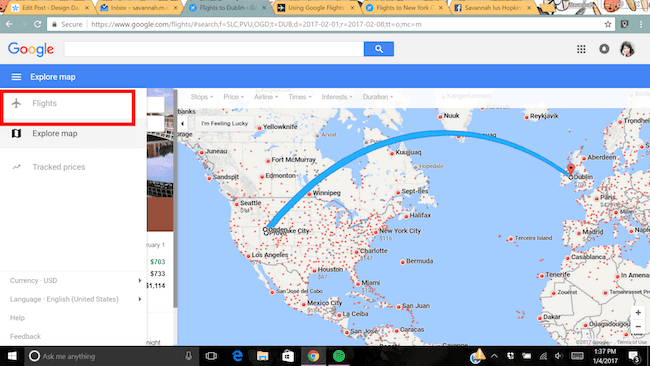 From browsing the map, it looks like there are some fabulous deals on flights from Salt Lake to Dublin right now. If you have an idea of what specific dates you're looking for, you can add that information and you'll get a list of the prices from various airlines.
Google Flights makes it easy to compare prices from different airlines with this feature!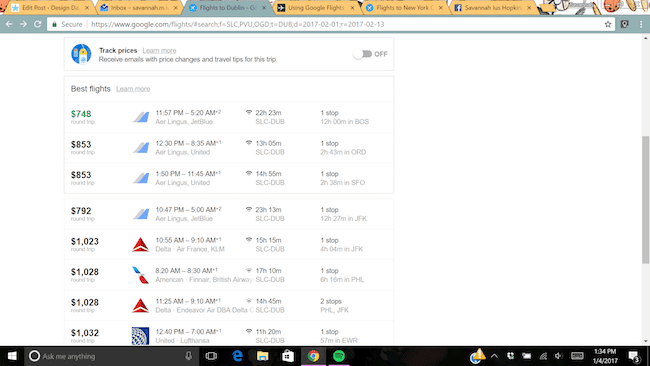 After each price Google tells you the departure and arrival times along with the airline, total travel time, and if there are any stops along the way. The prices are listed from lowest to highest, with the best deal for your specific dates highlighted in green.
But wait! You shouldn't just pick the lowest price and stop there! Make sure you are looking at all your options by checking Flexible Dates and the calendar. This will give you a grid of prices of flights – so it helps you be flexible when you need to be with pricing. LOVE this!!
If you go back to where you insert your dates, click on the Calendar icon. The box that drops down is one of the handiest things that Google Flights has to offer and part of what sets it apart from other travel websites.
You can see that underneath each date Google find the lowest airfare price to your destination for that day. This is helpful because sometime there are huge savings if you decide to leave just one or two days later. After picking Dublin as my destination and checking the calendar, I saw that I could save $300 if I left on February 1st instead of just a few days later on the 4th.
Google Flights makes it easy for you to pick out which are the best days to leave and come back by putting the best deals in green. Make sure you check this feature before picking your dates in order to get the best bang for your buck! It's amazing what just 24 hours can do to the price of flights!
The Flexible Dates tab is similar to the Calendar tab, but will highlight the dates a few days before and after your initial departure date in order to show you what you can save if you simply shift your schedule a little bit.
Another handy feature that Google provides in the Price Graph.
The Price Graph is a nifty way at checking out what price trends for your destination are throughout the year. For Dublin, you can see that there are clearly some weeks and months that are better to travel there than others. Price take a steep increase during the peak season, Summer, and it looks like you can get the best deals during the Spring and Fall.
If there's a week with prices significantly lower than others, simply click on the bar and Google Flights will bring up the flights for that week. The Price Graph is a great way to ensure that you are going at the right time and getting the best deal throughout the year.
Check Multiple Airports
After you've checked all this initial information, a good option is to see what prices are like from different airports. Google Flights can check multiple airports at once. All you have to do is add it to the departure destination by clicking on the little + sign in the bar. Nearby airports will automatically pop up, and you'll be able to compare pricing.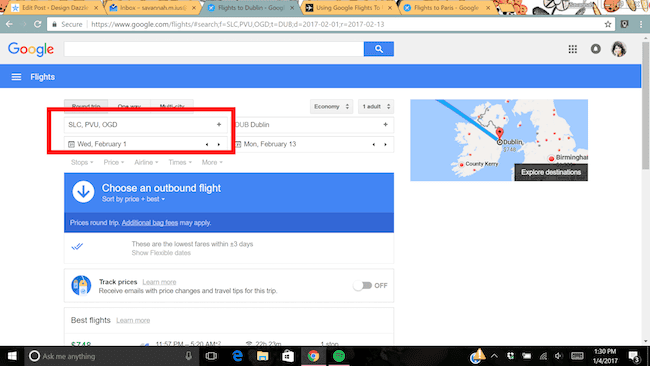 From Salt Lake, sometimes you can actually end up saving money if you go to LAX first. For example, right now it's significantly cheaper to fly to London from LA nonstop than from Salt Lake, and a cheap flight to LA combined with the London flight would still be less cost than just flying from Salt Lake.
Cost of airfare to London | SLC vs LAX :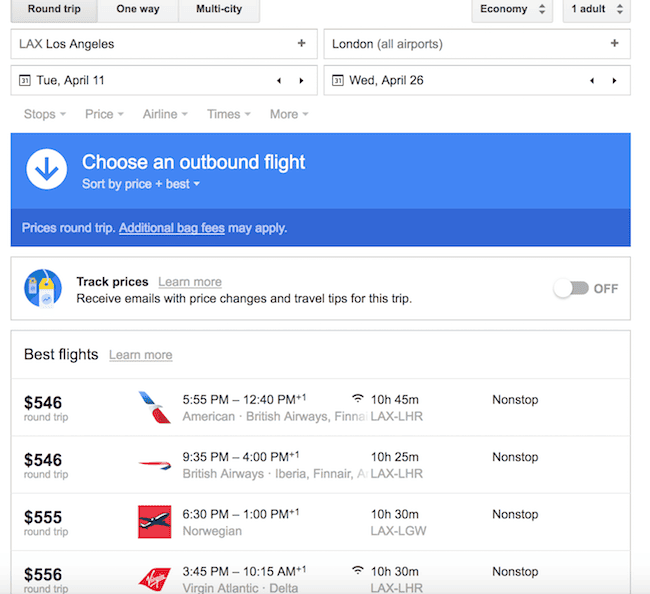 It's also a good idea to check how many stops or layovers there will be. The lowest price to Dublin from SLC includes one long 12 hour layover in Boston. That bring the total travel time to almost 24 hours, and if that's too long for you it may be a smart idea to either invest a little more for a direct flight, or look at other options like one-way or multi-city.
Look At One-Way and Multi-City Options
If you're planning a trip that will involve multiple destinations, looking at the price of a One-Way ticket may be a smart option for you. It can be more expensive and inconvenient to fly back from the same airport you arrived at. For example, if you take trip to London but the last part of your European trip is in Frankfurt, it's smarter to fly back from Frankfurt because the cost of getting back to London isn't worth it.
A One-Way ticket will also give you more flexibility when it comes to your travel plans. You can often get the exact dates you want and still get a great deal if you take the time to look into One-Way options.
Multi-City may be a good option for you if there's somewhere you'd like to stop along the way. A few days in Chicago, New York, or even Reykjavik on the way to Dublin could be a great decision that will save you money on airfare. Plus, you get to see even more!
When my kids were planning a trip to Bali last year, they found that they could save money by stopping in Australia for a few days. Yes, there flight was cheaper with a layover in Australia for 4 days. Since we have relatives there, they stayed with them for a few days and got a few, fun extra days and a cheaper airfare!
As you can see, adding a few days in New York would be less than $100 on the way to Dublin. Two stops in one? Sounds good to me!
Track Flight Prices
If you've done all the research and you're still not sure that you're getting a good deal, Google Flights offers the option to track the price of flights to your destination of choice. They'll automatically send you a notification if there's a change so you don't have to constantly check what the latest updates are.
This is a great way to keep track of prices to one or multiple locations. You can see how the trends are changing so that you can make an informed choice and get the best deal possible!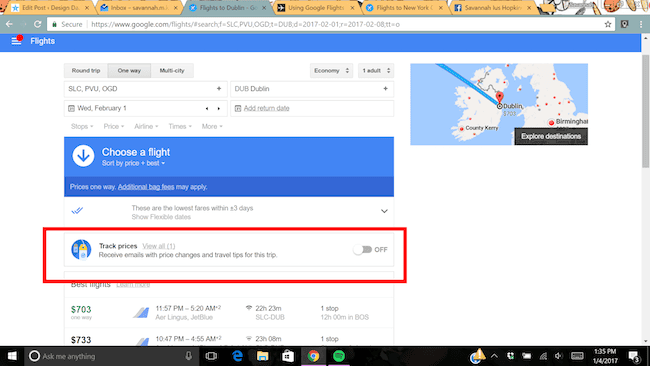 After you've got all the information set to where you want it, just turn on the notification feature and – voila! – you're done! Super simple, but it might save you a lot of time and money in the long run.
You can always manage your tracking notifications by going into the tracked prices tab.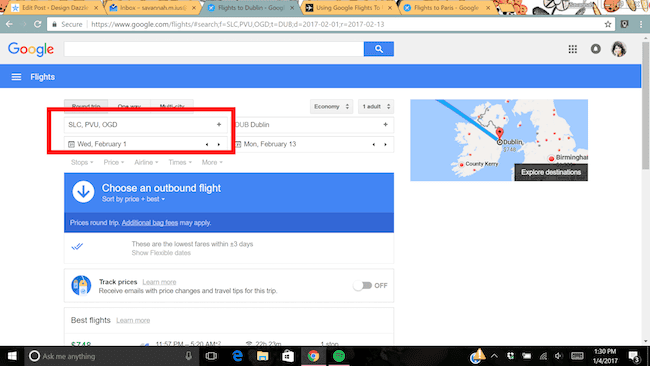 Don't Wait Too Long!
If you find a great price that works in your budget and schedule, don't wait too long before booking. Take advantage of that deal! Airfare prices can change almost daily, and there are a lot of people who are also tracking these prices. You don't want to miss your opportunity, so book it quickly!
My son recently took advantage of a great deal on a flight to Europe, but even just in the few hours he was trying to make the decision, the price started to rise. Good deals tend to go quickly, so make sure you're ready to act fast!
You can browse and daydream about far off places all you like, but the most sure way to make sure you actually go is by booking the flight. With all these Google Flights tips and tricks, you can get a fantastic deal and don't have to let the price of airfare be your excuse.
Some of my favorite features in Google Flights are:
the explore map

check prices of alternate travel days with the calendar

sort by total travel time

price compare nearby airports

checking multi-city options
I love Google Flights. I check frequently for great airefare deals. Do you have any tips for finding cheap airfare? Comment below and let me know!


Save