This post may contain affiliate links that, at no additional cost to you, I may earn a small commission. Read our Disclosure Policy.
This year I'm participating in Home Depot's Halloween Style Challenge and I'm excited to show you my creation! I love decorating for the Halloween season. Plus, I shop at Home Depot more than pretty much any other store. So with all the fun projects I have going on around my house, I'm there all the time! I always have big ideas for my Halloween decorations! Last year I invited my friends over for a Halloween in Paris party where I completely transformed my family room, entry and kitchen area. It was a blast! This year I decided to focus on my front porch. Home Depot sent me an inflatable dragon which I wondered how was I going to decorate with but I branched out and did something different than anything I have ever done! You 'll see how it turned out below :).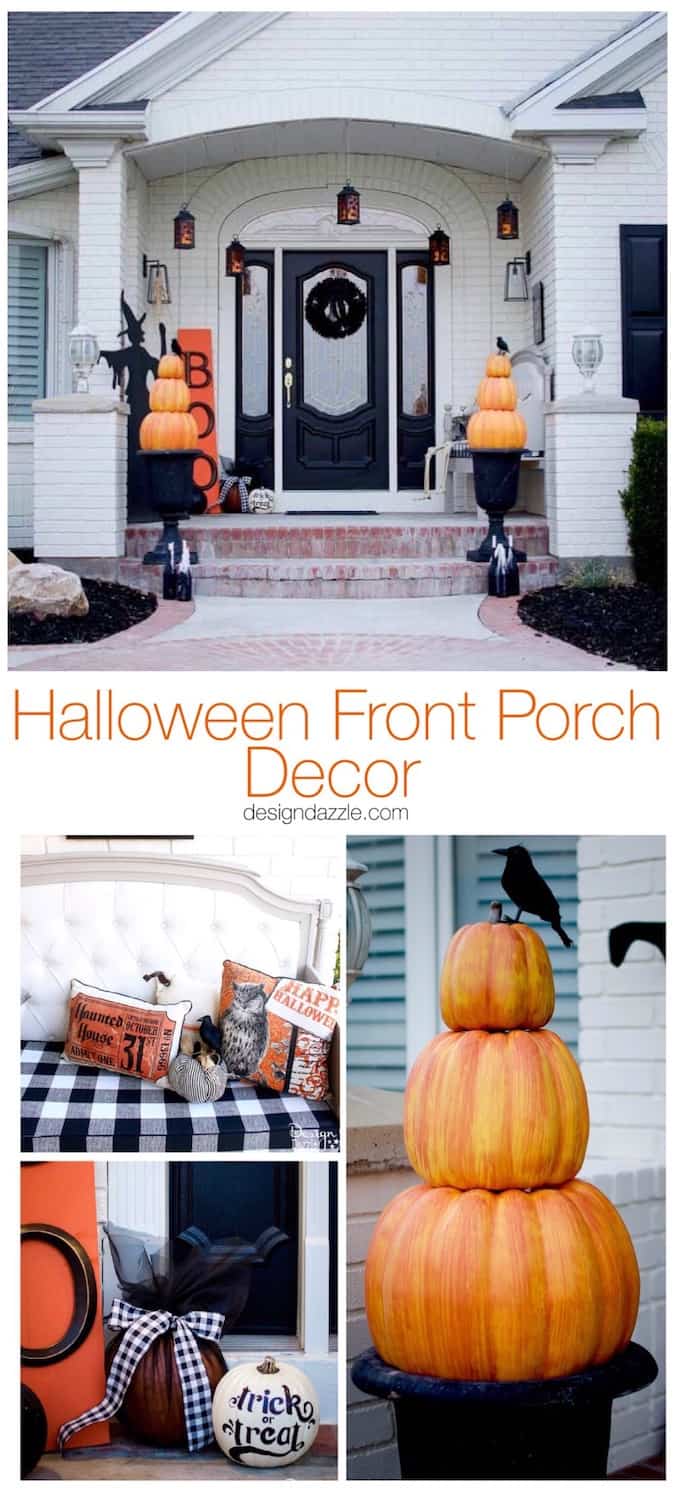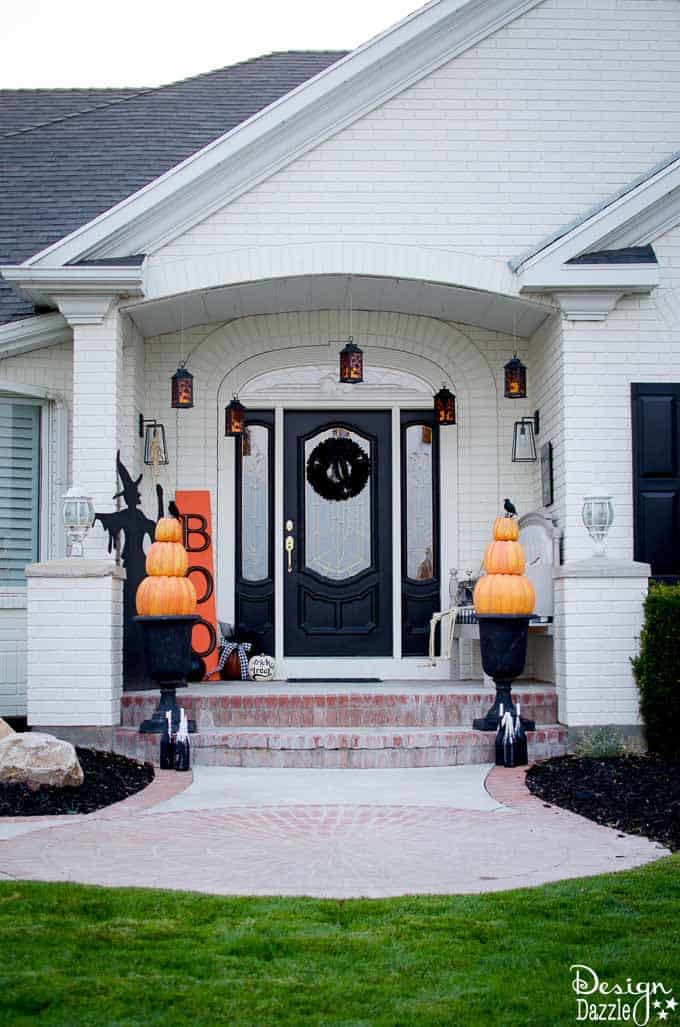 I love my the white brick, black shutters, and black door on my front porch. They are the perfect backdrop for Halloween decorations! Utilizing the front porch for this challenge worked out perfectly. Last year I decorated my back patio for the Home Depot Style Challenge. and used this firepit and chairs. It turned out so cute- check it out!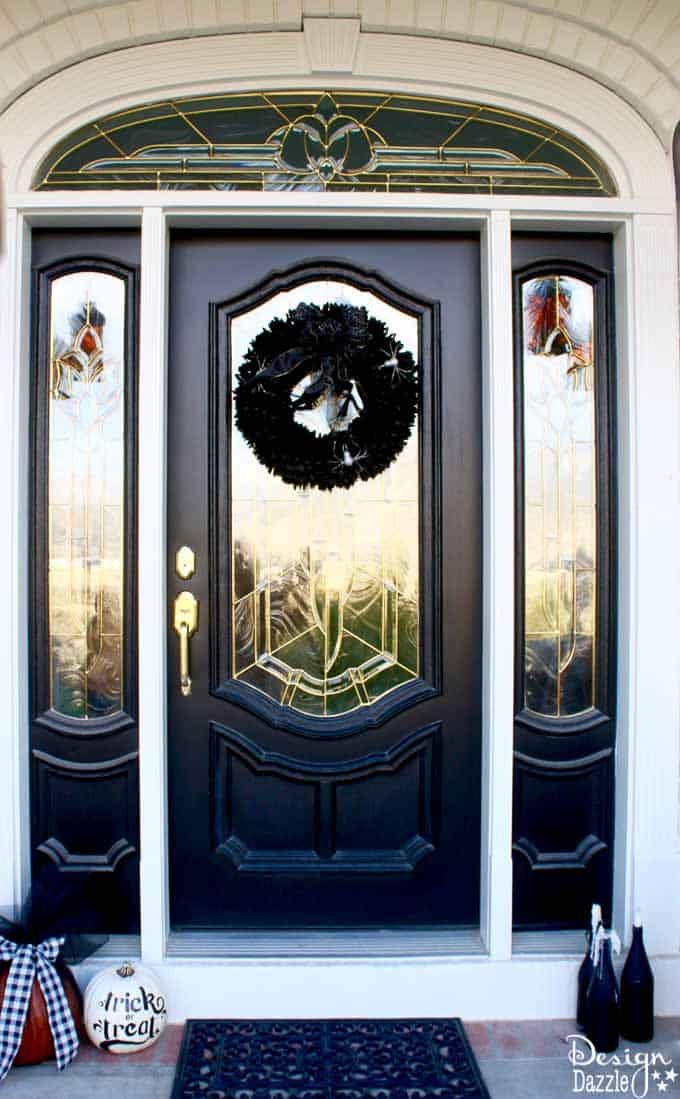 I went shopping at Home Depot and found some fantastic Halloween products to add to my front porch decor including the spooky spider wood curl Halloween wreath.
When I saw the stackable pumpkins at Home Depot I knew they would be perfect to place on top of the black planter urns I've had forever. Plus, doesn't a black crow just add the perfect finishing touch?
I've collected fake pumpkins over the years and threw in a few to create some pretty vignettes. One easy trick was to use outdoor window screen to create a "wrap" around the pumpkin. I have a few faux pumpkins that are old and faded. I gave them new life by wrapping window screen around them and then tied with ribbon. It was inexpensive, easy to cut with scissors, and quick to do.
So how did I incorporate the fire-eating dragon?
One of the first things our trick-or-treaters will see when walking up to our front porch will be the fire eating dragon and our firepit lit with a cozy, warm fire going. This inflatable dragon is impressively huge (9 feet tall) with moving wings and a red lit fire belly! As you can see, it certainly is a fire eating and fire breathing dragon!
I'm so excited for Halloween this year because we'll just hang out on our front patio, hand out candy, and chat by the fire while roasting marshmallows. It's a nice thing to visit with neighbors rather than just handing out candy. I'm sure even most of the kids will love to roast a marshmallow or two.
In fact, I even roasted me a couple of marshmallows after I took these pictures in honor of getting ready for Halloween night 🙂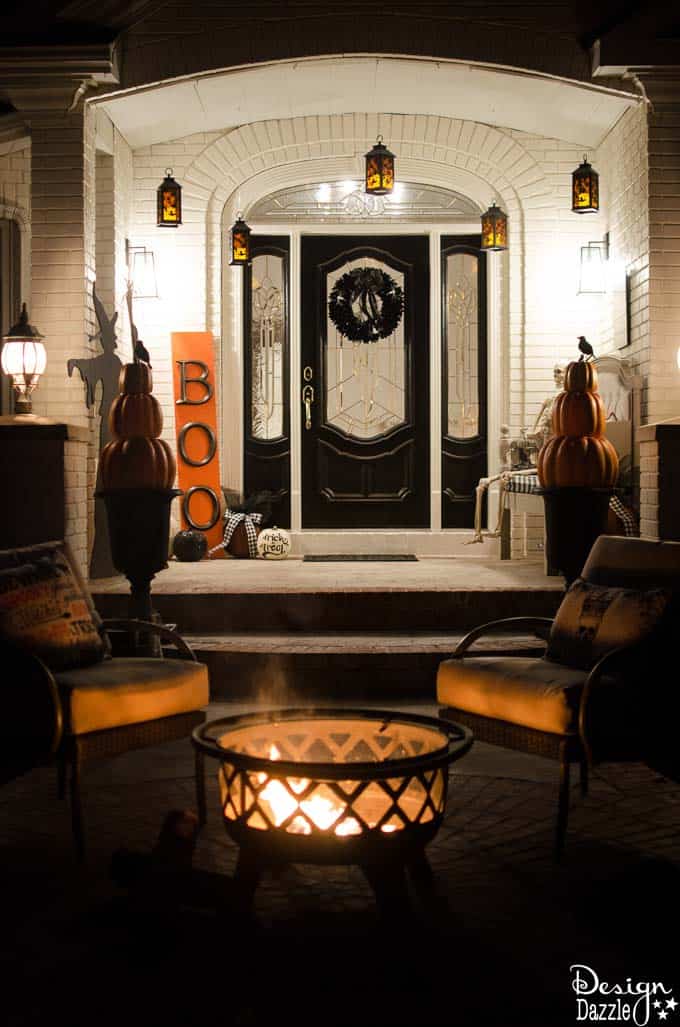 Mr. Skeleton holds a birdcage with a talking Raven (the taking Raven actually talks!) is a great accent for my bench.
I love the way these decorations look all lit up at night! These battery-operated spider lanterns are really cool. The candle lights it up with a 6-hours-on/18-hours-off timer, so you can easily add beautiful ambient lighting in hard-to-reach areas. Or, simply turn it on/off as needed with the switch on the bottom.
This BOO sign is one of my favorite parts of the decor! It literally took 20 minutes to make. That's my kind of craft! I purchased the pine wood board 12″ x 6 ' from Home Depot. Of course, they cut it for me (I just needed 1 foot cut off the end). I sprayed painted it orange and let it dry (that was the longest part), then I nailed in the letters that I already purchased a while back. Quick, simple, and easy!!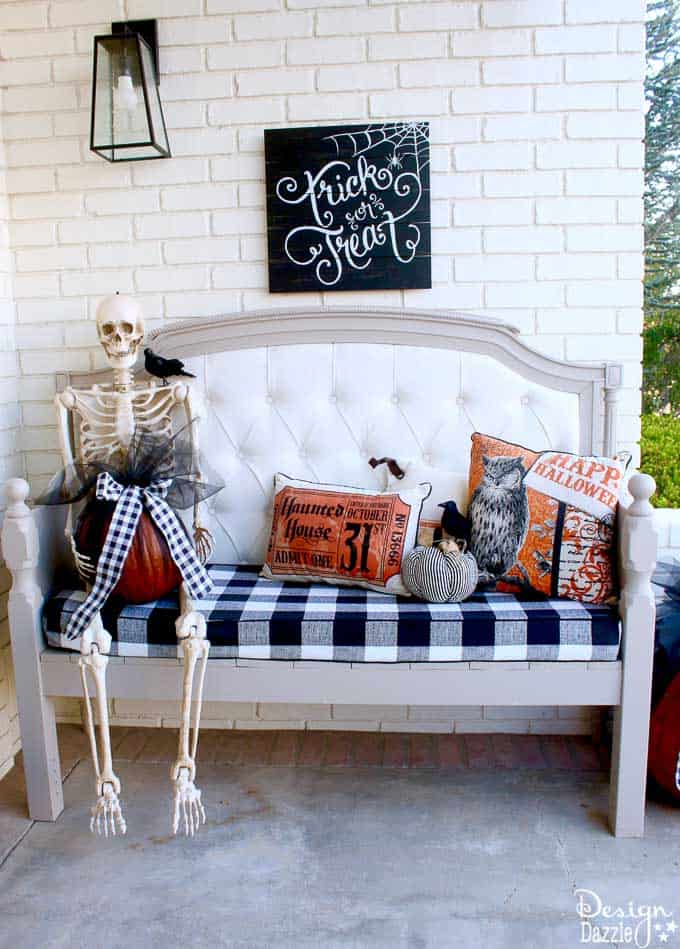 I did some rearranging with the pillows and the pumpkin wrapped in "window screen".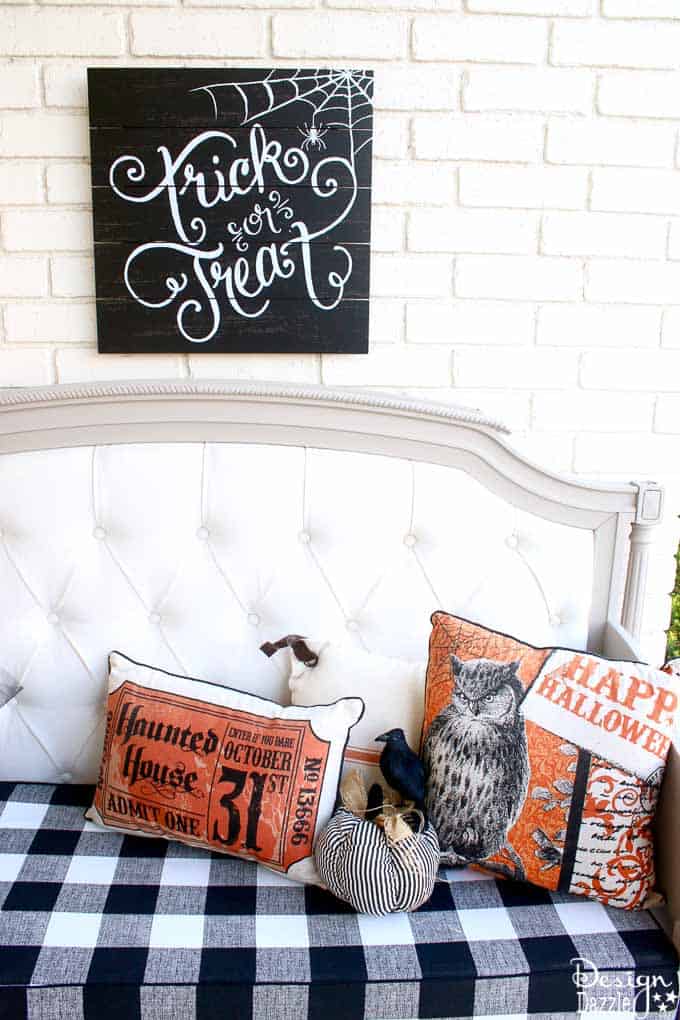 I was pleasantly surprised to see such cute pillows in the Halloween section! They are exactly what I needed to add the right touch to my cute bench. The printed Halloween pillows are from Home Depot.
Many years ago I asked my husband to make this witch for me, it was an early birthday present. Of course, he purchased all the supplies – wood, paint and re-bar from Home Depot. We used the re-bar when we placed the witch in our yard and pounded the re-bar in the ground to help prop up the witch.
Thanks to Home Depot for collaborating with me on this post and for the style challenge! My front porch is decorated for Halloween! Love it!. If you are on Instagram check out our ideas.
What was your favorite part of my Halloween Patio?
If you like this post, check out some of my other fun Halloween decor posts:


Save
Save
Save
Save