This post may contain affiliate links that, at no additional cost to you, I may earn a small commission. Read our Disclosure Policy.
I look forward to throwing different themed parties for my girlfriends! This year the theme was "Halloween in Paris" and it was probably one of my very favorites to create. Everything at the party had a very rustic, vintage and worn feel, just like I would imagine Halloween in Paris was decades ago! There were so many decorations at this party that I split the reveal into two different posts. This section is going to be all about the tablescape! Make sure to check out my 5 minute Halloween Mantel post that I did yesterday that shows you how I set-up my Halloween in Paris mantel in just five minutes!
If you want to know where you can get that ADORABLE vintage Halloween banner on my mantel, go to my DIY Vintage Halloween Banner post for all the details!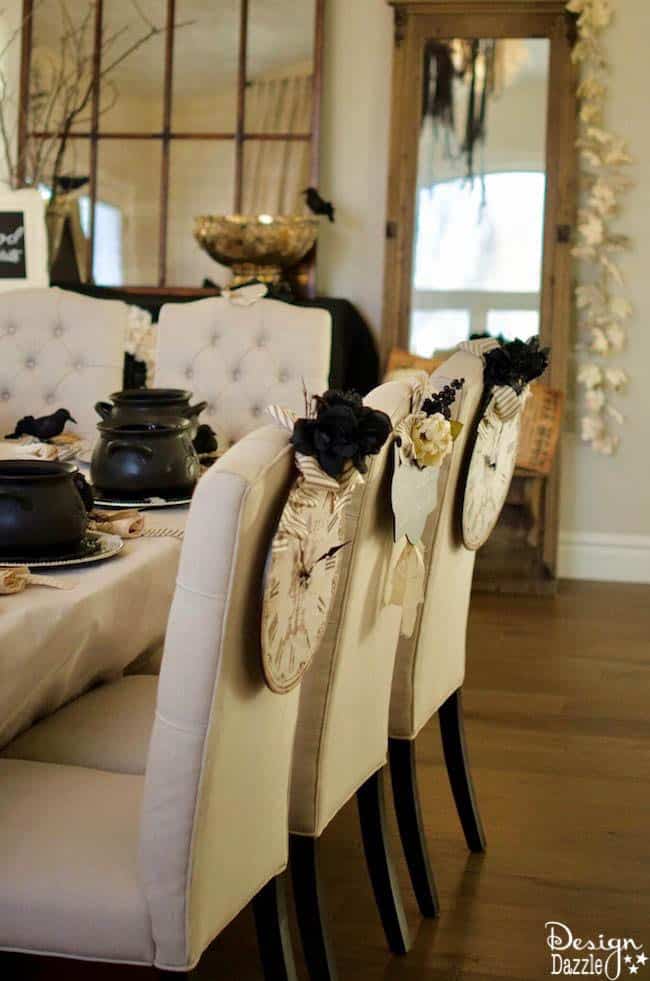 We created a table big enough for 12 people to all sit at by getting two  30″ x 72″ standard rectangle banquet tables from Costco and putting them together side-by-side in my living room. The table cloth was just a big drop cloth that I found at Home Depot. Drop cloths are a great alternative for tablecloths.
The clocks that I used on the back of some of the chairs were left over from the Vintage Glam Alice in Wonderland party I did a while ago!
We ate our Pumpkin soup out of cauldrons and the cutlery was wrapped up in a napkin with a fortune and a black crow.
The center piece was so incredibly easy to create with items I found at the dollar store! I will be posting about how I managed to do that this upcoming week so stay tuned!
Throughout the table I scattered random old rustic items that I felt like would fit in well with my Halloween in Paris theme. I rented a lot of the gorgeous items that I used to scatter throughout my tablescape from Blissful Charm.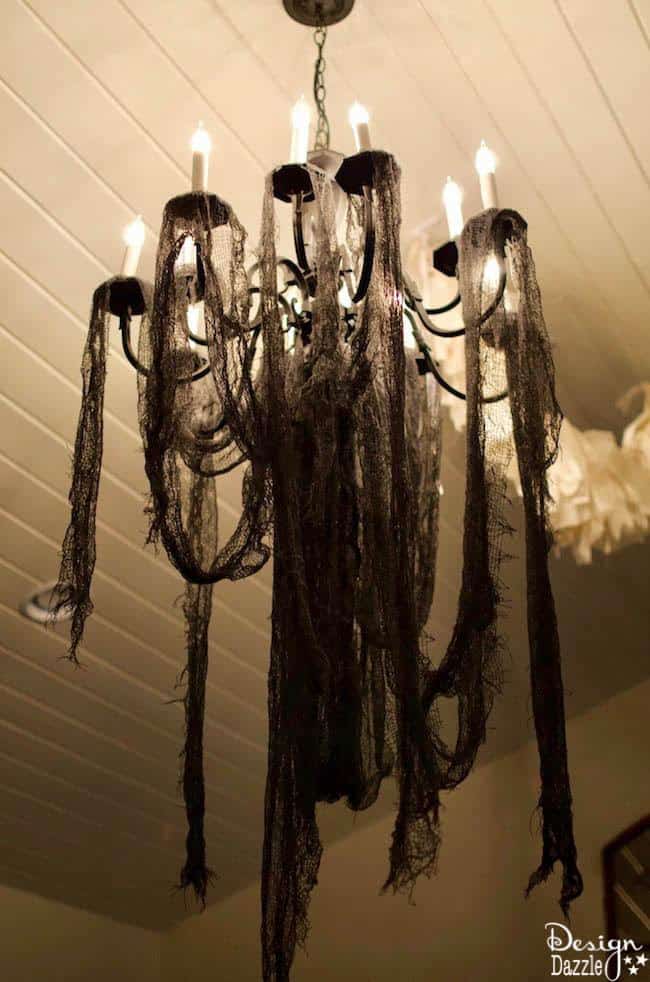 The chandelier that I hung from the ceiling has been one I've had around for years! I have used it in several of the other rooms throughout my house. I even used it in my DIY chandelier project post. All I did to turn this chandelier into the perfect Halloween in Paris-esque chandelier was paint it with black chalkboard paint.
Here are some of my girlfriends who were able to attend the party! Aren't they cute? I feel so blessed to know all of these amazing women. They are such great and talented gals!

With a little imagination, some time and chalkboard paint this party wasn't too hard to create! I can't wait to show you more on Monday! What was your favorite part?
If you missed the rest of my Halloween in Paris party posts, you can check them out below! *Edited to add*
Halloween in Paris Party Part 1 (the post you're currently reading)


Save
Save
Save
Save