This post may contain affiliate links that, at no additional cost to you, I may earn a small commission. Read our Disclosure Policy.
I had so much fun throwing a Halloween party for all of my girlfriends this week! The theme was "Halloween in Paris". My mantel for this party was so quick and easy I just have to share it with you! Below you can find a video tutorial showing you each step that I took to create this mantel. But don't you worry, over the next few days I will be revealing the whole party to you…so stay tuned!
The video below shows you each step that I took to create this fun mantle design! I sped up the video so you don't have to watch a 5 minute long video. But I promise you, the raw footage of this mantel creation was UNDER 5 minutes. It's that easy! Enjoy!
Be sure to subscribe to my YouTube page for some more fun videos, tips, and tricks!
Here are a couple of tricks that I use to make the mantel process easy peasy!
1. I use white and black electrical tape purchased from the hardware store to tape things to my mantel. The tape is what I used in the video to hold up the wreath and tape up some of the black floral twig branches so they don't lay flat. I've been using that method for years, it works great!
2. I also permanently attach small picture hooks on top of the mantel so I can hook banners to my mantel quickly and easily! Those hooks are what I used to attach the banner to this mantel.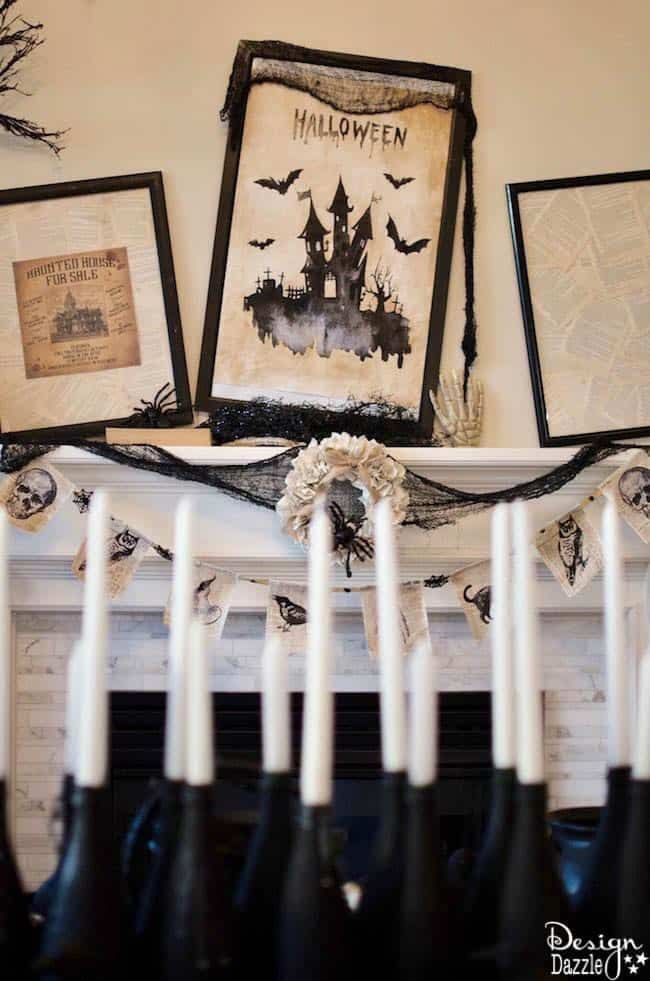 The banner is just made from a newspaper printable. It's one of my very favorite parts of my Halloween decor!
Click the button below to purchase the Halloween Newspaper Prints. Owl, crow, skeleton head, skeleton hand, witch hat and black cat.

Please note that your download links will be available for 72 hours after purchase. Once saved to your computer, you can use the file as many times as needed – personal use only.
The file includes six 8.5×11 Halloween newspaper prints, six 5×7 Halloween newspaper prints and six 5×7 Halloween newspaper prints with reverse type for iron-on applications.


Save
Save
SaveSave