This post may contain affiliate links that, at no additional cost to you, I may earn a small commission. Read our Disclosure Policy.
For my Halloween in Paris party I created a spooky drink station that was not only so easy to make but also very delicious! I had a sign on the table that said "Good Spirits" so people knew what the table was designated for. I am not a fan of evil so thats why I named the spirits "good" :). We served a non-alcoholic punch.
To create the setting of the drink station. I had my husband remove our TV from the TV stand so I could use this as our furniture piece for the drinks. The mirror is actually a floor mirror that was placed on the stand to create a background and reflect the images. It was perfect! Black burlap was placed on top of the TV stand. Old dead branches were found on the side of the road and placed in a vase. My mom purchased this beautiful silver-plated punch bowl years ago. I've used it many times over the years! If you need something to serve punch in, here are a few different types of punch bowls or silver-plated punch bowls. A few things like plastic spiders, fabric wreath, black crow, and the "Good Spirits" sign all completed the look. Everything I already had or found (branches) or borrowed (fabric wreath).
I used my beautiful silver-plated drink dispenser to serve water. LOL. Usually I would serve something else but there are those guests who just enjoy water and no other type of drink. My Spooky Punch was served in the punch bowl and the recipe is shared below.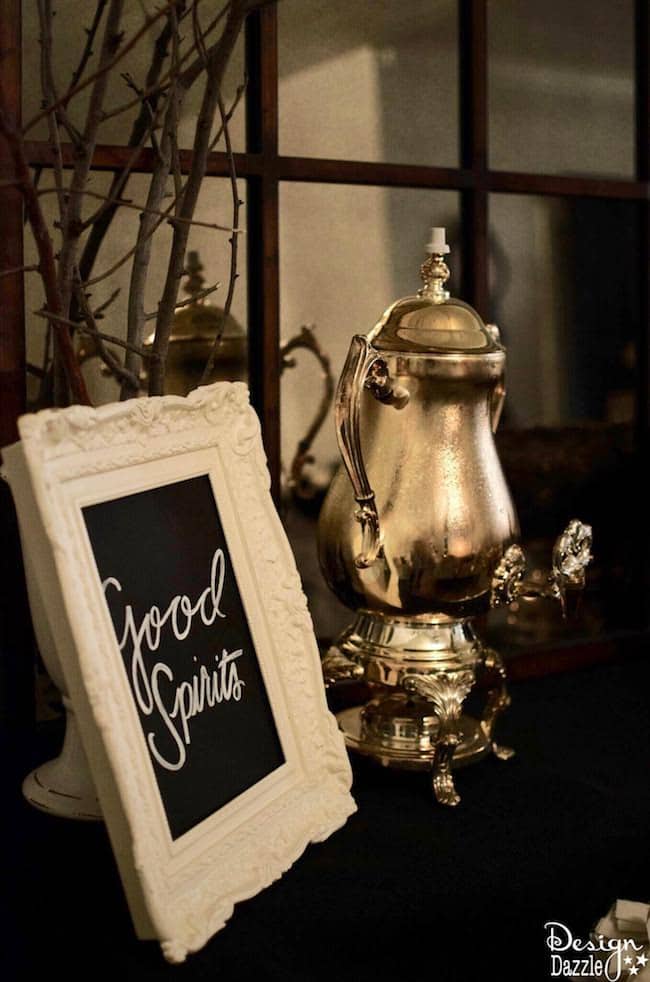 Spooky Punch Recipe
2 packets Orange Kool-Aid
4 packets Grape Kool-Aid
3 C. sugar
6 quarts water
2 ginger ale bottles
Mix everything really well and make sure the sugar is dissolved. Ginger Ale should be added right before serving then put the punch in your punchbowls over the dry ice. I used about 4 pounds dry ice to make this large punch bowl overflow with fog, like shown in the picture above.
How To Work With Dry Ice
I purchased dry ice at my local grocery store and stored it in a cooler. Keep it in there until you want to serve your punch. Make sure to keep it sealed in the cooler or else it will disappear rather quickly.
Gloves should be used when handling dry ice.
Make sure to be in a well ventilated area when using dry ice.
I just love how spooky it turned out! What has been your favorite part of the Halloween in Paris party? Stay tuned for the delicious pumpkin soup recipe that I served at the party, coming to you for Halloween!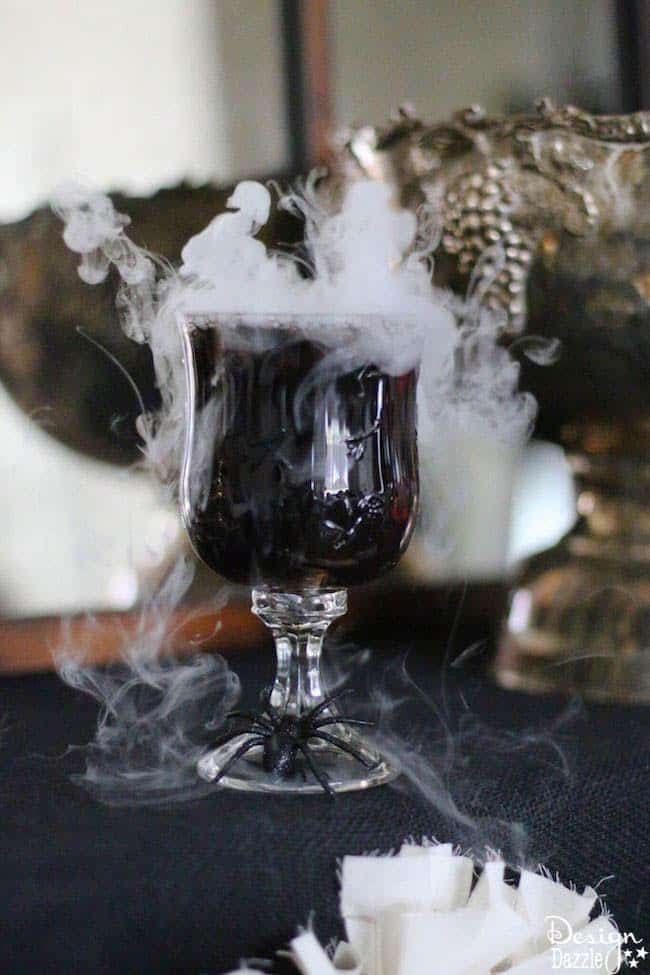 If you missed my Halloween in Paris party reveal you can check the posts out below!
Halloween in Paris Party Part 1
Halloween in Paris Party Part 2
Easy and Inexpensive Halloween Centerpiece


Save
SaveSave